Top 7 most romantic places in Europe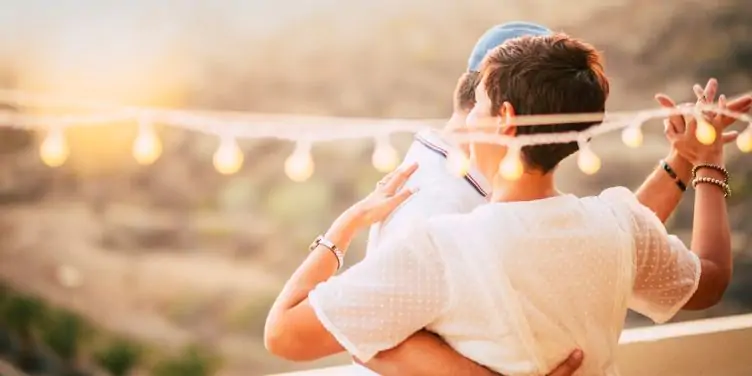 We all need a little romance in our life, and Valentine's Day is the perfect excuse for a romantic getaway with your other half.
But if you don't want to travel in February, you can still turn up the romance by planning your trip in front of a warm fire over a glass of celebratory champagne. Or a mug of hot tea, if you prefer!
Here are our top 7 most romantic places in Europe where you can fall in love all over again.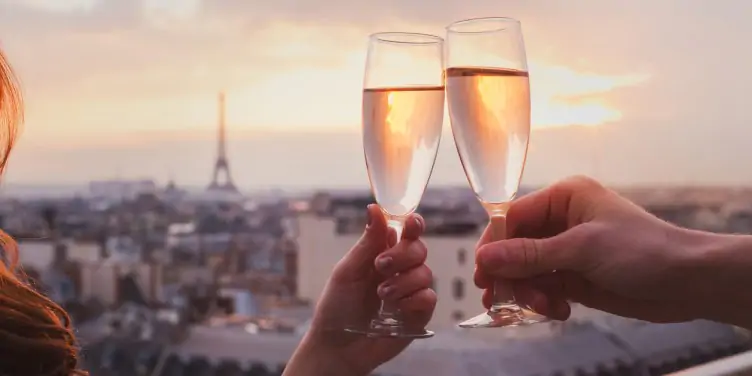 1. Paris, France
You'll be spoilt for choice by the number of romantic things to do in Paris. You'd expect nothing less from one of the most popular cities for popping the question.
There is nothing more magical in Paris than taking a cruise along the Seine at sunset. Your boat will sail down the river passing famous landmarks such as the Louvre, Eiffel Tower and Musee d'Orsay.
Don't miss the iconic Eiffel Tower sparkles! Every evening after dusk the 20,000 lights on the tower twinkle for 5 minutes on the hour until 11pm.
For a romantic dinner, you'll find the Le Jules Verne Michelin star restaurant at the top of the Eiffel Tower itself. The breathtaking views and  exquisite traditional French meal here is certain to impress your loved one!
For one of Paris's most romantic hidden gems visit the Jehan Rictus garden square in Montmartre. Here you will find the Wall of Love – a huge wall featuring "I love you" written in 250 different languages!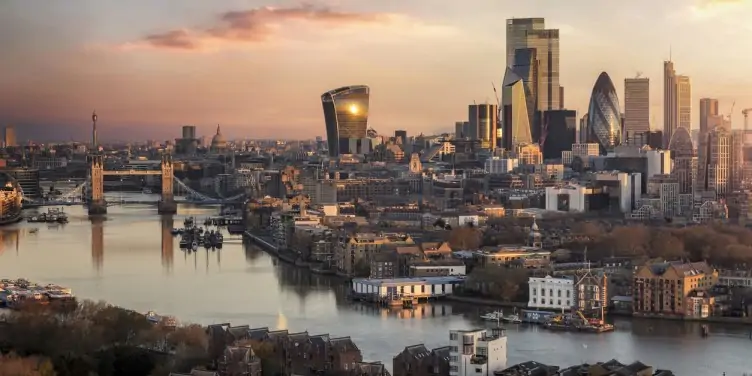 2. London, UK
Whether you're a regular visitor or a first-time traveller to London, you'll find so many ways to enjoy each other's company. 
Book a river cruise down the Thames and take in some of London's most famous landmarks, or enjoy the city's views from The London Eye. Share a glass of champagne at The View from the Shard or maybe a sumptuous Afternoon Tea at the fabulous Savoy Hotel. Finish off with a West End show to complete the perfect romantic city break. .
If you're looking to go all out on a romantic date, there really is no better way to turn on the romance than by wining and dining with your loved one. There are plenty of special spots for a candle-lit dinner, so take your pick from the most romantic restaurants in London.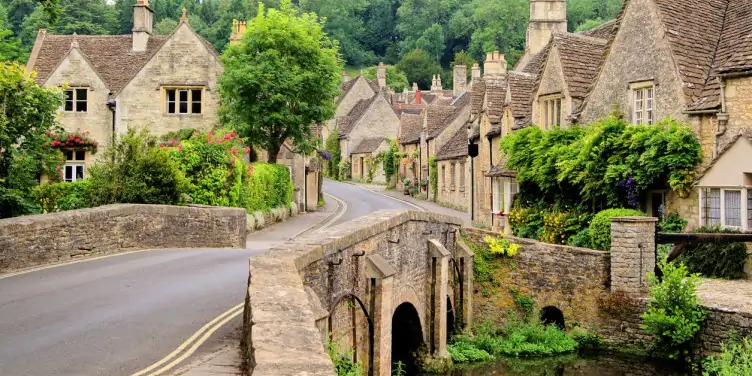 3. The Cotswolds, UK
Wind down a gear or three with a chill-out break in the Cotswolds.  A cute self-catering cottage is ideal for a romantic getaway.  The glorious mix of rolling countryside, pretty villages and quaint market towns is guaranteed to put you in the mood for romance.
Wrap up warm, pull on the hiking boots, and follow one of the many marked trails. Or maybe browse the antique shops or visit a heritage property. Then come back and relive your day over a delicious dinner by a roaring log fire at one of the many cosy Cotswolds pubs.
Must-see places to visit in The Cotswolds include the quaint riverside village of Bourton-on-the-Water, and quintessential Castle Combe (which is often called the 'prettiest village in England').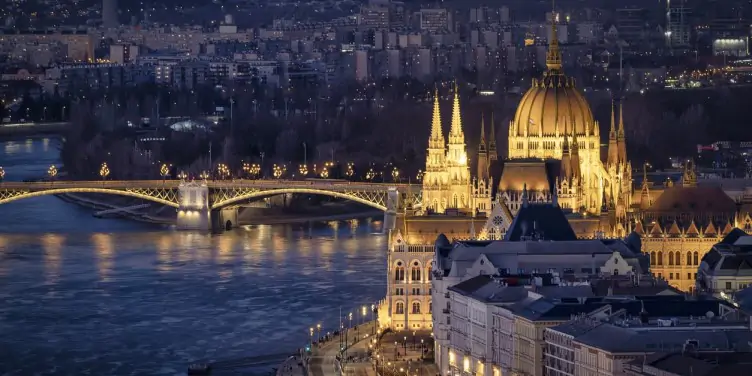 4. Budapest, Hungary
Hungary's capital is a stunner in any season, but especially when darkness falls early and you can enjoy the city lights.
Top prize for illuminations goes to the flamboyant Gothic-style Parliament building beside the Danube River. It's best viewed from a river cruise boat when the towers and turrets are bathed in golden floodlights. 
Explore the cobbled streets in the Buda Castle District for historic landmarks: The Royal Palace, Matthias Church, and Fisherman's Bastion (one of Budapest's most impressive lookout points). 
For the foodies, there are plenty of charming cafés to enjoy breakfast or lunch, plus five Michelin-star restaurants if you're looking to celebrate something special. If you'd like to indulge in some pampering, head to one of Budapest's famous thermal spas where you can take a dip in the hot waters of an ancient bath.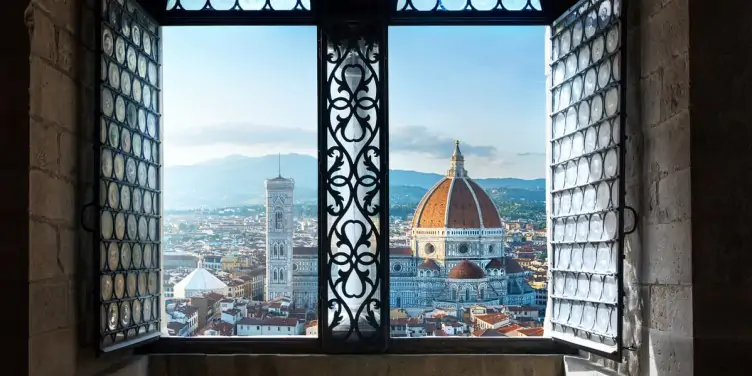 5. Florence, Italy
Winter is a wonderful time to experience this elegant Italian city at its most authentic, without the tourist crowds. On bright, blue-sky days, the pink, green and white marble of the cathedral reflects the low-season sunshine, but even on dull days, there are plenty of beautiful places to explore indoors.
From lavish Renaissance churches, to world-famous galleries such as the Uffizi and the Accademia (book ahead online to avoid the queues), there's something for most tastes in Florence. 
The Arno River flows right through the middle of Florence, so naturally one of the best ways to see the sights on a river cruise. Step aboard a traditional boat, known as a renaioli, and enjoy unrivalled views on a boat tour.
Don't forget to visit The Boboli Gardens – a historical park with numerous Renaissance sculptures and fountains.. and a popular spot to pop the question!
Browse the local markets for quality leather bags, silk ties and pashminas; shop at the goldsmiths on the Ponte Vecchio; and treat yourself to the city's signature steak, Bistecca alla Fiorentina, a succulent T-bone cooked over a wood fire. Romance is virtually guaranteed!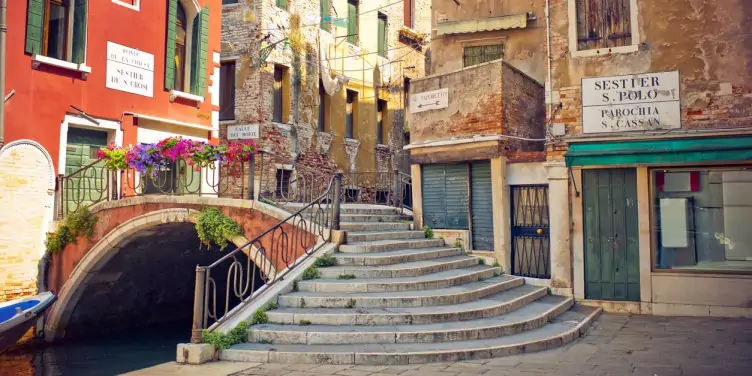 6. Venice, Italy
Venice is arguably one of the most romantic cities in the world. And there's nothing more romantic than taking a traditional gondola ride along the canals while taking in views of the bell towers and footbridges.
Explore the Basilica San Marco and Doge's Palace on Venice's romantic central square, Piazza San Marco. Stop at a quaint cafe, listen to the charming musicians, and enjoy a glass of fine Italian wine.
You can also take a day trip from Venice to Verona to make your Italian trip even more romantic. This idyllic town was the setting for Romeo and Juliet, which gave Verona its title as the City of Love. Here you can visit Arena di Verona, an ancient Roman amphitheatre, as well as Casa di Giulietta, where you can see the famous Romeo and Juliet balcony.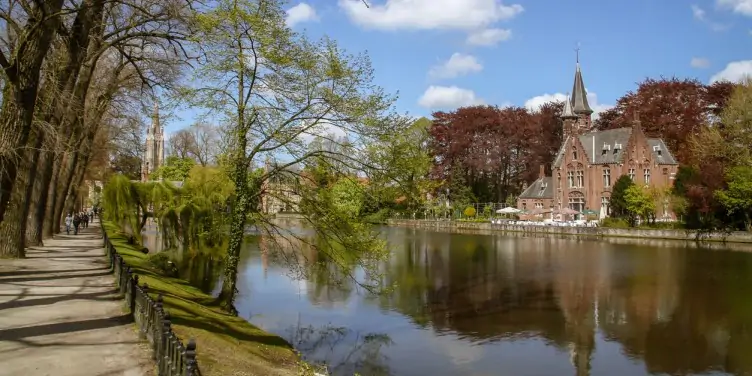 7. Bruges, Belgium
Bruges is the perfect romantic destination for couples. Start with a glass of fizz at the Champagne Bar in London's glorious St. Pancras station. 
Then hop on board the Eurostar to Brussels, and change onto a local train for the 75-minute journey to the beautiful city of gabled buildings, picturesque canals and quiet squares.
Take a canal cruise to see the winter reflections in the still water; head up the bell tower for a city panorama; and snuggle under a thick rug for a romantic sightseeing tour by horse and carriage.
Take a walk to Minnewater Park, home to the beautiful Lake of Love and Lovers Bridge. Legend has it that if you cross Lovers Bridge with your beloved, you'll enjoy eternal love together!
Finally, your trip to Bruges isn't complete without indulging in some local treats. Nothing compares to the world famous Belgian chocolates, so treating your other half to a box is a must!
---
For more European city break inspiration read our guide to the top 10 cities to visit in Italy, or learn more about the best city breaks in France.
Ready to fall in love? Don't forget your European travel insurance.