Do I need gadget cover travel insurance?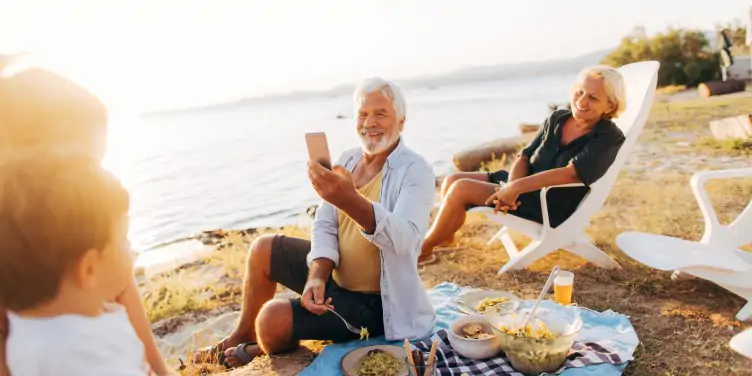 Travelling can be an exciting adventure, but it's always essential to make sure that your valuable gadgets are covered.
Many policies will protect your tech up to a certain value, but if you're planning on taking several gadgets on your trip, you might need to take our extra cover.
What is gadget cover for travel insurance?
Gadget cover is designed to protect your possessions while you're away from home. It covers things like smartphones, laptops, tablets, cameras and even your smartwatch.
If these devices are lost, stolen or damaged during your travels, gadget cover for travel insurance can cover the costs to repair or replace your tech. There's also extra cover for accidental damage, liquid damage, and unauthorised data usage if your phone is stolen.
Is gadget insurance worth it?
The answer to this question depends on you and your travel plans.
If you're someone who loves traveling with a suitcase full of gadgets, or if you're planning beach outings or hiking trips where your devices might be at risk, gadget cover could be for you.
Even if you're just carrying your mobile phone, gadget cover can boost the standard cover for your phone from £100 to £2,000.

But before you take out extra Gadget cover, take a look to see if your tech could be covered by our standard policy. 
Standard cover 
Additional gadget
cover option 
Mobile phones

✔️ Up to £100

✔️ Up to £2,000

Other gadgets 

✔️ Up to £500

✔️ Up to £2,000

Smart watch 

❌

✔️ Up to £2,000

Bluetooth headsets 

❌

✔️ Up to £2,000

Theft

✔️ Up to £500

✔️ Up to £2,000

Liquid damage 

✔️ Up to £500

✔️ Up to £2,000

Unauthorised call/data use 

❌

✔️ Up to £2,000

Accidental damage 

✔️ Up to £500

✔️ Up to £2,000

Accidental loss 

✔️ Up to £500

✔️ Up to £2,000
(excluding laptops & macbooks)
Breakdown

❌

✔️ Up to £2,000
(excluding laptops & macbooks)
The 'Personal Baggage' section of our travel insurance policy can cover your tech up to £250 on a Basic policy, and £500 on a Comprehensive policy.

For £2,000 worth of protection per person, add Gadget cover to your Comprehensive policy. Or, if you prefer, you can choose a Signature policy which already includes Gadget cover as standard.
What devices can be covered by gadget cover?
Add gadget cover to your policy and we'll cover you for the following tech in your suitcase:
Mobile phones and smartphones

Laptops (including MacBooks or custom built laptops)*

Tablets and e-readers

Digital cameras and camera lenses

Smart watches

Health and fitness trackers

Games consoles

Video cameras (including GoPro's)

Head/earphones and Bluetooth headsets

MP3/CD/DVD players

Sat navs

PDAs
* Laptops and Macbooks are not covered for breakdown or accidental loss.
Does travel insurance cover mobile phones?
Most travel insurance policies do cover your mobile phone or smartphone against loss, damage or theft, but many only offer partial cover.
Our standard policies can cover your mobile phone, but only up to the value of £100. So, if your phone is likely to cost more than £100 to repair or replace, gadget cover could be what you need.
What's not covered?
While gadget cover is comprehensive, it doesn't cover everything. Here's some of the things we're unable to cover:
Any gadget older than 6 years old

Any gadget bought outside of the UK, or secondhand

Accidental damage or breakdown of a laptop

Liquid damage as a result of taking part in water sports

Loss or damaged accessories
How much is gadget travel insurance?
The cost of gadget cover varies and usually depends on the length of your trip. So, it's a good idea to compare policies and really understand what you're paying for before you make a decision.
For the finer details, take a look at our gadget cover policy wording.
How do I make a claim on my gadget insurance?
Our goal is to make claiming on your insurance as easy as possible. That's why you have the option to make a claim online or over the phone, whichever works best for you.

To get your claim started, have the following information ready:
Proof of travel which shows your dates of travel and destination e.g. booking confirmation or boarding passes

Your travel insurance validation certificate or certificate of insurance

Proof of purchase or ownership. Ideally a receipt that confirms the device make, model, IMEI/serial number and date of purchase

A copy of your passport or UK driving license

Utility bill or bank statement date within the last 3 months