10 excursions in Halkidiki
Halkidiki, near Thessaloniki in northern Greece, consists of the mainland and three large peninsulas, Kassandra, Sithonia and Athos. Famous for being the birthplace of Aristotle, rich history and beautiful beaches, Halkidiki is very popular with holiday makers.
Your hotel will be close to many sights and areas of natural beauty and exploring the region is definitely worthwhile. If you're booking a package holiday or all-inclusive to Halkidiki, enquire whether day trips are included.  In no particular order, here are 10 interesting excursions that can be found in the area:
Wine tasting tours
Winemaking is big business in Halkidiki and there is an abundance of vineyards to visit. Depending on the location of your hotel, you may wish to take a wine tour of the vineyards of central Halkidiki, where Rodits and Sauvignon Blanc are produced. The capital of Halkidiki, Poligiros and pretty Arnea are also famed for their wines and a choice of vineyard hotels can be found in the area.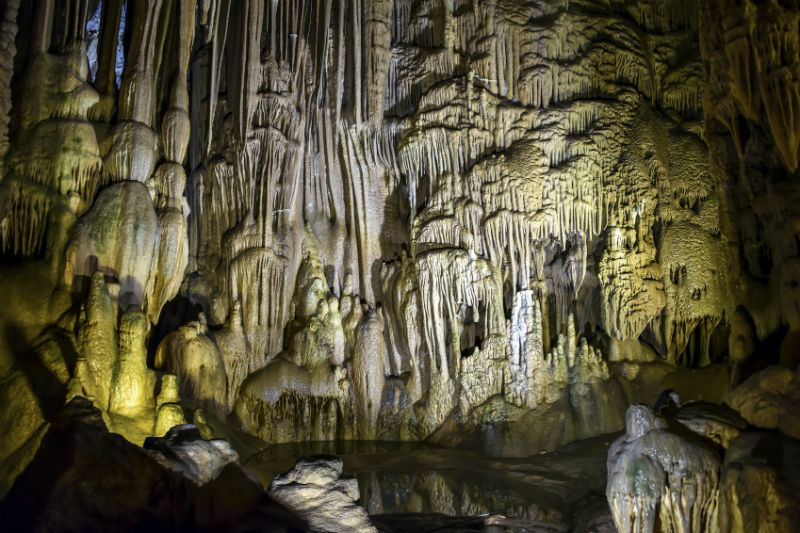 Petralona Cave
Petralona Cave, at the base of Mount Katsika, is known for its stalagmite and stalactite formations and fossilised skull and bones of the Archanthrope of Petralona, discovered in 1959 by villager Filippos Hatzaridis. Take in both its natural beauty and anthropological aspect on a visit there.
Beaches
If you're looking for sun, sea and sand you'll be spoiled for choice in the eastern region of Athos. Check out Kambos, near Pyrgadikia, a golden sand beach sheltered by an olive grove, or the fishing port and beach Develiki, at the village of Gomati.
Mount Holomontas
The mountain range of Mount Holomontas dominates central and eastern Halkidiki and climbers are rewarded with stunning views of the three peninsulas and Aegean Sea. Flora and fauna provide colour all year round from beech and fir trees to herbs and wildflowers. Eagles and buzzards can also be spotted here.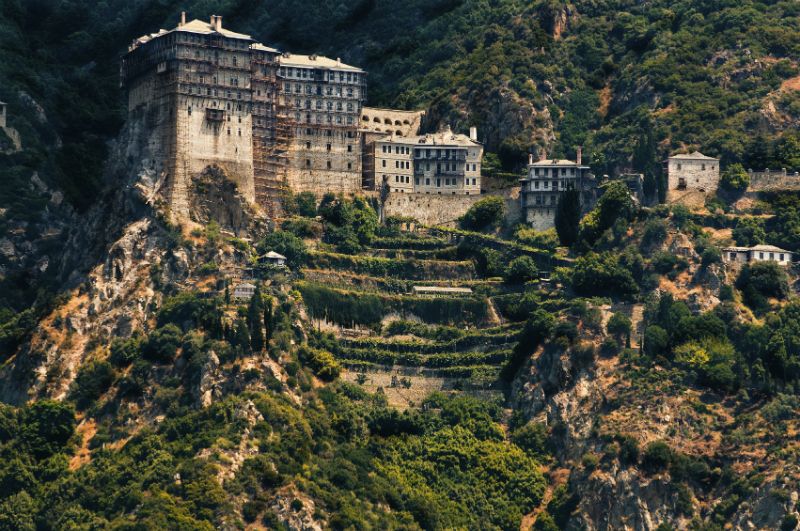 Mount Athos
Spiritual centre Mount Athos, located on the peninsula of Athos was founded in the 9th century and has been a UNESCO World Heritage Site since 1988. The 20 monasteries are home to treasures such as wall paintings by Frangos Castellanos, various embroideries and ancient manuscripts.
Named the Holy Mountain, this small settlement is a self-governed state of Greece. However, it is not open to women and any male wishing to visit must have the correct papers. Despite these strict rules, Mount Athos attracts many thousands of visitors on pilgrimage every year.
Aristotle's Park
On this educational trip you can learn all about the Greek philosopher Aristotle, born in Stagira and one of the most important Greek philosophers in history, along with Socrates and Plato, Aristotle laid much of the groundwork for western philosophy. Aristotle's park has interactive nature-themed exhibits and activities, including instruments such as a solar clock, compass, and telescopes. On a clear day there are excellent views of Mount Athos.
Island trips
Take a boat trip and explore the islands off the coast of Halkidiki. You may like to start by taking a ferry to Ammouliani, the only inhabited island of the area. Just a 10 minute boat ride away, it is well worth visiting for its golden beaches, rocky outcrops and crystal clear sea.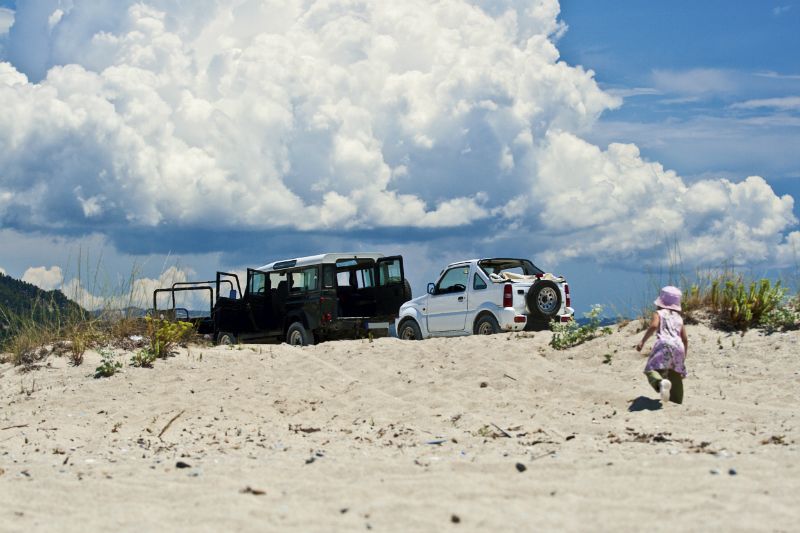 Jeep Safari
Try your hand at a jeep safari; the day-long excursions will allow you to experience the natural wonders of the region up close, including forests, coastline, wildlife and varied flora and fauna.
Spa treatments
If you have opted for an all-inclusive holiday it is likely your hotel will have a range of spa facilities; most offer sauna, steam room, jacuzzi and swimming pool.  Treat yourself to a day-long spa package and really indulge yourself.
Sani Gourmet Festival
Sani Gourmet gastronomic festival normally hosted in May features a selection of some of the finest chefs from Greece and beyond, including Michelin-starred, to create contemporary dishes at restaurants during the 10 day festival. There are also wine tastings, talks and workshops.