7 islands you can explore without a UK passport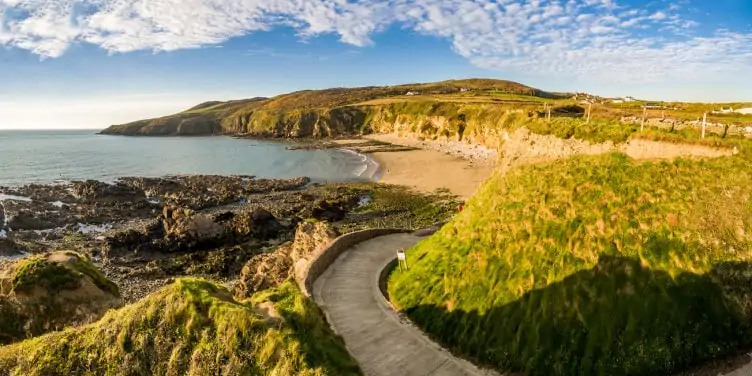 A far-flung holiday might be on your wish list, but a trip closer to home can offer just as much beauty and adventure! So leave your passport at home and discover the places you can travel to without it.
Can you travel without a passport?
Anyone in the UK can enter another country within the Common Travel Area:
So, although you may not be able to guarantee the sunshine, you can still enjoy a fun filled holiday.
Here are some beautiful island destinations you can visit without a UK passport…
1. Anglesey, Wales
With over 125 miles of unspoilt coastline, in Anglesey you'll find rugged cliffs, uncrowded sandy beaches and clear water – perfect if you're looking for a beach holiday! The calm and shallow waters are ideal for a gentle swim, or for little ones to enjoy a paddle.
The whole island has been designated as an Area of Outstanding Natural Beauty so you can also explore the lush countryside. If you walk along the Holyhead Mountain coastal path you'll get to see dramatic cliffs, spectacular bird life, a lighthouse, and Roman forts.
And if you're a foodie, Anglesey has plenty of quality seafood restaurants along the coast, as well as family-friendly traditional pubs.
Do you need a passport to go to Wales from England?  
There's no need to take a passport with you to visit Anglesey. You can get to Anglesey by driving from mainland Wales across the Menai Suspension Bridge by car, or you can get the train direct from London.
2. Isle of Wight
The Isle of Wight sits just off the south coast of England and has been a popular holiday destination for Brits since Victorian times.
There's plenty to do on the Isle of Wight for the whole family to enjoy. Visit theme parks, beaches, colourful towns, Roman ruins, castles, and there's even a zoo! The island's most famous attraction, The Needles, has lots of fun things to do including the chairlift to the beach to see the iconic Needles Rocks and lighthouse. 
The Isle of Wight is the perfect place for stress-free family holidays and relaxing short breaks.
Do you need a passport to go to the Isle of Wight?
There's no need to pack your passport for a trip the the Isle of Wight. 
Getting to the Isle of Wight is pretty easy to do. There are up to 200 car ferry crossings a day departing from Portsmouth, Southampton and Lymington to the Isle of Wight. 
If you're travelling without a car, there's also a quick hovercraft foot passenger service. It takes just 10 minutes from Southsea in Portsmouth.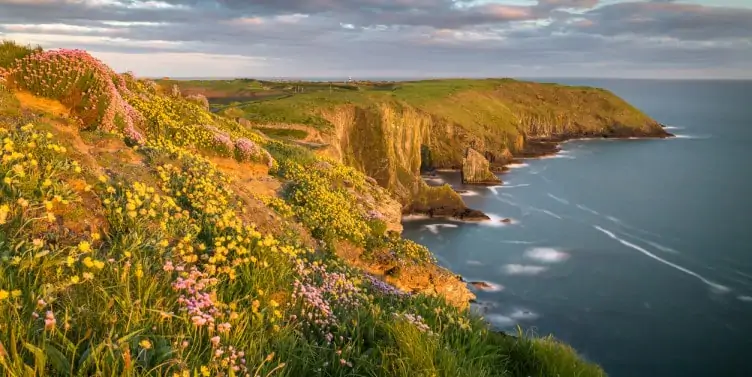 3. Cork, Ireland
Cork is renowned for its stunning beaches and coastline. One of the most popular sandy beaches is Barleycove which is in a sheltered bay backed by dunes. It's a short drive from the artsy village of Schull, well known for its craft shops and fresh seafood.
Do you need a passport to go to Ireland? 
If you're travelling to Ireland, it's best to pack your passport just in case. Some airlines will ask for proof of nationality while others may accept a form of photo identification, like a driving licence. 
Check www.gov.uk for more details.
You can fly directly to Cork airport from various airports throughout the UK. Alternatively, you can get a car ferry from Fishguard in Pembrokeshire to Rosslare, or from Holyhead/Liverpool to Dublin, and then drive to Cork.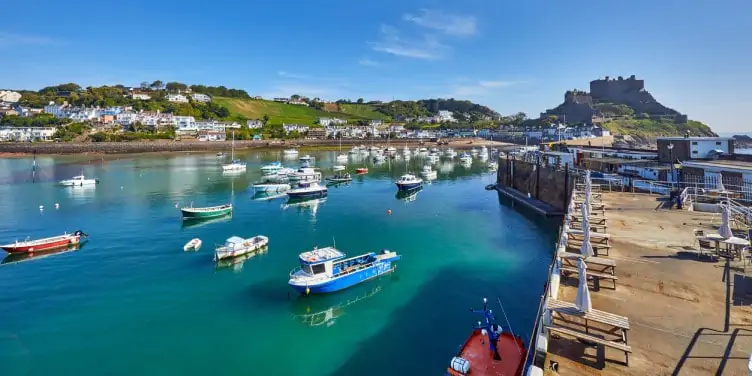 4. Jersey
Along with beautiful beaches and coastal cliffs, the island is known for its fascinating military history. Jersey is the warmest part of the British Isles and is popular with foodies, history buffs and those who love a beach holiday!
Do you need a passport to go to Jersey?
You won't need a passport to visit Jersey, but you will need to show photographic ID for immigration purposes, so take your drivers licence if you don't have a passport.
You can get the ferry from Poole to Jersey which takes about four hours, or you can sail from Portsmouth which takes just over 10 hours. Alternatively, you can fly from many UK airports to Jersey in as little as 45 minutes.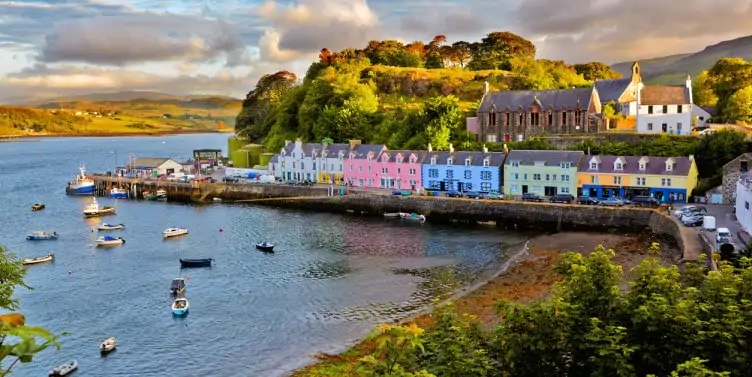 5. Isle of Skye, Scotland
The Isle of Skye isn't known for its sunshine, but the fascinating history, picturesque fishing villages, and outstanding scenery makes up for it. It's home to some of Scotland's most iconic landscapes and it's also one of the best places in Scotland for stargazing, as well as hunting for the northern lights.
It's also very popular with walkers thanks to the dramatic landscape. From family walks along the coastline to energetic hikes in the Cuillin mountains, the island provides fantastic walking routes for everyone.
Do you need a passport to go to Scotland?
As the Isle of Skye is part of Scotland, you don't need a passport to visit. You can reach the island by car via a bridge or by ferry. You can also travel by public transport – there are daily buses from Glasgow and Inverness directly to the Isle of Skye.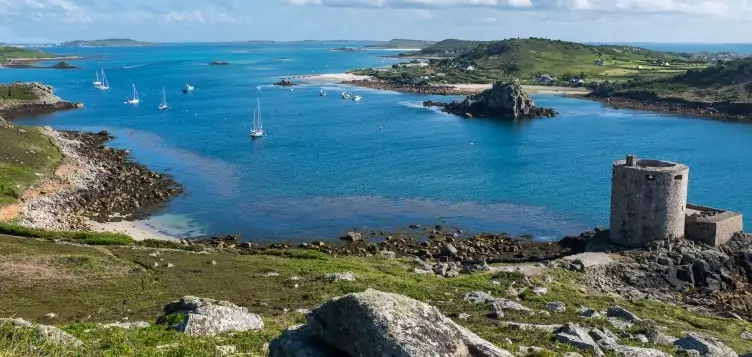 6. Isles of Scilly
The Scilly Isles are perfect for those looking to escape from the crowds. Made up of five inhabited islands, this designated Area of Outstanding Natural Beauty is home to sandy white beaches and offers a quieter holiday.
Often referred to as the sunshine isles, the Scilly Isles benefit from more hours of sunshine than other regions, and average temperatures are much higher than on the mainland.
There are no typical touristy attractions on the Scilly Isles, but it does have some interesting natural and historic attractions to explore such as Tresco Abbey Garden. You can also enjoy a bit of island hopping – jump aboard a boat from St Mary's Quay and visit all five of the main isles.
Do you need a passport to go to the Isle of Scilly? 
You can fly with the Isles of Scilly's own airline from Land's End, Newquay and Exeter Airports which takes just under an hour. While you won't need a passport to fly, over 16s will need to show some photographic ID.
If you'd rather not fly, you can take a passenger ferry from Penzance Harbour in Cornwall. This usually takes around two hours 45 minutes, and no ID is needed.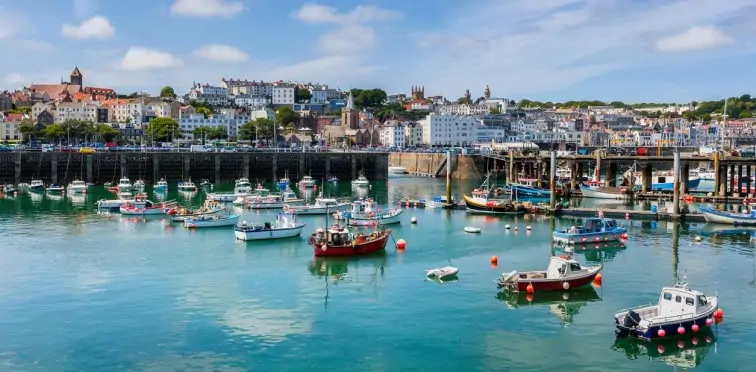 7. Guernsey
Smaller and less touristy than Jersey, Guernsey offers a unique holiday experience with a combination of English and French influences. The capital, St Peter Port, is a laid back town alongside the peaceful bay with cobbled streets, excellent restaurants and local shops. 
Whether you are a lover of the outdoors, enjoy discovering the history of a destination or simply prefer to relax, Guernsey is the ideal place to holiday. Beautiful beaches, rugged cliff walks and ancient castles mean there's plenty to explore.
Read our guide on short breaks to Guernsey and Jersey to find out more about holidays in the Channel Islands.
Do you need a passport to go to Guernsey? 
You don't need a passport to visit Guernsey from the UK, but all visitors need some form of photographic ID. A number of airlines operate flights to Guernsey from airports throughout the UK, or you can sail on a ferry from either Portsmouth or Poole.
What documents will I need to take with me?
Although you don't need a valid passport to visit any of these destinations, it's recommended that you take some form of photographic ID with you. If you're taking a flight or a ferry service, your drivers licence may be needed as an alternative to a passport.
Planning your trip
Before you set off to visit these beautiful 'no passport required' islands, make sure you do the following:
If you're looking for more travel inspiration, have read our guide to beautiful places to visit in the UK. 
Please see full policy wording for details of cover.