Dubrovnik
History enthusiasts can't fail to love Dubrovnik. Its Old Town consists of one of the best-preserved medieval cities on the Mediterranean. Go back in time and walk the circuit of the 13th-century city walls with the shimmering Adriatic Sea below, before you descend to explore the UNESCO-listed Old Town.
This is a peaceful place and women travelling alone need not take any extra caution. Backpackers use Dubrovnik as a useful base from which to take excursions to the area's breath-taking beaches and mountains.
The mountains of Dalmatia are higher and quieter than in other parts of Croatia. Mount Srd is possibly the best way to marvel at the panorama of Dubrovnik's vast expanse of historical architecture. At 413 metres, it's a challenging climb along the serpentine-like footpath to the top – bring plenty to drink, especially in hot weather. Alternatively, if you're not up to the climb, a cable car will zip you up there in just three minutes!
Dubrovnik's beaches are plentiful as are its top-class diving opportunities. Perhaps the most popular is Banje Beach, Dubrovnik town's premier public beach which lies alongside the Old Town. Relax at the café bar and restaurant or beach bask and bathe in the sparkling waters. Banje Beach Club is the place to be for lazing on chic white daybeds or dancing to DJ sounds.
Dining is a vital part of your Croatian experience and you will find an abundance of quality traditional and international restaurants in Dubrovnik, along with a few lovely vegetarian restaurants so non-meat eaters need not go without.
Thanks to an increasing number of dedicated cruises, Dubrovnik is fast becoming a favourite gay destination and has a very relaxed, accepting attitude to the LGBT community. A number of popular nude and gay beaches are also making Dubrovnik a popular holiday destination.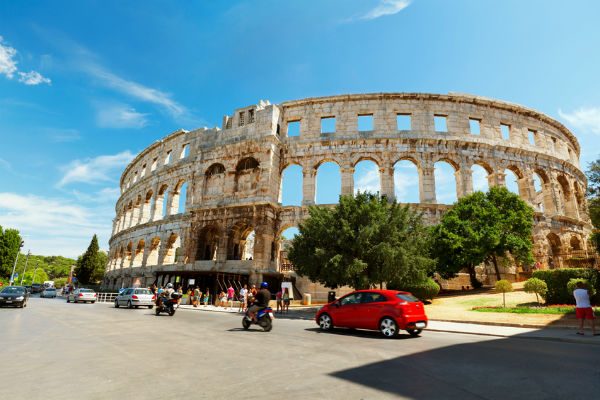 Pula
Croatia's Pula stands out thanks to its wealth of awe-inspiring Roman architecture. The main highlight is the stunningly well-preserved Roman amphitheatre in the centre of the city, which still hosts concerts and festivals during summer.
Just as impressive are the nearby seaside resorts that fill the Verudela Peninsula, amid fragrant pine woods, beachside cafes and great restaurants.  Alternatively, head for the kilometre-long sands at Banjole, or enjoy some water sports at Fazana or Premantura.
If you're looking for fresh mountain air and a spot of trekking, mountain biking or climbing, head for the Ucka mountain range on the Istra peninsula – the place for epic views and adventure.
Pula, like the rest of coastal Croatia, is renowned for its fish dishes. Meanwhile Italian influences are strong. Among the specialties on the menu are: pancakes, pastries, gelato, pizzas, baklava and plenty of wine – try the reds from the Peljesac Peninsula or the whites from Istria and eastern Slavonia. Vegetarians can also treat themselves at Pula's handful of vegan and vegetarian eateries.
Croatia has been slower on the uptake than other countries when it comes to LGBT rights. Currently, same sex marriage is not permitted but in 2015, Croatia was ranked 5th by the International Lesbian, Gay, Bisexual, Trans and Intersex Association in terms of European LGBT rights, showing a marked alteration in thinking.
If you are a woman travelling solo in Pula, there's little to worry about, especially in the main tourist areas. You should of course exercise usual caution when alone, avoiding unlit roads at night and unsolicited attention from anyone who might not have your best interests at heart.