Cologne (Koln)
Cologne bustles with cheerful bars and brew houses along with elegant shops, galleries and restaurants. The city's sense of joie de vivre makes it just as romantic as Paris.
Climb the 509 steps to the viewing platform of the UNESCO listed Cologne Cathedral, Germany's most visited monument, for dizzying views over the city's Treasury Museum.
The winter Carnival will have you raising a glass with almost everyone in Cologne. Meanwhile, December's Christmas markets are plentiful – drink Glühwein and graze on candy floss and roast chestnuts – great fun for adults and kids.
Chocolate lovers flock to the Chocolate Museum which culminates in a cascading chocolate fountain – sheer indulgence!
Lovers head to Hohenzollern Bridge to attach a padlock to the railings, symbolic of their love and devotion.
For some company, a meet up helps you find common ground sharing with locals and visitors alike.
Low cost hostels are plentiful, the most famous being the Station Hostel, just 300 metres from the famous Cologne Cathedral and steps away from the popular clubs.
When it comes to good restaurants, Cologne obliges with traditional waiters in white shirts and waistcoats serving bratwurst with sauerkraut. Vegetarian restaurants also abound but Cologne's culinary treats don't end here: Michelin-starred restaurants are plentiful, serving all kinds of French, Asian and fusion flavours.
Cologne is famed as the gay capital of Germany (one in ten of its inhabitants are gay/lesbian). Head for the area around the Cathedral (Dom) to start your discovery of Cologne's LGBT scene.
Following the one-off migrant riots in January 2016, Cologne has settled down in terms of no-go areas for females so you can wander around relatively safely, although it's best to avoid the station area at night.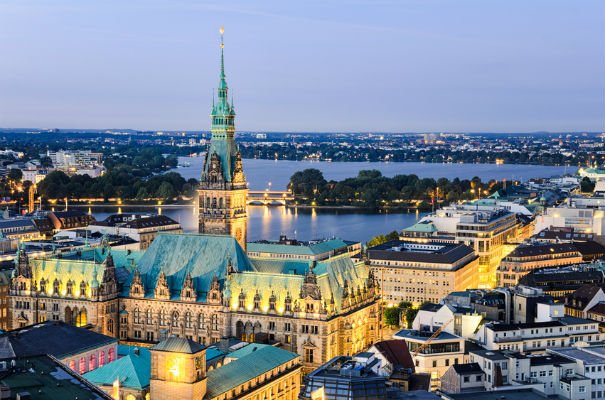 Hamburg
The second largest city in Germany is also the nation's greenest with two thirds of its area covered by lakes or parkland, ideal for walking and cycling.  Greenery aside, Hamburg's Reeperbahn is where the Beatles played in the 1960s and the nightlife and live music scene is still renowned today.
For UNESCO wonders, Speicherstadt and the nearby Kontorhaus district are in the centre of Hamburg's port and originally built on a group of islands in the Elbe River between 1885 and 1927 – this is one of the largest historic developments of port warehouses in the world. For something more ecological and modern, the innovative, sustainable all-wood Wälderhaus (Forest House) is a shining example of Hamburg's green architecture.
For a wonderfully peaceful sanctuary in the heart of the city, head to the vast Planten und Blomen botanical gardens with their fabulous fountains, lakes, lawns and flowers.
True to its cosmopolitan image, Hamburg offers international dining while its top restaurants are famous for seafood, particularly eel soup and Stubenküchen (hamburger steak). Hamburg boasts 11 Michelin-star restaurants and you'll also be spoilt for Vegetarian restaurants too, so no one need miss out on the city's culinary treats.
Public transport services in Hamburg are typically top-notch, In addition to an efficient bus service, the underground is a popular way to get around. Four U-Bahn underground lines, six S-Bahn suburban lines and nine regional rail services provide fast, direct links.
If you are a female solo traveller, Hamburg is perfectly safe; provided, you don't linger alone at night in the Reeperbahn, Berlin's Red Light district.
Hamburg is a very liberal place and the LGBT community is blessed with plenty of gay bars and clubs in which to meet, relax and party. The annual Hamburg Pride is a major Hamburg event not to be missed.