Stockholm
Sweden's capital is a wonder of waterways, spires and parks. Comprising over 14 islands and surrounded by thousands of smaller rocky islets, it effortlessly combines water and peaceful parks with urban cool, sleek art, shops, gourmet eateries and thumping nightlife.
Eating is taken seriously in Stockholm and you'll find anything from Michelin-starred fine dining to traditional Swedish cuisine and contemporary fusion food. As you'd expect from a city located on so much water, fish and shellfish are high quality and perennially popular. Vegetarians are spoilt too in the city's variety of vegan and vegetarian restaurants.
If you're a woman travelling alone in Stockholm, you will generally find it safe to explore, provided you exercise the usual caution. If you'd like a little company, there are many meet up opportunities which enable you to share some of your Stockholm experiences with other like-minded travellers or even locals.
Stockholm is gay-friendly and open-minded and there are plenty of venues to enjoy throughout town. However, bear in mind that it's illegal for Swedish establishments to discriminate against customers of varying sexual orientation or gender. Therefore, you won't find gay-only or lesbian- venues, unless they accept members only.  Join the Stockholm Gay Social Club meet-up to have some fun with the LGBT community of Stockholm.
Getting around is fast and easy using the metro (tunnelbana) with its 100 stations, just over half which run above ground. If you'd prefer the convenience of a cab, download the Uber app for a ride in just minutes.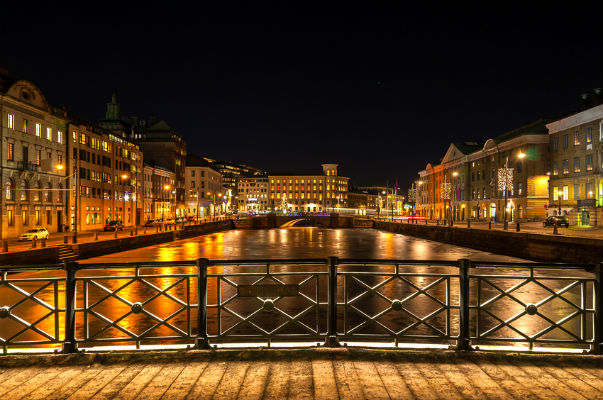 Gothenburg
Despite its historic cobbled streets, Gothenburg manages to adopt a starkly modern, cosmopolitan feel. It sits amid a captivating archipelago, so you are never far from fresh sea breezes and delicious fish and shellfish.
The city's Michelin-starred restaurants are amongst the best places to enjoy the freshest of catches, including specialties like fish roe and baked Coley. Fresh, organic food is a top priority for Gothenburg's restaurant owners, so you can expect top quality in most establishments. Vegetarians are spoilt too in the city's top-class vegan and vegetarian restaurants.
If you are travelling alone or would like to share your discovery of Gothenburg with others, you might find like-minded people to enjoy it with via one of the city's various meet-up groups.
Getting around is easy using Gothenburg's buses and trams -. taxis can be expensive and easily hailed anywhere on the street. If you prefer, Uber will get you a cab conveniently from an app on your mobile device.
LGBT travellers are welcome in Gothenburg – just like in the rest of Sweden it forbids discrimination against anyone on grounds of sexuality or gender. In June, around 1,000 rainbow flags are hoisted around the city centre in West Pride, the city's gay pride festival which is now approaching its tenth year. GayCities provides comprehensive listings of venues you might like to try out.                                  
Gothenburg's selection of surrounding ski resorts is impressive and Alebacken's three slopes are just 20 minutes' drive away. Alternatively, you could try cross-country skiing at OK Landehofs ski resort you'll find over 3 kilometres of trails and plenty of instructors.