Barcelona
Sun-drenched Barcelona graces the shores of the Mediterranean offering up excellent beaches, plus an endless supply of culture and much talked-about UNESCO listed architectural sites. There's also a world-class gastronomic scene too, along with wonderful Catalan creativity – notably Modernism, Miró and Dalí. You'll soon see why Barcelona is often cited as one of the world's most captivating cities.
Barcelona is foodies' heaven, leading the way in cutting-edge, international cuisine. Michelin-starred restaurants, including the world-renowned Lasarte, are plentiful while vegetarians eat extremely well too.
It's easy to get around: the Barcelona Metro is fast and extensive, running mostly underground in central Barcelona and its suburbs. If you prefer the comfort of a cab ride, try the Uber app for a ride in a matter of minutes.
Meet up opportunities abound in Barcelona, so there's no need to be solo if you don't choose to be. If you're backpacking, there are plenty central places to stay – The Guardian recommends 10 of the best hostels in Barcelona.
For women alone, Barcelona is extremely safe and has virtually no violence; however, mind the pickpockets particularly on La Rambla, near the Sagrada Familia as well as in clubs and along the beach.
Barcelona is the gay capital of southern Europe, so you'll be free to express yourself. The LGBT community has it all, from cultural gatherings, dining and drinks to clubbing and foam parties.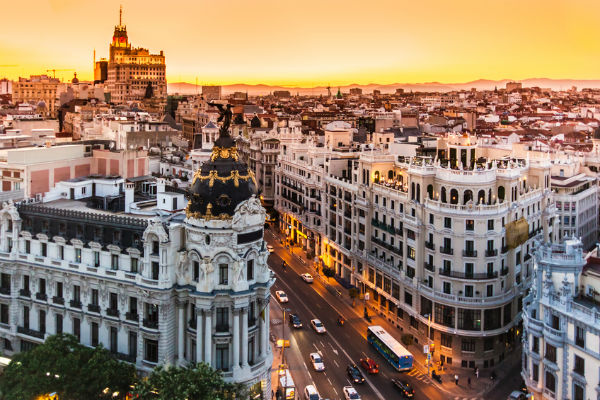 Madrid
Madrid is a modern, cosmopolitan centre with an infectious love of art, music and celebration so brace yourself for all things old and new. The city's broad sweep of historical architecture is the perfect backdrop to urban life: from the UNESCO-listed Escorial monastery, once a royal palace, to medieval mansions and random Spanish contemporary architecture, Madrid is beautiful.
For some peace from the city, the Royal Botanical Garden and Retiro Park are worth a wander for their picnic spots, ponds and meticulously sculptured hedges.
Gourmets won't have trouble finding all kinds of cuisine in Madrid and some great Spanish chefs have chosen the city to host their Michelin-starred restaurants – Dabiz Munoz's surreal three Michelin-starred DiverXO is perhaps the standout.  But in the land of suckling pig and Spanish hams, it isn't all about meat and there are some great vegetarian restaurants.
From yoga or sports to independent cinema or classical music, there's a meet up opportunity to suit just about everyone in the city.
Travelling on Madrid's Metro is part of getting to know the city and with 301 stations, it's easy to get around.  If you prefer to avoid the underground, the Uber app gets you a ride in minutes.
Madrid is generally a safe place for women to visit alone. There are no no-go zones in the centre – the areas around Gran Via, Sol and La Latina are all particularly busy so you shouldn't encounter problems.
The LGBT scene in Madrid is buzzing, the main gay area being the compact neighbourhood of Chueca, on Plaza Chueca or on Calle Pelayo.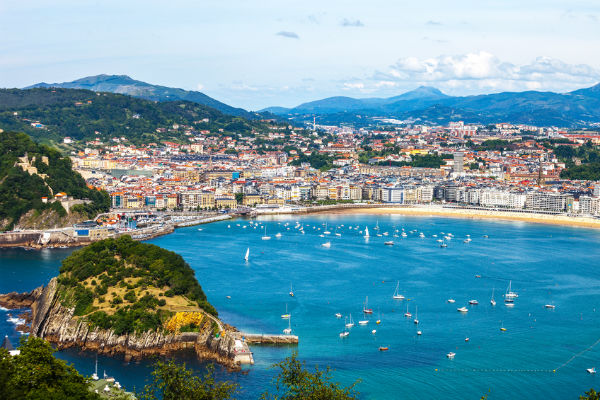 San Sebastian
Northern Spain's San Sebastian is a magnetic destination attracting film buffs, jazz fans and international foodies alike. There's plenty to draw people to this small seaside town hugging Bahia de la Concha.
You might say that for a small town, San Sebastian punches above its weight culturally: it hosts internationally-acclaimed film and jazz festivals. It is also the 2016 European Capital of Culture, an accolade it shares with Wroclaw in Poland. Music fans should make their way here in July for the Heineken Jazzaldia, which brings some of the biggest names in jazz to what is one of Europe's oldest jazz festivals.
San Sebastian will not disappoint foodies. Michelin-starred restaurants abound and the city boasts two of the world's Top 50 Best Restaurants: Arzak or Mugaritz, ideal for Basque fine dining. For more humble flavours, make sure you don't leave San Sebastian without trying its famous pintxos. Vegans and vegetarians won't miss out either as San Sebastian hosts several outstanding restaurants for the herbivores amongst us.
The beaches are major summer attractions, each with its own personality: the Concha is the best known and Ondarreta, a family favourite, stretch across Concha Bay. The Zurriola is great for surfers and the sands on Santa Clara Island are also popular spots for soaking up the sun.
Backpackers find a large number of reasonably priced hostels in San Sebastian and if you're not basking on the beaches or surfing the waves, you'll love the Old Town, hiking in the mountains or kayaking.
The city is generally safe for women travelling alone. Gay travellers are welcome and, although discretion is usual, you will find plenty of LGBT friendly places to go and enjoy a drink or a party.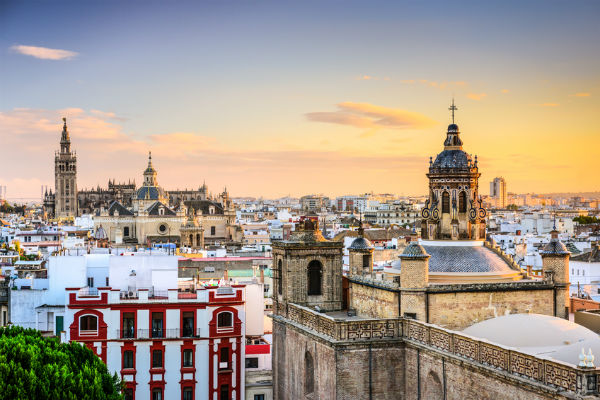 Seville
Scorched in sunshine, this romantic Andalusian city is dubbed the "Frying pan of Europe" thanks to summer temperatures which can often peak at 50 degrees centigrade. Seville's cool city vibe, Moorish architecture and ancient streets will have you mesmerised in minutes. Head for the UNESCO listed Cathedral, Alcázar and Archivo de Indias as well as the well preserved Jewish Quarter of Santa Cruz for a walk through the Seville's fascinating history.
The city is endowed with restaurants but it's the tapas scene which is most loved in Seville. There's a traditional or trendy tapas joint on just about every corner in Seville, offering mouth-watering tapas (tiny portions) and raciones (medium sized portions). Traditional bites include manchego cheese, jamon (cured ham), tortilla (potato omelette), albondigas (meat balls) while others have a more contemporary and international twist: salmon carpaccio, risotto and even prawn tempura might take your fancy. Vegan and vegetarian restaurants can also be found in Sevilla which boasts several top class options.
Sevilla attracts all kinds of international travellers from backpackers to luxury visitors. It's easy to meet up with others to watch some feisty flamenco, dine out or brush-up on your language skills.
Seville is tolerant yet discreet when it comes to its LGBT community. Head for the coffee bar terraces and night clubs of the Alameda where you'll also find several gay-friendly, low cost hotels, perfect if you're on a budget.
The city is considered to be very safe for anyone travelling alone, provided you take the usual precautions with valuables and avoid un-lit streets at night.
Head for Matalascañas beach, about an hour's drive from Seville. Here you'll find stunning sandy stretches and dunes –hang out at one of the numerous chiringuitos (beachside restaurants) or head towards the Donana National Park for peace and quiet.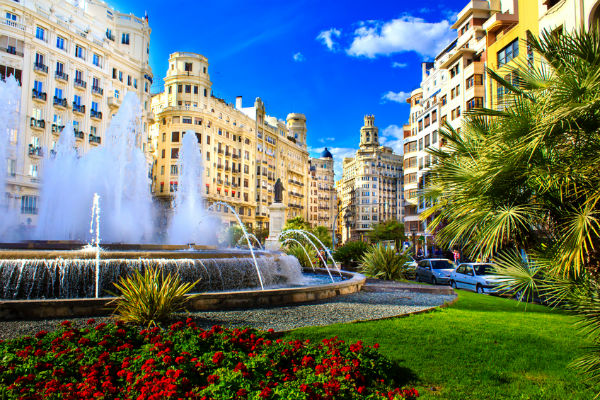 Valencia
Fabulous Modernist architecture, great museums and a characterful old quarter: Valencia has so much to offer. It treats history lovers to the UNESCO- listed La Lonja de la Seda (Silk Exchange) while gothic buildings such as Valencia Cathedral demonstrate the wealth brought here over the years. The magnificent Palmeral de Elche, a peaceful grove of date palms, was originally irrigated by the Moors.
For something more frivolous Valencia's famous festival, La Tomatina, is a massive tomato fight and well worth participating in if you don't mind the mess!
This coastal city is surrounded by fertile, fruit-and-vegetable growing farmlands and is famed for its rice dishes like paella; but its dining scene offers plenty more. Valencia's devotion to great food means long meals: lunchtime can draw out for two hours while dinner is even more laid back. Gourmet cuisine is one of the great pleasures of Valencia and may even be a highlight of your holiday. Whatever your preference, there's and eatery for you, including some incredible vegetarian restaurants.
The city centre is just minutes away from some beautiful beaches, ideal for chilling out on fine sands in a refreshing Mediterranean breeze and sizzling sunshine.         
From padel (Spanish squash/tennis mix), outdoor workouts to yoga and language exchanges, Valencia has a meet up group to suit anyone looking for like-minded company in the city.
Women travelling alone need not worry. Violence is extremely rare in Valencia, as is petty crime. However, do exercise a little caution at night if you're in Malvarossa, northern Cabanyal or the Turia River area.
Valencia is gay friendly and often said to be more liberal than Madrid and even Barcelona – head for the old town's Barrio del Carmen.