Top museums and galleries in Prague
If you're a culture-vulture, don't miss Prague! You'd be hard-pushed to miss a museum visit or two (or many more) during your stay in this incredible city. History and art abound with exhibitions spanning more than a millennium.
But where to start? As a measure of Prague's abundance of museums and galleries, it would be almost impossible to list everything in just one article. So we've rounded up some of the city's most intriguing museums and galleries to help you on your way to what could be the cultural trip of a lifetime.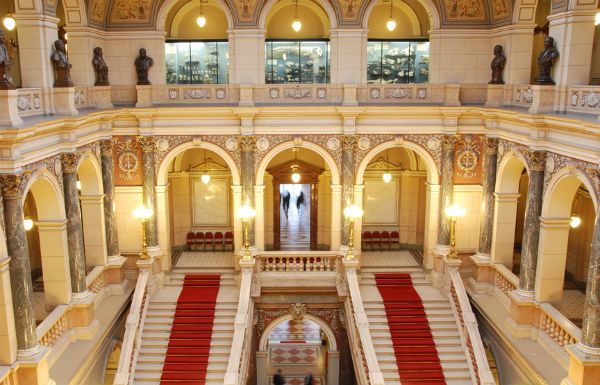 Pragues top museums
National Museum – Founded in 1818, there's plenty to take in here, some 14 million exhibits to be exact, distributed across three main areas: the Historical Museum, the Natural Museum and the Library. It also houses the impressive Antonín Dvořák Museum, dedicated to the famous Czech composer.
The City of Prague Museum – First, marvel at the exterior of this grand neo-Renaissance building. Inside you'll find displays covering Prague from prehistory to 1784, a highlight being the early 1800s Langweil model of Prague showing the Old Town, Lesser Quarter and Prague Castle.
Lobkowicz Palace – This 16th-century palace is a private museum showcasing priceless paintings, furniture and musical memorabilia. The audio guide is dictated by the Palace's aristocratic owner William Lobkowicz, bringing you an interesting, personal account of the building's history. The café stages classical music concerts every day at 1pm, so it may be worth timing your visit around lunch.
Museum of Decorative Arts – This museum opened in 1900 as part of a European movement to return aesthetic value to places that suffered due to the Industrial Revolution. Its four halls offer a feast for the eyes with their 16th to 19th century artefacts – tapestries, porcelain, furniture and a stunning collection of glasswork.
National Technical Museum (NTM) – Bordering Letná Park, this is the largest institution dedicated to the history of technology in the Czech Republic. The museum showcases large exhibits as well as about 3,500 linear metres of shelving holding archival material, including around 250,000 books. In 2001 the NTM opened a Railroad Museum to display approximately 100 railway vehicles.
Villa Bertramka (Museum of W. A. Mozart and the Dušeks) – This charming 17th century villa was once a vineyard estate and its past owners, opera singer Josefina Duskova and her husband, are believed to have hosted Wolfgang Amadeus Mozart here on his visits to Prague. Mozart claims to have spent happy moments here, hidden from disturbances. He completed Don Giovanni here, which premiered in the estate's theatre in 1787.
Mucha Museum – A dream for Art-Nouveau lovers, this museum, housed in the Baroque Kaunický Palace, is dedicated to the life and works of the internationally acclaimed artist, Alphonse Mucha. It showcases around 100 exhibits including photographs, paintings, pastels, charcoal drawings, lithographs and personal memorabilia giving an interesting insider's view of the artist and his world.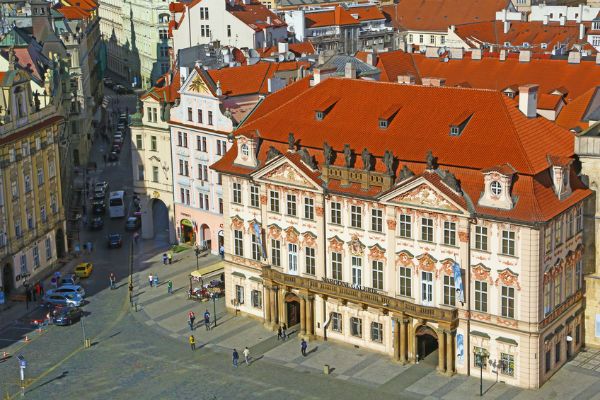 Art galleries
The National Gallery – The elegant Rococo building of the Kinský Palace houses a wonderful collection of modern art, spread out over four floors. Often regarded as Prague's best museum, it holds an unexpectedly rich collection of works by world masters like Picasso, Van Gogh, Klimt and Schiele.
Sternberg Palace – Part of the National Gallery, the Palace houses 14th to 18th century European art, including works by Rembrandt, Goya and Rubens, some of which are large altar pieces. Don't miss the Feast of the Rosary by Albrecht Dürer which was brought to Prague from Venice by Rudolf II – in the background, under the right-hand-side tree is the figure of the artist himself. Finally, go to the first floor to observe the emotive, 16th century Dutch painting, The Tearful Bride.
St. George's Convent – Prague Castle's St. George's Convent was the first monastery in Bohemia and was home to Benedictine nuns as well as being an important clerical centre for several centuries. Currently it houses a permanent exhibition by the National Gallery of Bohemia's Mannerism and Baroque art.
Convent of St. Agnes of Bohemia – The former Convent of St Agnes is Prague's oldest surviving Gothic building – a sight in itself. It also holds the National Gallery's permanent collection of medieval and Renaissance art from Central Europe and Bohemia where you'll find a treasure trove of glowing Gothic altar paintings and poly-chrome religious sculptures.
The Trade Fair Palace – As its Functionalism style building might suggest, the impressive Trade Fair Palace contains the largest collection of modern and contemporary arts in Prague.  Here you'll find permanent exhibitions covering 19th and 20th century French and Czech art, 20th century European art as well as several interesting temporary exhibitions.
House at the Black Madonna – Often referred to as a jewel of Cubist architecture, this is a must-see for lovers of Cubism. Designed by the famous Czech architect, Josef Gočár, as the first example of Cubist architecture in the city, this is a much visited building in the heart of the Old Town.
Strahov Picture Gallery – Tucked within Strahov Monastery's second courtyard is the Strahov Picture Gallery, the perfect place to marvel at a valuable collection of Gothic, baroque, rococo and romantic art. A peaceful place to spend an hour or two, you can also wander around the cloisters, chapter house and refectory as you reminisce about times gone by.
House at the Stone Bell – During restoration works in the 1980s, a facade was stripped away from this elegant medieval building only to reveal its original 14th-century Gothic stonework. A stone bell was also found at the corner of the house. Inside, two restored Gothic chapels are used as branches of the Prague City Gallery as well as venues for chamber-music orchestras.