Top 5 Things to Do in Dubrovnik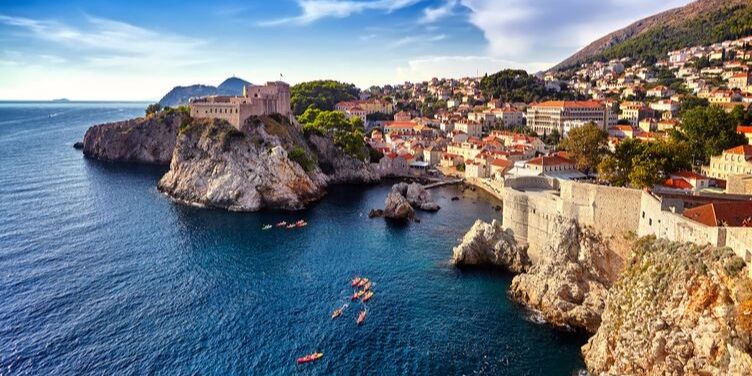 If you're considering a trip to Dubrovnik, but you're unsure about what the Croatian city has to offer, you've come to the right place.
I first visited Dubrovnik when I was on a cruise, and I spent a marvellous afternoon wandering around its historic centre. I loved the place so much that I returned the following year to spend a whole week exploring its attractions.
Here are just some of Dubrovnik's highlights that you can't miss…
1. Explore Historic Dubrovnik
Dubrovnik was founded in the seventh century, and today its medieval walled centre is a UNESCO World Heritage site.
Croatia lost its independence to Napoléon in 1808, and in 1815 it was passed on to Austria-Hungary. By the 20th century, as part of Yugoslavia, the Dubrovnik Riviera became a popular tourist destination, and in 1979 Dubrovnik city was listed as a UNESCO World Heritage Site.
Its limestone streets have been polished to a marble-like finish by millions of feet, and they shimmer in the sunlight. The city's pale stone buildings are topped with terracotta tiled roofs – and it all looks gorgeous.
2. Amble in the Arboretum
Trsteno Arboretum is one of the oldest in Croatia, dating back to the 15th century when it was a renaissance park and part of a summer residence.
Amble through to see the beautiful gardens, a mill, an aqueduct and a fountain featuring Neptune and his nymphs. The Gothic renaissance, Belvedere Pavilion, is the perfect place to marvel at the sea views to the Elaphite Islands.
The pride of the arboretum is the two famous Oriental Planes trees which are over 500 years old and unique specimens of their kind in Europe. These ancient trees are about 60 metres tall and boast massive, five metre thick trunks. The rest of the arboretum's collection is stunning too, consisting of over 300 species of rare and exotic trees and shrubs.
If you are a fan of the TV show Game of Thrones, you can visit some of the main filming locations. The gardens are where the main characters were filmed weaving their plots and sharing their secrets at King's Landing.
3. Sophisticated shopping in Dubrovnik
If you're looking for a little sophistication, shopping in Dubrovnik is likely to do the trick.
The Old Town is well geared for the tourist trade. Head for the smaller shops on the Stradun, a number of streets striking north and south from the main thoroughfare, if you would like a little more variety and better prices.
The daily market on Gunduličeva Poljana has a bustling atmosphere, with street sellers touting their fresh fruits and vegetables. You'll also find other unique souvenirs such as handmade lace, gold and silver jewellery, homemade honey and handicrafts.
4. Indulge in rustic Rakija
One thing you are more than likely to come across on your holidays in Croatia is Rakija, a favourite alcoholic tipple typically shared among the locals. Home brews are commonly made from blueberries, pears, juniper berries or herbs and you'll find roadside stands with locals proudly selling bottles of their own rustic Rakija. If you fancy trying some!
5. Take a boat to Lokrum
Lokrum is a peaceful, forested island which sits just off the coast, around a 15-minute boat ride from the city.
The island's a great place for a picnic, although there are no shops, so you have to bring a packed lunch from the mainland. Lokrum has a few cafés and restaurants, a small salt lake, some botanical gardens and a ruined Benedictine monastery. Beautiful peacocks roam the island freely.
My Top Tip
The city now limits the number of cruise ships that can dock at Dubrovnik, due to concerns about overcrowding.
If you plan to visit, I'd recommend checking the cruise ship arrivals schedule on the Dubrovnik Port Authority website so that you can visit when there are fewer tourists around.
Getting there
Flights to Dubrovnik from the UK take just under three hours. Remember to arrange your travel insurance for Croatia before travelling. Then you'll be ready to roll, wherever your holiday takes you.