A Relaxing River Cruise along the Rhine & Moselle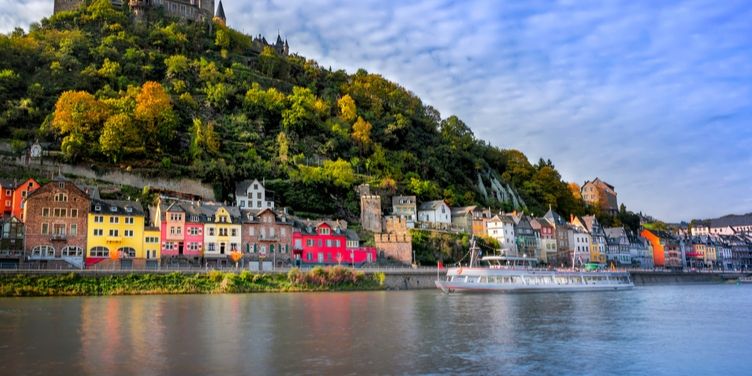 River Cruising is becoming one of the most popular holidays and it's easy to see why.
I recently enjoyed a Fred Olsen river cruise through Germany on-board their lovely ship 'Brabant'.
Here's my experience of taking a river cruise through Germany.
All aboard
My cruise started with a flight from London to Basel, in Switzerland. On arrival, we were taken by coach to the ship and I was soon settling into my cabin.
River ships tend to have smaller cabins than their ocean-going sisters so try not to pack too much. My home for the week was average size with all amenities, with the bonus of a large sliding window so I could watch the scenery while lying in bed with my morning cuppa.
While ocean ships are becoming larger and higher, river ships are built long and low as they have many bridges and locks to navigate. They typically have three to four decks, including an open sundeck, and plenty of large picture windows to enjoy the beautiful views.
Like all hotels, the staff determine the atmosphere and the crew on Brabant were a mix of many nationalities and all incredibly friendly. Being a small ship they often doubled up in duties, all worked very hard and soon remembered guests' names, likes and dislikes.
Meals on board were enjoyed in the Panorama Restaurant – an extensive breakfast buffet, three course lunch, afternoon tea and a five-course evening meal.
In-between ports of call, I was treated to a guided tour of the galley where our incredible food was prepared each day. The space seemed to be only slightly bigger than my own kitchen but with amazing organisation and skill the team worked seamlessly together under the kind eye of Executive Chef Julia. There was a mix of nationalities and Julia kept everyone on track with her endless encouragement and good humour. I mentioned how I had enjoyed the vegetarian chilli we had at lunch time and Julia kindly gave me the recipe – I just need to scale down the numbers as Brabant has an average of 150 passengers!
Evening entertainment was low-key but great fun with quizzes, bingo and music. Not forgetting an informative 'port talk' each evening to set us up for the following day.
Ports of call
Our first port of call was Strasbourg, France, which was one of my favourites, with its pretty medieval old town area. Strasbourg city centre has UNESCO World Heritage Status and it's well deserved, I would love to return and explore for a while longer.
Our next stop found us in Germany, where we called into the pretty towns of Speyer, Mannheim, Oberwesel and Koblenz. All with their own story to tell and each with plenty to see, either on an excursion or just by yourself.
We docked early in the twin towns of Traben-Trarbach and had the morning to explore. The towns are linked by an attractive bridge and there was the opportunity to walk along each side of the river, stopping for a coffee along the way. After lunch, back on board we sailed along to Berkenkastel where I joined a wine tasting tour, being in the heart of the Moselle valley it seemed obligatory to me! It would be rude not to.
Next on the list was possibly my favourite town, beautiful Cochem. A visit to the fairy tale Reichsburg Castle, that overlooks the town, is a must. You can take an organised excursion from the ship, or you can walk up a steep hill and buy an entrance ticket and tour on arrival.
Overnight we left the picturesque villages and small towns behind and woke up to the city scape of Cologne. The city is a mix of old and new architecture and a visit to the iconic cathedral is an unforgettable experience.
The last stop before our flight home was Dusseldorf, and for me it was an afternoon to wander along the river front into the city and enjoy a summer afternoon relaxing with an ice cream.
To sum up
If you have never tried river cruising do give it a try. It is a great way to see a number of varied places without having to keep packing and unpacking. There's a great variety of cruises on rivers all over the world that offer a whole range of facilities and levels of comfort. Nothing can beat relaxing on a sunbed on the sun deck while drifting along watching the ever-changing scenery.
Interesting and often 'themed' excursions are offered at each port of call and can be a great way to sight-see but it is easy to explore on your own as the ships normally dock near, or in, the centre of towns. I found a mix of both suited me.
Before you go
When taking a river cruise, it's important to be covered by your travel insurance. Just tell your travel insurance provider you're going on a cruise, as this won't be included in standard policies.