Can You Bring Insulin Needles on a Plane?

Flying comes with its own set of baggage these days. Ever-changing security regulations can be difficult to keep up with and can be worrying if you're thinking about flying with a condition such as diabetes. You can find the latest guidelines online but the basics state no sharps and no liquids over 100ml in hand luggage… so how are you supposed to carry your insulin on board?
It's true that most passengers are only allowed to carry liquids under 100ml and can't take sharp implements into the cabin. There are exceptions for medical supplies but you should carry a letter from your GP explaining what equipment you need and that your insulin must be carried on as hand luggage. Take a portable sharps container – most airports and planes have sharps disposal boxes in the toilets or the cabin crew can assist. Remember that you should always keep your medical ID, insulin and supplies in your hand luggage as the freezing temperatures in the hold can degrade it.
To help travellers with diabetes, we've put together an illustration detailing what you need to pack in your travel kit.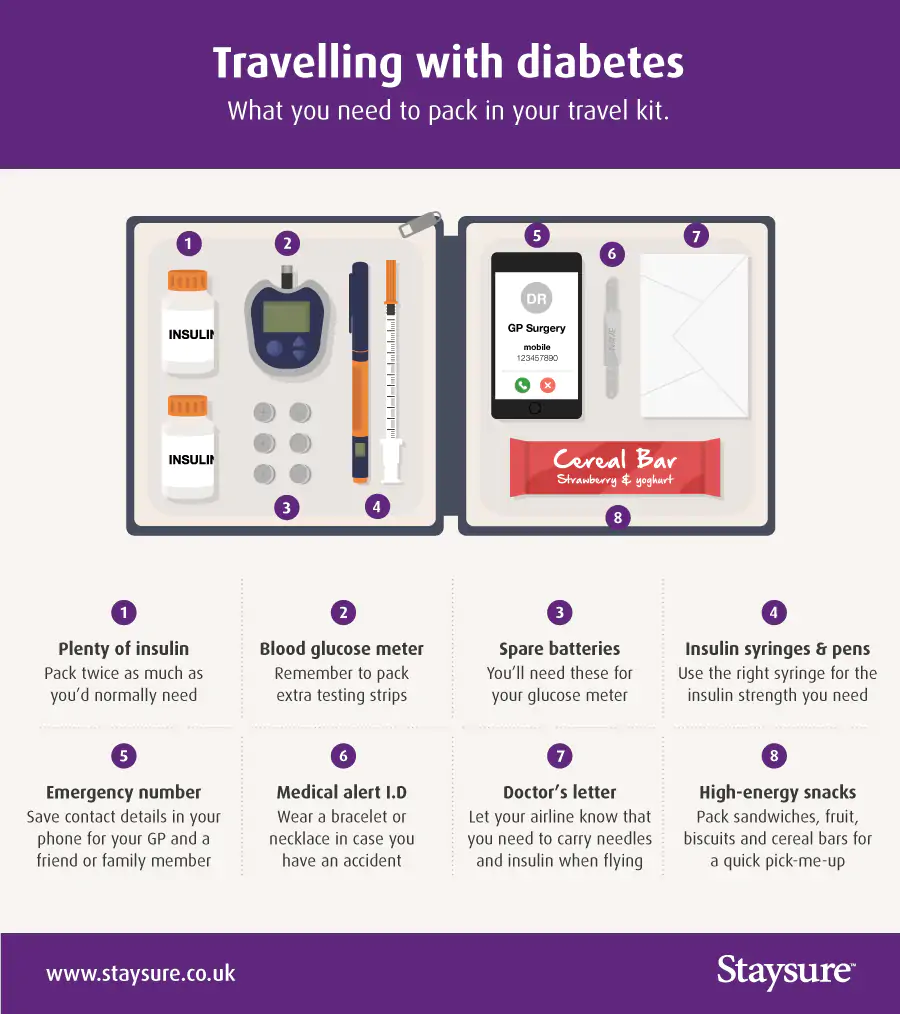 Extra supplies overseas
Before you travel call the manufacturer of your insulin to find out if they supply the country that you are travelling to, and also what brand name it is sold as there. Take a recent prescription with you and pack your GHIC/EHIC card if you're travelling in the EU, so you can claim back the cost of medical supplies when you return home. Some pharmacists offer a service to courier insulin to your destination but this is an expensive option best used in an emergency.
If you do need extra supplies when you're abroad, check the insulin strength. The UK uses U-100 but other countries might supply U-40 or U-80, which need to be taken with the correct syringes.
If you use an insulin pump or CGM (Continuous Glucose Monitoring) device it's best to call your airline ahead of your flight to check you can take it in the cabin. Some devices have a WiFi function that could affect the flight navigation electronic system and if this can't be turned off the cabin crew may refuse to carry it in the cabin.
Pack an insulin pen or another way of administering insulin in case you have to remove your pump for the flight. You can request that security do a hand wand inspection at the airport, as devices are fine to go through the metal detectors but should be kept away from the X-ray machines. Companies such as Medtronic make cards with pump and CGM information on it that can be given to security and cabin crew to help them understand your needs.
For covering your holidays when travelling with diabetes, consider Staysure.
Dr Claudia Pastides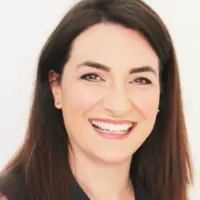 Dr Claudia (Carmaciu) Pastides
MRCGP MBBS iBSc
Dr Claudia (Carmaciu) Pastides works as a GP in Marylebone. She graduated from University College of London Medical School in 2009 and is a London trained General Practitioner with a special interest in health promotion and health writing. Website – www.DrMummykins.com Twitter- @DrClaudiaPastides