Italy off the Beaten Path: Top Destinations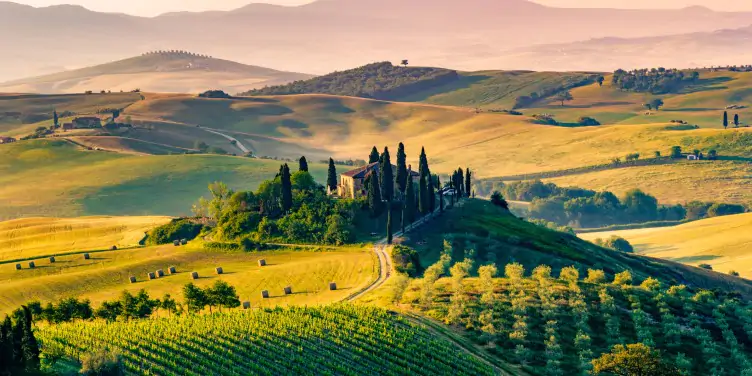 Love Italy but find its popular destinations too crowded? If you're looking to stay a bit off the beaten tourist path, there are plenty of destinations in the country that are largely unknown to non-Italians.
We won't go so far as to call them "undiscovered", but if it's pristine lakes, uncrowded towns and relaxing stretches of coastline you seek, consider these idyllic spots in Italy that are just off the tourist radar.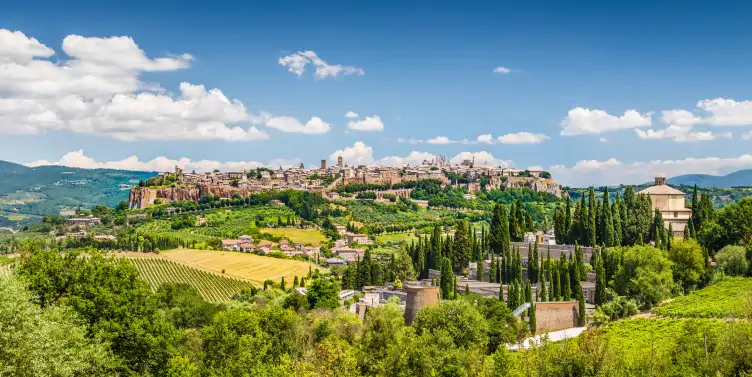 Orvieto
You've done Rome and Florence. Now it's time for a pitstop in Orvieto, the enchanting Umbrian hill-town that sits about midway between those two tourist meccas.
Established by the Etruscans, the pre-Roman tribes that once ruled central Italy, Orvieto is a well-preserved medieval city that sits high on a tufa bluff, overlooking the rolling hills of Italy's heartland. 
Be sure that your visit includes a tour of the network of man-made caves under the city, some of which date to the Etruscan era. 
Orvieto is also home to one of Italy's most important duomos, or main cathedrals, regional specialties like the palatable Orvieto Classico white wine, and a slower pace of life.
Top Tip: If you fancy a little bit more adventure, visit St. Patrick's Well, you can climb all the way down it! 
Nearest Airport: The nearest airport to Orvieto is Perugia, which is around 1 hour and 15 minutes away from Orvie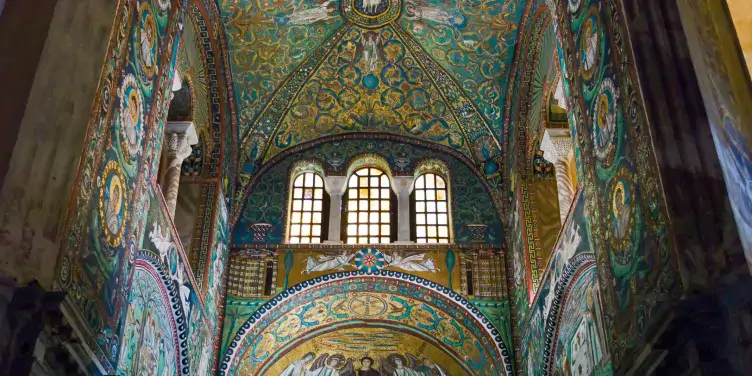 Ravenna
It might be hard to believe that the tranquil city of Ravenna, on Italy's northern Adriatic coast, was once the seat of the Western Roman Empire and later, the Italian seat of the Byzantine Empire. 
It was during this second period that Ravenna really flowered, as is evidenced by its early Christian churches and monuments filled with exquisite mosaics. Eight of these are on the UNESCO World Heritage list. 
For history and heritage, there are few places easier to explore. And while the beaches east of Ravenna are just so-so, the seaside resort of Rimini is just an hour south.
Top Tip: If you want to indulge in some Italian cuisine while you're in Ravenna, Il Brigantino is a restaurant not to miss, winning travellers' choice in 2022. 
Nearest Airport: The nearest airport to Ravenna is Forli, which is about 40 minutes away.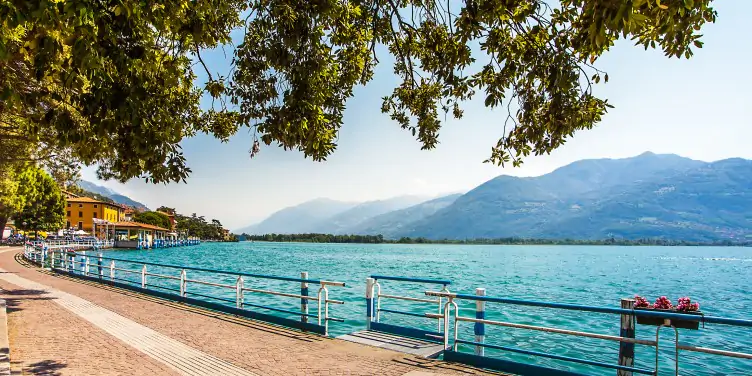 Lago d'Iseo
Lakes Como, Maggiore and Lugano are the stars of Italy's northern lake district. 
And that makes Lago d'Iseo (Lake Iseo) all the more appealing since it's blessedly free of the crowds and touristy businesses along those larger lakefronts.

The clear waters here are ideal for swimming, boating, or just relaxing and reading a book – your biggest decision of the day might be where to go for dinner.
Base yourself at Iseo or Lovere for a livelier scene, or head to Sulzano or car-free Monte Isola for a quieter stay.
Top Tip: Lago d'Iseo was the site of one of late artists Christo and Jeanne Claude's last installations, The Floating Piers.
Nearest Airport: The nearest airport to Lago d'lseo is Verona airport, which is about 1.5 hours away.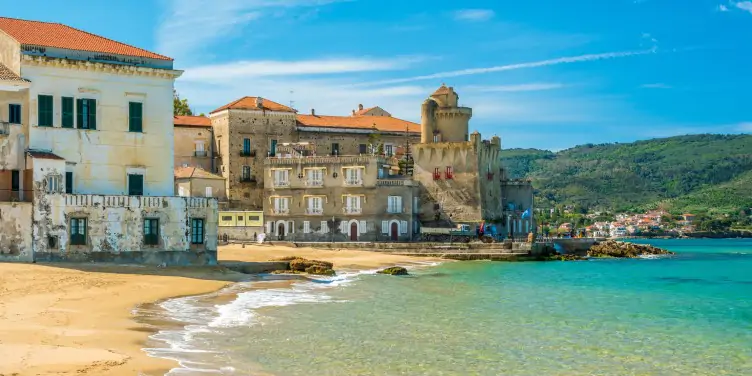 Cilento Coast
While it's well-known to Italians looking for an away-from-it-all beach vacation, the Cilento Coast is nary a blip on the radar of most English-speaking travellers. 
But if you promise to keep it to yourself, we'll let you in on this secret paradise of hidden beaches and coves backed by sea cliffs and lapped by magically blue, clear waters. 
Most of the coast is a gloriously undeveloped, UNESCO-listed national park, but noteworthy towns include Agropoli, Acciaroli, and Palinuro.
The astounding Greek ruins at Paestum are just to the north of the Cilento Coast, which itself is about two hours south of Naples.
Top Tip: Cilento hosts incredible food festivals (sagre) year-round, featuring diverse food stalls, live music, and dancing. You can find more information on the Il Cilentano website, but you'll need to translate it to English unless you're fluent in Italian!
Nearest Airport: The nearest airport to the Cilento Coast is Salerno Airport, which is about an hour away.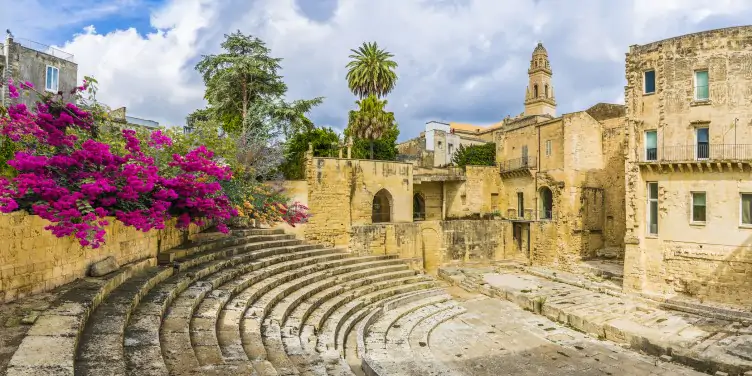 Lecce
Near the tip of the heel of Italy's boot in the southern region of Puglia, Lecce is a honey-coloured pearl of a city. 
Called the "Florence of the South", Lecce is famous for its riotous Baroque architecture spun in soft tones of limestone. 
It has a large historic district whose many broad piazzas are lined with ornately decorated churches, municipal buildings, and palaces, interspersed with the occasional Roman ruin. 
To the east and west of Lecce, the beaches of the Salento peninsula (the heel) are some of the most stunning in Italy – though they're packed to the gills in July and August.
Top Tip: If your favourite thing to do is relax on the beach, then visiting in June or September is perfect for a quiet trip to the seaside. 
Nearest Airport: The nearest airport to Lecce is Brindisi Papola Casale Airport, it then takes around 40 minutes to arrive in Lecce.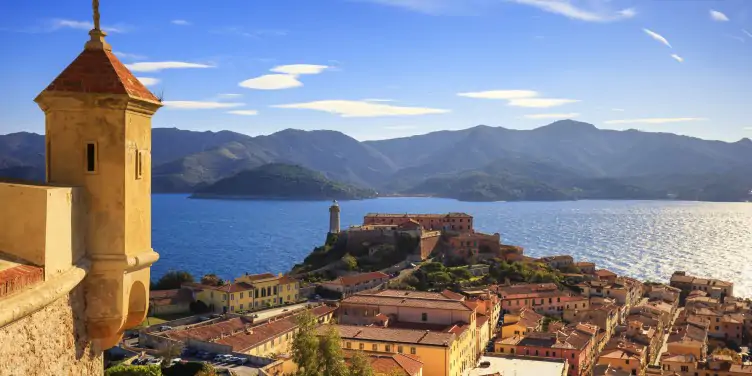 Elba Island
Oh, to make like Napoleon and be exiled on the Isola d'Elba! This ruggedly gorgeous island rises out of the Tyrrhenian Sea just off the coast of Tuscany. It's home to more than 80 named beaches and countless hidden coves, many reachable only by boat. 
For watersports, the seas don't get much clearer or cleaner and for hiking and mountain biking, the wild interior provides challenges for all fitness levels.
Other than the main port city of Portoferraio, towns are on the smallish, decidedly low-key side, though those along the coasts do fill up in high season, mostly with Italians.
Top Tip:  For those seeking adventure, take a hike up Capanne Mount. The peak of the mountain marks the highest point of the entire island.
Nearest Airport:  The nearest airport that UK airlines fly into is Pisa Airport. From there you will need to catch a ferry at Piombino. Pisa to Pimbino takes around 1.5 hours.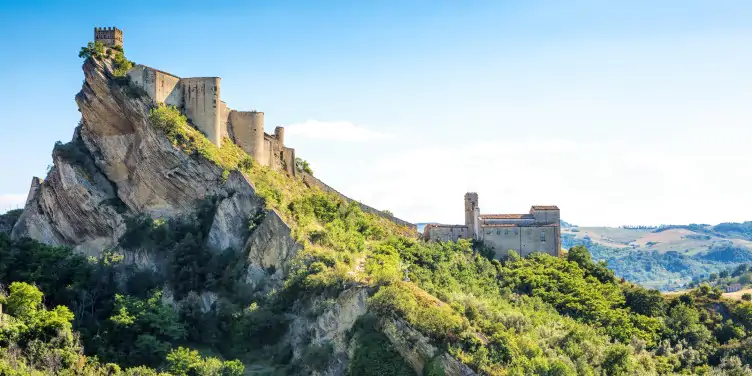 Abruzzo
For a taste of Italy's wild, natural side, head to the mountainous interior of Abruzzo, the rugged region east of Rome that's more than 50 per cent parkland. 
This is truly Old-World Italy, where ancient hill towns have changed little over the centuries, and where shepherds still complete the twice-annual transhumance – the sheep migration that follows trails carved a millennium ago. 
L'Aquila, Chieti, or smaller Sulmona all make fine places to stay. Or head higher into the hills – or rather the Apennine Mountains – and stay at a rustic lodge nestled among the highest peaks in southern Italy. 
On the coast, iconic trabocchi fishing piers interrupt long stretches of sandy beach.
Top Tip:  Dive into culture with the different tours taking place month by month in Abruzzo, visit Bella Vita Experiences to see what's on when you visit!
Nearest Airport: Fly direct to Pescara Airport from London Stansted.
What is the best month to visit Italy?
The best months to visit Italy are May, June, September and October. 
Crowds vary throughout these months, but the weather is warm and the sky is bright.