7 Greek islands you've probably never heard of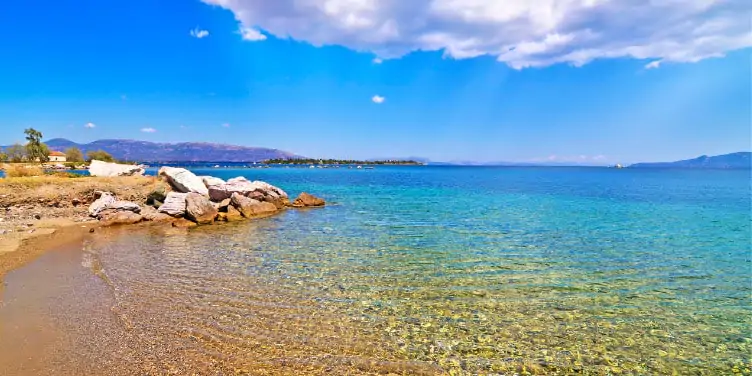 Love Greece and holidaying in the Greek islands, yet finding it hard not to escape the crowds? There's no doubt Greece is famed for its islands and with over 200 inhabited ones to choose from, you won't have to travel far to find one off the beaten track and frequented mostly by locals.
These idyllic islands are just off the international tourist radar, giving them a more authentic Greek island holiday and each with their own unique reason to visit.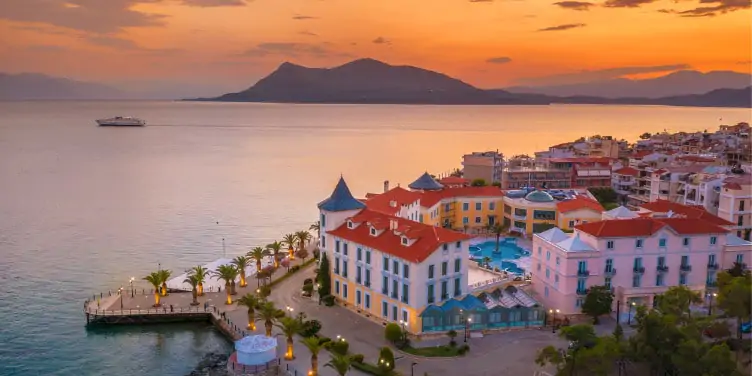 Day trip to Evia
Crete may be Greece's largest island, but many tourists haven't heard of, let alone visited Greece's second largest, Evia. Hugging the mainland's east coast from the south coast of Athens all the way up to the Pelion peninsula, it's proximity to the mainland means Evia's capital town of Chalkida is linked by suspension bridge, meaning you can be there from Athens in under an hour, making a day trip possible.
Its mountainous landscape offers many walks and hikes while hidden coves and beaches on the east coast means you'll not be short of finding a place to swim all to yourself.
Yet it's the spa town of Edipsos that attracts the locals, and with good reason as with more than 80 individual springs and hotels to accommodate their healing properties. If you're wanting a relaxing holiday you can't go wrong in choosing Evia as your destination.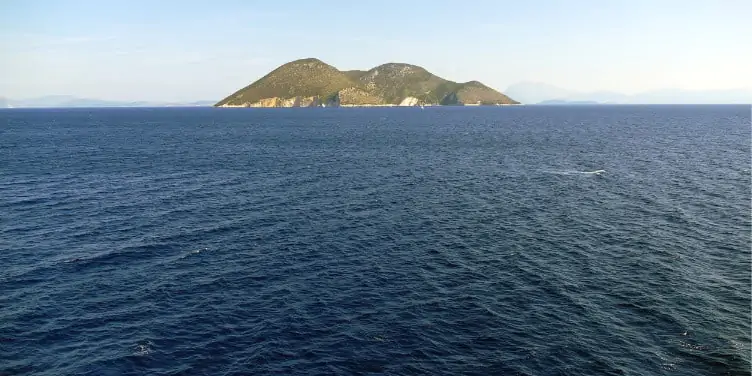 Experience authentic Erikousa
You've visited Corfu, which due to its airport makes it a very popular destination, yet six miles by ferry northwest lies the island of Erikousa. So small and unspoiled that not even many Greeks have heard of it.
At only 1.9 square miles and with a year round population of only 30 people, Erikousa is the 'real Greece'.
Swim and relax on the sandy beach by the small port, walk among the purple gorse bushes and pine forests, eat and drink at the taverna with the locals and you'll soon become one of them. It's the perfect place to visit for a few nights and stay in one of the two small hotels on the island if you wish to simply unwind and go with the flow.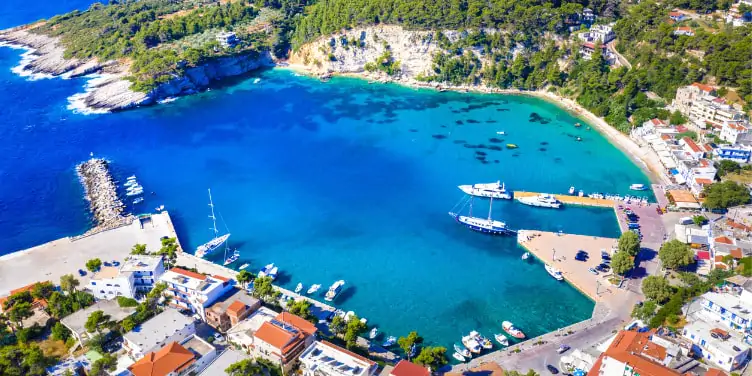 Find adventure in Alonnisos
The lively island of Skiathos keeps people returning every year, but its nearby cousin Alonissos, reached by ferry, is perfect for those keen on marine life. Adventurers enjoy diving its many wrecks, hoping to spot the shy monk seals who have taken up habitation in its National Marine Park.
It also houses Greece's first underwater museum featuring one of the biggest Classical-era shipwrecks, dated around 425 to 420 B.C. inviting experienced divers to explore.
It's rugged interior of pine forests and olive groves, gives way to sandy and shingle beaches and the pretty fishing village of Steni Vala. The island's small row of tavernas and cafés along the waterfront is the perfect place to unwind with the locals.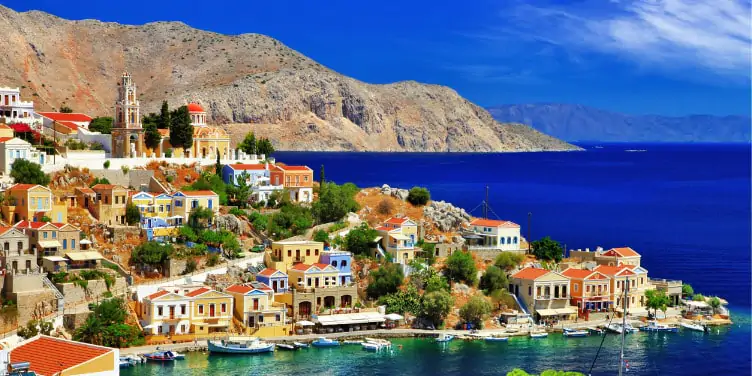 Secret Symi
Symi is a hidden gem, a mere 50 minutes by ferry from the popular island of Rhodes, making it a perfect day trip destination too.
What initially strikes everyone about Symi when first visiting is its sheer beauty. As the ferry rounds the headland and slowly chugs into port, expect gasps of delight as everyone rushes to take photographs of the colourful neoclassical mansions spilling down the mountainside to the harbour.
Symi is proof you don't have to travel to Italy to experience Italian grandeur.
While it doesn't boast sweeping sandy beaches, the gentle hiking through the rocky terrain, meandering through the streets of the Old Town or simply relaxing in a quiet cove makes Symi the ideal island for couples and honeymooners looking for a quiet place to celebrate.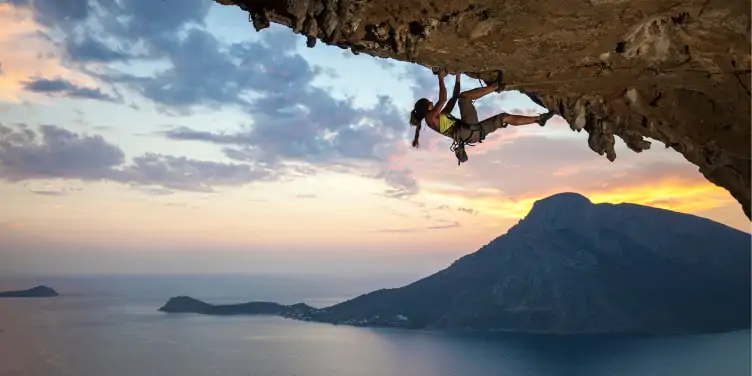 Remote Kalymnos
Attracting rock climbers and hikers year round due to its rocky landscapes, the sandy beaches, small chapels and bleating goats dotting the landscape lends Kalymnos a remote Greek island feel.
Just a ferry ride away from the tourist hotspots of Rhodes and Kos, Kalymnos' prosperity came from sponge diving as the island was the centre of the Greek sponge trade.
Initially divers would free dive naked to reach the sponges, then in 1865 the standard dive suit was used, allowing the diver to be underwater for longer with the bell helmet providing oxygen.
Today, at the port you can find a museum dedicated to this skill and buy yourself a sponge untreated by chemicals–the perfect souvenir.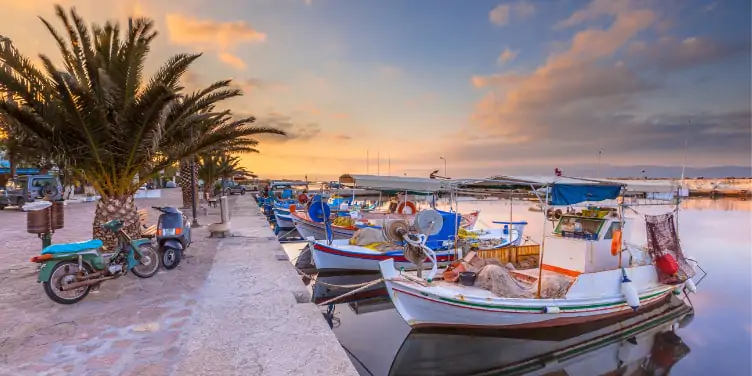 Peaceful Hydra
The island of Hydra is relatively unheard of to international tourists despite being so close to mainland Greece. From Athens, simply hop onto a ferry at Piraeus and within an hour you'll be relaxing in this non-motorised island where the locals walk everywhere, use donkeys, mules or water taxis.
The fact it doesn't have an airport means the island is free of the crowds that come with Greece's more commercial islands. Visitors tend to stay in its choice of boutique hotels, or book small villas for several months to unwind and be inspired by the surroundings.
It's this calm and artistic atmosphere that attracts several Greek artists and poets who hold many exhibitions throughout the year.
With the island's old Captain's mansion houses and several small chapels scattered around the interior (some with monks still living there), Hydra offers the perfect escape for those after some peace and quiet exploration.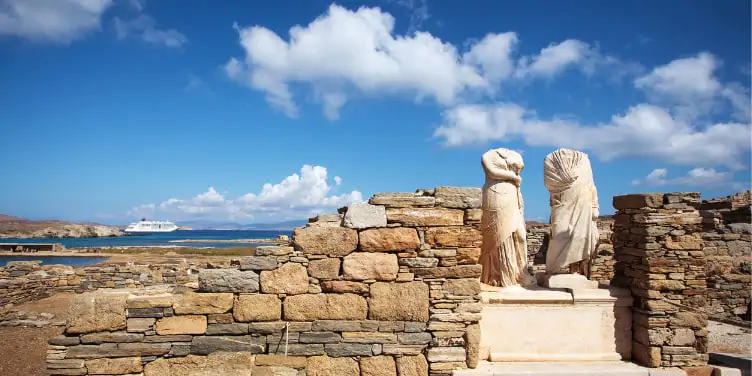 Delve into Greek mythology in Delos
Everyone's heard of Mykonos, Greece's party island. Yet a short ferry ride away and in under an hour you'll find yourself immersed in a completely different world. The UNESCO archaeological island of Delos.
You won't find any accommodation on Delos as no-one is allowed to stay overnight. Only guards and archaeologists stay here year round in the smattering of cute houses dotted around.
It's a place for day-trippers from Mykonos, especially those intrigued by Greek mythology keen to discover more about this sacred island of Antiquity.
Myth tells us that Delos was created by the God Poseidon for one of Zeus' (King of the Gods) human lovers to peacefully give birth to his children, away from Zeus' jealous wife. A single olive tree on the otherwise barren landscape grows in the spot where Leto, Zeus' lover, gave birth to twins Apollo and Artemis.
Bring plenty of sun cream, water, a hat and good walking shoes to help you explore the archaeological ruins – there's not much shade!