Top tourist attractions in Rotterdam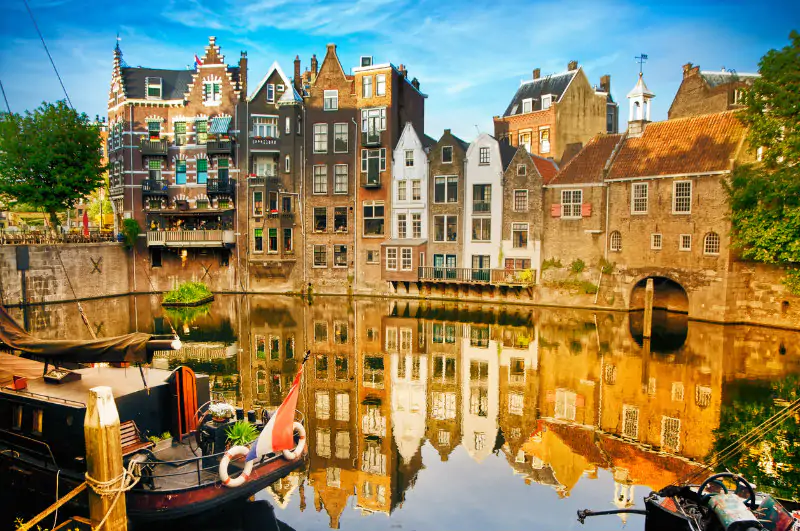 Rotterdam might be just an hour's drive away from Amsterdam, but it is a million miles away in both attitude and personality. Rotterdam is one of the nation's most elegant and modern urban centres, boasting spacious shopping malls, several historical monuments and one of the world´s busiest working harbours.
So what shouldn't you miss when visiting Rotterdam? Here are some of the city's top tourist attractions to help you plan your trip:
Euromast
Dominating Rotterdam's skyline, Euromast is the tallest building in Holland at 185 metres high. Almost as iconic as Paris's Eiffel Tower, it's the ideal place to take in stunning views the city and surrounding areas. If you can stomach the height, you might like to make your visit extra special by booking a table in the Euromast Restaurant. If you're daring, you can abseil down the building – perhaps before your meal – for an exhilarating experience.
Rotterdam harbour tour
Rotterdam boasts one of the biggest ports in the world so visitors flock to view the shipyards, the docks and the containers as they go about daily business. Take a 75 minute harbour tour during which helpful on-board guides give the lowdown of the history of this successful port.  A unique amphibian bus will also take you to many of the city´s most beautiful sights, including a spectacular dive into the Maas River.
Rotterdam Zoo
Just north of the city´s Central Station, Rotterdam Zoo, aka Diergaarde Blijdorp, is one of the most famous in Holland as well as one of the oldest. The zoo represents animal life in every continent, each with its own designated area in the zoo. Don't miss the main event: Oceanium, which is home to hundreds of marine mammals and rare fish species.
Museum Boijmans van Beuningen
Art enthusiasts should not miss the Museum Boijmans van Beuningen, the most important art museum in Rotterdam. Here you can view a diverse range of art covering all periods from medieval to contemporary. Most of the artists featured in the museum are Dutch and the permanent collection includes many works by Monet, van Gogh, Rembrandt and Dali.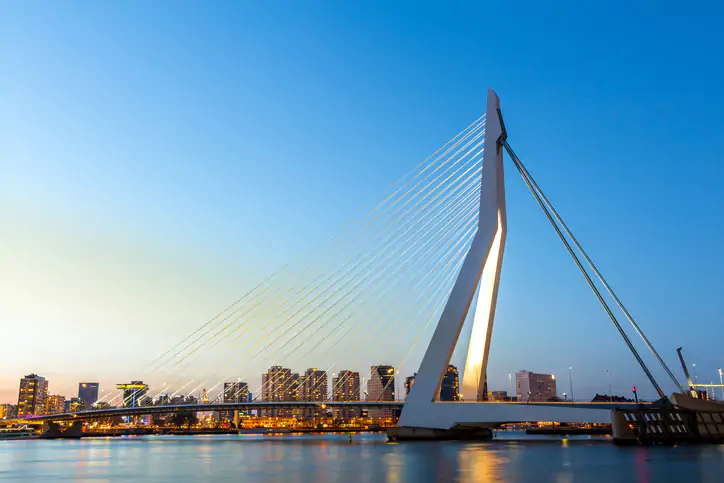 Erasmusbrug Bridge
An impressive 139 metre-high structure, the Erasmusbrug Bridge, nicknamed ´The Swan´ is a major architectural wonder in Rotterdam and is used for major city events, including big firework displays and spectacular concerts. This cable-stayed bridge, designed by Ben van Berkel, was completed in 1996. Walking across it takes you across the Nieuwe Maas River between the north and south Rotterdam.
The Rotterdam Cube Houses
Rotterdam´s Cube Houses are an innovative take on urban high density housing. Houses represent trees to make up a forest and are tilted at 45 degrees, resting on a hexagon-shape pylon. You are free to roam about and take a look at these unique constructions, as well as to drop into the Cube House Museum, also known as the ´Show Cube.´
Delfshaven
When Delfshaven became independent in 1795, Delft harbour became a district of Rotterdam. Picturesque Delfshaven was one of the few places in Rotterdam that was not bombed during World War II and it boasts many fully intact historical buildings around the harbour area – a pleasure for all architectural enthusiasts.
Feyenoord Stadium
This hugely prestigious football stadium, otherwise known locally as the ´De Kuip´ provides an incredible 49,000 seats. Feyenoord Stadium is so highly regarded that world-famous football stadia like the Nou Camp in Barcelona have been designed based on ´De Kuip´. Take a 90-minute tour of the stadium and you will be allowed access to places which are not ordinarily open to the public on match days.
Rotterdam Maritime Museum
Founded in 1873, Rotterdam Maritime Museum depicts the fascinating naval history of the city. The museum features a number of interactive exhibitions, educational events and tours for all ages – a perfect opportunity to discover the maritime worlds of past, present and future.
<