50 of the most beautiful places to visit in the UK
The UK is full of beautiful, magical and breath-taking places to visit. You just have to know where to find them.
Take a look at our top 50 favourite views and places to visit around the UK – we've even checked if they're open with Covid measures to help you plan your next trip!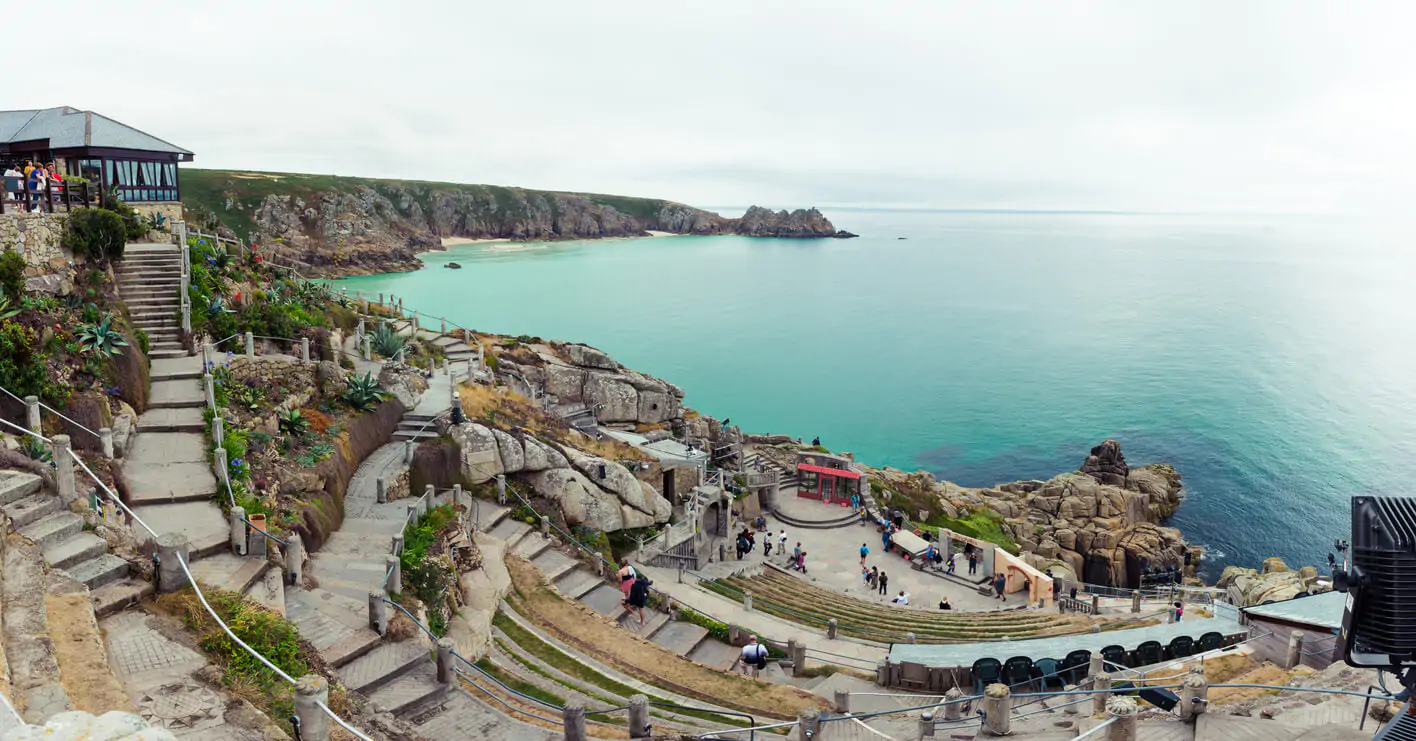 1. Minack Theatre, Porthcurno, Cornwall, England
Overlooking a turquoise sea, you'd be forgiven for thinking this gem sits in the Mediterranean instead of Cornwall. As a unique open air theatre, they are still open, having made amendments for Covid. You can even check out what it looks like right now with their live stream!
---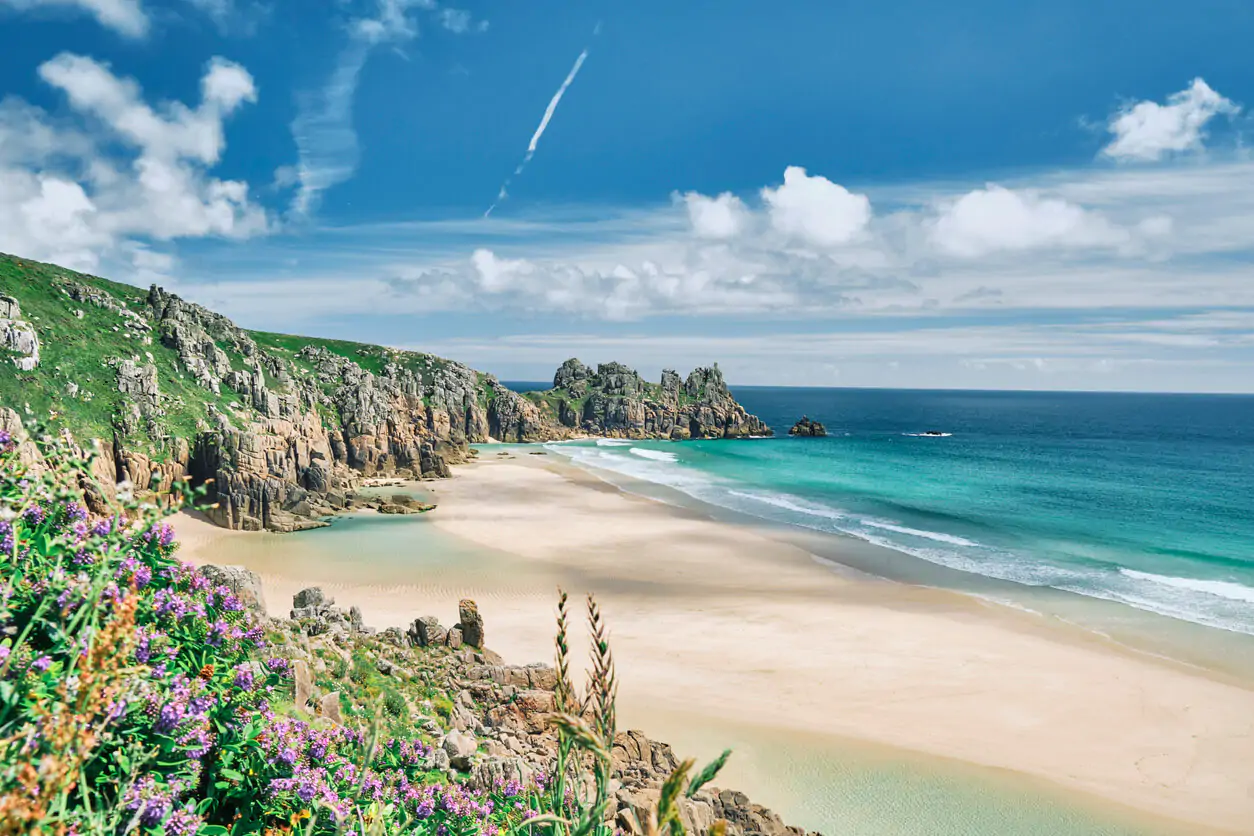 2.  Pedn Vounder Beach, Cornwall, England
Found in Porthcurno in West Cornwall, this stunning beach can only be accessed by a fairly steep cliff path. You might also recognise the scenery from the BBC's Poldark. It's also a known naturist/nudist beach.
---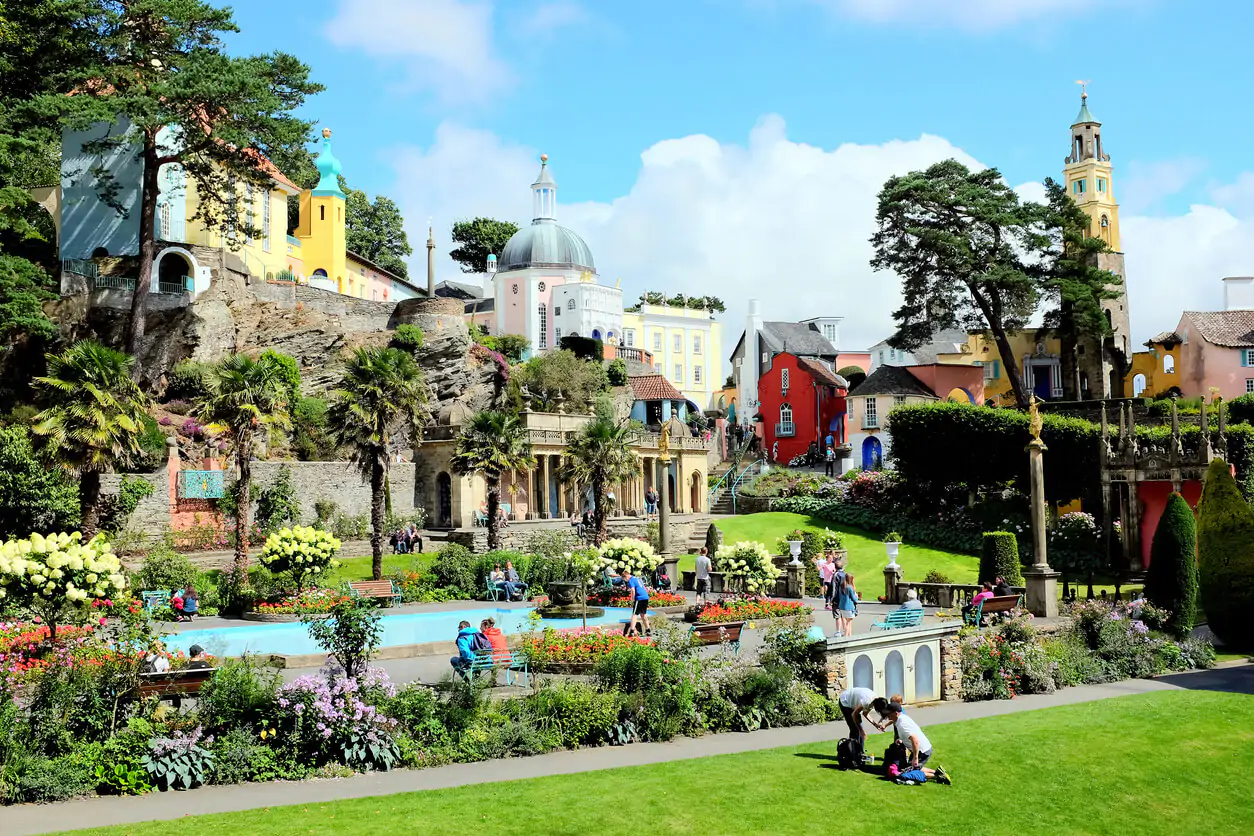 3. Portmeirion, Gwynedd, Wales
This stunningly picturesque village was designed by a Welsh architect Clough Williams-Ellis with the vision of showing how a naturally beautiful location could be developed without spoiling it. Portmeirion is open with Covid restrictions in place. There's only a few smaller shops and cafes that aren't able to open. You can even watch their live stream.
---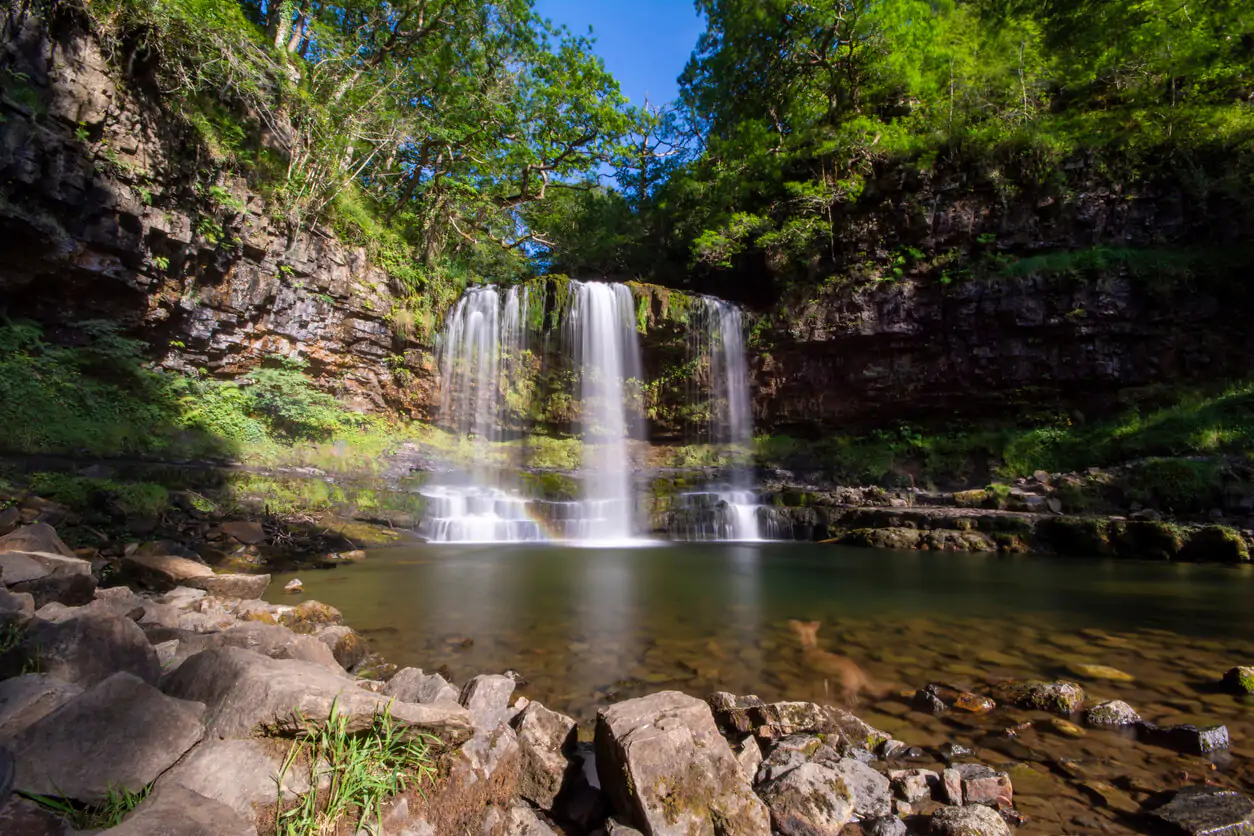 4. Sgwd yr Eira, Brecon Beacons, Wales
Meaning 'snow waterfall' in Welsh, this beautiful 50-foot waterfall can be found during a 3-hour walk. With a secret footpath behind the falls, you should take your waterproofs to fully explore this wonder!
---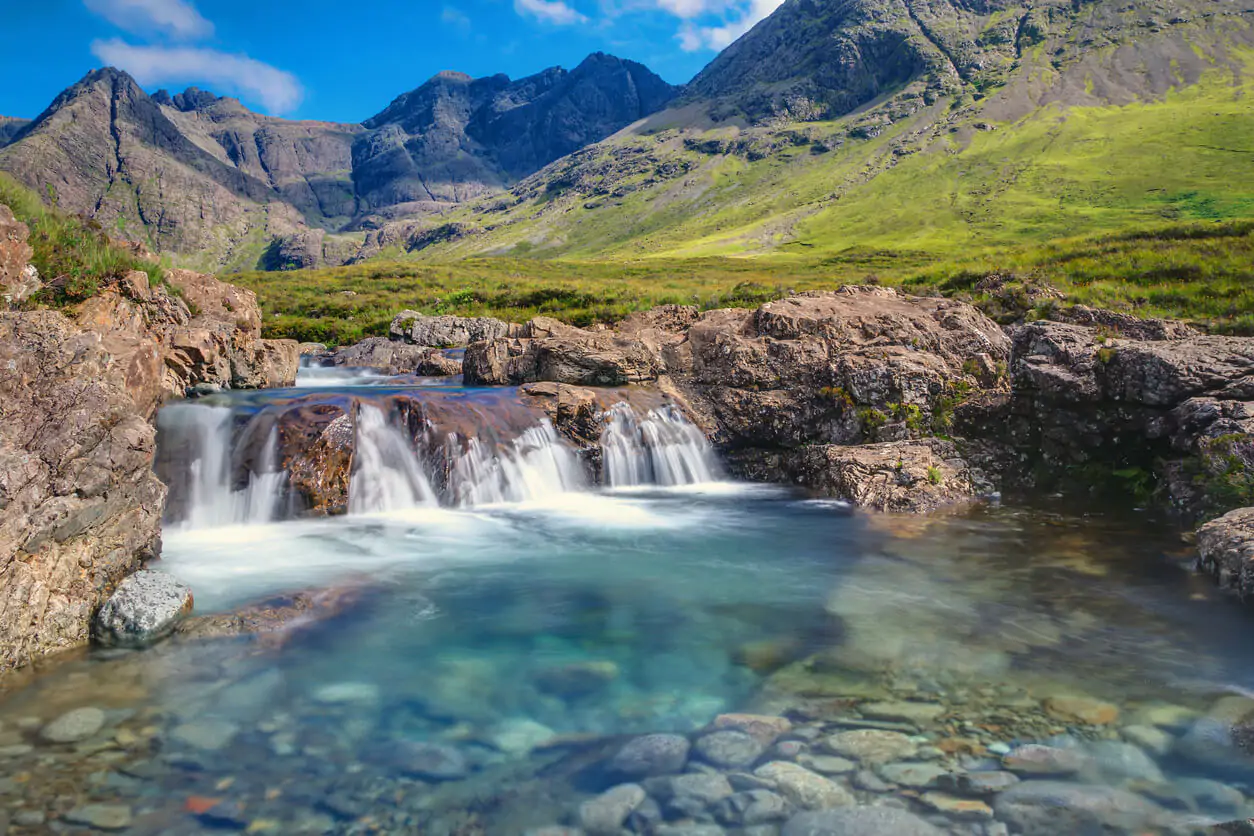 5. Fairy Pools, Isle of Skye, Scotland
Walking alongside crystal clear waters, you might be transported into a fairytale with these picturesque waterfalls and pools. Those brave enough may even dare a dip! More info.
---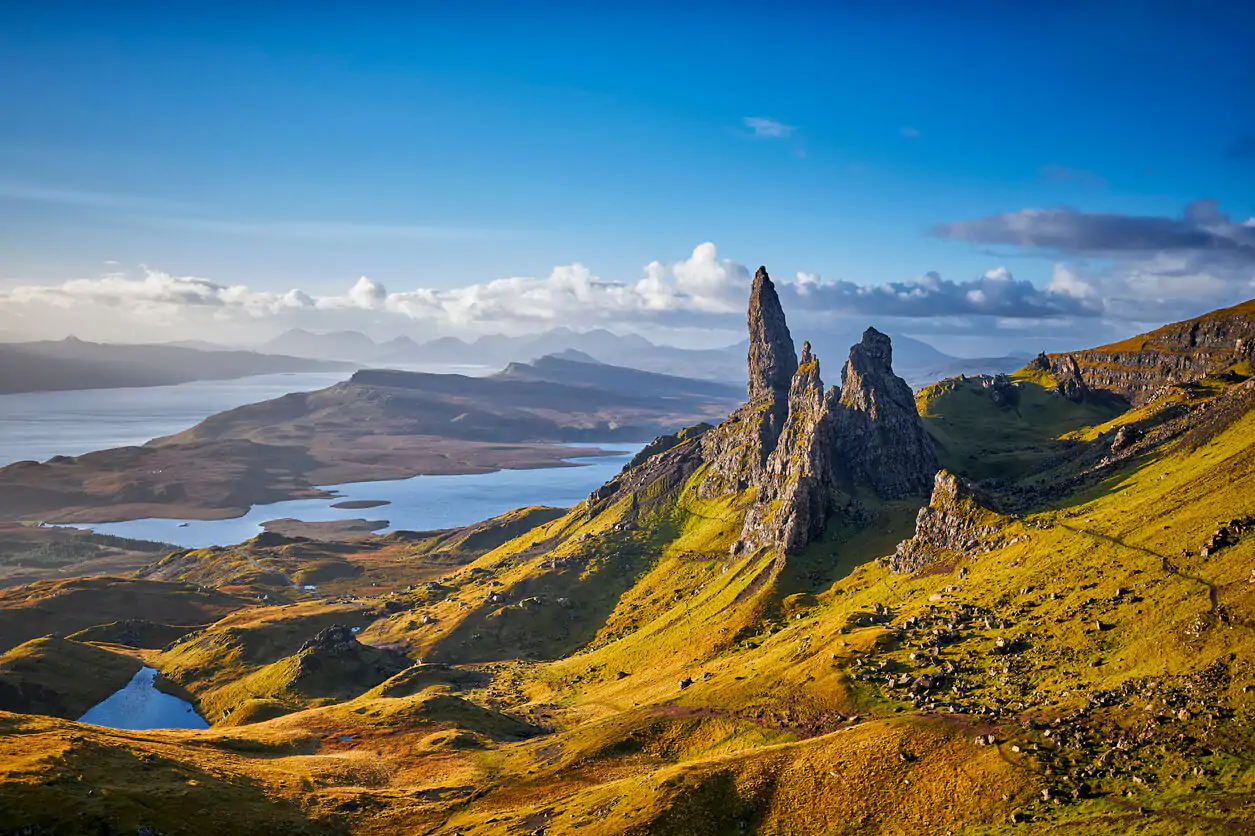 6. Old Man of Storr, Isle of Skye, Scotland
Seeing the Old Man of Storr is probably the most iconic and breath-taking walk on the Isle of Skye. The walk covers a distance of 3.8km, taking the average walker about 1 hour 15 minutes.
---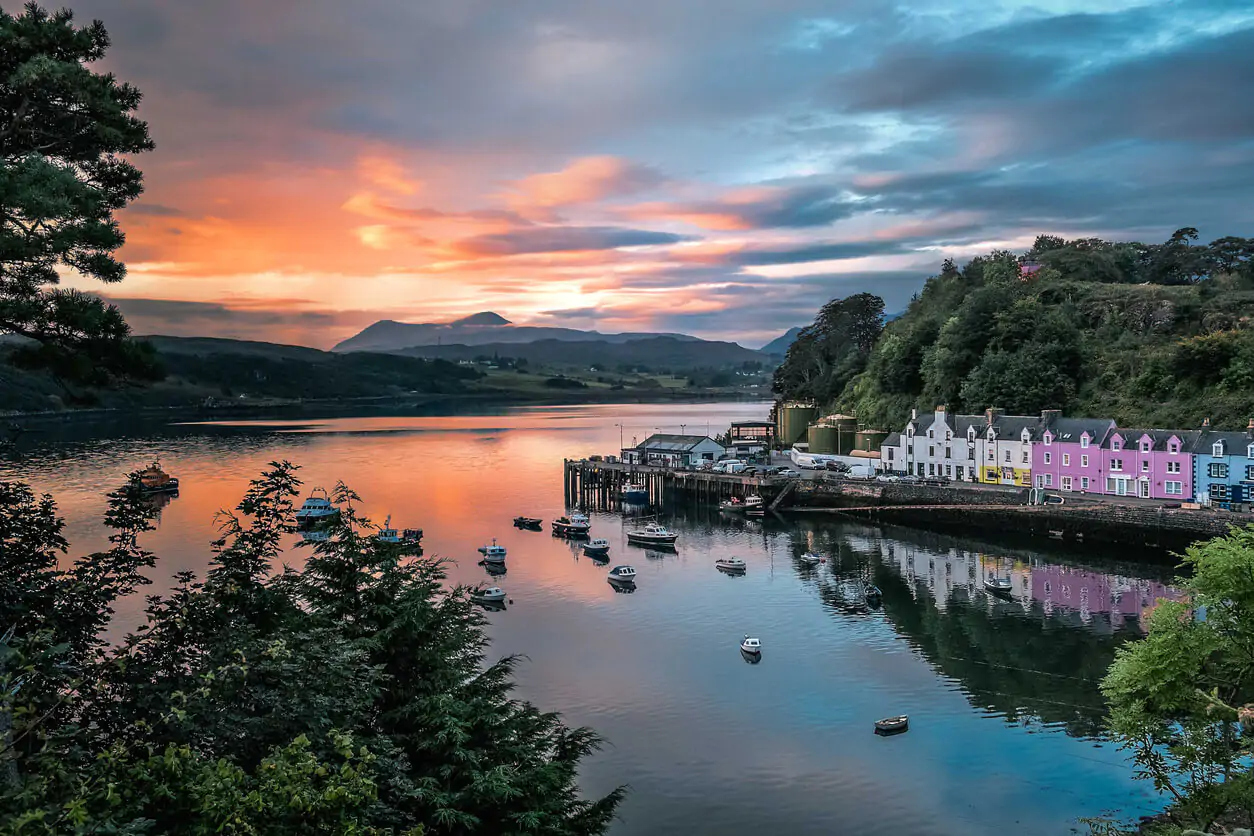 7.  Portree, Isle of Skye, Scotland
Nestled in rolling hills and surrounded by waterfalls, Portree Harbour features quaint colourful cottages. With plenty of places to eat and drink, the harbour is open for business.
---
8. Kilchurn Castle in Loch Awe, Scotland
Surrounded by hills and sitting on a loch, Kilchurn castle is one of the most photographed castles in Scotland. It's quite clear to see why! The castle only opens for visitors between April and September, but you can still explore the surrounding area. More info.
---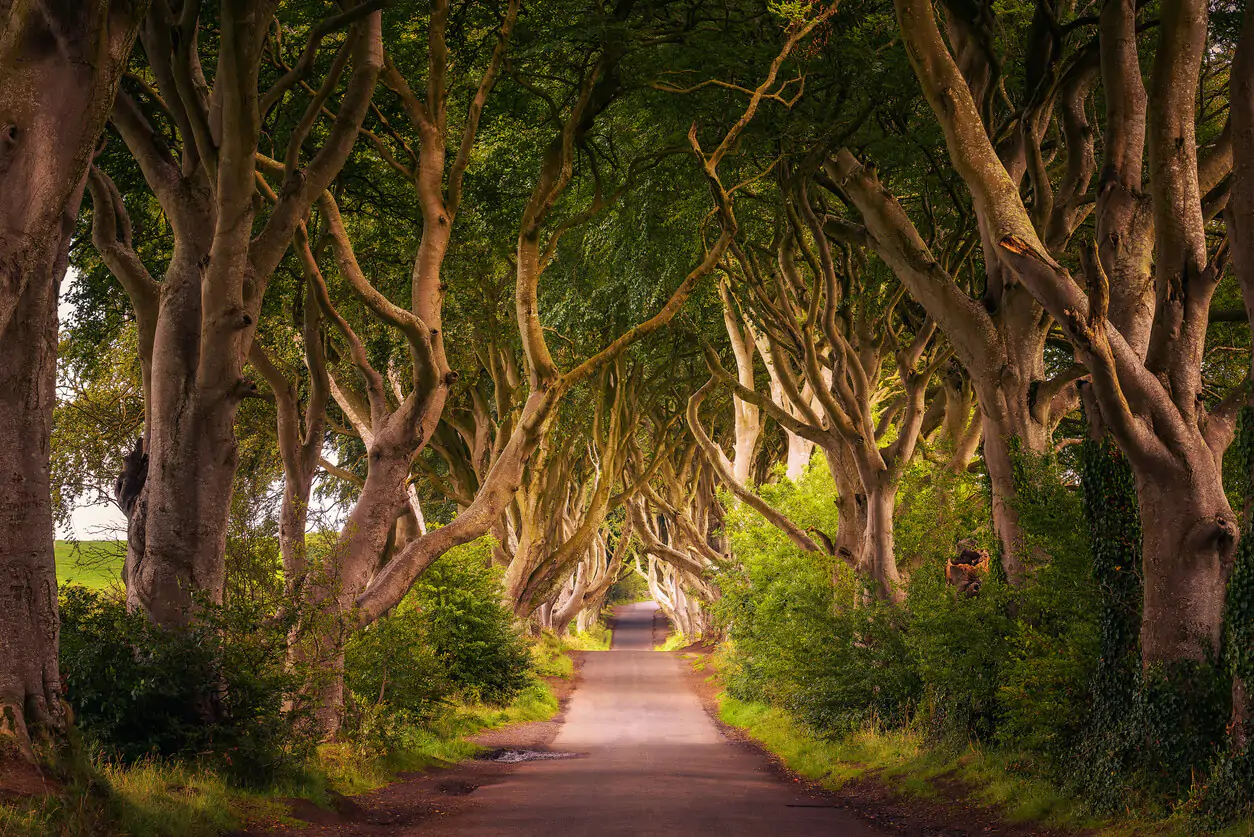 9. Dark Hedges, County Antrim, Northern Ireland
Straight out of Little Red Riding Hood, this spooky passageway of beech trees is one of the most photographed scenic spots in Northern Ireland. It has even been used as a location spot for the King's Road in Game of Thrones.
---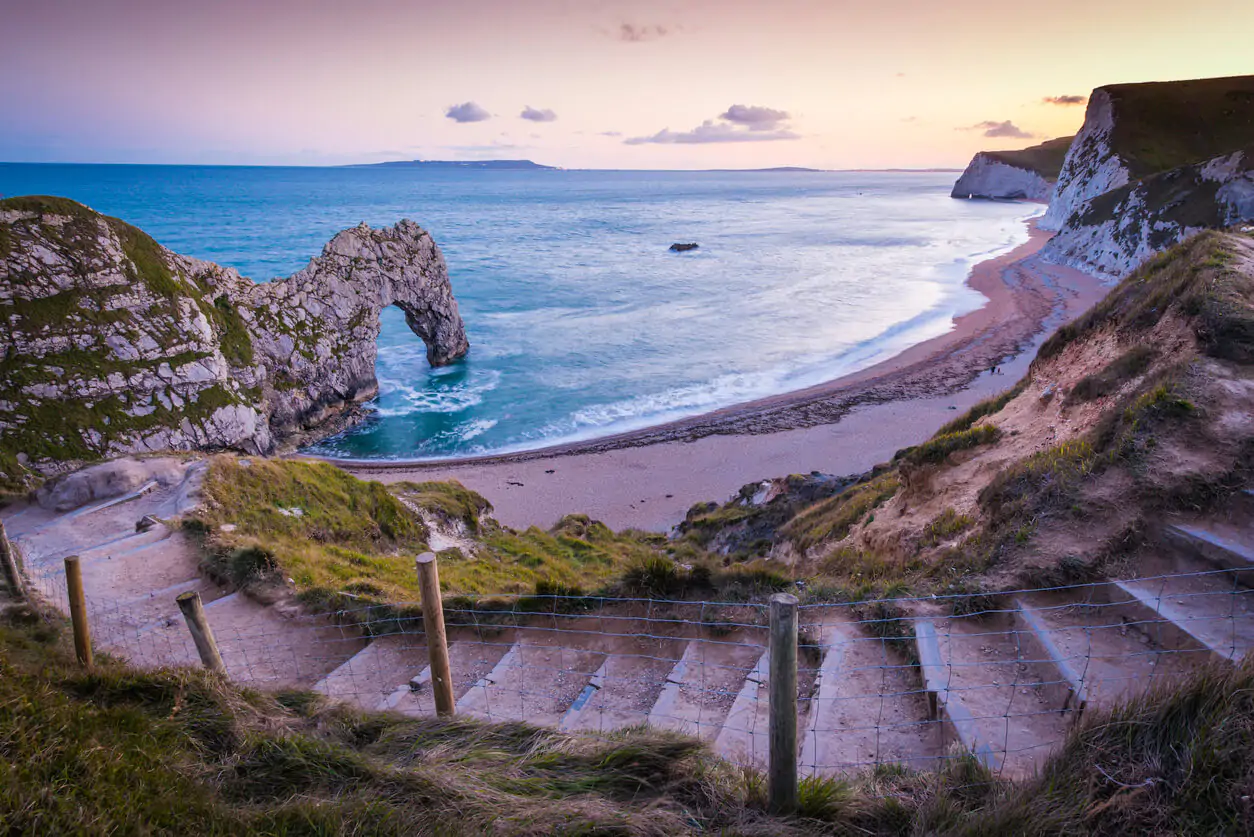 10. Durdle door, Dorset, England
An iconic landmark of Dorset, it's one of the most photographed UK landmarks and part of the Jurassic Coast World Heritage Site. Access to the beach is via 143 large, but steep steps.
---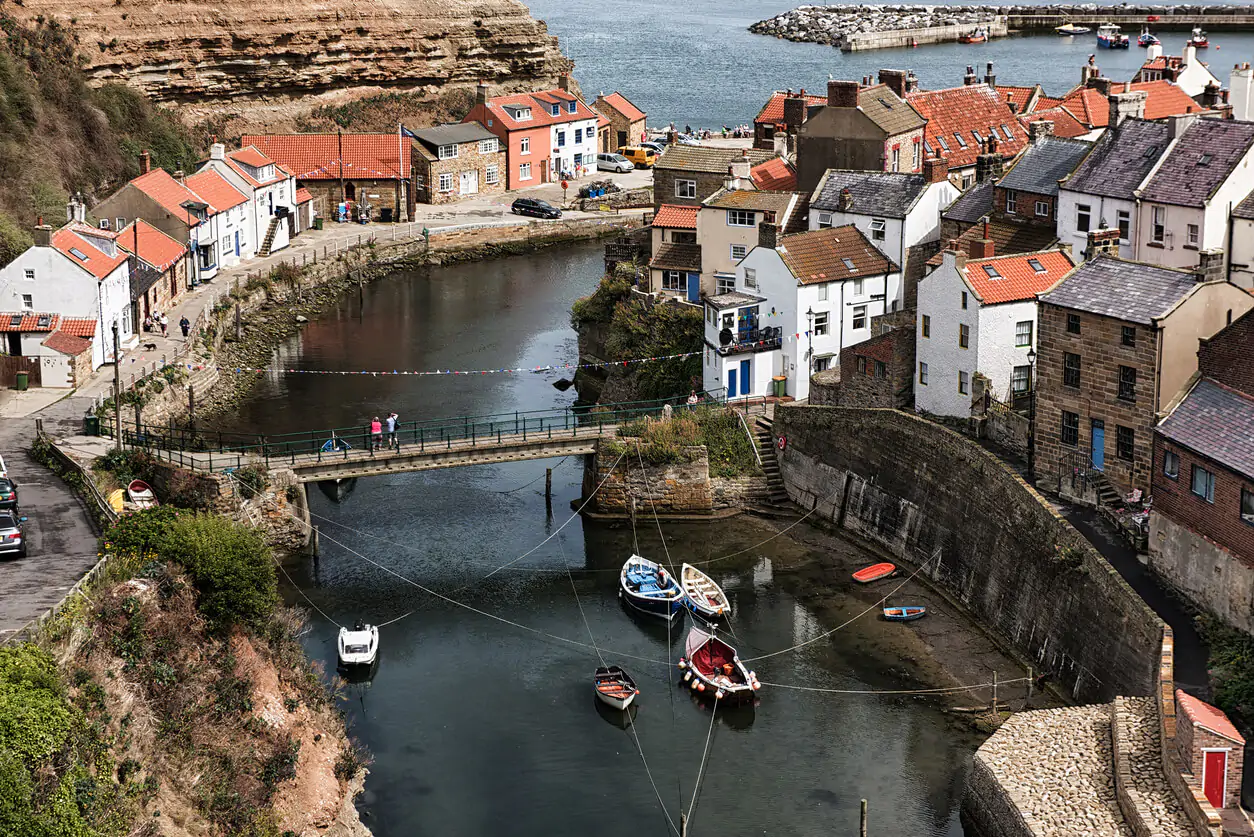 11. Staithes, North Yorkshire, England
Clinging to a hillside, Staithes features winding cobbled streets and cottages. Explore the local coastal trails along what's otherwise known as the Dinosaur Coast where you might find a fossil!
---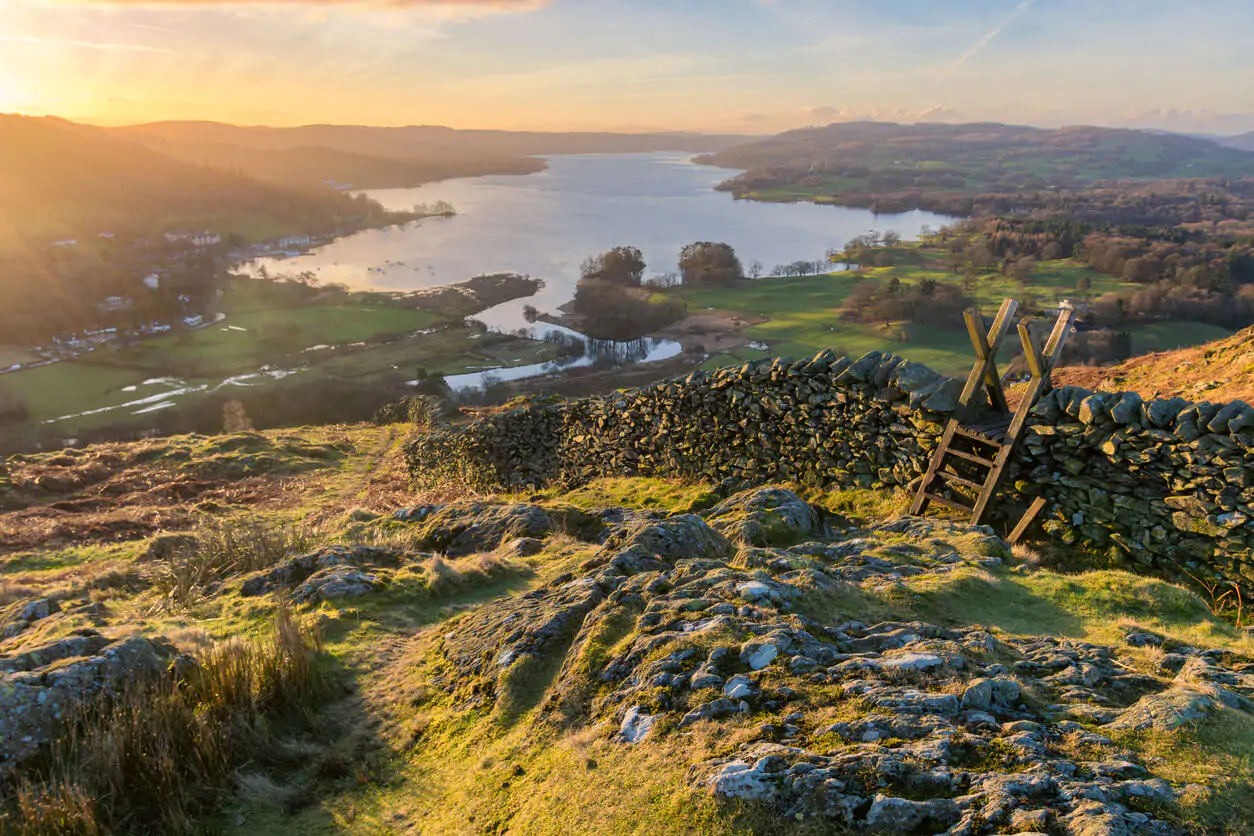 12. Lake Windermere, Lake District, Cumbria, England
As the UK's largest natural lake in England, it's expanse is impressive. Surrounded by pretty towns and villages, it's a great place to explore.
---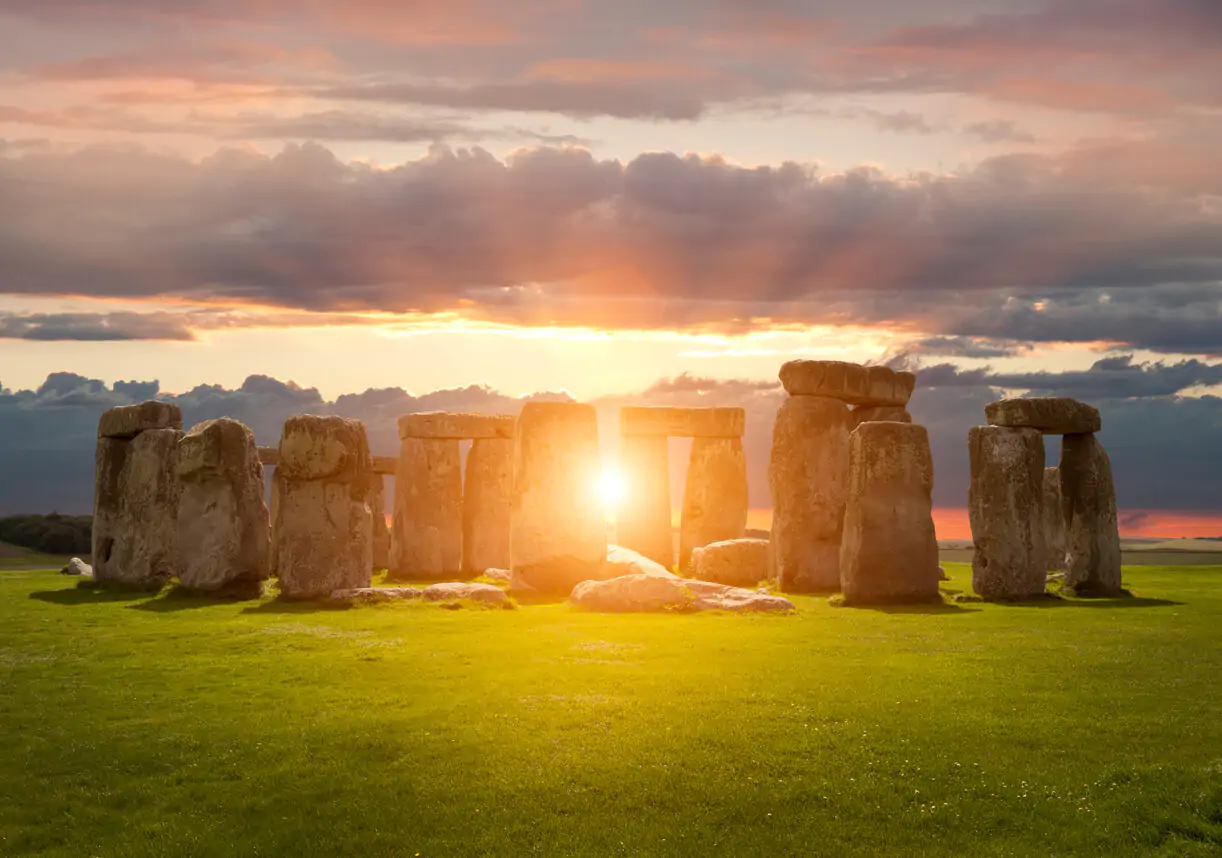 13. Stonehenge, Wiltshire, England
Arguably the best known prehistoric monument in Europe, Stonehenge is still open with Covid restrictions in place, so you might need to book ahead. Visiting Stonehenge.
---
14. Hadrian's Wall, England
Discover the remains of Roman life along Hadrian's Wall which stretches 73 miles across England from coast to coast. Limits on visitor numbers may apply, so it's worth booking in advance if you're visiting a specific location. More info.
---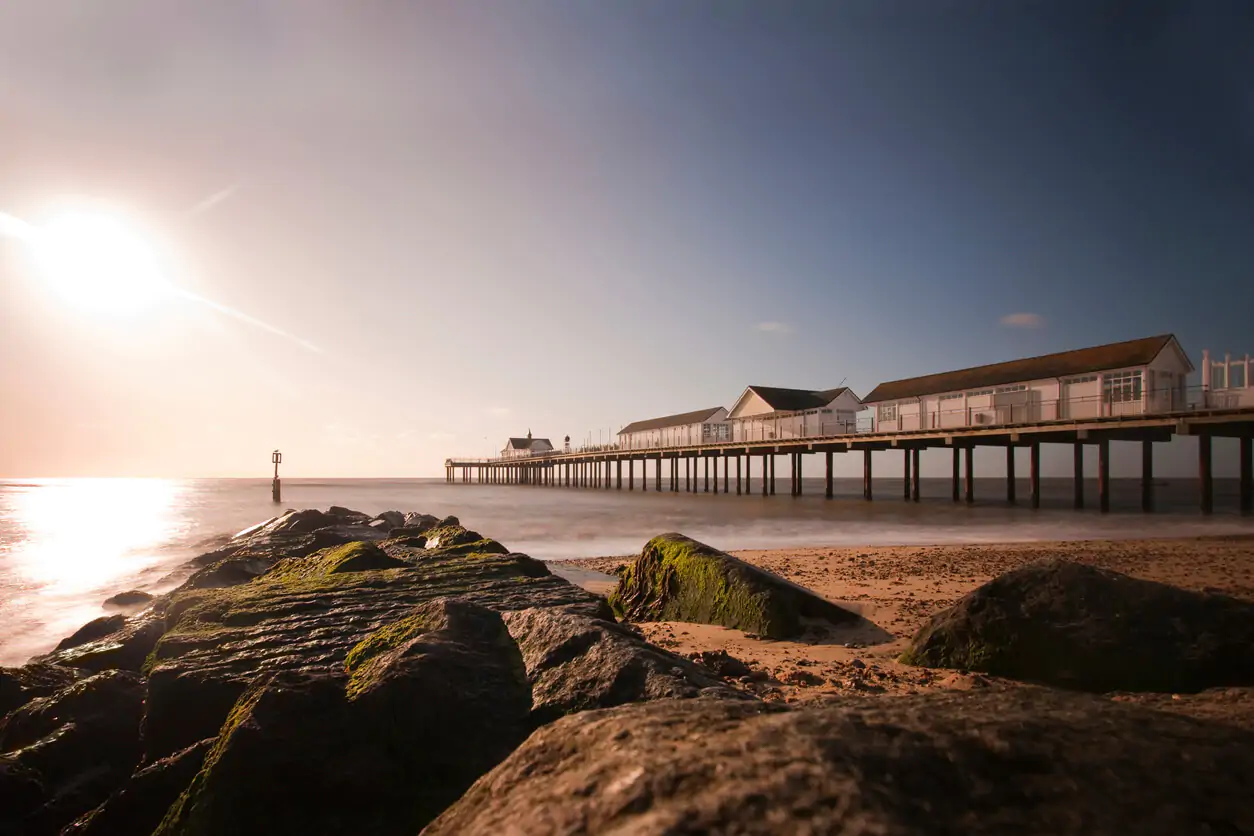 15. Southwold, Suffolk, England
With a beach-hut lined seafront, quaint pier and beautiful town, you might be hard-pressed to find a more British seaside town. It's also home to the Adnams Brewery, where you can take a tour including a tasting. Pre-booking is a must as Covid restrictions are in place. See more from Adnams tour.
---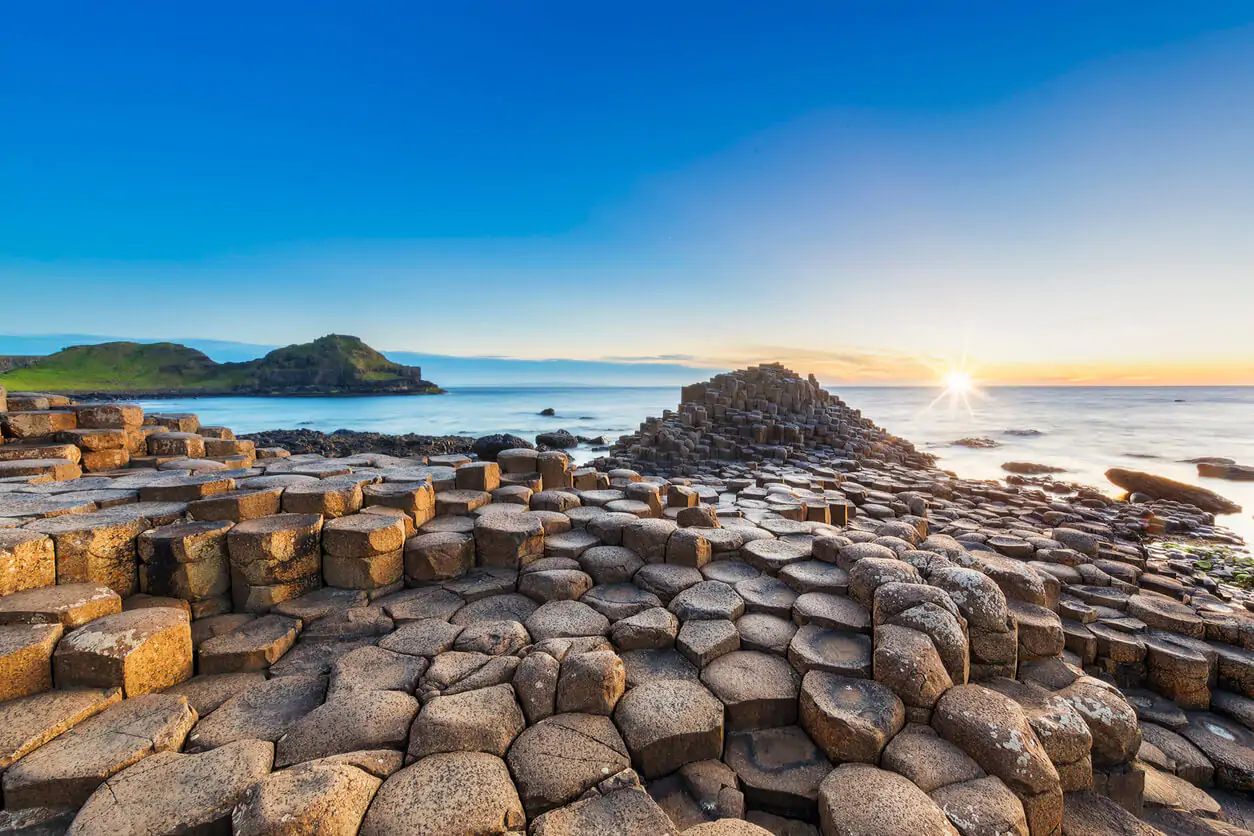 16. Giants Causeway, Northern Ireland
Giants Causeway is made up of over 400,000 black polygonal shaped basalt columns that protrude from the sea. Created from an ancient volcanic eruption, local legends describe the causeway as being the remains of a bridge made by giants to connect Northern Ireland and Scotland.
---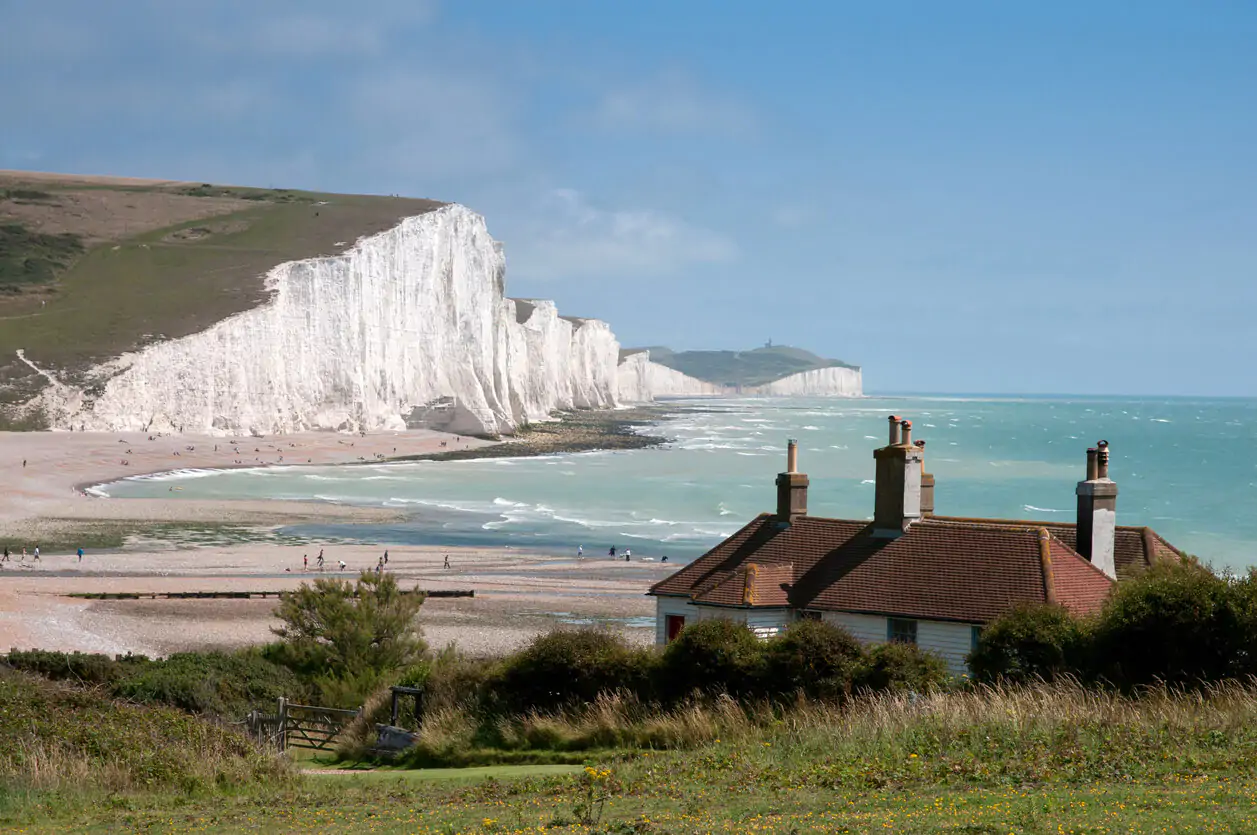 17. Seven Sisters White Cliffs, Sussex, England
The Seven Sisters are chalk cliffs that are gradually being eroded by the sea. You can still explore the area but the local visitor centre and toilets remain closed due to Covid. More info.
---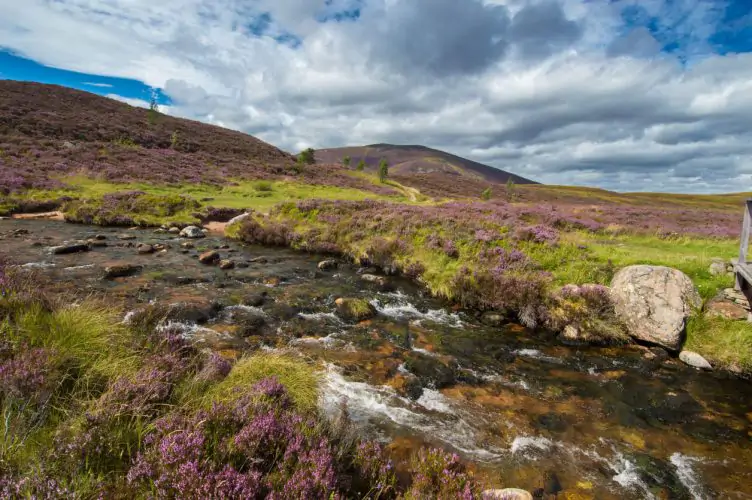 18. Cairngorms National Park, Scotland
With pure Scottish beauty for miles, there's plenty of paths, trails and adventures waiting in the Cairngorms. It's no wonder it's been voted as one of the top 20 places to visit in the world by National Geographic. More info.
---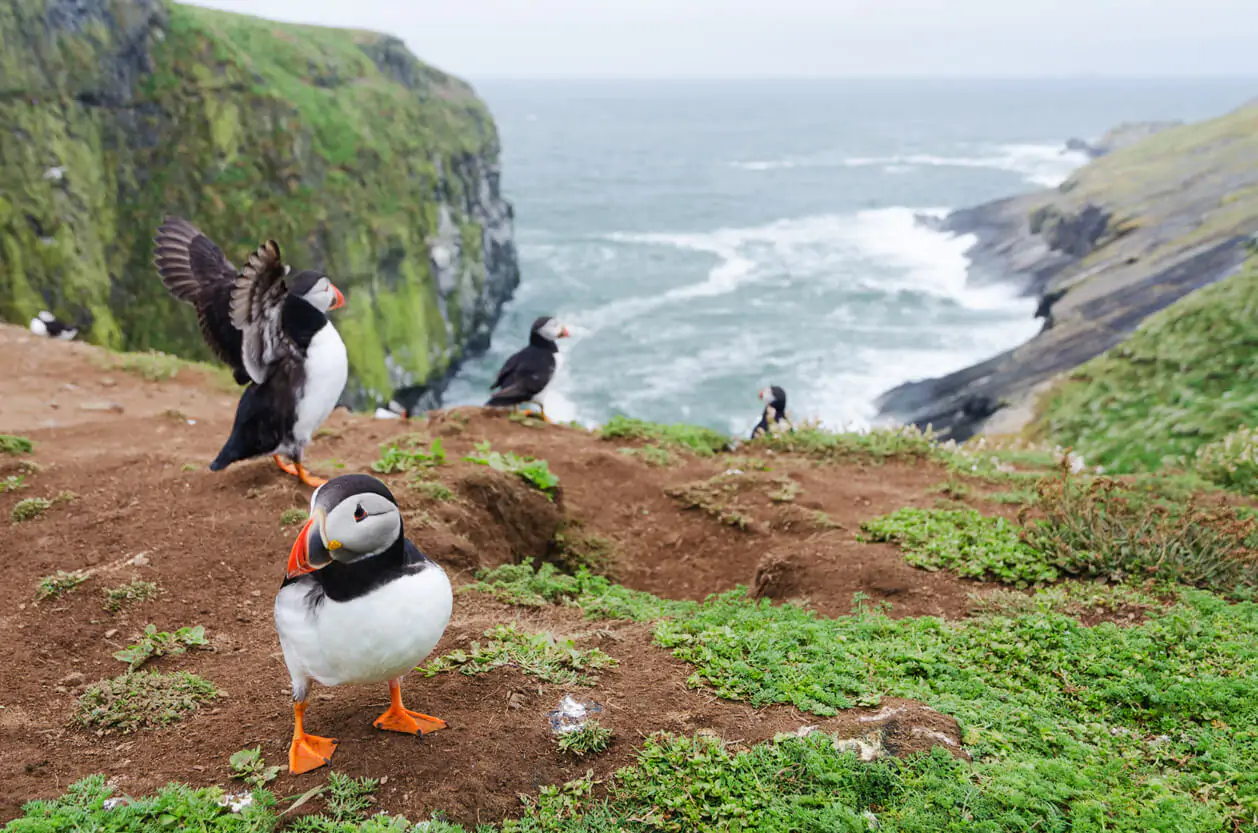 19. Skomer Island, Wales
Hundreds of puffins, seals and seabirds call Skomer Island home. Take a day-trip, or spend the night on this unique island less than a mile off Pembrokeshire coast.
---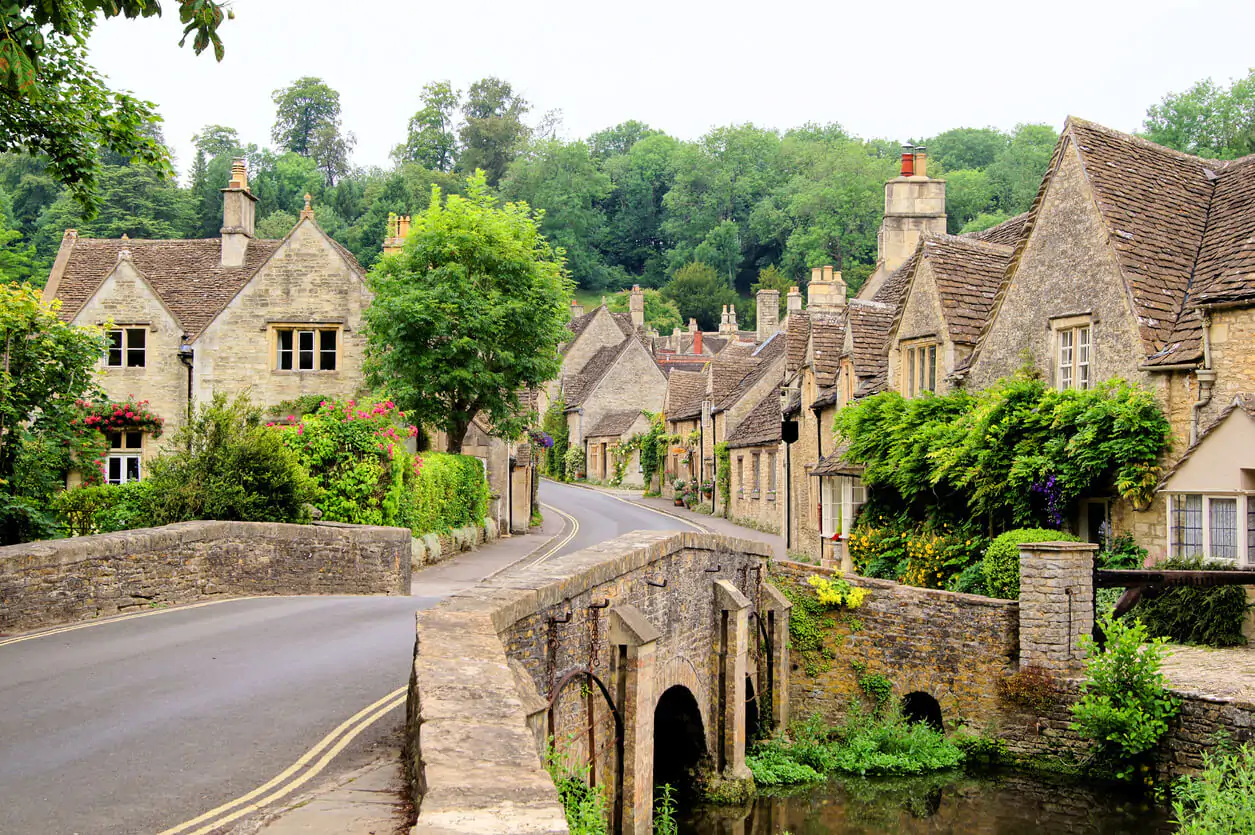 20. Castle Combe, The Cotswolds, Wiltshire, England
Deemed an area of natural beauty, Castle Combe has plenty of quaint cottages with stone walls and pubs with roaring fires to help you step back in time.
---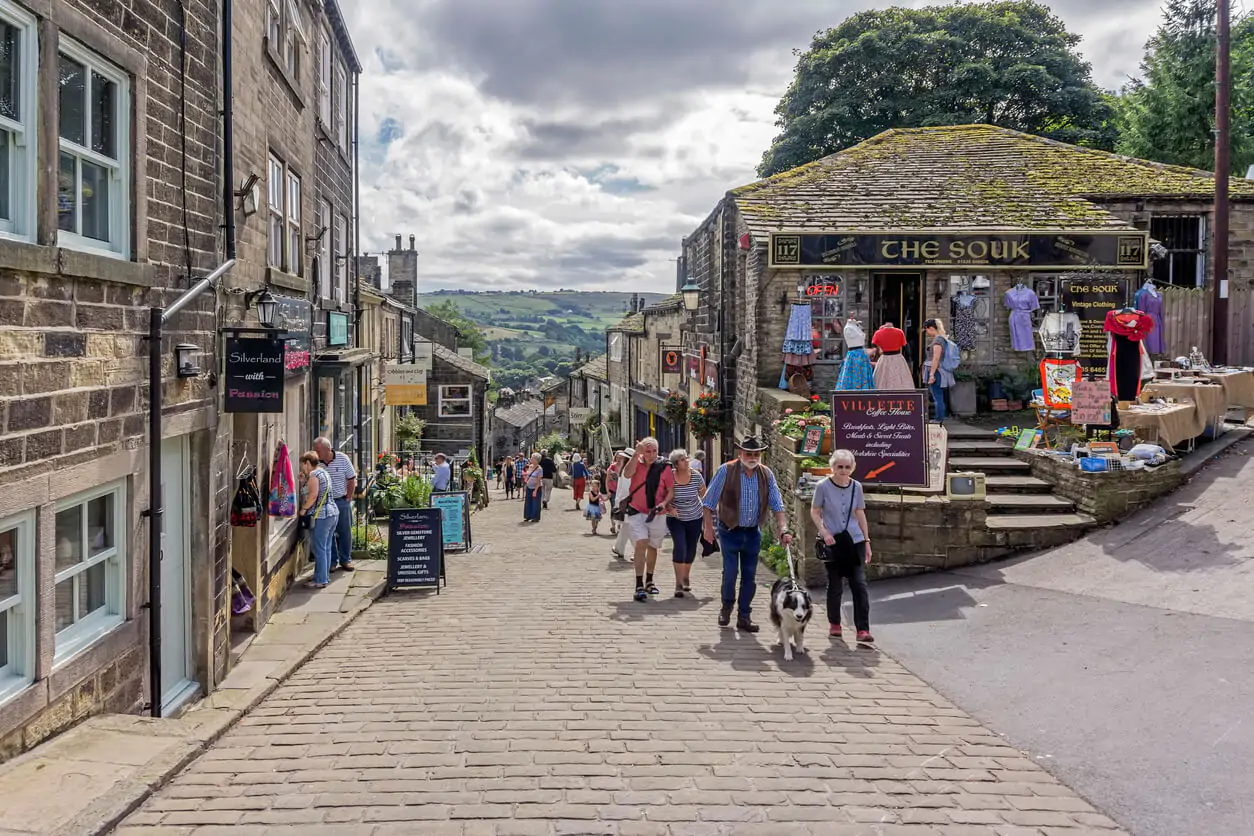 21. Haworth, Yorkshire, England
Surrounded by mystical and rugged moors, Haworth is the epitome of Emily Bronte's Wuthering Heights. Filled with craft shops and charming tea shops there are some fantastic walking trails and even an old railway station to explore.
---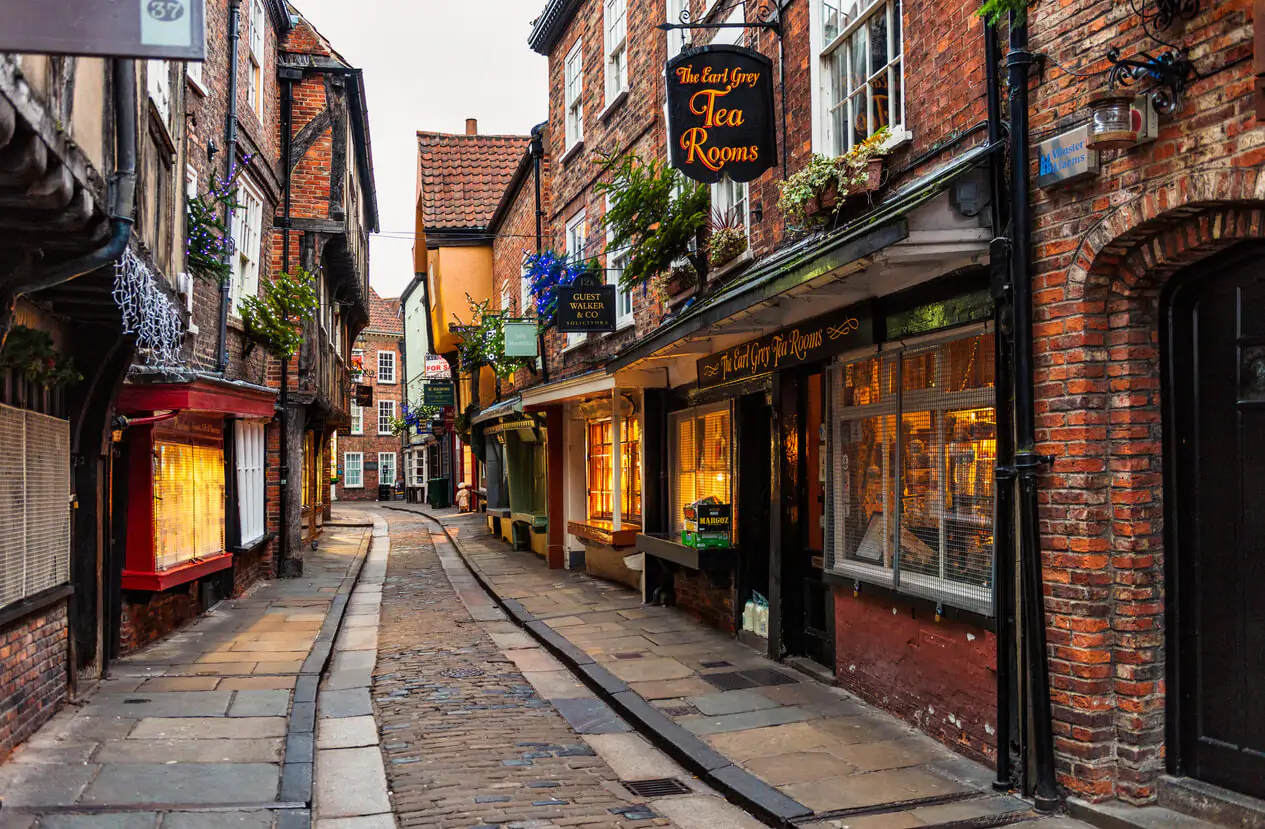 22. Shambles, York, Yorkshire, England
With Roman roots and a viking past, ancient walls surround cobbled alleys which are full of independent, quirky shops and delicate tearooms. It's also said to be the inspiration for the magical Diagon Alley in the Harry Potter films.
---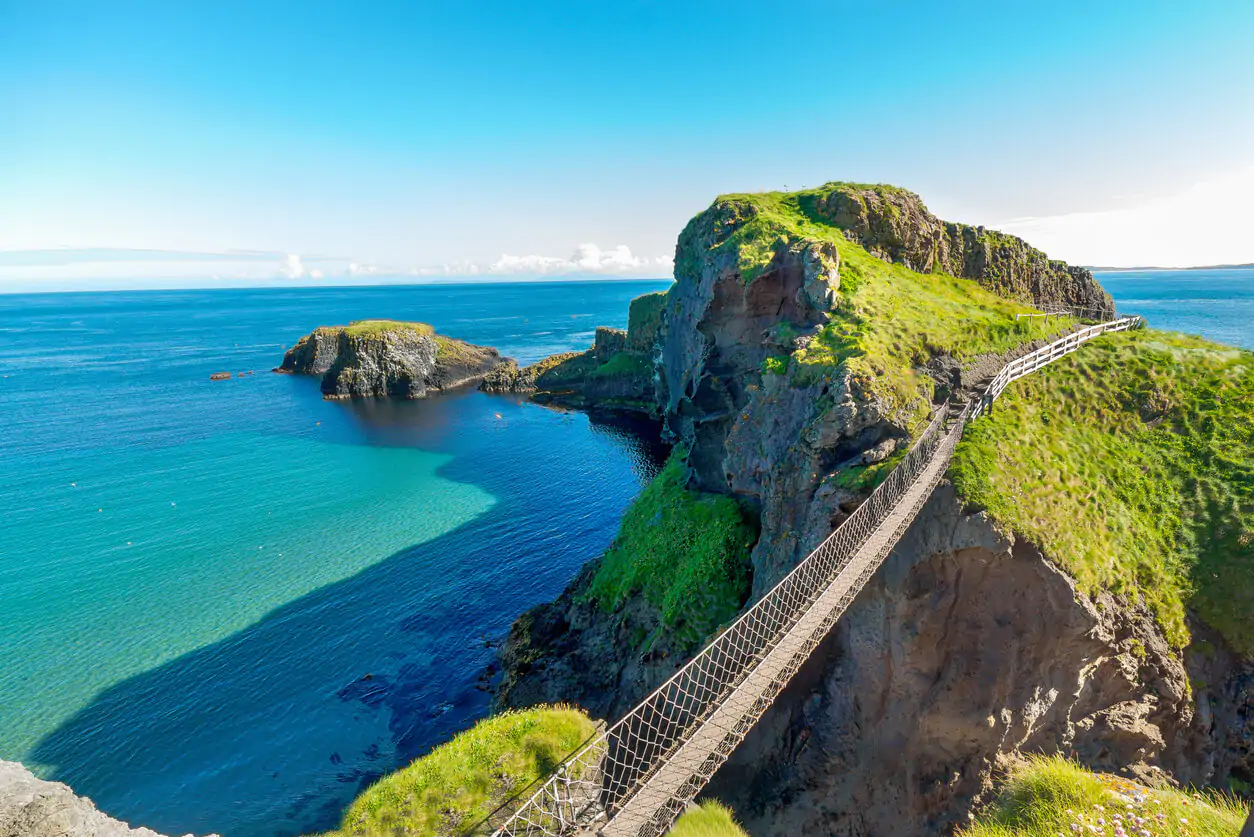 23. Carrick-a-Rede, County Antrim, Northern Ireland
Venture across Northern Ireland's most famous rope bridge. Mind your step as you cross 30m above the rocks below!
---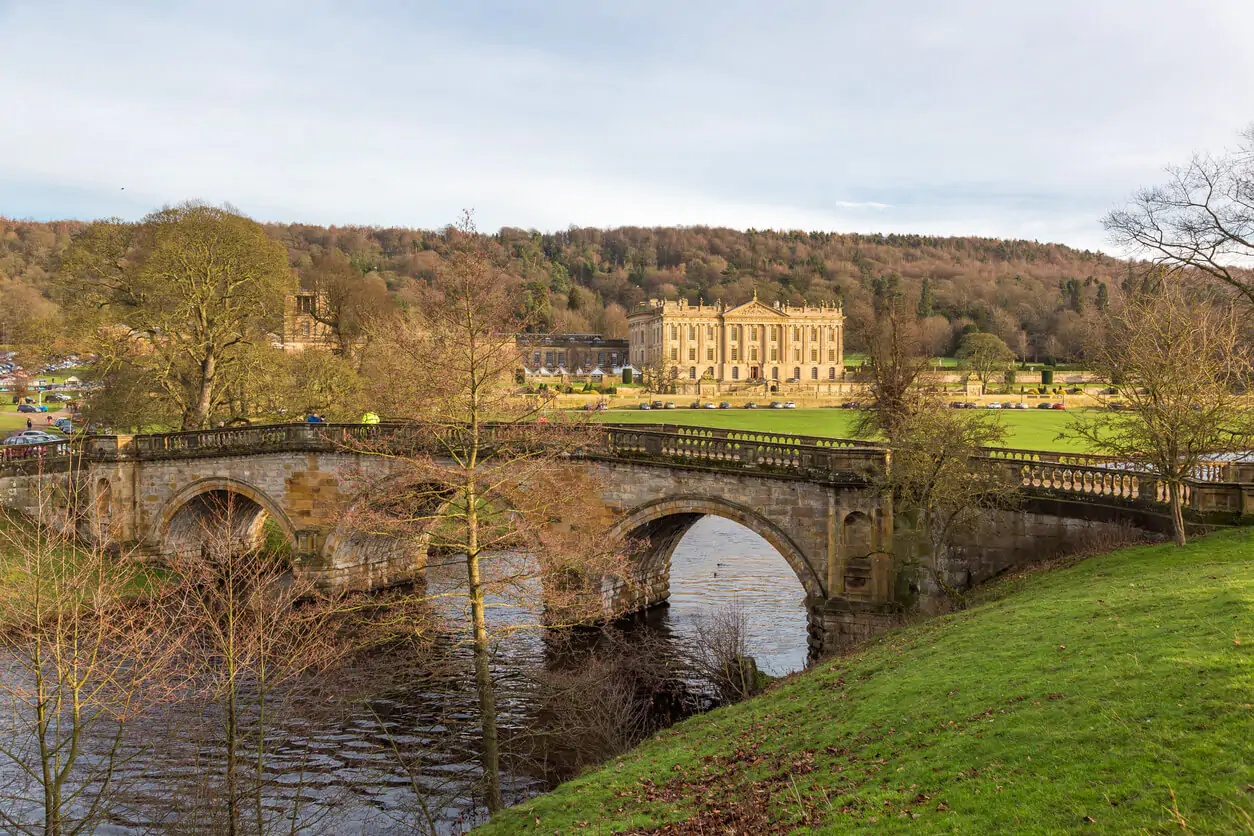 24. Chatsworth House, Bakewell, Derbyshire, England
Found in the Peak District, Bakewell is perhaps best known as the home of the Bakewell tart. But it's also home to Chatsworth House, which has over 30 rooms to explore. For Christmas, the lower floors are decorated with stunning displays. The house is open with Covid safety measures in place but all visits must be pre-booked. More info.
---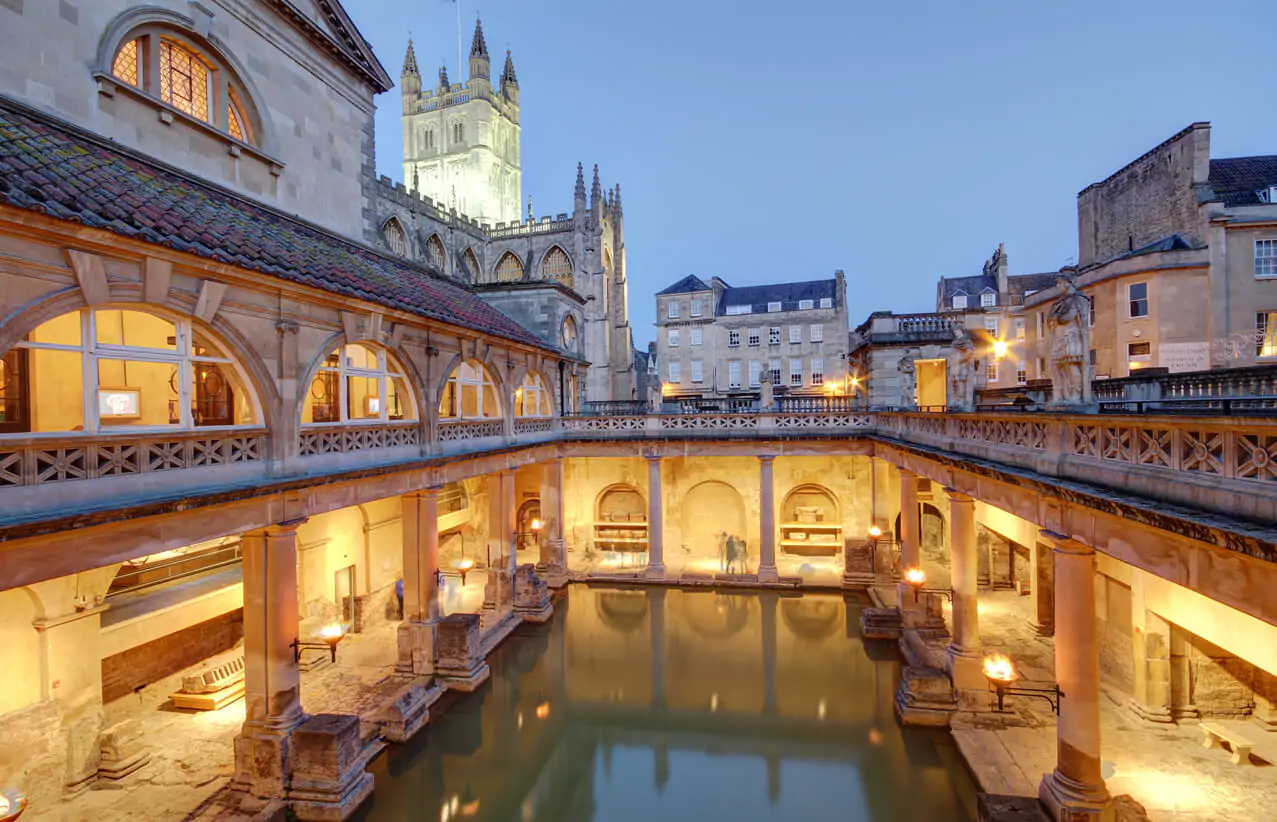 25. Bath, Somerset, England
With the only natural thermal hot springs in Britain, you can still bathe in ancient Roman Baths in the city. Bath is also known for its stunning honey-coloured Georgian architecture and there's plenty to explore.
---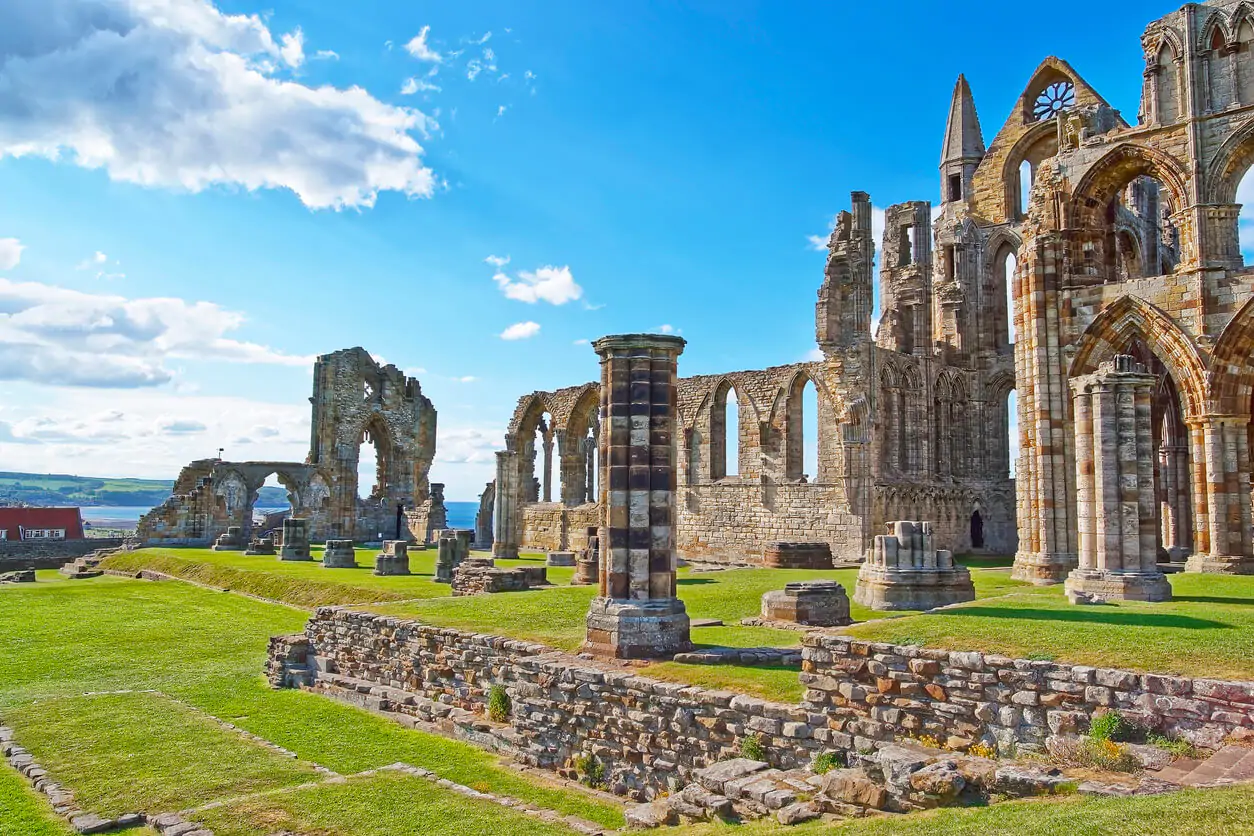 26. Whitby Abbey Ruins, Yorkshire, Yorkshire, England
Explore the ruins of the Benedictine abbey that tower over the beautiful port of Whitby. Captain Cook once lived in this port town, which now houses a memorial museum in his name. There's also a Dracula experience where Bram Stoker's Count Dracula tale is brought to life, discovering Whitby's connection to the story. On top of all of that, there's boutique shops, quirky streets and plenty of fresh seafood!
---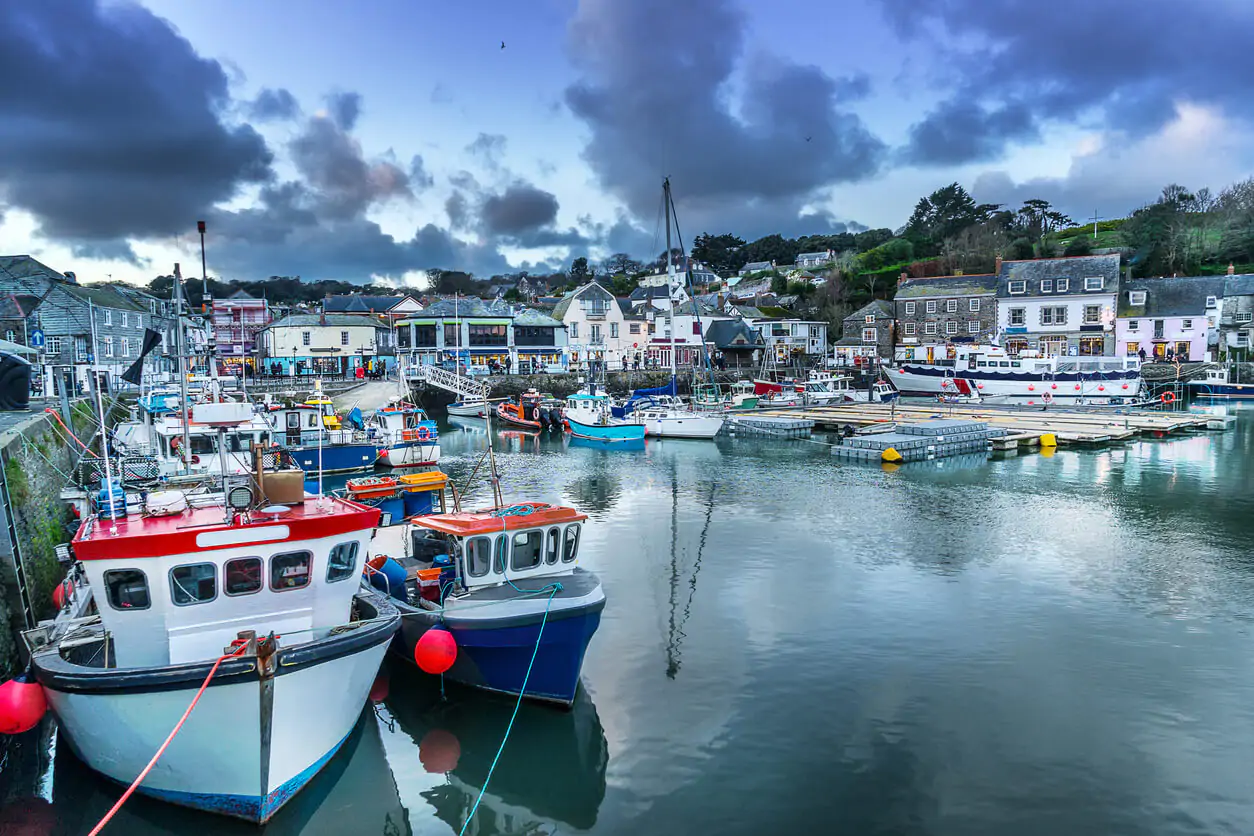 27. Padstow, Cornwall, England
Found on the North Cornish coast, Padstow is a beautiful, small port town. A trip to Padstow wouldn't be complete without visiting at least one of Rick Stein restaurants. Choose from his first, The Seafood Restaurant, a french bistro restaurant called St Petroc's Bistro, a cose cafe called Rick Steins' Cafe, or keep things casual with Stein's Fish and Chips.
---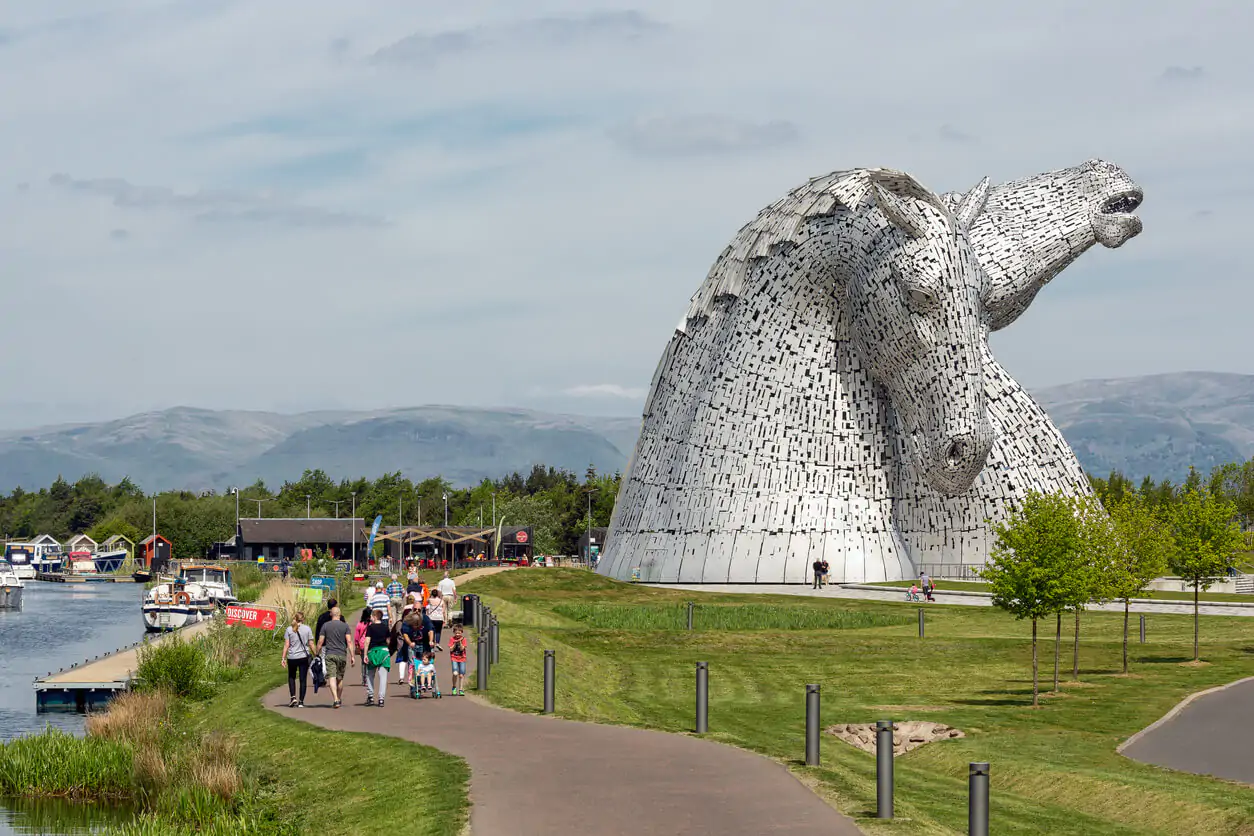 28. The Kelpies, Falkirk, Stirlingshire, Scotland
These 30 metre high horse head sculptures are a true feat of engineering, which are the largest equine sculptures in the world. Found in The Helix park which is free to visit, you'll also find the Falkirk wheel – a rotating boat lift, which is an impressive sight.
---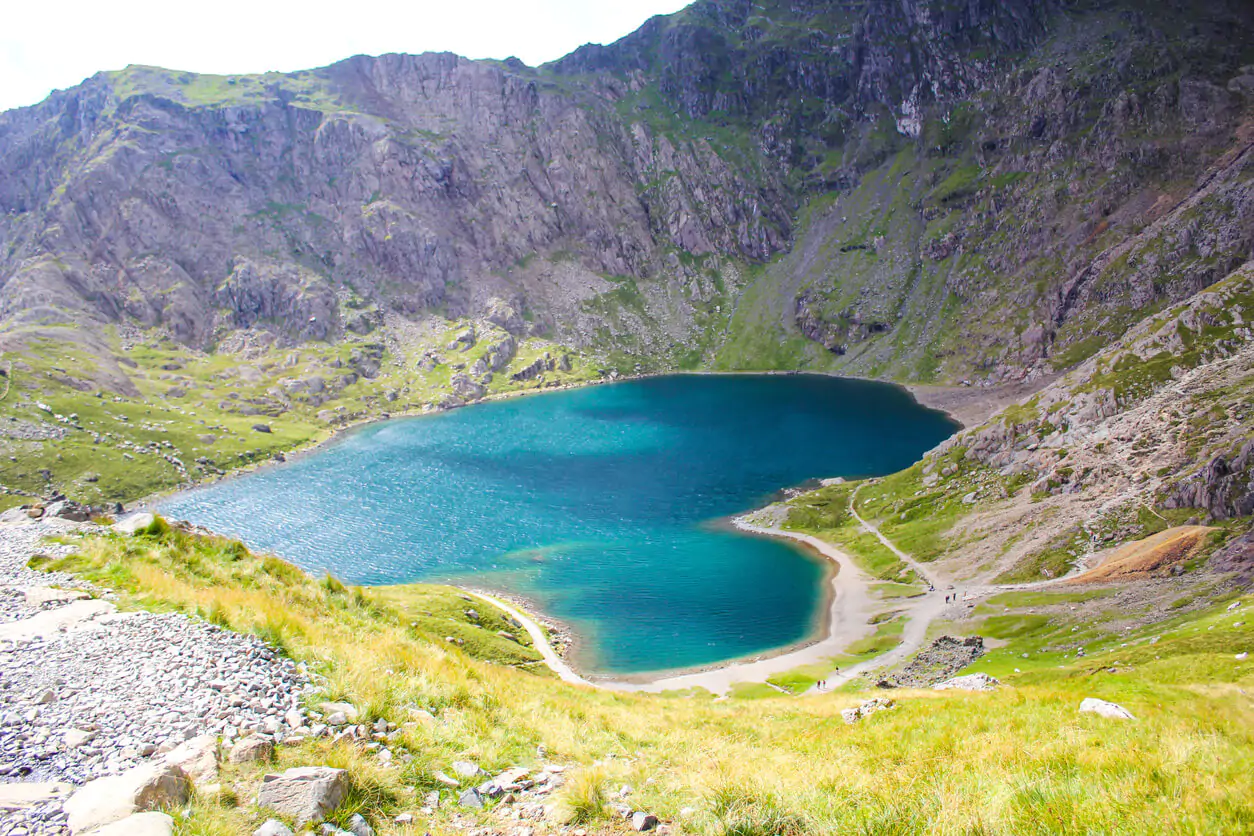 29. Llyn Glaslyn, Snowdonia, Wales
Welsh for 'blue lake', Glaslyn can be found 600m above sea level on the eastern side of Snowdon. In folklore, Arthur had his sword Excalibur thrown into this lake. From certain angles, the lake also looks like a heart. The 8.7km walk takes 4 hours via the miner's track, but you'll be rewarded with stunning views all the way.
---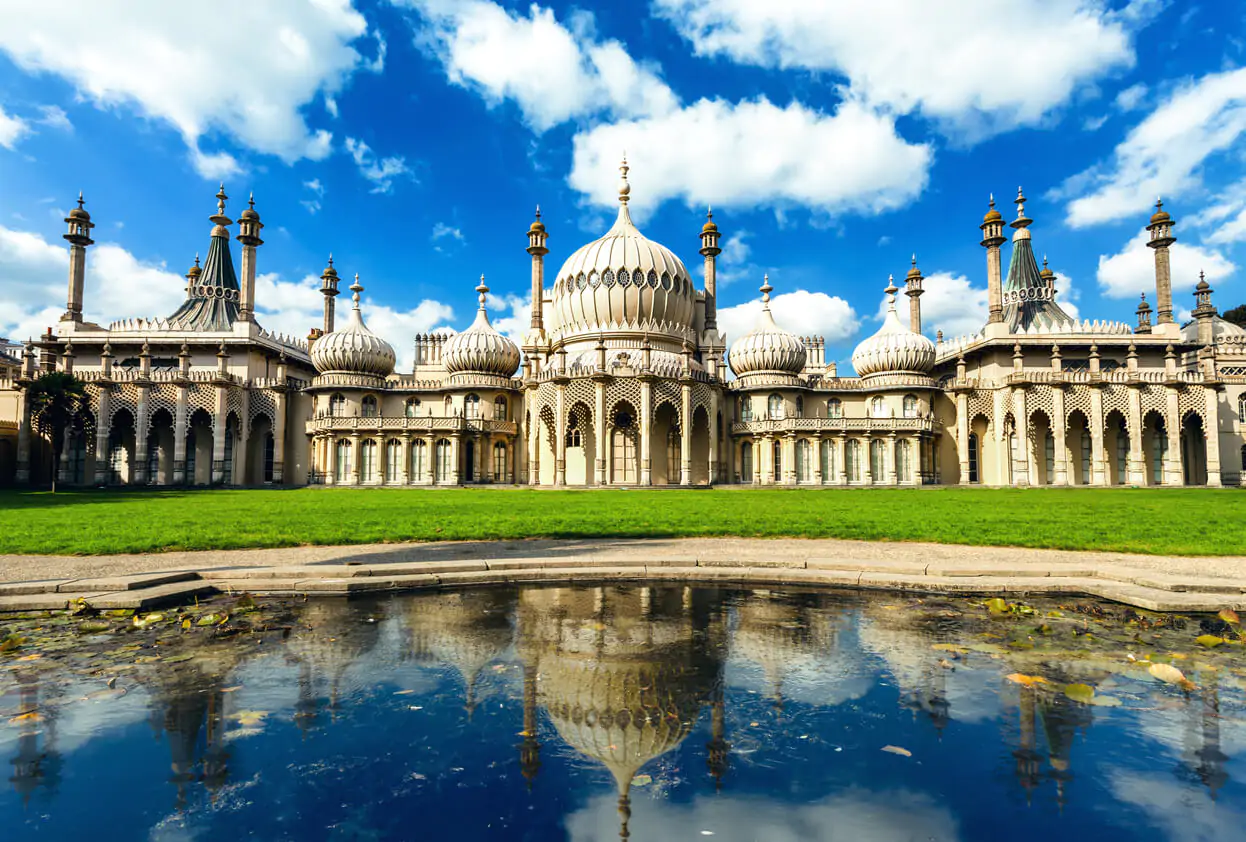 30. Royal Pavilion, Brighton, West Sussex, England
An exotic palace found in the middle of bustling Brighton. Mixing regency grandeur with the visual style of India and China, it's a unique place to visit. The Pavilion is open with Covid restrictions, but pre-booking is essential to ensure you don't miss out. Find out more.
---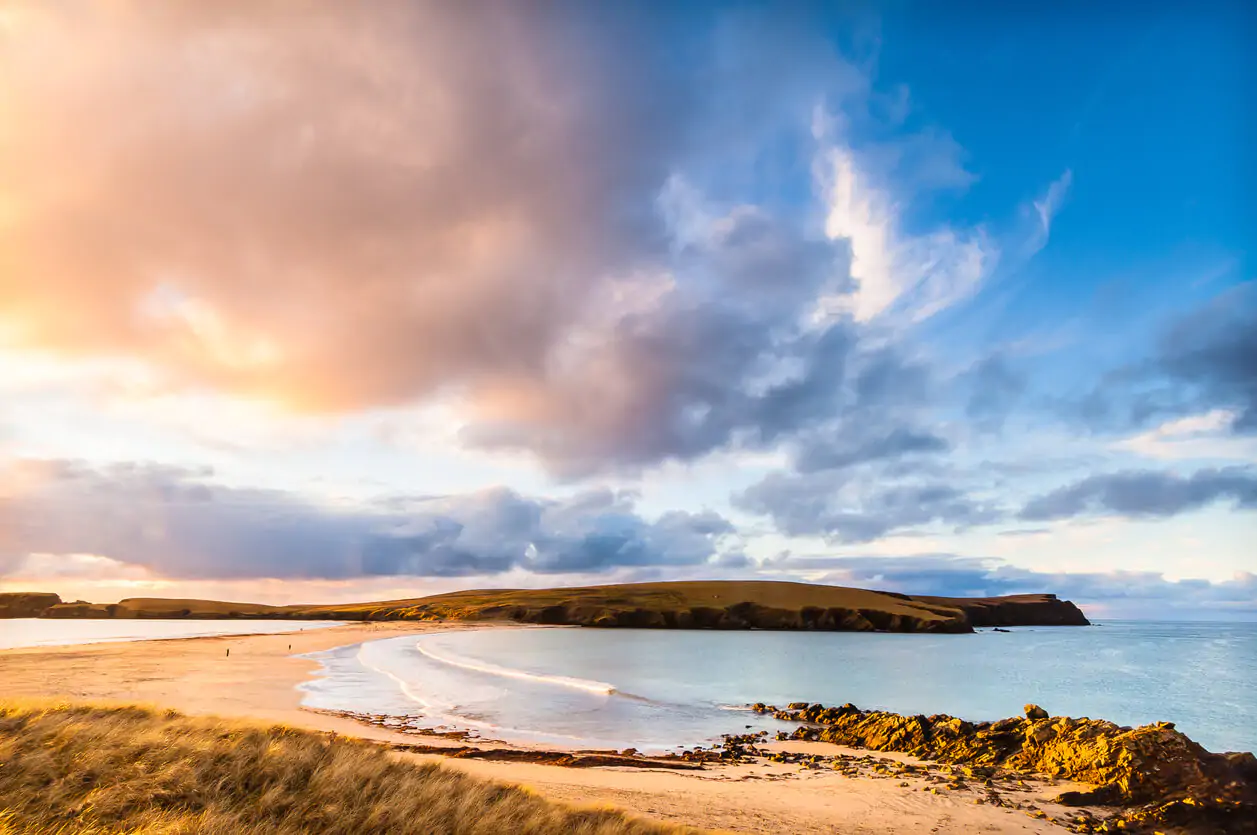 31. St Ninian's Isle, Shetland
Europe's largest tombolo – which is a sandy beach with the sea on both sides. With waves crashing on both sides of the beach, it's a unique experience.
---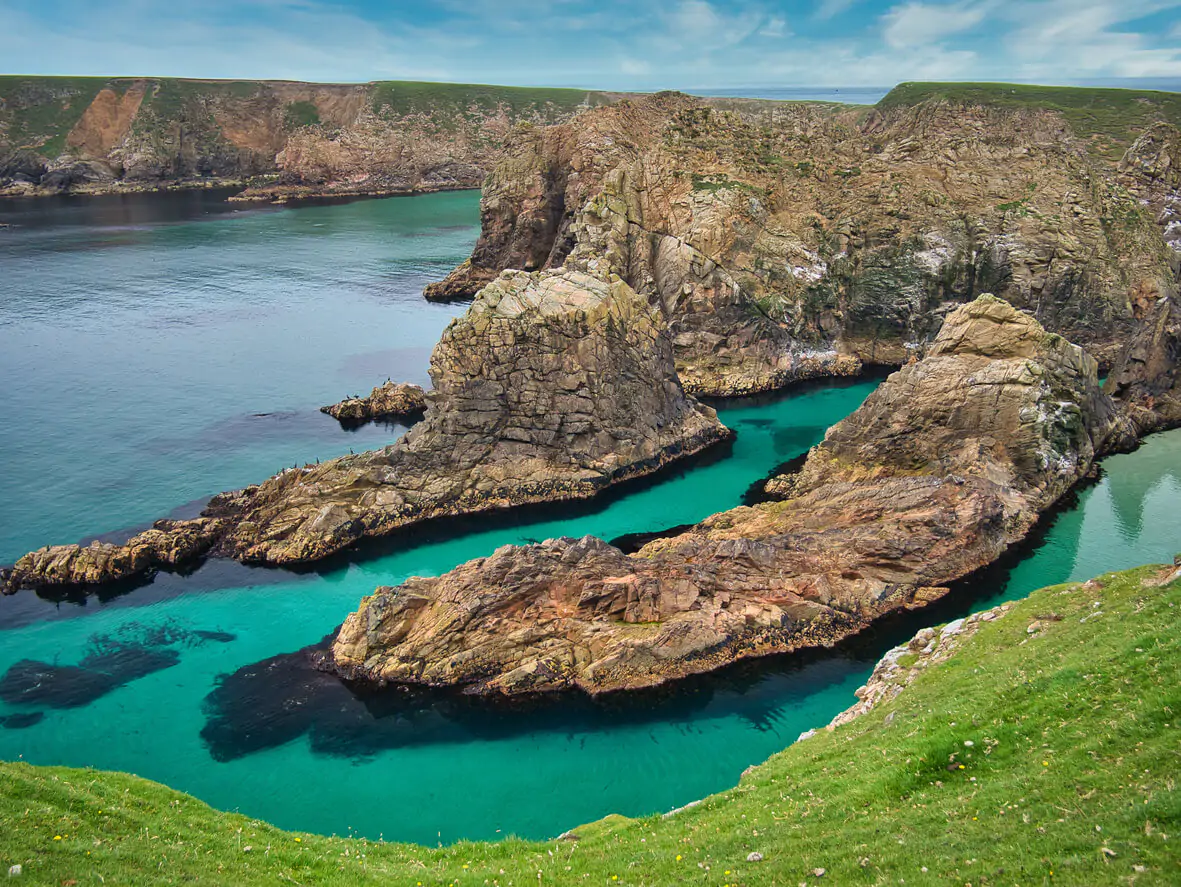 32. Uyea, Northmavine, Shetland
An uninhabited tidal island that can be reached on foot from northern Shetland. On a good day, you might be lucky enough to spot the seals basking on the beaches.
---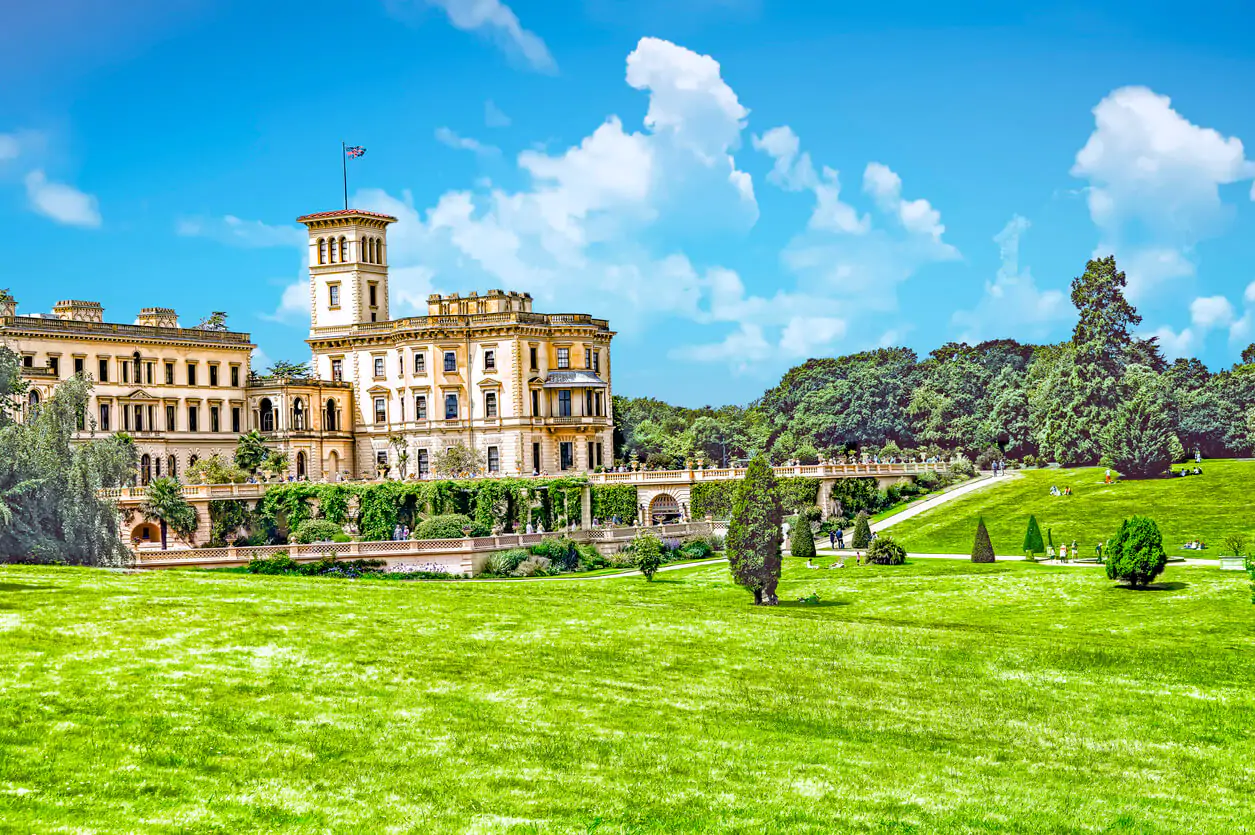 33. Osborne House, Isle of Wight, England
The former holiday home of Queen Victoria and Prince Albert, Osborne house was built in an Italian style. Osborne House is open with Covid measures, so pre-booking is needed if you'd like to explore the beautiful grounds and rooms inside. More info.
---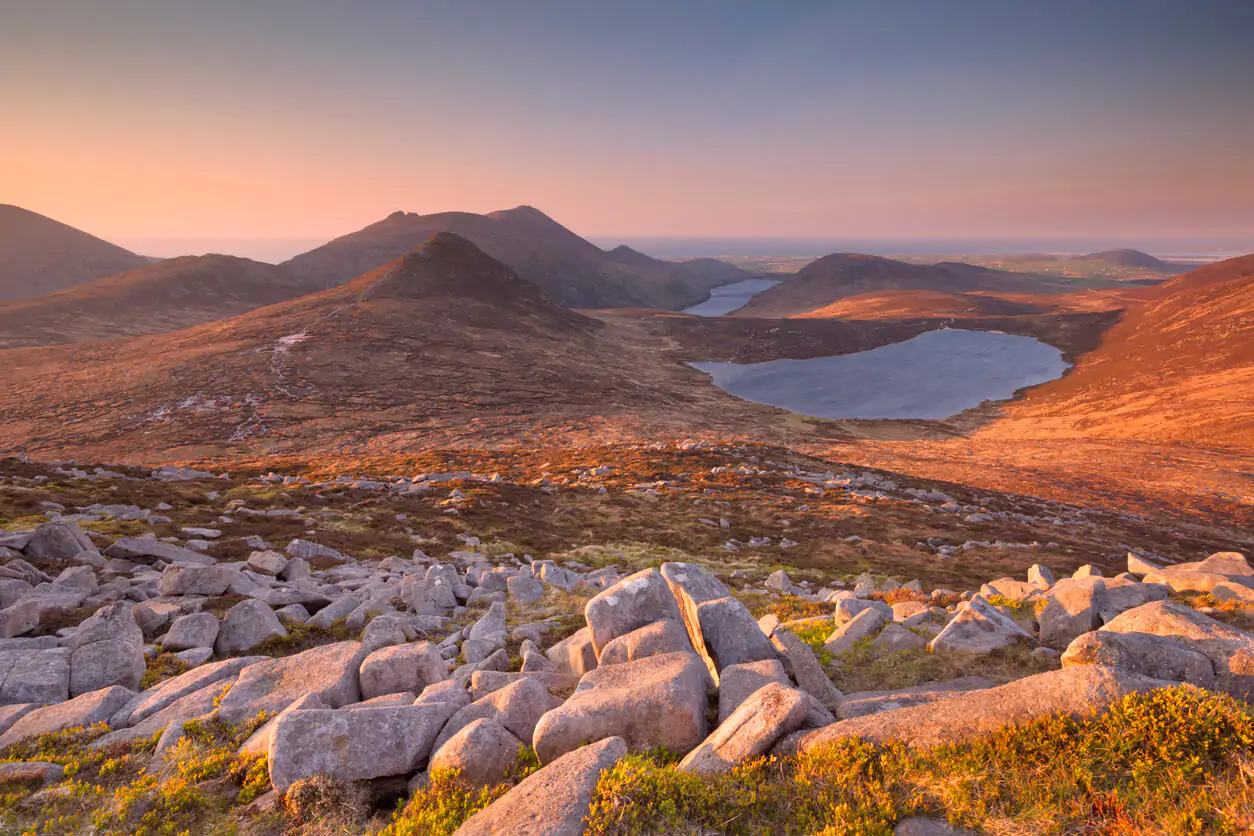 34. Mourne Mountains, County Down, Northern Ireland
This granite mountain range is the highest and most dramatic range in Northern Ireland. With forests, rivers, bridges, grottos and caves, it has everything you need for your next adventure.
---
35. Fingals Cave, Isle of Staffa, Scotland
Found on an uninhabited island in the Inner Hebrides, this 227 foot cavern is made up of columns of basalt – the same that also makes up Giant's Causeway. You can visit the cave via a cruise, or by travelling to Staffa and hiking – where you might see a few puffins along the way. Cruises are still open with Covid restrictions. More info.
---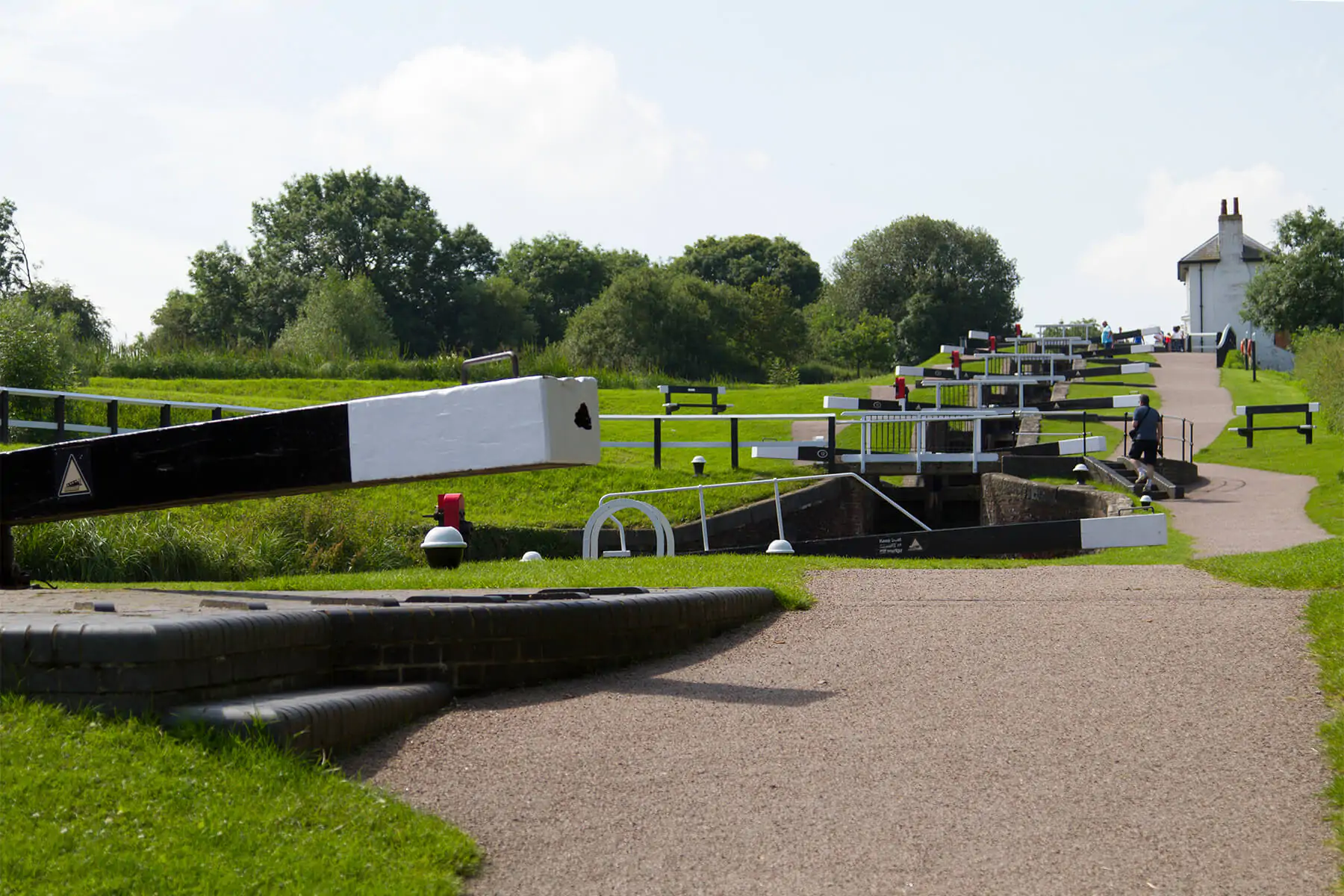 36. Foxton Locks Staircase, Leicestershire, England
An iconic series of locks and a grand feat of engineering on the Grand Union Canal. It's the longest and steepest staircase lock in the UK.
---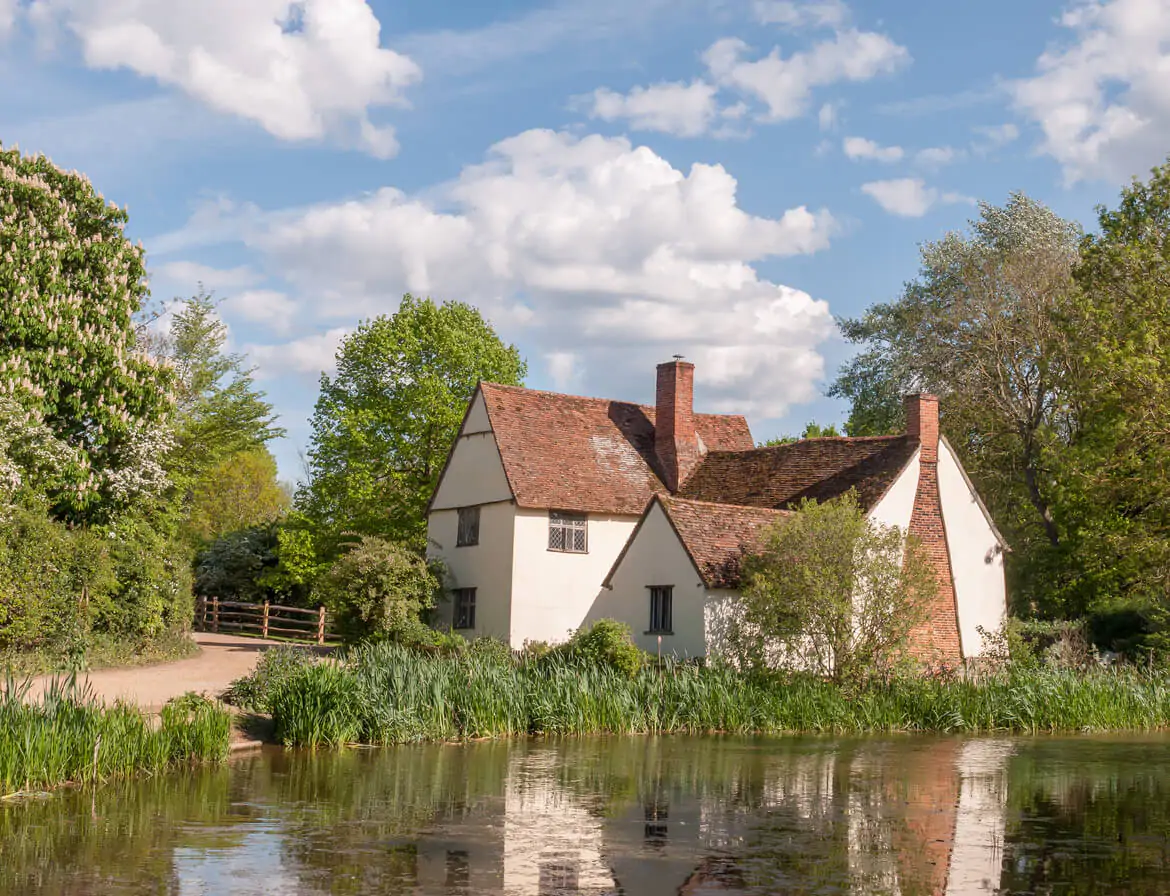 37. Willy Lott's Cottage, Suffolk, England
You might recognise this cottage from Constable's most famous painting The Hay Wain. Discover Constable's Country here.
---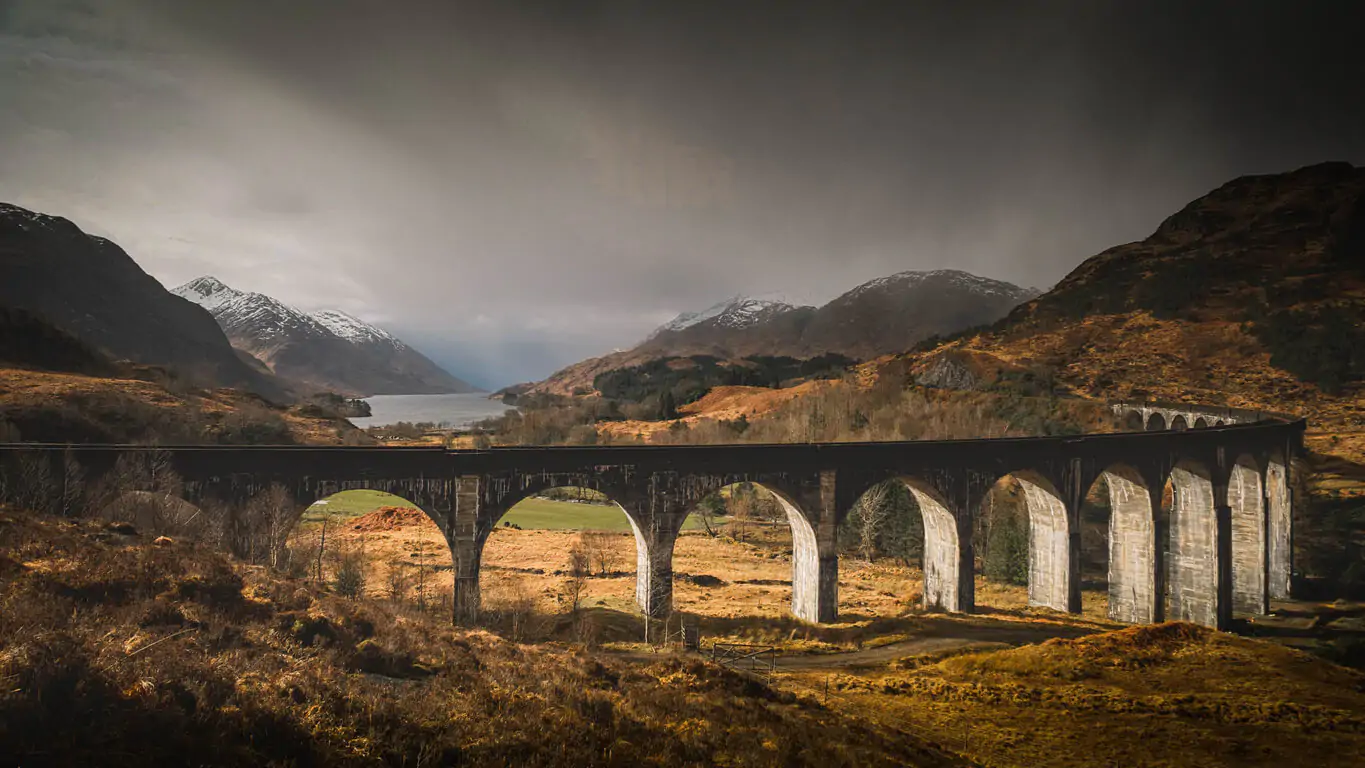 38. Glenfinnan viaduct, Glenfinnan, Inverness-shire, Scotland
This viaduct is found at the head of Loch Shiel. The Jacobite steam train also runs on this line in the summer months. Filming for Harry Potter took place in this area, with the Hogwart's Express calling at Glenfinnan.
---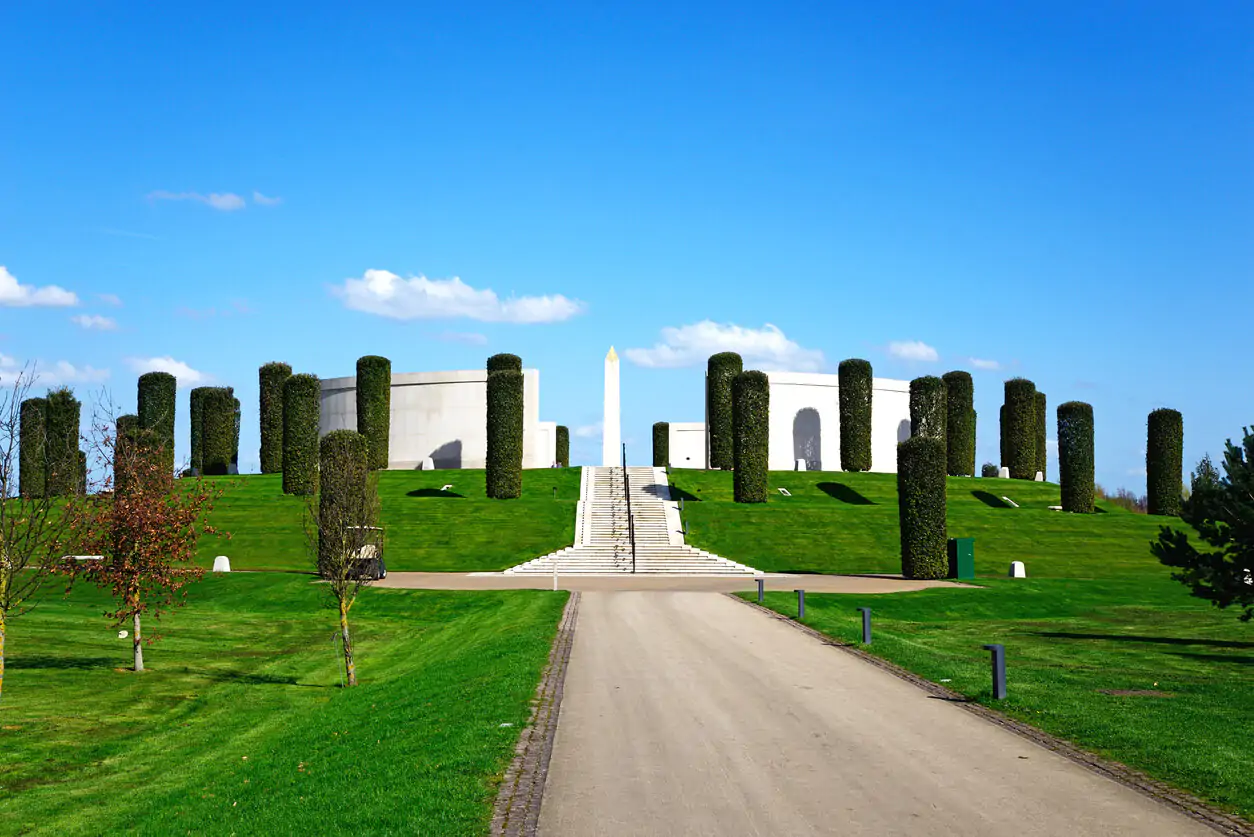 39. National Memorial Arboretum, Staffordshire, England
Part of the British Legion, the arboretum sits on 150-acres and has almost 400 thought provoking memorials nestled among 25,000 trees. The arboretum is open for pre-booked visitors with Covid measures in place. More info.
---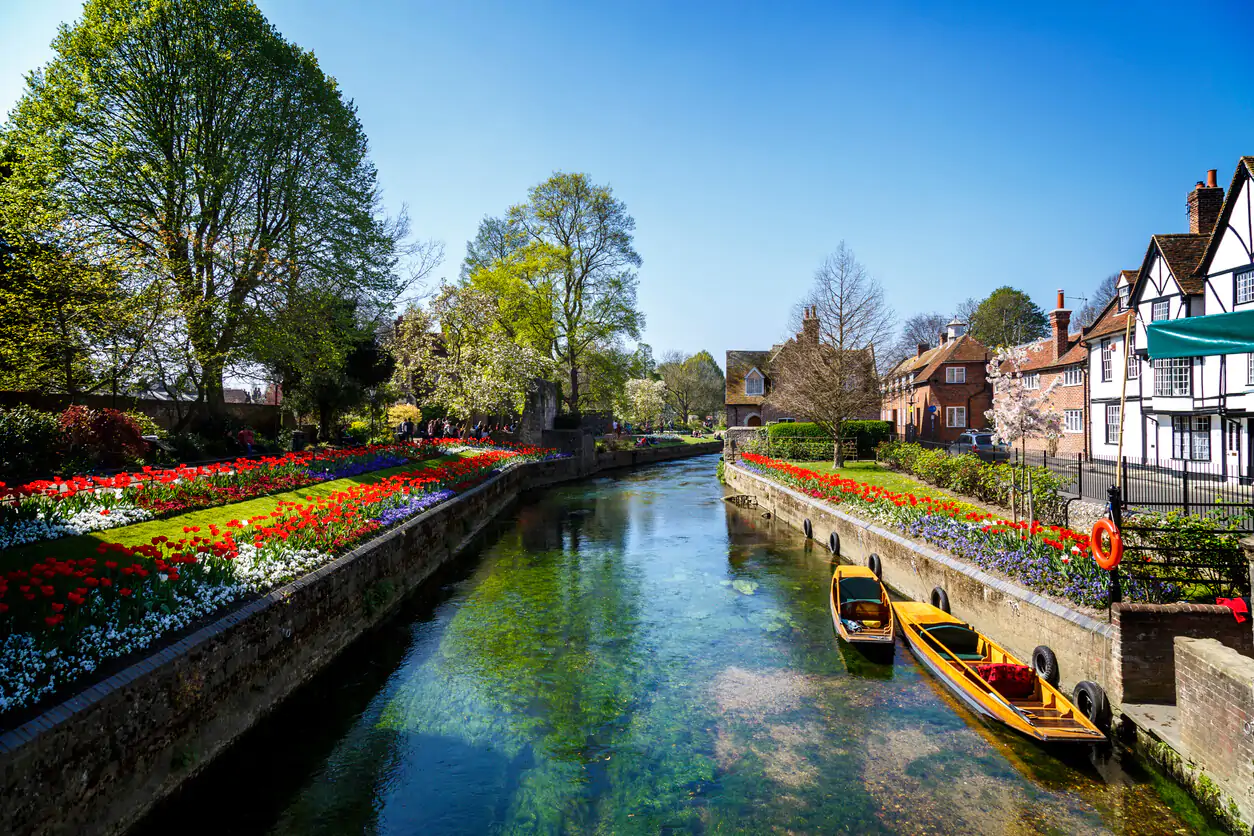 40. Canterbury, Kent, England
A beautiful cathedral city and pilgrimage site in the Middle ages, here you'll find timber-framed houses and plenty of Roman history. Take a punt on the river, visit the Roman Museum and admire the stunning cathedral.
---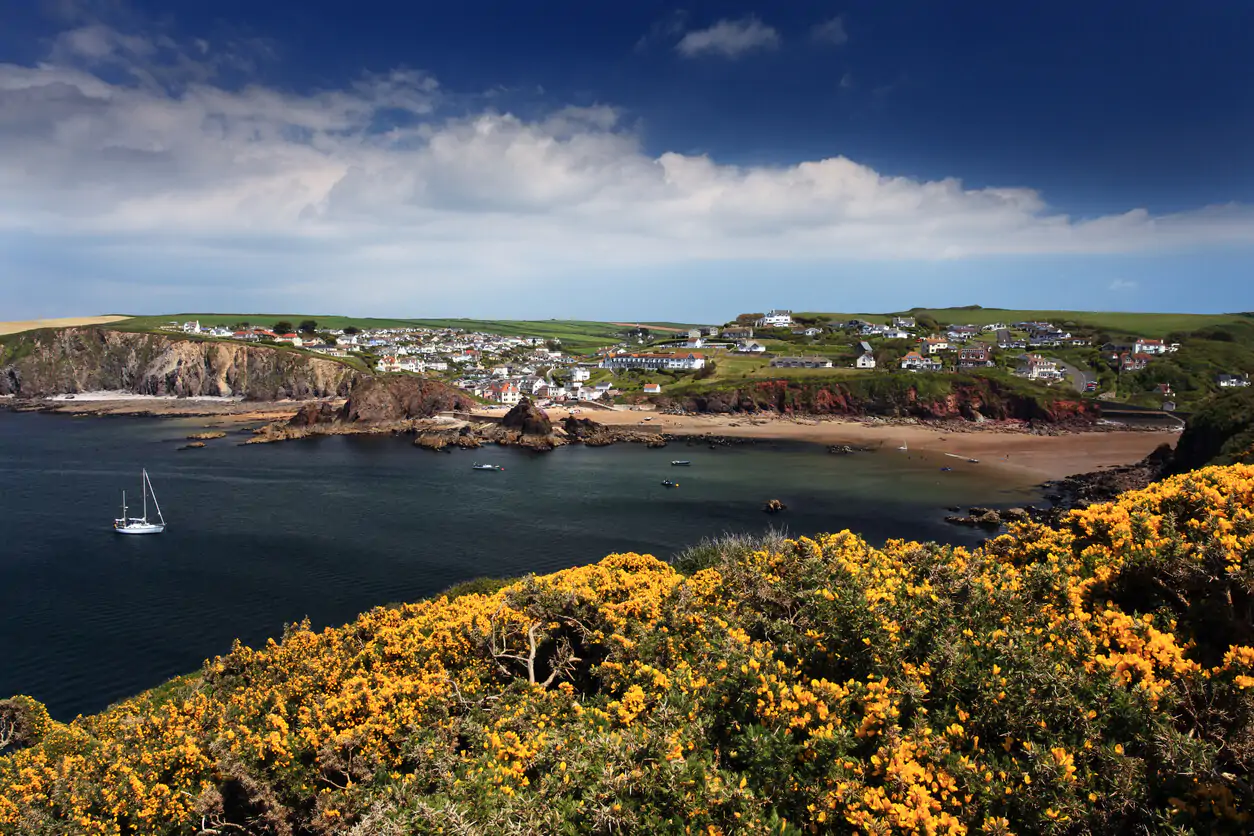 41. Hope Cove, Devon, England
With sparkling seas and cliff top walks to explore, Hope Cove is a beautiful former fishing village making it a perfect, quiet getaway. The picturesque town, with its thatched roofs also has plenty of places to eat and drink.
---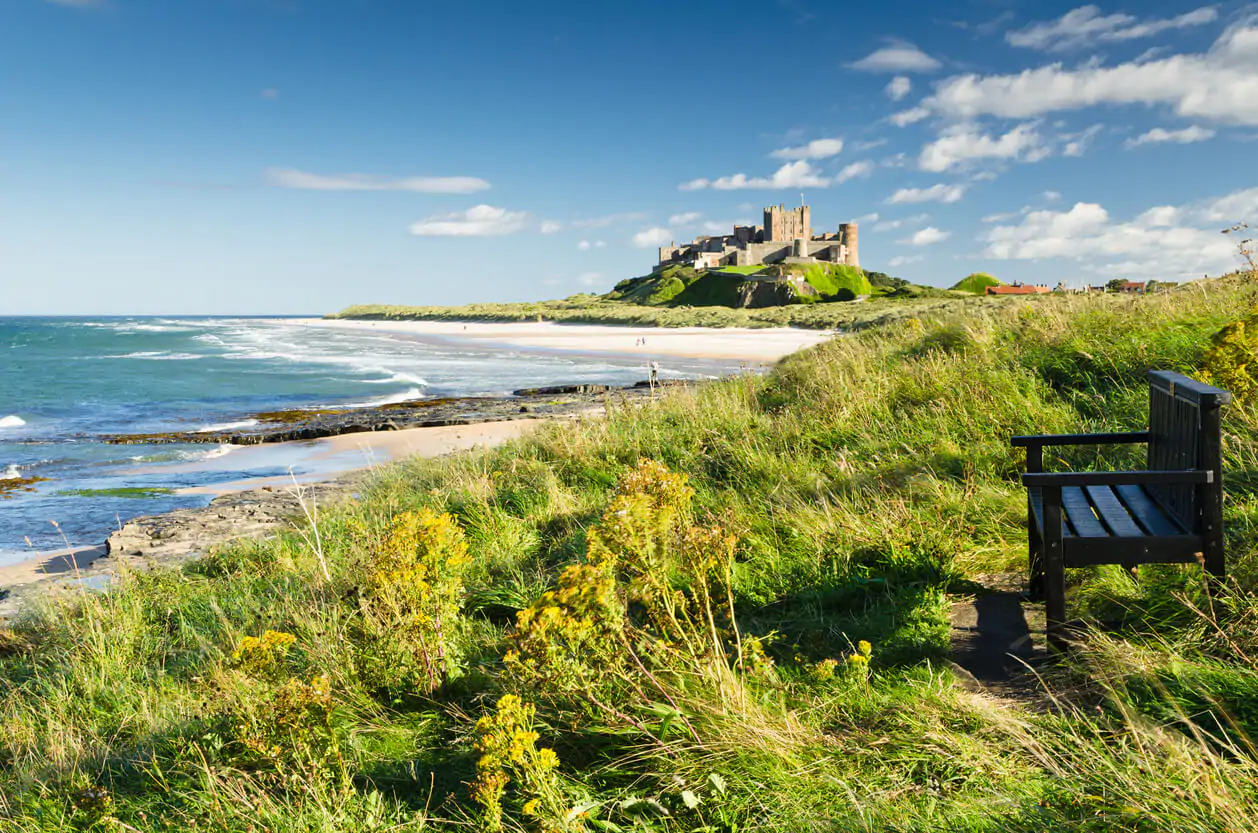 42. Bamburgh Castle, Northumberland, England
Sitting 150 feet above the coast, Bamburgh Castle has outstanding sea views and has stood guard over Northumberland for over 1,400 years. It's one of the largest inhabited castles in the country and the surrounding area is stunning too. The castle is open for visitors with Covid measures in place. More info.
---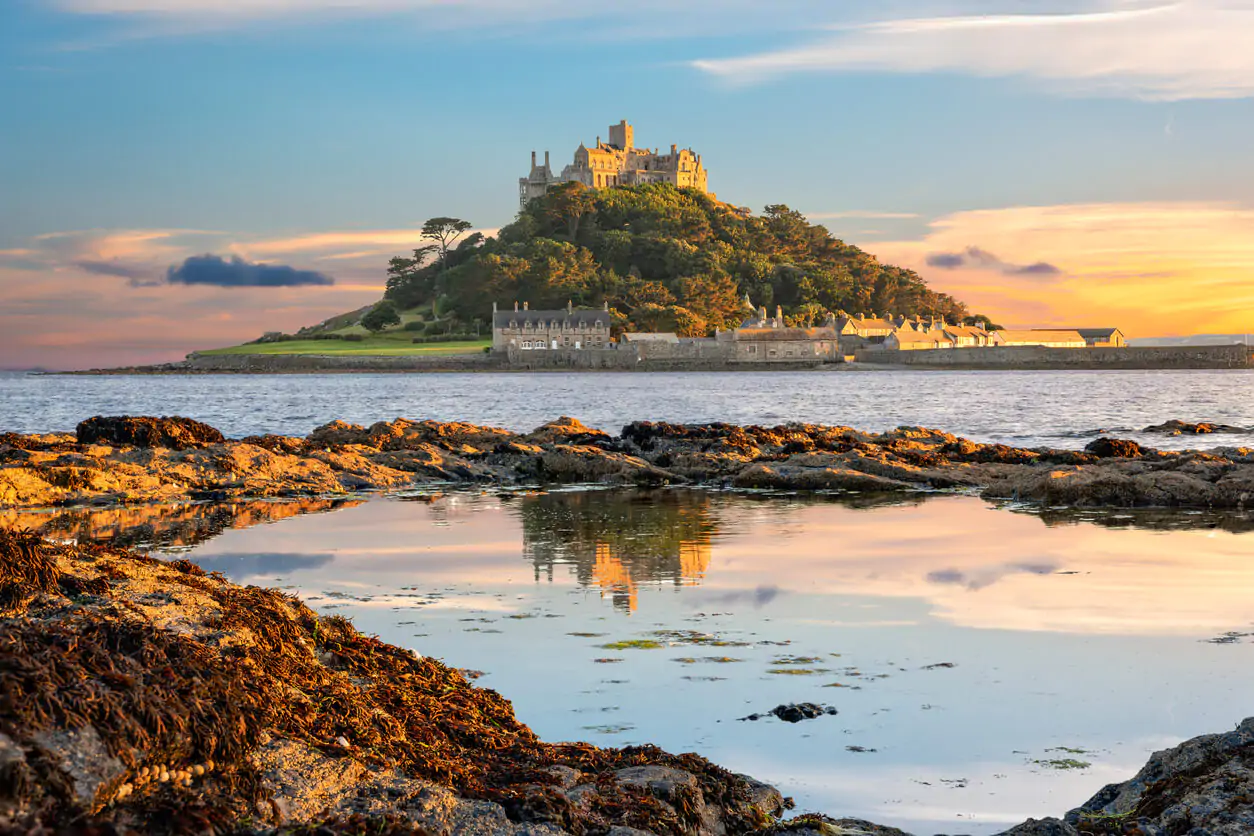 43. St Michael's Mount Island, Cornwall, England.
Walk across to the island at low tide when a path emerges from the water or take a boat across at high tide. There's a village, harbour and a medieval castle waiting to be explored on St Michael's Mount Island. Tickets can be pre-booked with Covid measures in place. More info.
---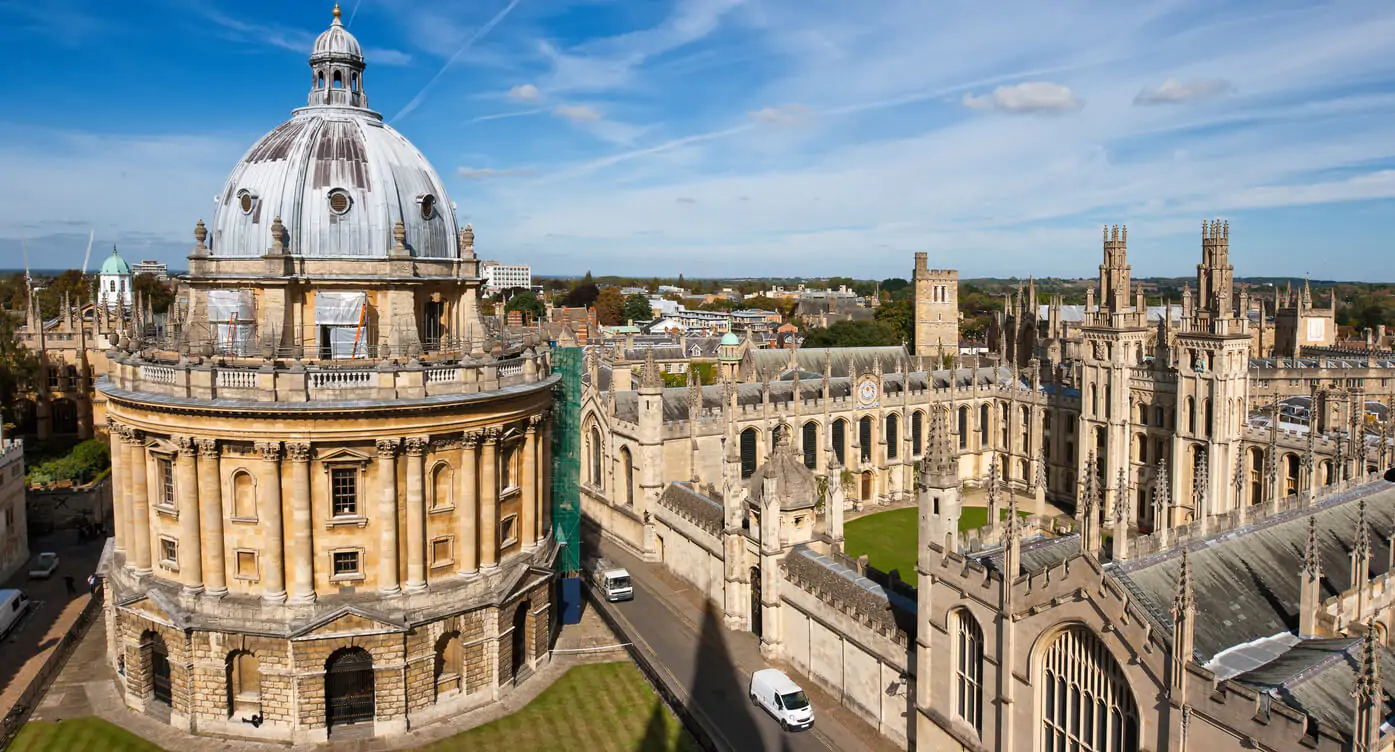 44. The Radcliffe Camera, Oxford, England
The City of Spires is known for its many Gothic towers and steeples – with most belonging to the University. The Radcliffe Camera is a striking circular building that sits in the heart of the city that houses a university library. Most colleges are open for tours in Oxford with Covid measures, but it's best to pre-book in advance if you can.
---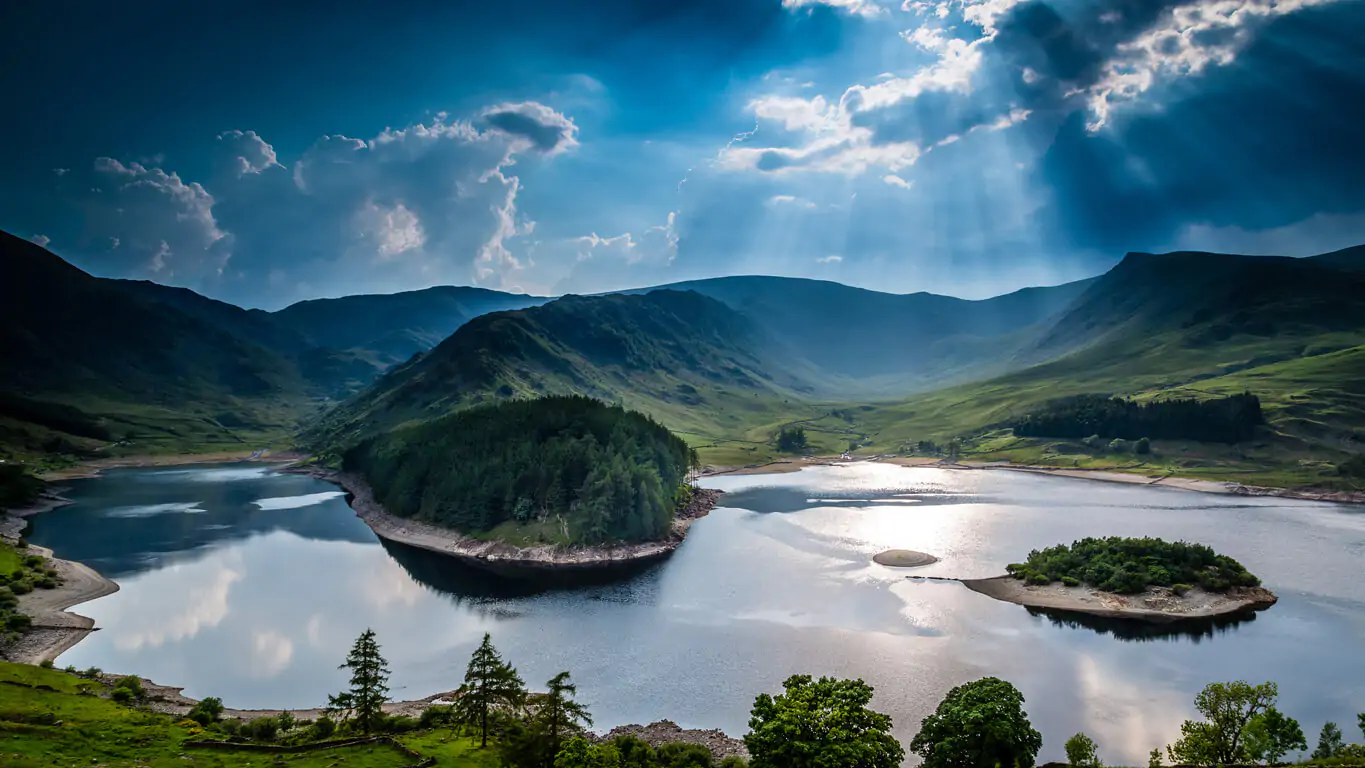 45. Haweswater, The Lake District, Cumbria, England
Haweswater is a reservoir valley created back in 1935. It's one of the lesser-visited lakes in the Lake district due to lack of facilities and poor accessibility. But this also means it's one of the quieter areas to visit.
---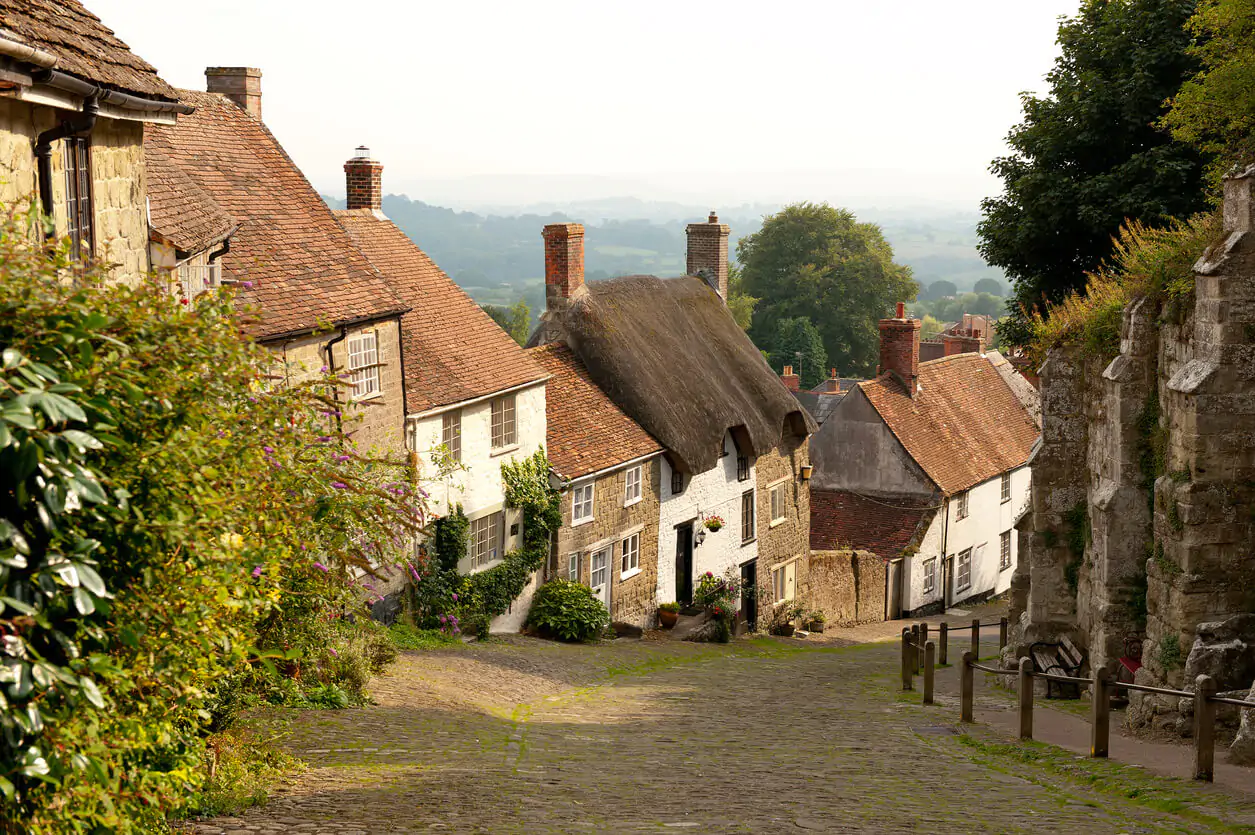 46. Houses on Gold Hill, Shaftesbury, Dorset, England
A steep cobblestone hill with quaint cottages which often features on chocolate boxes and calendars as a quintessential English location. It's also the location for the Hovis TV advert where the boy rides down the hill on his bicycle, which is why it's sometimes referred to as 'Hovis Hill'.
---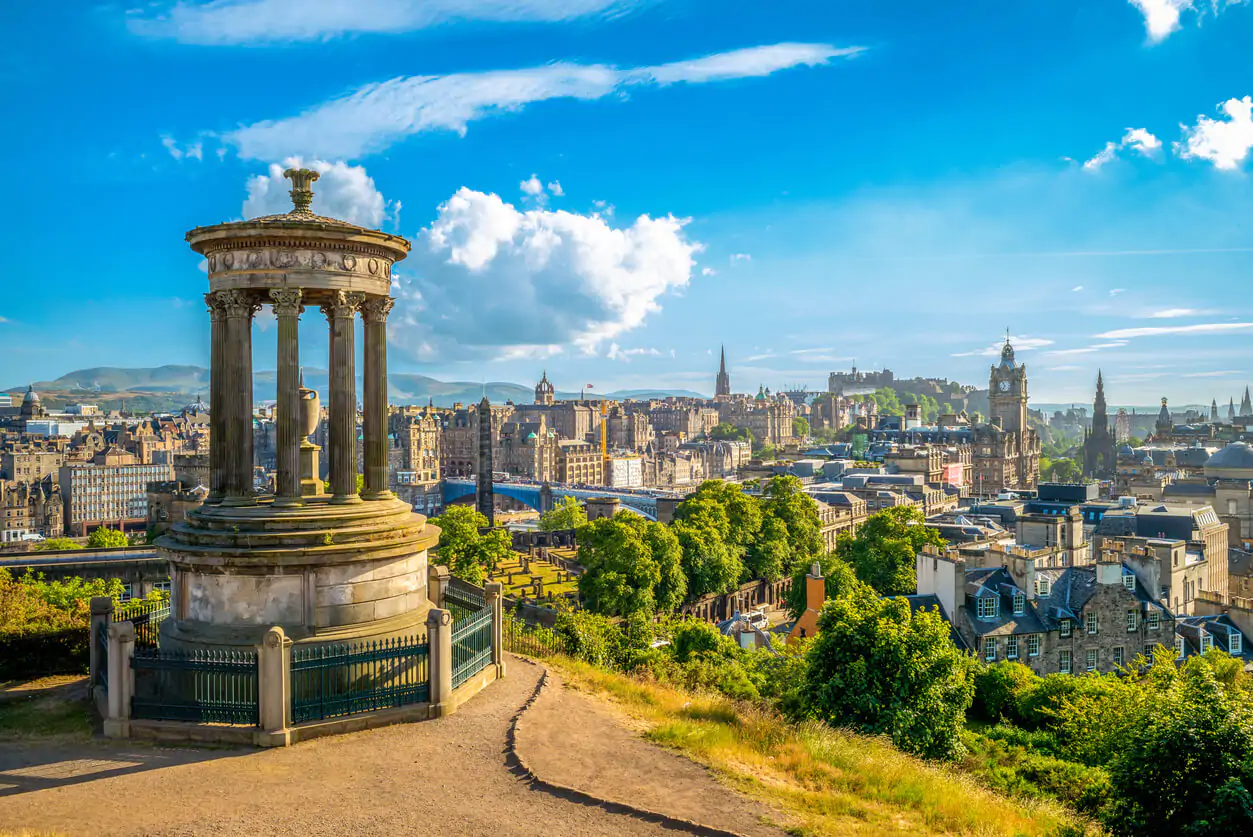 47. Calton Hill, Edinburgh, Scotland
With panoramic views over the city, Calton Hill is famous for its collection of historic monuments. The National Monument which is found here is inspired by the Parthenon in Athens and was never completed. It's a great spot for watching the sunset.
---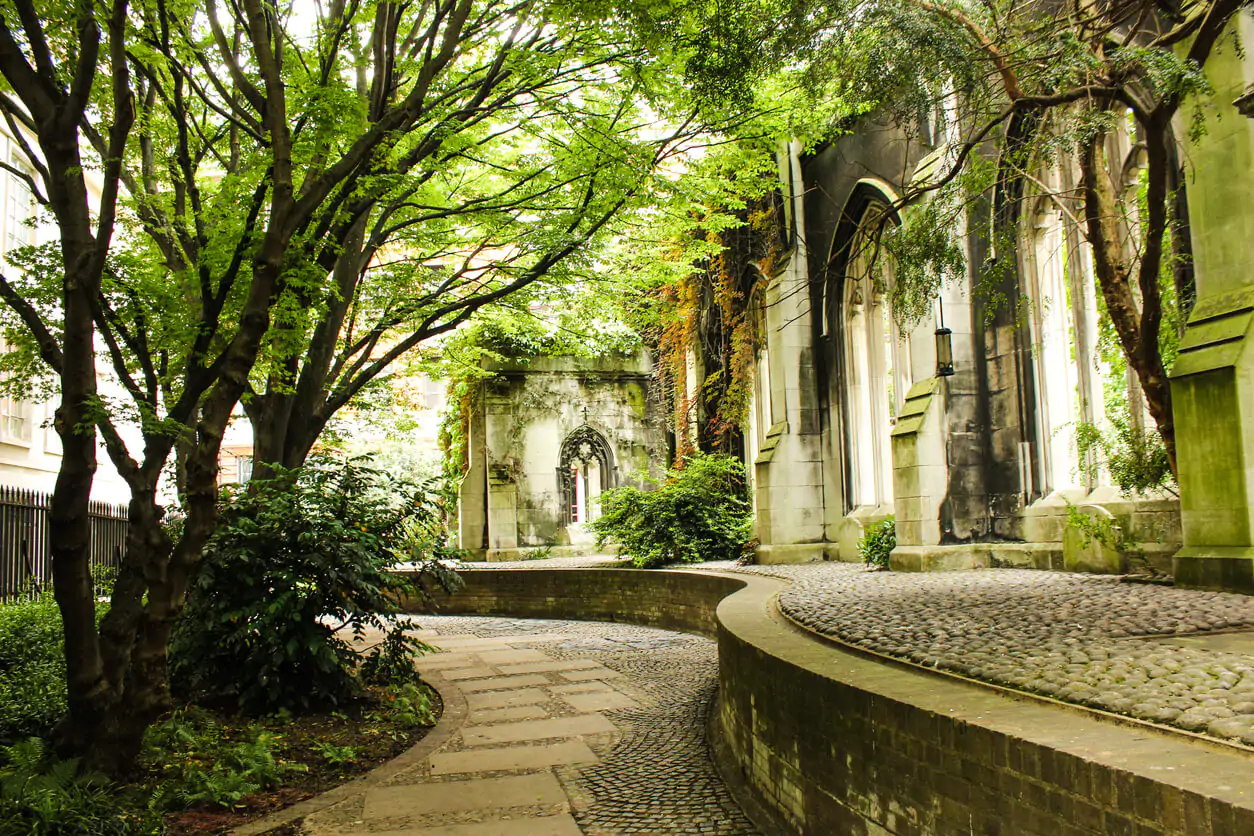 48. St Dunstans in the East, London, England
After being bombed in WWII, instead of demolishing this old church, it was transformed into a beautifully serene park. Not quite what you'd expect in the heart of a bustling city!
---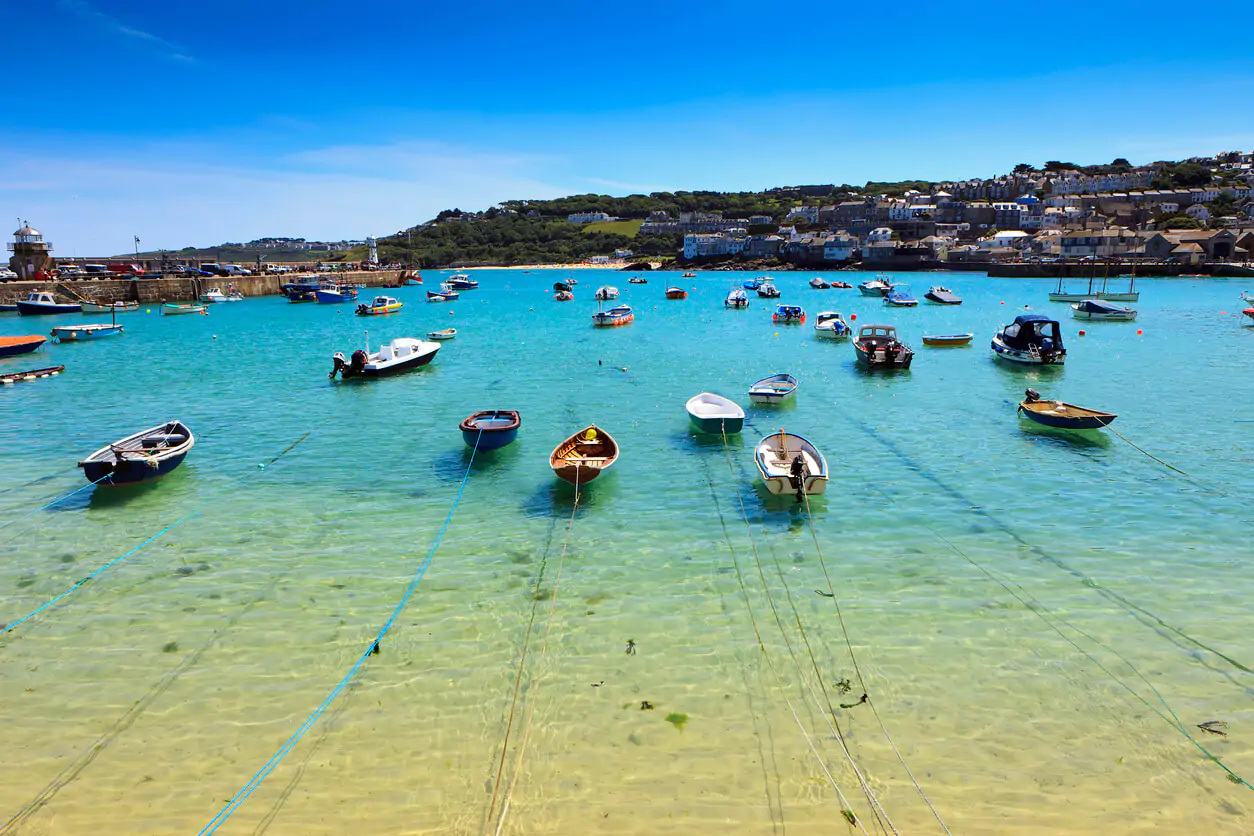 49. St Ives, Cornwall, England
Arguably one of the most popular destinations in Cornwall, it's known for its surf beaches and crystal clear waters. Take in the scenery or take a trip to nearby Seal Island!
---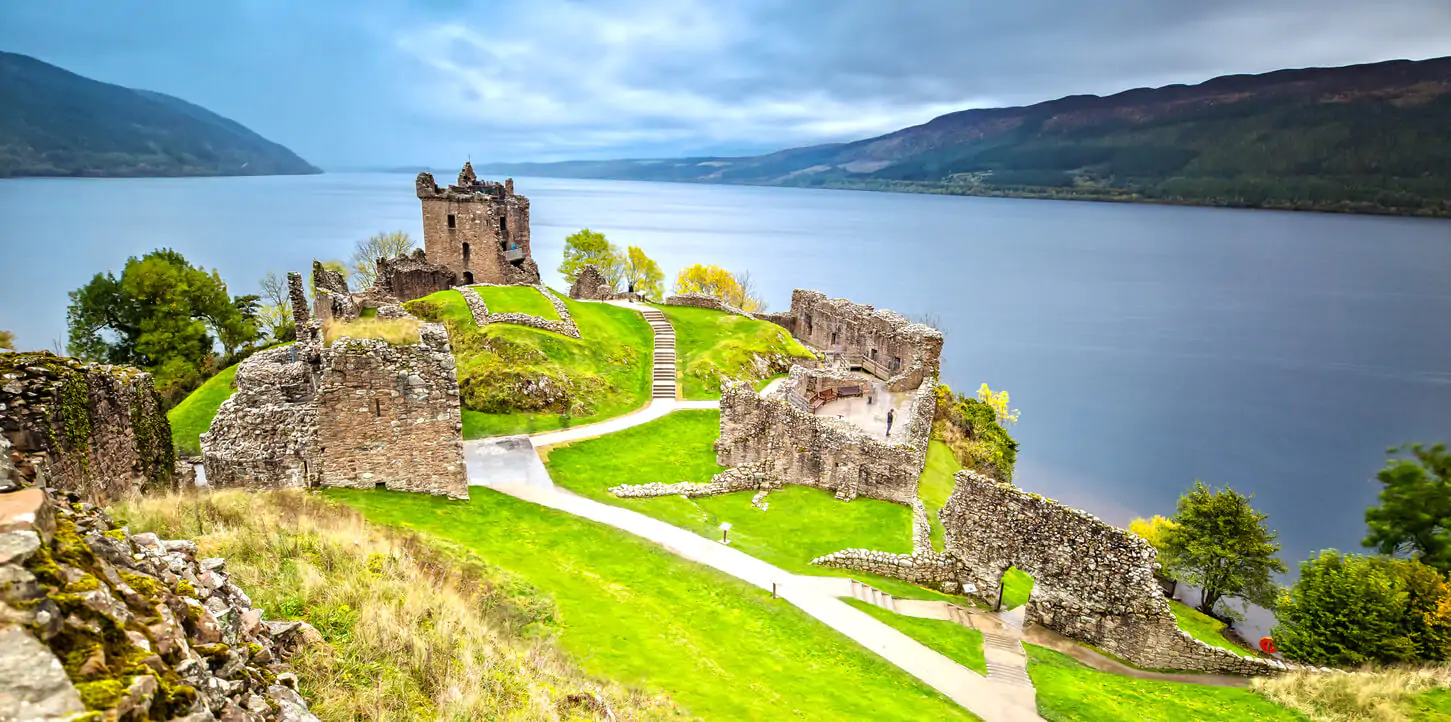 50. Urquhart Castle, Loch Ness, Scotland
With 1,000 years of history, Urquhard Castle is one of Scotland's largest. It offers a dramatic taste of Highland history while overlooking Scotland's infamous Loch Ness. More info.
---
Planning your UK staycation
Before you set off to explore these beautiful locations, make sure you do the following:
Looking for more beauty spots to explore? Have a look at our top beautiful places to visit in England, Scotland, Ireland and Wales too.