Tokyo
Shining skyscrapers, neon streetscapes, green parks, incredible cuisine, traditional festivals and a first rate, comprehensive metro system – Tokyo caters very well for visitors looking for the ultimate in Japanese experiences.
One of Tokyo's greatest pleasures has to be eating out in its abundance of restaurants, many of which are Michelin-starred.  Splash out on some of the world's finest, freshest sushis or savour the fragrant pleasures of carefully made noodle specialties. It's easy to eat vegetarian and vegan cuisine too – try out some of Tokyo's vegetarian restaurants for unforgettable Japanese cuisine.
Solo travellers might want to join a travel meet up group to share their Tokyo experiences. The city offers a good range of meet ups to suit all kinds of interests and ages.
Gay travellers are very welcome in Tokyo and they congregate in the city's hundreds of bars and clubs. If you are there in May, don't miss Tokyo Rainbow Pride, a week of colourful parades and LGBT parties.
For a relaxing day trip away from the rush of the city, head to the mountains of Nikko National Park, famous for its Shinto and Buddhist mountain worship centres. Visit the wooden and gold-leafed Toshogu Shrine, a magnificent UNESCO World Heritage site, and take in the glory of Lake Chuzenji and Kegon Falls.
Summer gets hot in Tokyo and people flock to the beaches in June and July, once the rainy season is over. Try the popular 900 metre-long sandy beach at Yuigahama; enjoy the great views as you sample Inamuragasaki's local delicacy of sardine caviar; or get involved in soccer or volleyball at Shonan Hiratsuka Beach Park.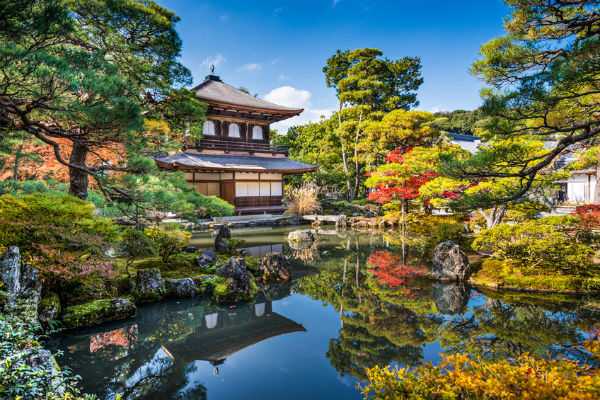 Kyoto
A compact city, ideal for exploring on foot or bicycle, Kyoto is a colourful place. As Japan's ancient capital, Kyoto is rich in culture and hosts a total of 17 UNESCO World Heritage sites. Shimmering shrines await you, along with beautiful gardens and over one thousand Buddhist temples.
You will find an excellent range of restaurants in Kyoto, many of which are Michelin starred. So whether you are tempted by tempura, vegetarian cuisine or sake, Kyoto provides an entire spectrum of Japanese culinary delights, What's more, many of Kyoto's restaurants are housed in traditional wooden buildings amid private gardens which adds to the pleasure of your food experience.
If you are travelling solo, there's ample opportunity to meet up with other travellers and share your experiences of Kyoto while you're there. The city is popular with backpackers so you find several low cost hostels to stay at throughout the city.
Getting about is easy: the city's efficient subway system has two lines covering 32 stations across the city.
Gay travellers will find a low key LGBT scene in Kyoto. Try the monthly "Diamonds are forever" drag night at Club Metro; alternatively, Azure on Kiyamachi, the main drinking street in Kyoto, or Laugh near Gion Shijo station. For a more active gay scene, you might like to make a trip to Osaka. However, the cities offer few if any specifically lesbian-friendly venues.
If you have the urge to head for the hills, Kyoto won't fail to please. It is blessed with stunning mountains on three sides and the hiking is excellent – simply follow its many great hiking trails just minutes from downtown Kyoto.