Bangkok
As one of the world's favourite holiday destinations, Bangkok offers glittering temples, gleaming skyscrapers and a rich heritage to make it one of South East Asia's most cultural yet progressive metropolises. Despite its skyscrapers and hedonistic lifestyle, the city's Buddhist beliefs remain strong.
Getting around Bangkok can be hectic but it's easy and inexpensive. Take the famous tuk-tuks (automated rickshaws), BTS Skytrains, metro, buses and road or river taxis. Alternatively, you could book a cab ride online with Uber.
Bangkok's street food stalls serve up fresh dishes which are often even better than those in hotel restaurants. Try some of the nation's best roast duck or pork, steamed crab, pad Thai, spring rolls, wonton noodles or papaya salad as you watch the cook shake his woks as he works. Vegans and vegetarians find plenty to eat too – there's even a meet-up to connect with fellow vegetarians for a dinner out or discussion groups.
Women travelling alone are relatively safe and there aren't any official no-go areas, although usual caution needs to be taken when in a big metropolis. Travel meet ups put you in touch with other travellers and expats also looking to enjoy the city to the full.
Bangkok is famed as the gay capital of Asia and is paradise for gay party people thanks to the Thai acceptance of LGBT culture, an infamous party and red light scene and Asia's largest gay circuit parties – Bangkok has it all.
The UNESCO World Heritage Site of Khao Yai is Thailand's third largest national park and hosts a lush, mountainous landscape with fertile valleys, thundering waterfalls and rich biodiversity – an ideal getaway just three hours' drive from  bustling Bangkok.
If you crave a dose of beach basking, there are plenty of white, sandy beaches to choose from around Bangkok – try Ko Larn, just offshore from Pattaya or, for a little more solitude, Ban Krut.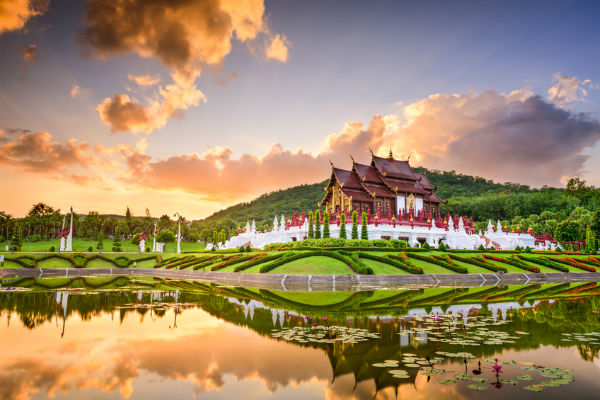 Chiang Mai
A myriad of ancient Buddhist temples, incredible food and a mesmerising Thai city culture await you in Northern Thailand's biggest city. The enchantment of Chiang Mai is likely to have you talking about your travels long after you get back home.
Foodies will love the delicious and delicate experience of northern Thai cuisine, from mild curries with sticky rice to spicy local sausages and Khao Soi, a mild, yellow curry broth made with chicken and soft noodles, topped with crunchy egg noodles. Vegetarians don't go without either as the city boasts many first class vegan and vegetarian eateries.
Backpackers often stop off in Chiang Mai before exploring the area's spectacular mountains which are a paradise for trekkers. You will find a criss-cross of tracks and excellent trails leading to remote hill tribe villages, perfect for getting in touch with the local traditions of Chiang Mai – guides can be hired for very reasonable prices. Aside from walking and cycling, you could also go elephant riding, white-water rafting or rock climbing – your hotel should be able to provide you with all the latest information.
Women solo travellers are perfectly safe in the streets of Chiang Mai and there aren't any no-go areas to speak of. Simply keep your wits about you as you would in any other city.
Chiang Mai is very liberal when it comes to the LGBT community and is home to a friendly and lively gay scene.
Need Travel Insurance?
The single most important factor when travelling to Thailand is to buy a travel insurance policy that suits you. Talk to our travel insurance specialists on 0800 033 4902 or get a quote online.
All travel insurance provided by Staysure is subject to agreement from our underwriter. Terms and conditions apply, details of which can be found within the policy document.