Solo travel in the United Arab Emirates
Abu Dhabi
Abu Dhabi boasts many accolades not only is it the capital of the United Arab Emirates and its second largest city, it is home to the world's fastest roller coaster, the tower with the greatest lean as well as the largest group of 21st century cultural buildings.
Although far more conservative than neighbouring Dubai, Abu Dhabi is an excellent choice if you're looking to understand the UAE and its history through museums and fascinating UNESCO listed sites. Alternatively, you could take a leisurely stroll around the dhow harbour, sitting at sheesha cafes and haggling in the local markets as you go.
Thanks to an influx of world-class chefs, Abu Dhabi caters to every discerning pallet with international and traditional Emirate delicacies. Vegetarians can also find plenty of dining options in the city's vegan and vegetarian eateries.
Buses and taxis are inexpensive and are the main form of transport within the city, while the Uber app will get you a ride right from your door.
The UAE is generally regarded as safe to visit, largely due to the state's wealth and the fact that crime is punishable with immediate deportation for foreign nationals.
Abu Dhabi''s beaches are part of the pleasure of the city and its world-class hotels offer fabulous beachfront facilities. The public and club beaches are a good way to escape the bustling city while   soaking up the sun and enjoying spectacular turquoise waters.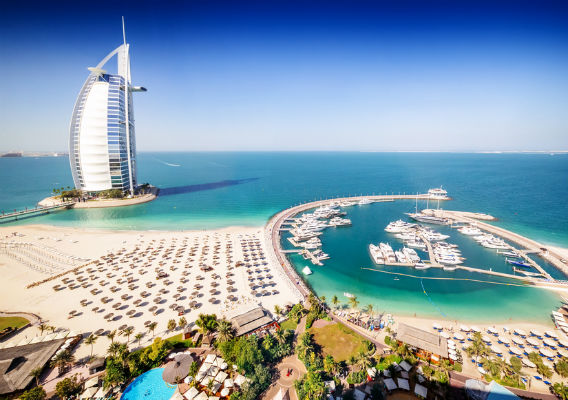 Dubai
Shining brightly against the blue sky, Dubai is often regarded as the United Arab Emirates' most modern and glamorous city. A haven for shoppers and luxury lovers, Dubai effortlessly combines beachside living with mega city life. The Dubai Museum explains its transformation over the years and diverse temples and quaint art galleries demonstrate the city's fierce pride in culture and creativity.
Food is one of Dubai's delights. From sharwarma to tabbouleh and fluffy Arabic bread, there's plenty to please all pallets and a wide range of quality restaurants to treat yourself to. Vegans and vegetarians can make the most of several excellent vegetarian restaurants in Dubai too.
Getting around is easy using Dubai's efficient, fully automated metro and rail network. If you prefer the luxury of a cab, download the Uber app to get a ride in a matter of minutes.
Dubai adopts modern attitudes towards women alone on the streets, although you will need to avoid male attention/stares whenever possible as some attitudes remain archaic when it comes to Western women. On public transport, sit in the women's area towards the front and if you dine alone, ask to be seated in the 'family' section of local eateries.
Beach life is often centred around hotels; however, there are several free, public beaches which are just as perfect for kicking back and soaking up the sunshine. TimeOut gives the lowdown on Dubai's top 10 beaches.