Romania is not just about Transylvania's snow-capped landscapes, medieval towns and castles: a day or two experiencing the exquisite elegance of Bucharest should round off your Romanian trip perfectly. Want to know where to start planning your cultural two days in Bucharest? Here's our pick of top things to see and do:
Day one
If your day must start with a "proper" cup of coffee in the morning, Origo Coffee Shop is definitely the place to start. Friendly, English-speaking staff serve several different varieties of coffee. Choose your coffee by origin or even acidity and if that's a problem, there's always someone to explain anything you don't understand. Get there early if you want a table on shady Strada Lipscani – there's nearly always a queue!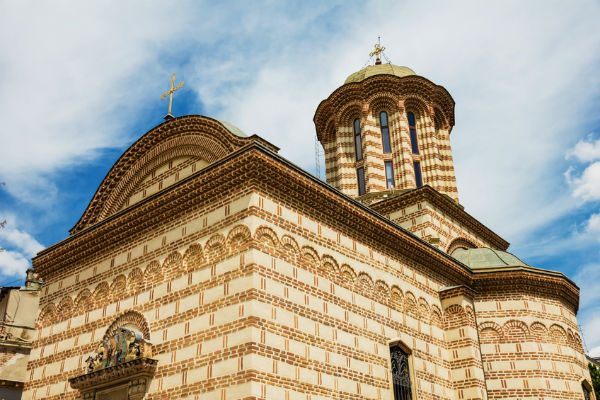 Duly refreshed, you'll be ready for a stroll through the nearby cobble-stoned streets of the Old Town. This is arguably Bucharest's most atmospheric area and home to alternative bars, clubs, trendy coffee houses and restaurants. Don't miss the 15th-century Curtea Veche (Old Court) and next door, Bucharest's oldest church, Biserica Curtea Veche, dating back to the 16th-century.
Amble on just north of central Old Town along Strada Lipscani, an old shopping street to find everything from bridal wear and handmade hats to cheap jeans and other fashion. Antiques fill the alley named Hanul cu Tei, and south of Strada Lipscani you will find Strada Stavropoleos hosting the fabulous Biserica Stavropoleos church with its recently restored frescoes, icons and surrounding cloister garden showcasing several interesting antiquities and 19th-century tombs.
Ready for lunch? Before you leave the Old Town, stop at Caru' cu Bere, a classic eating venue filled with lunching locals. If the architecture doesn't bowl you over before you eat, the great selection of classic Romanian dishes and local house beers may well do so. You might like to come back again after 9pm when the atmosphere livens up further with live performances.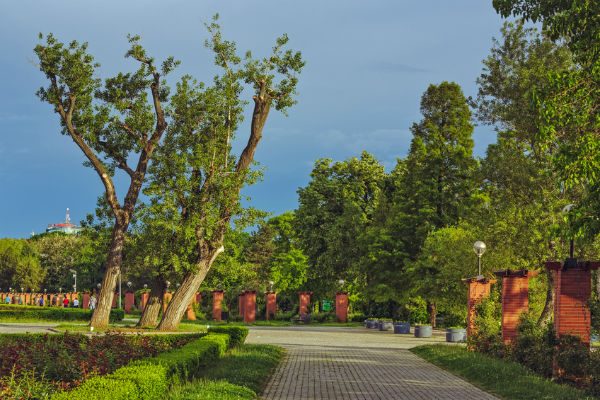 Herastrau Park takes you back to the early 19th century when Bucharest's high society enjoyed promenades along the embankments of Herestrau Lake. A multitude of roses in all colours greets you at the entrance and arched bridges lead to a picturesque island. To take the weight off your feet, hire a rowing boat and bob about on the lake for a while as you admire the views.
For something more energetic, take a ferry across the lake, next to the Village Museum, and jump on a ride or two at the fun-park with its carousels and rollercoasters.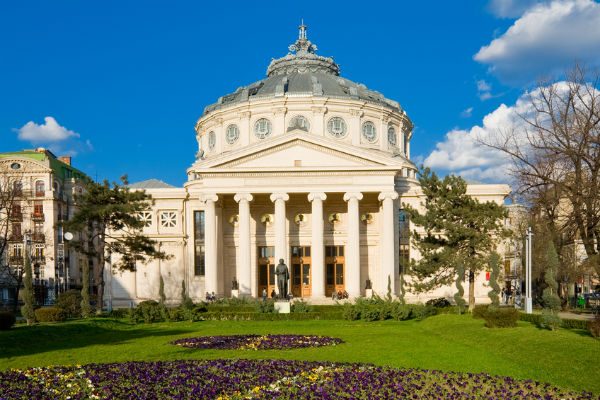 Classical music is one of Romania's many great attractions and Strada Franklin's Ateneul Roman (Romanian Athenaeum) is one of Romania's most spectacular places for classical music performances. The domed 19th-century athenaeum offers world-class acoustics to perfectly complement the sounds of the George Enescu Philharmonic Orchestra and other leading music groups. When you're in the lobby, take a look up at the beautiful gold-leaf decorated ceiling.
Day two
Start your day with a late brunch in the gardens of the relaxed, minimalist Simbio in the Old Town. Highly recommended are the smoothies, as are the omelettes, shakshuka and deserts. If you'd like to sit in the garden, it's a good idea to make a reservation.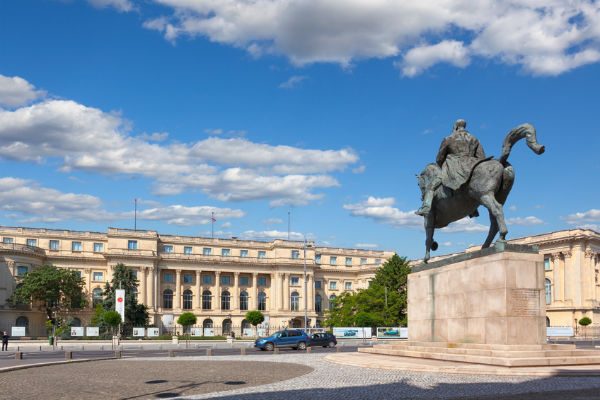 For artistic inspiration, make your way to the Muzeul National de Arta (National Art Museum).The building was sadly vandalised and looted in the 1989 uprising but has since been restored to house three separate collections: the Gallery of European Art contains rare pieces of Von Eyck's Crucifixion, a Rembrandt, 16th and 17th-century Spanish art, Flemish art by Rubens and four more rooms containing pre-20th century French sculptures and paintings. Meanwhile, the Gallery of Romanian Art features works by Romania's most famous painters, including the likes of Nicolae Grigorescu who depicted the lives of Romanian peasants. The small third collection contains several treasures of Roman art.
Next, amble along the streets between Soseaua Kisileff and Bulevardul Mircea Eliade to marvel at the beautiful 19th-century,neo-classical and 20th-century art nouveau houses, along with more modern ivy-covered villas with their elaborate balconies and stone carvings – these are places where Bucharest's elite have always and continue to reside.
Lunch at nearby Casa Doina is a classy experience. You'll be served sumptuous Romanian and international cuisine by charming, smart waiters, as you sit amid the cream of Bucharest society.  Located in a quiet, leafy setting, dining on the terrace is a joy, weather permitting.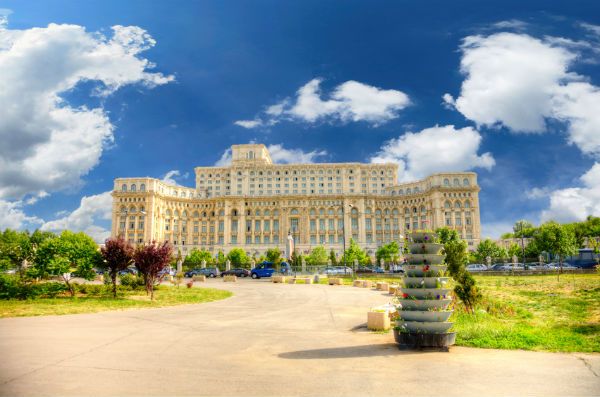 After lunch, take the metro to Izvor to marvel at the gigantic Palace of Parliament, the world's second biggest building after the Pentagon and Romania's former dictator, Nicolae Ceauşescu's, most famous creation. Built in 1984, the still unfinished palace hosts over 3,000 rooms. Book in advance to take a guided tour of the buildings which now house Bucharest's houses of parliament.
Evening entertainment can be anything you'd like it to be in Bucharest. Perhaps a relaxed meal in one of Bucharest's top notch restaurants, or a few drinks as you watch the world go by, followed by music and dancing. Romania is a jazz enthusiast's dream as Bucharest hosts some great jazz clubs in which to while away the evening. If jazz is not quite your thing, Latino music is also popular; alternatively, join Bucharest's well-to-do at one of the many casinos along Calea Victoriei.
Many of the city's nightclubs are in the Old Town but bear in mind that some close in June for summer and reopen in early October.