Toronto
Multi-cultural Toronto is a delightfully sophisticated and cosmopolitan place, hosting spectacular skyscrapers and eclectic down-town districts. Canada's biggest metropolis boasts the vertigo-inducing CN Tower, soaring some 553 metres skyward. But just as emblematic is the patchwork of neighbourhoods, markets, coffee shops, vintage stores and galleries which give the city its quintessentially independent edge.
Getting around is easy. Toronto's subway is fast, simple and covers all key areas of the city. If you prefer the comfort of a cab, downloading the Uber app will help you get a ride in minutes.
Nowhere is Toronto's cosmopolitan character more obvious than in its wide variety of gastronomic treats. Whether you're a fine diner, a takeaway person, a vegetarian, or simply want good pub grub of any kind, you won't be disappointed.
If you'd like to experience the city with others, there are plenty of meet up groups to join, enabling you to share it all with like-minded people. Women travelling alone are safe to do so in Toronto; however, some neighbourhoods are safer than others – CBC outlines the hotspots.
If you crave some peace, take a ferry to the Toronto Islands, the places for rest and relaxation – take a waterside walk, people watch at a cafe and enjoy the spectacular view of the city's skyline. Alternatively, head for the gorgeous sandy beaches and lay down your towel or take a stroll – some favourites are at Gibraltar Point, Cherry Beach, Bluffer's Beach and Sugar Beach.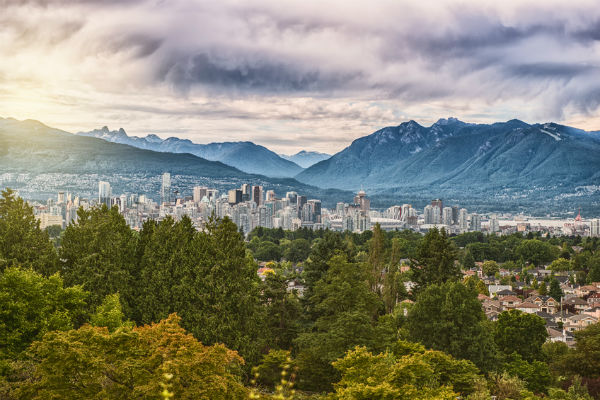 Vancouver
Glittering skyscrapers, regenerated industrial districts, chic hotels, laid-back beaches and diverse neighbourhoods packed with indie stores, cool eateries and breweries: it's small wonder that Vancouver ranks as one of the world's most liveable cities.
TransLink is Vancouver's metro system, a generally well organised network linking downtown Vancouver to the suburbs.
Many people enjoy sharing their experiences with others and Vancouver offers plenty of opportunities to do so, thanks to several meet up groups linking you with like-minded people across the city.
Women travelling alone are safe on the streets of Vancouver, provided they exercise the usual caution when exploring a big city. For some company, don't forget to check out the meet up opportunities – there may well be something you'd like to share with others.
The North Shore Mountains are a great attraction, especially for skiers during winter. Meanwhile, on Grouse, Cypress and Seymour mountains, there are countless opportunities for hiking, mountain biking, rafting, camping and skiing.
For beaches, Vancouver also delivers – expect thrilling city and mountain vistas, plus soft sand, water sports and adventure.