8 beautiful places to visit in Wales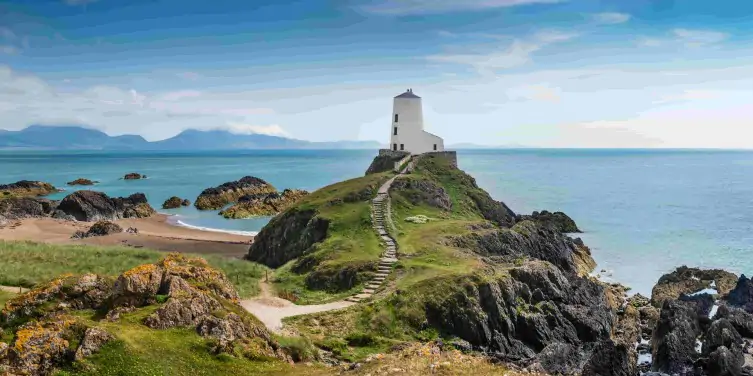 Wales is home to some of the UK's most picturesque destinations thanks to the acres of beautiful scenery and sandy beaches. It's the perfect place for family breaks, weekend getaways, and walking holidays. 
If you're wondering what to see in Wales, read on for inspiration for your next staycation. 
1. Mount Snowdon, Snowdonia
Snowdonia is Wales' largest National Park covering 823 square miles which includes the highest mountain in Wales, Mount Snowdon. Snowdonia attracts millions of visitors each year and it's easy to see why. The breathtaking peaks and scenic lakes make it an unforgettable experience and one of the best places to visit in Wales.

If you plan on hiking up to the famous Mount Snowdon summit, make sure you stick to one of the six walking routes and follow safety advice.*
Or, you can ride the Snowdon Mountain Railway which has been described as one of the most scenic railway journeys in the world. If you are lucky enough to have good weather on your side, you'll get to experience the breathtaking views from the top of Snowdon down to the lakes of Glaslyn and Llydaw.
2. Swallow Falls, Betws-y-Coed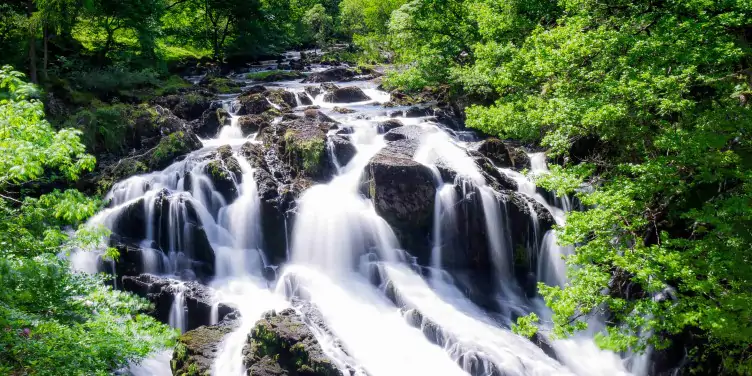 Betws-y-Coed is a quaint village nestled in the foothills of Snowdonia surrounded by the Gwydyr Forest. The nearby Swallow Falls are a must see – this spectacular waterfall is thought by many as one of the most beautiful places in Wales. 
Betws-y-Coed is a hidden gem with a choice of cafés, restaurants and pubs to choose from, alongside various boutiques and independent shops selling local produce. You may also enjoy walking or cycling along one of the many trails around the village. 
3. Great Orme Tramway, Llandudno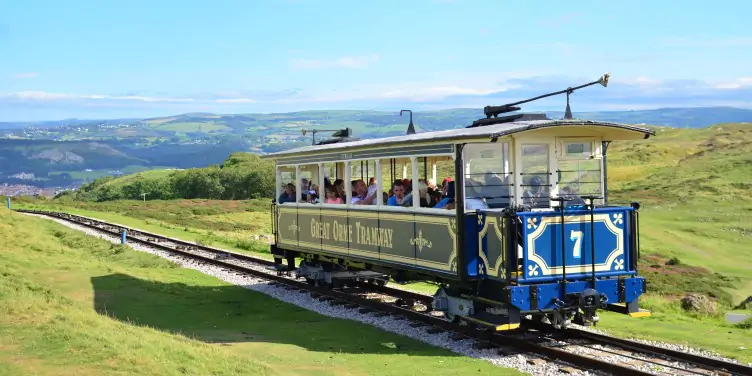 The Great Orme Tramway in Llandudno is the only cable-hauled tramway in use on a public road in Great Britain. You begin your journey in the vibrant coastal town of Llandudno – a popular seaside resort known for its sandy beaches and elegant Victorian architecture. 
When leaving Victoria Station, the beautifully restored tramcar climbs 1,500m up the Great Orme Country Park and Nature Reserve. 
The views from Great Orme's summit are breathtaking. You can see from Snowdonia and Anglesey, all the way to the Isle of Man, Blackpool and even the Lake District on a clear day.
4. Benllech Beach, Anglesey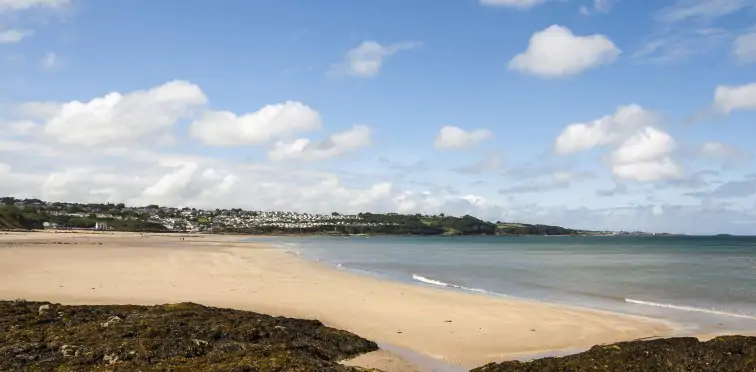 The island of Anglesey is known for its award-winning beaches and beautiful coastal landscapes.
Benllech is one of its most popular beaches, with golden sand and clear blue waters. This family-friendly Blue Flag beach has plenty of rock pools to explore. Perfect for getting up close with crabs and starfish.
The beach falls within the Anglesey Area of Outstanding Natural Beauty which has a mixture of limestone cliffs with hidden coves and stretches of sand dunes.
You'll feel like you're on holiday abroad! 
5. Portmeirion, Gwynedd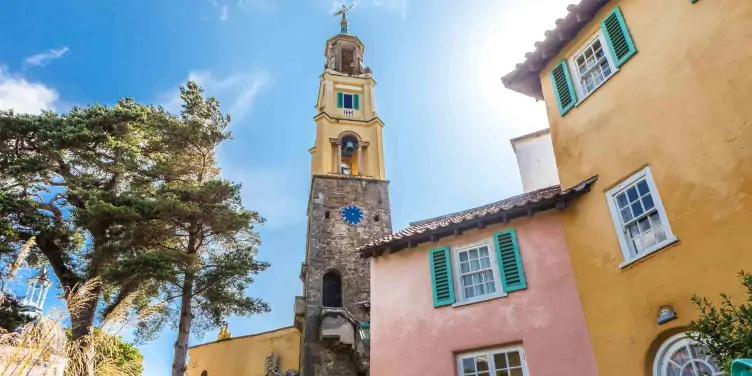 Portmeirion is a unique and quirky tourist village in North Wales that was built by Welsh architect Sir Clough Williams-Ellis in the style of an Italian village. 
The colourful Central Piazza is the centrepiece of Portmeirion, with its Riviera inspired houses, curated ornamental gardens, and bell tower. In addition to its architectural heritage, the enchanting village has a small selection of shops, cafes and restaurants and an authentic Italian style gelateria.
The Mediterranean-style village is also home to a secluded sandy cove if the weather is nice enough for a beach day.
6. Tenby Harbour, Tenby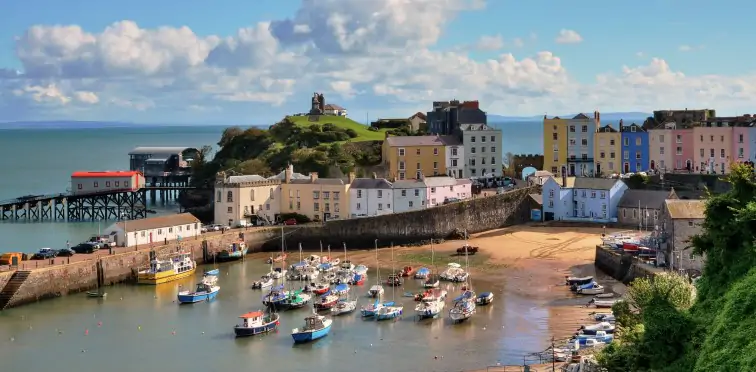 The colourful harbour town of Tenby on the southwest coast is one of Wales' top seaside towns. It was once named as the second prettiest town in the UK, only beaten by Keswick in the Lake District.
The charming harbour is edged by rows of pretty pastel terraced houses overlooking the seafront. The narrow cobbled streets are full of charm, and lead you to the town's local restaurants, shops, cafes and pubs. Stop off for a drink at The Coach and Horses – a cosy, classic pub, and is the oldest in Tenby.
7. Pembrokeshire Coast National Park, Pembrokeshire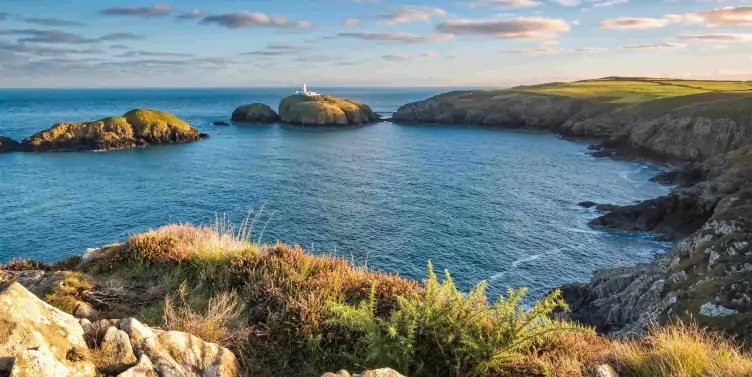 A must-see for wildlife lovers, the Pembrokeshire coast is home to around 5,000 Atlantic grey seals. It's one of the best places in Europe to spot marine wildlife.
The glorious beaches offer panoramic views of the coast and seals can be seen swimming throughout the year. Their fluffy white pups are often found sunbathing on undisturbed beaches between August and November. 
If you're really lucky you may even see a pod of bottlenose dolphins. So make sure you bring your binoculars for the best views! 
While you're there, take the boat trip to Ramsey Island (it's best from April to October). The island is an RSPB Nature Reserve and the best place to spot the hundreds of ravens, peregrines and buzzards that call the island home.
8. Tintern Abbey, Chepstow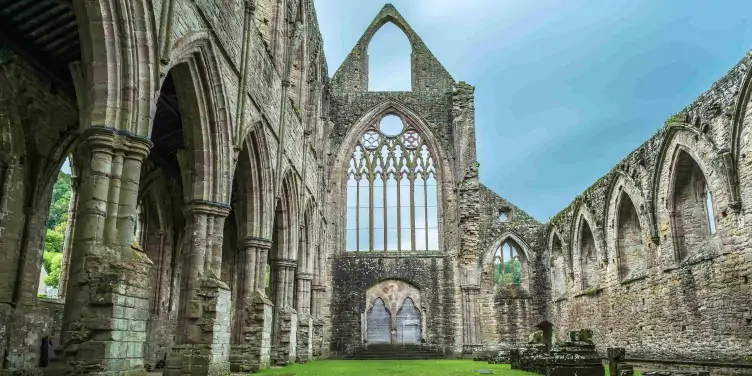 The pretty market town of Chepstow forms the border between England and Wales and is worth a visit if you're a history buff.
The wonderfully preserved Chepstow Castle overlooks the River Wye and is Britain's oldest surviving post-Roman stone castle. This roofless, ruined Cistercian Abbey is a magical place with views across the Wye Valley Area of Outstanding Natural Beauty.
How many days do you need in Wales?
To do the beautiful Welsh coastline, national parks and historical sites justice, you'll need to set aside at least seven days. If you don't know where to start, you can use a pre-planned itinerary and adapt it to your preferences, or you can create your own. 
But if you've only got time for a weekend trip, you can get plenty packed in. Cardiff is a great place to base yourself if you only have a few days; it has good transport links and there's lots to see nearby. 
Do you need a car in Wales?
If you're visiting for a week-long trip and want to explore more rural areas, you might find it easier to have a car. This way, you'll have the flexibility to discover some hidden gems off the beaten track at your own pace.
If you're planning a weekend break in a Welsh city, you can easily use public transport to travel into Wales. There are trains that go directly into Cardiff from major cities including London and Bristol, and then you can then use trains or buses to get around the area. Direct trains run from Cardiff to regional Welsh stations such as Newport and Swansea.
What to pack for a trip to Wales
What you need to pack for Wales will depend on the time of year you plan to visit and the activities you have in mind. Wales has a changeable climate with both rainy and sunny days possible. 
If you're planning on spending a lot of time exploring the outdoors, a waterproof raincoat is essential. Comfy walking boots and a map will come in handy too.

If you're visiting during winter, be sure to pack some thermal layers as well as warm socks, scarf, and hat. Carrying a compact umbrella is recommended at any time of year! 
Planning your UK staycation
Once you have decided where to visit in Wales, you might want to do the following:
Pre-book activities and restaurants if you're visiting at peak times.

Take out

UK travel insurance

if you have two or more nights away booked in pre-paid accommodation. That way you'll be covered if you're forced to cancel or cut your trip short. 
If you've already checked Wales off your to-do list, take a look at our top beautiful places to visit in England, Scotland and Ireland too.