9 beautiful places to visit in Ireland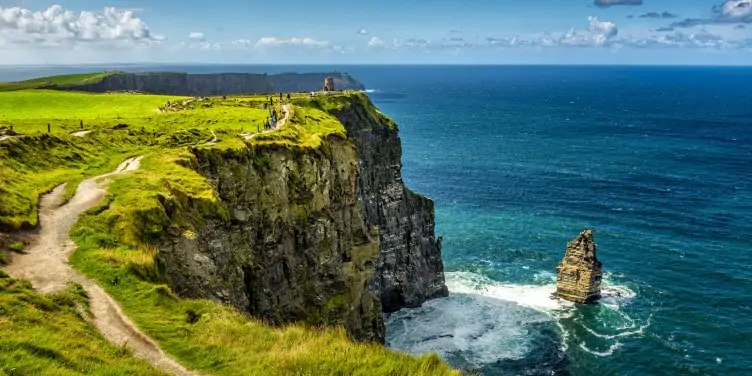 Arguably one of the most welcoming and friendly places to visit, Ireland is packed with majestic history, a vibrant culture and outstanding natural beauty. For a relatively small island, there's plenty to see and do.
If you're finding it difficult to whittle down your Emerald Isle bucket-list, here's our guide to the most beautiful places in Ireland to visit on your next trip.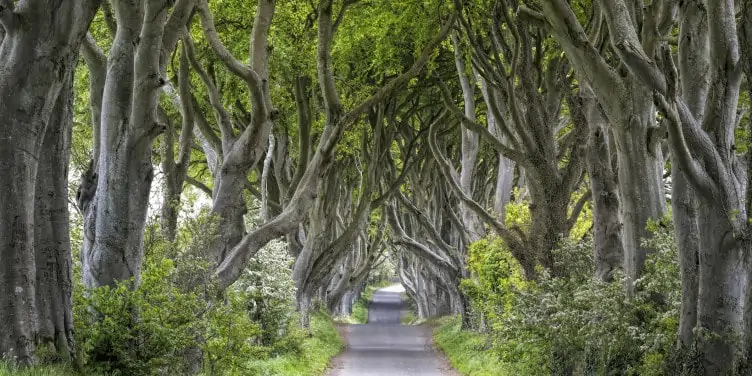 1. Dark Hedges, County Antrim
What started off as an innocent bit of landscaping by the Stuart family in the 18th century has turned into one of the most photographed roads in Northern Ireland.
The Dark Hedges, also known as the King's Road from Game of Thrones, is a dramatic, spooky passageway that is visited by millions each year. Oh, and it's rumoured to be haunted!
Top tip: Visiting the Dark Hedges is free, but you can also book a tour. These day tours visit other sites too such as the Giant Causeway and Carrickfergus Castle, and prices start around £30.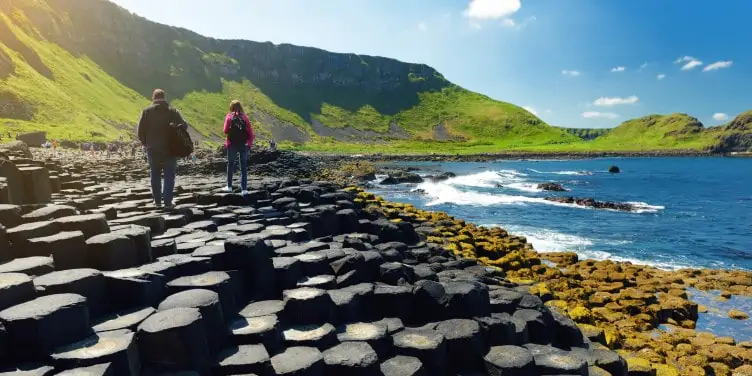 2. Giants Causeway
A truly spectacular sight in person, the Giants Causeway is made up of 40,000 hexagonal columns of basalt, that stick out from the sea like stepping stones.
Geologists put it down to volcanic activity that took place 50-60 million years ago, but some locals believe it's the remains of an Irish giant's pathway to Scotland.
Top tip: It's recommended that you book your visit in advance. The Giants Causeway is owned by the National Trust, so if you are a member, you can get free entry. Non-members will pay between £13.50-£15 for an adult.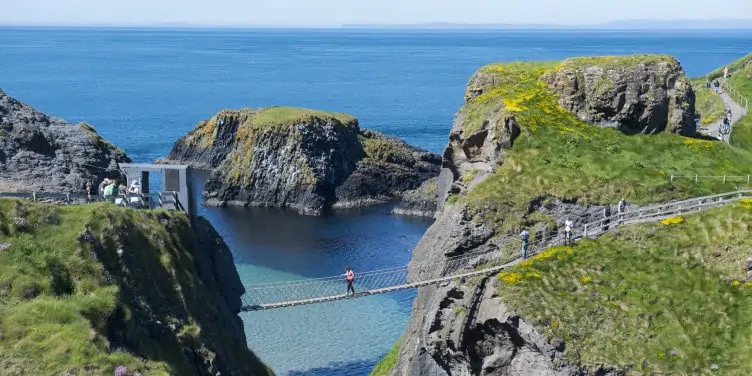 3. Carrick-a-Rede, County Antrim
A rope bridge at Carrick-a-Rede was first built by salmon fishermen more than 250 years ago. The bridge is suspended almost 100 ft above the water and rocks below. 
On a clear day, you can see all the way to Rathlin Island and the coast of Scotland. You can expect uninterrupted views that are home to basking sharks, dolphins and porpoises, spot guillemots, razorbills, kittiwakes and fulmars.
And if you enjoy walking, there is a 2 km coastal walk around the Carrick-a-Rede.
Top tip: Pre-booking is essential if you want to walk across the rope bridge. The bridge is very exposed, so warm, and possibly waterproof clothes are best in winter. Even in summer, it gets extremely windy.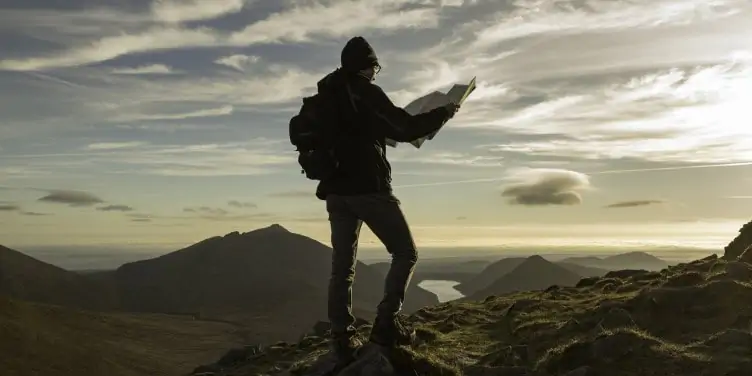 4. Mourne Mountains, County Down
If you're spending more than just a few days in Ireland, be sure to spend one hiking* through the hills of the dramatic Mourne Mountains. The winding paths and tracks are not for the faint-hearted, but the views make it well worth the climb.
These granite mountains are the highest in Northern Ireland and were the inspiration for CS Lewis' The Chronicles of Narnia.
Top tip: Cyclists might be interested in the Mourne Mountains cycle loop*. This scenic circular route starts and ends in the seaside town of Newcastle. Along the route there's views across Dundrum Bay, the Mourne Mountains and Newcastle.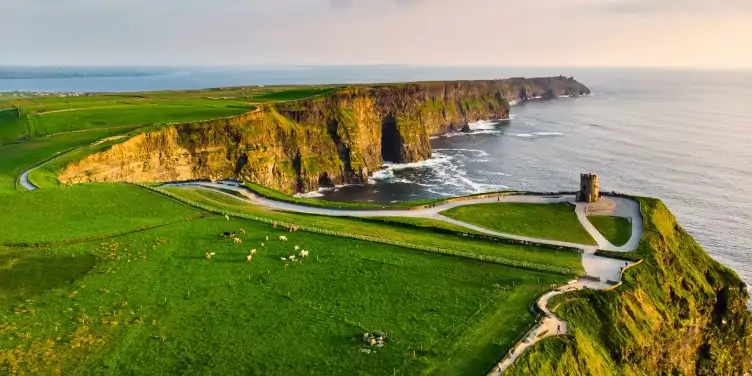 5. Cliffs of Moher, Clare
Another one of Ireland's many famous sights, and for good reason. The vast Cliffs of Moher stretch for 5 miles along the Wild Atlantic Way, and offer jaw-dropping views down into, and across the Atlantic.
Plan your road trip to arrive in the late afternoon when crowds begin to dwindle. It's arguably one of the nicest places in Ireland to watch the sunset.
Top tip: With 1.5 million visitors each year, this beautiful attraction is often busy. If you want to avoid the crowds, the best time to visit is between April and May.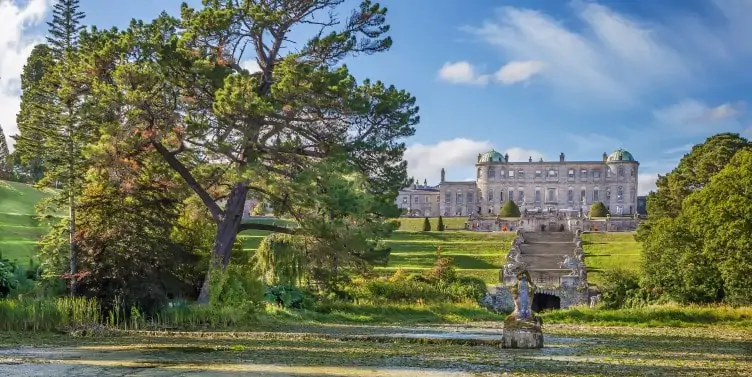 6. Powerscourt Garden, Enniskerry
Recently voted third in the National Geographic's list of most beautiful gardens in the world, Powerscourt Garden is not to be missed. 
Just 20 minutes south of Dublin, the estate boasts 47 acres of themed gardens to explore all against the backdrop of the wonderfully named Sugarloaf Mountain.
Top tip: This place is fantastic for a look around the shops, afternoon tea, and a slow stroll around the beautiful gardens. If you wanted to delve into history, this place might be a bit disappointing (we recommend Kilkenny Castle for that!).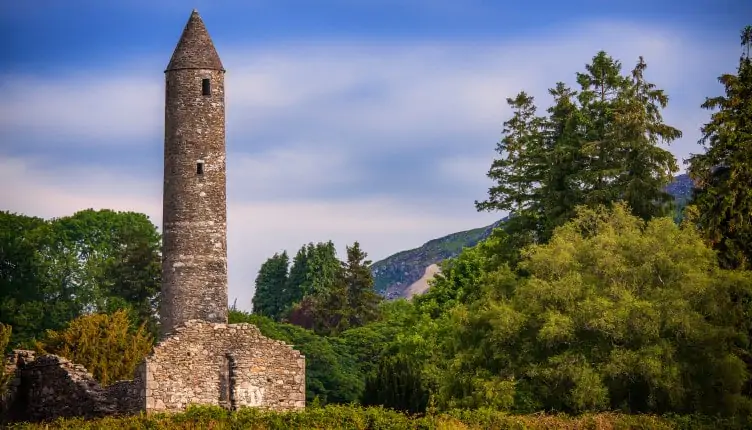 7. Glendalough, Wicklow
Hidden in a deep valley in the Wicklows Mountain National Park, you'll find the 100ft round tower of Glendalough.
Like something straight out of a fairytale, this ancient settlement was founded in the 6th century, and has become one of Ireland's most loved beauty spots.
Top tip: Both car parks at this attraction get very busy at weekends, so if you are visiting for the week, try and plan your visit for a weekday.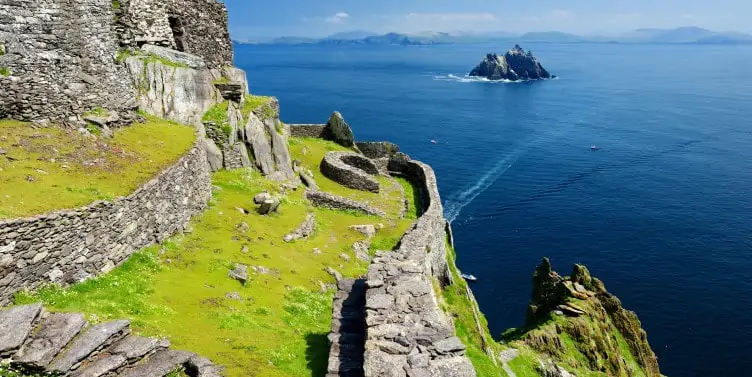 8. Skellig Michael
Found just 8 miles off the Dingle Peninsula, Skellig Michael is a small, rocky island home to some of the earliest monastic settlements in Ireland. 
The unusual pyramid-shaped island found worldwide fame in 2014 as the location of Luke Skywalker's island sanctuary on the planet Ahch-To.
Top tip: The island has a limit of 180 visitors per day, so be sure to book before you visit to avoid disappointment. 
9. Dunluce Castle
Picturesque and romantic, Dunluce is a medieval castle set on top of the cliffs overlooking the wild Atlantic Ocean.
Yet another filming location, this time for the Game of Thrones series, the castle features as the House of Greyjoy (with a bit of help from CGI). Surrounded by crashing waves on all sides, the only way to reach the castle is by crossing a bridge from the mainland.
Top tip: If you enjoy learning more about history, this short stop-off (taking about an hour) can be included in an activity-filled day! 
What is the best time to go to Ireland?
The perfect time to visit Ireland is down to how you would like to spend your trip! 
Ireland in Spring
If you want to visit just before the summer rush, March can be a brilliant time to see what Ireland has to offer. From St Patrick's Day to a Guinness in a traditional Irish pub, it's a great way to join in with some Irish traditions. 
Ireland in Summer
If you like warmer weather and longer days, summer is a perfect time to visit, with the temperature averaging around 16-20°C. But, be prepared for busy beaches, crowded attractions and more expensive accommodation and flights! 
Ireland in Autumn
The quietest months to visit Ireland are September and October. Not only are these months cheaper to visit, but beaches and tourist attractions won't be as busy. 
Ireland in Winter
Maybe you want to visit Ireland during the winter for a magical experience? The winter can be perfect as there's a festive buzz in many towns and villages. But, only if you're prepared for the colder, wetter climate. November to December, expect average temperatures of around 5-8°C. 
Christmas is widely celebrated in Ireland, so if you are particularly festive, Ireland is a perfect destination for you to join in with the celebrations. Head to some of the most popular Christmas markets, Eyre Square in Galway or The Milk Market in Limerick and pick up some Christmas gifts with a mince pie in hand!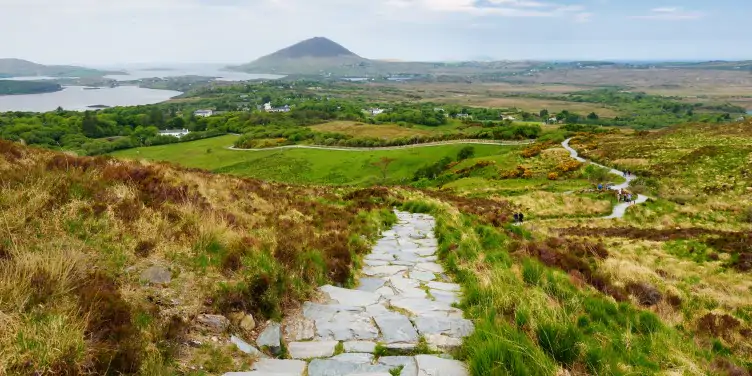 Is Ireland an expensive place to visit?
Although close to home, Ireland is one of the most expensive tourist destinations in Europe, with prices for goods 50% higher than the European average!
 An average trip to Ireland can cost between €90-175 per day. But, this will vary depending on how you plan to spend your time. A pint of beer will cost you around €5.50 (£4.75) while a meal for two (at a mid-range restaurant) with three courses could cost between €80-€120 (£69.10-£104.33). 
There are ways to make your trip to Ireland more budget-friendly. Planning ahead, so you can pick from a range of attractions to suit your budget, choosing low-cost accommodation which may include breakfast (to help save those extra pennies), could all help you enjoy your visit to Ireland without breaking the bank.
What's the best way to see Ireland?
One of the best ways to get around Ireland is by car. Catch the ferry to Ireland from Holyhead, Pembroke, Fishguard and Liverpool and enjoy the ultimate freedom to explore those off-the-beaten-path gems. Alternatively, you could always rent a car when you arrive.

But if you'd rather not spend your trip behind a steering wheel, Ireland has lots of buses and trains that make it easy to get around. If you plan to sit back and relax by using the train as your main transport around Ireland, you can pick up a Rail Explorer card. A 5-day unlimited train pass. Or if you are visiting Dublin, you can grab a Leap Visitor card which offers discounted travel, so you can make your way around the city. 
What should I pack for a trip to Ireland?
Packing for a trip to Ireland will be similar to what you'll need in the UK. Rain is likely in Ireland, so packing a raincoat is a good idea. You may also want to layer up during the colder months with temperatures dropping between 5-8 °C in the winter. And if you plan to go 'off-road' along one of Ireland's walking routes, a pair of walking boots are a must! 
As well as your driving licence/passport and travel insurance, don't forget to pack your valid GHIC or EHIC card. It gives you access to free emergency healthcare during your trip. Find out more about how to apply for a GHIC.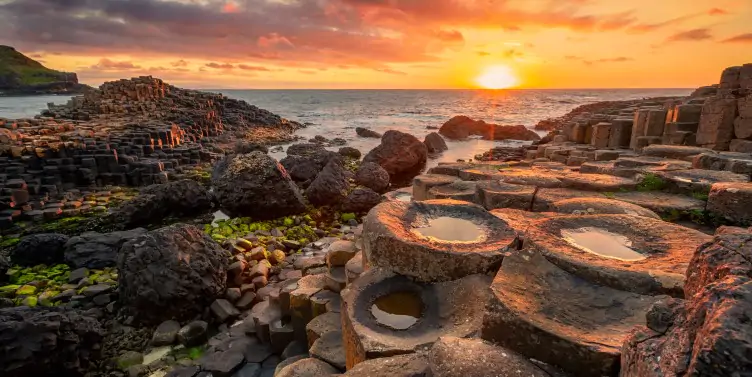 What is Ireland's weather like?
The driest months in Ireland are April, May, June and July. Visit in April and May for lighter crowds. If you want to enjoy the warmer weather, visiting Ireland in June or July might be better, but it will be a lot busier. 
In the colder months, rainfall can be a lot heavier with temperatures averaging around 5-8 °C. 
Can you fly from England to Ireland without a passport?
If you have a passport, it's best to bring it with you. You may not need to use it, but some airlines may ask to see it.

If you're catching the ferry to Ireland, you may be able to show your driving licence. But it's best to check with the company you are travelling with, for what type of identification you'll need. 
Check the FCDO travel advice website for more information on visiting Ireland. 
Planning your trip
Before you set off exploring beautiful Ireland, be sure to do the following:
Pre-book activities and restaurants if you're visiting at peak times.

Take out

travel insurance

for cancellations and more. 

Pack your valid GHIC or EHIC card for access to emergency healthcare.
Already ticked Ireland off your bucket-list? Take a look at these beautiful places to visit in England, Scotland and Wales.