Cruise Packing Tips for Men
Knowing what to pack for a holiday can be confusing at the best of times and cruises are notorious for having dress codes, which can be ambiguous to say the least.
All this will depend on which cruise line you travel with, the itinerary of your trip, and of course your choice of evening dining and entertainment.
But don't panic – with the right capsule wardrobe in your suitcase, all bases are covered without having to over pack. Better yet, there will be more space left for souvenirs and duty-free bargains.
Read on to find out how to pack your men's capsule wardrobe:
What is a capsule wardrobe?
You may have heard the term 'capsule wardrobe' and wondered what it's all about. Well, in truth it's really rather simple.
A capsule wardrobe basically refers to a few essential items of clothing that can be worn for different occasions by simply mixing and matching.
Choose neutral coloured trousers and shorts over extravagant prints, and classic shirts and t-shirts will mean you can pack less but still be dressed comfortably and appropriately.
Simple accessories such as a nice leather belt can instantly make your outfit look smarter.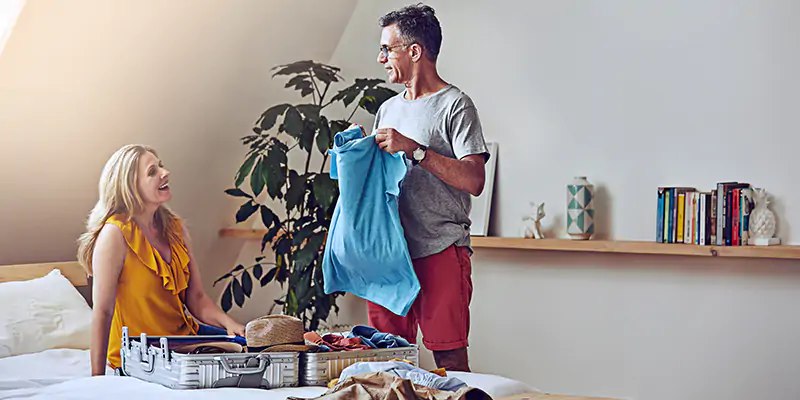 Dress codes on ships for men
Each cruise line will have its own dress code that you can read through before you embark on your trip.
These days, the majority of cruise lines have relaxed their rules so that you can still enjoy a nice dinner without having to put on a tuxedo.
But the option is always there to don your finest threads, should you wish!
Generally speaking, the longer your cruise, the more 'dress-up' nights there will be.
More often than not, even the smartest requirements are still less formal than they used to be and gentlemen will be asked to dress tastefully with smart trousers and a polo or button-down shirt either with or without a jacket.
The main thing to look out for are the restrictions on what can't be worn, rather than what can.
This can also be a good incentive for packing lightly.
Many restaurants may have a no-swimwear and flip flops policy, often prohibiting ripped denim, caps and bare feet.
A few ships implement a smarter dress code after 6pm where passengers are asked to dress respectfully in public areas.
Again, you can check this on your cruise line's website to be clear on what's required.
The best bet is to always have a smart option to hand, which for men can mean something as simple as a nice white shirt and black jeans or trousers, with casual summer shoes such as loafers and leather sandals.
Avoid flip flops and trainers.
On the whole, dress restrictions usually only apply in the evenings, or in restaurants.
During the day, you'll most likely be able to wear whatever you're most comfortable in – you are on holiday after all.
Packing list for my cruise
To keep things nice and simple, you can split your packing into three categories.
Daytime – what you want to wear onboard the ship during the day:
Swimwear and sportswear as well as comfortable clothes to lounge/sleep in
Items include swim shorts/trunks, flip flops, sun hat, workout clothes, shorts and t-shirts.
On-Shore – depending on your itinerary you may need some extra items for when you venture on land:
Suitable footwear for walking and hiking
A lightweight waterproof jacket
Some cultures require both men and women to be well-covered in public spaces, especially religious sites and buildings such as churches and mosques. So do some research and if in doubt, cover up knees and shoulders. This generally means no shorts or sleeveless tops.
Evening – this will vary according to your ship and length of cruise so check the rules before you pack:
Smart shorts and trousers, button-down shirts and a sports jacket or blazer
Smart pair of shoes or sandals that can be worn with shorts or trousers
Evenings on deck can get a little chilly so pack a sweater
For more formal occasions you may need a full suit and tie, or even black tie. Some ships will even offer tuxedo rental onboard.