Your ultimate guide to solo cruises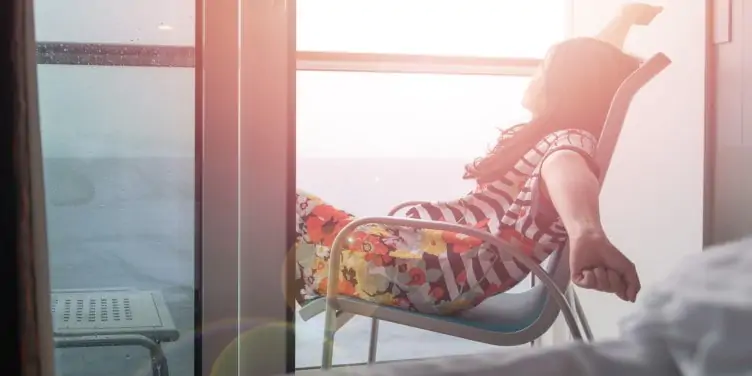 If you're new to solo travel, the prospect of taking a trip by yourself might be a little intimidating. What if you get lost? What if something happens to you while you're exploring a new country? And what if it just feels lonely? 
Likewise, if you're a veteran of travelling alone, then you no doubt already know what some of the pitfalls are, from the sad, quizzical looks of others as you dine solo in restaurants, to the very real concerns of personal safety on a solo voyage. 
For all those reasons and more, cruise travel is an eternally popular way for solo travellers to holiday. Whether you choose a cruise line or itinerary that caters specifically to single travellers or opt to sail solo on a standard cruise, there are no shortage of options. 
Let's have a look at some of the very good reasons to take a solo cruise, the different kinds of cruises available, and the best cruises for solo travellers.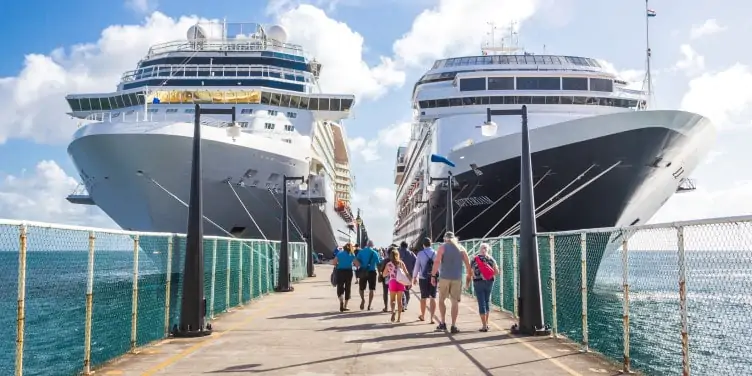 Can you go on a cruise alone?
Yes, you can go on a cruise alone! Solo cruising is becoming increasingly popular, and there are many advantages to travelling alone. Check out our guide to find out why a solo cruise could be the perfect holiday for you!
Solo cruise, or single cruise? There's a difference
As you're researching the best cruises for solo travellers, you'll soon come to a fork in the road. To decide which path to take, you need to answer one question: do I want a solo cruise or do I want a singles cruise? 
What is a singles cruise?
A singles cruise is a cruise itinerary that's geared specifically to single, unattached travellers. Its theme and activities are usually heavy on socialising and are partly designed to inspire shipboard romance – however you might define that! 
There are themed cruises for single people of all ages and interests, from rock-and-roll and disco cruises to cruises for cat lovers or wine lovers, and more. 
There are even anything goes, clothing-optional cruises. Cruises in this category are usually open to couples and single women only…. So if this isn't what you're looking for, swing a wide berth!  
What is a solo cruise?
A solo cruise is simply a cruise you take as a solo traveller, with no cabinmate, family member, spouse or otherwise. Cruising solo is available to anyone who wants to reserve a single cabin or pay a single supplement for a double stateroom or suite. 
Some cruise lines offer opportunities for solo travellers to connect and make friends onboard, while other ships are simply small enough that those travelling alone can quickly meet people onboard and have company – if they wish to – at mealtimes and on excursions.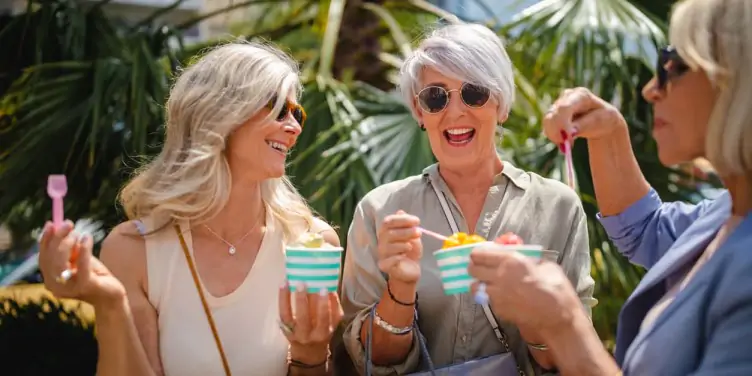 Why cruises are good for solo travellers 
There's so many pros to taking a holiday for one. Here's why we think solo cruises are the perfect introduction to solo travel.
1. You're alone, but not lonely
When you take a cruise by yourself, you get to travel to the destinations of your choice without having to navigate planning a solo trip. You're around people but can still retreat to the quiet of your private stateroom. And if and when you feel like socialising, simply head down the corridor to the nearest bar, pool deck, or game room.
2. There's safety in numbers
The thought of travelling alone, especially as a female, may be worrying because of safety concerns, particularly in a foreign country where you may not speak the language.
A solo cruise lets you indulge your wanderlust without the potential vulnerabilities of solo travel. Excursions give you the freedom to leave the ship and sightsee with an escorted group, and the crew checks to make sure everyone has made it back on board.
3. You'll make new friends
Unless they're being dragged aboard against their will, your fellow cruise passengers are there to have fun. Specialist cruises for solo travellers make for a natural, relaxed environment for forming easy, uncomplicated friendships.
Solo travellers tend to find one another onboard, which means you'll almost always find a table mate at mealtime, a friendly face in the bar, and a buddy or two for shore excursions. You may even be lucky enough to make lasting friendships and find future travel partners.
4. You choose to socialise or not
The sheer size of most cruise ships, plus the benefit of having your own cabin mean that you can be as social or as solo as you desire.
Choose to party with a crowd on the pool deck, play a game of cards with a few new friends in the lounge, retreat to a quiet corner to read a book, or order room service for one. A solo cruise keeps you firmly in control of your social calendar. No more compromises or negotiations on what you want to do and when.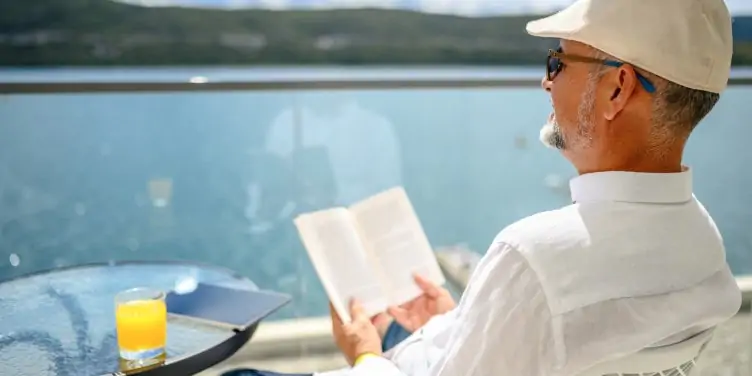 How to plan a solo cruise
When you start to research a solo cruise, much of your choice will be determined by the same things that likely dictate most of your travels: price, itinerary, and timing. Here's what else to look out for if you're booking a cruise as a single traveller.
Which cruise lines are best for single or solo travellers?
If you're a 50-plus-something solo traveller, the last place you might want to be is aboard a party boat filled with rowdy 20-somethings. But travelling alone and being 'of a certain age' needn't leave you a castaway. 
Some cruise lines are well known for catering to single travellers, particularly Princess Cruises and Holland America Line. River cruises on just about any cruise line usually draw a more mature crowd, too.
Alternatively, look out for ships that offer a decent number of single cabins. There's a good reason for that – the company wants solo travellers to feel at home. Plus, you won't get stung by single supplements!
Which cruise lines offer single cabins?
Norwegian Cruise Line's Norwegian Encore has 82 one-person studio cabins – a sure sign that it's a ship suited to singles. And not just large ships that cater to single travellers – of the 69 staterooms on Lindblad's National Geographic Endurance, 12 cabins – nearly 20% – are singles.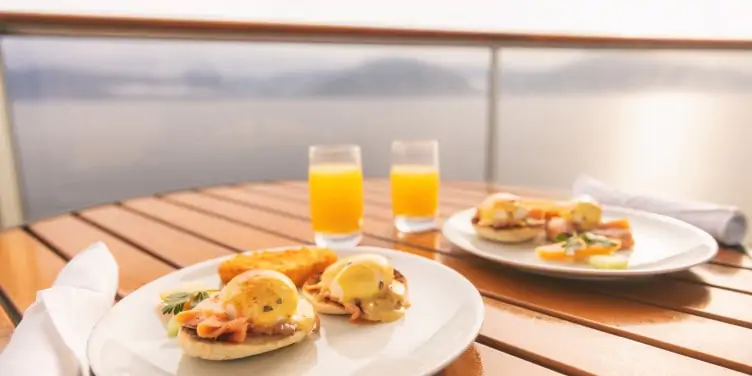 Dining options for solo travellers
Though it's increasingly out of style, some cruise ships still ask you to choose early or late seating at dinnertime and require you to eat at the same table – with the same dinner companions – every night.
Solo cruisers should look instead for cruises that offer open seating and flexible mealtimes, so you can make dinner impromptu plans with new friends or dine alone when it suits you.
Some cruise lines that offer open seating and flexibility include Norwegian Cruise Line, Royal Caribbean, and Celebrity.
If the dining options on your cruise are more traditional, ask to be seated at a large table – suited for eight people or more. This way if a few of your fellow diners book into a speciality restaurant one evening, there's less chance of being left to dine on your own. 
How to make friends as a solo traveller
Norwegian Cruise Line, widely regarded as the top cruise line for singles, offers single mixers events onboard many of its cruises, and the Encore and some of its other ships have dedicated lounge areas where solo travellers (and only solo travellers) can gather and meet one another.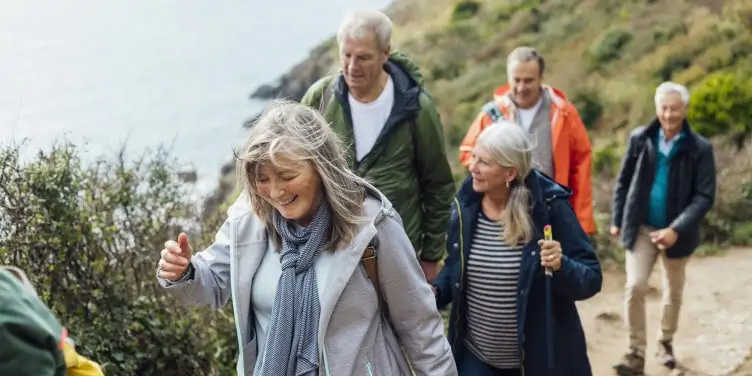 With many cruise lines, once you've booked a cruise, they'll connect you with Facebook groups of passengers booked on your same sailing. This is a great way to connect with others travelling alone prior to embarking. 
Is it more expensive to go on a cruise by yourself?
Solo cruises aren't always more expensive. Single-passenger cabins are almost always smaller than those designed for two, so they're usually less expensive. But cruise ships with no or few single cabins often charge a supplement to solo travellers, so be sure to look for cruises with no single supplements. 
And if you really want to save money and are comfortable sharing a room with strangers, some cruise lines will match you with a roommate. The free My Cabin Mate app matches single cruisers with like-minded roommates and helps them avoid single supplement fares.
Planning a cruise? Don't forget your cruise travel insurance
If you're boarding a cruise sometime soon, you'll need to make sure you have specialist cruise travel insurance in place.
Our policies can cover both international and domestic UK cruises and you can arrange your cruise travel insurance up to 18 months in advance. And for added peace of mind, your new policy comes with COVID-19 cover as standard. Get your quote today.