Your Holiday Guide to Gran Canaria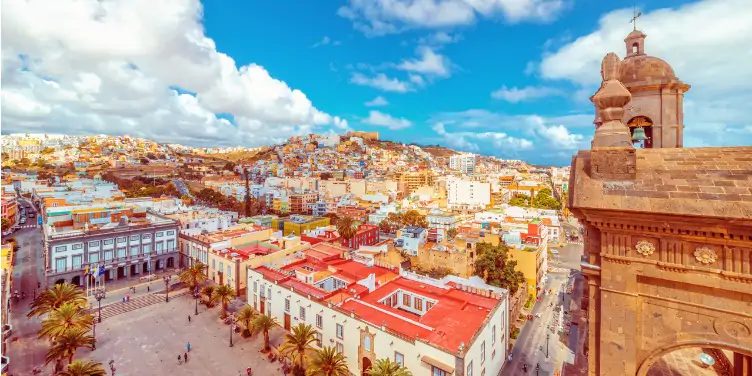 Round as a football and just as playful, Gran Canaria has natural, culinary and cultural experiences galore. There are black lava and white sand beaches, rugged cliffs, volcanic craters, ancient villages, mountain hikes, verdant nature reserves and – of course – mouthwatering local gastronomy all fuelled by volcanic soils, clear seas and perennial good weather.
Gran Canaria's famous for its subtropical climate and sunshine offering all year round. But there are plenty more reasons why over two million holidaymakers visit every year, read on to find out more…
Must-visit Canarian towns
Las Palmas de Gran Canaria
The capital's important historical and cultural heritage is concentrated in the old quarter, the pedestrianised district of Vegueta. A UNESCO World Heritage Site, it has a vibrant mix of African, Chinese and Indian culture with chic boutiques, cool bars, loud horns, busy shops and fantastic restaurants.
Playa de las Canteras, arguably one of the world's best urban beaches, is a long stretch of gold with lots of space located right in town. The mix of city life and golden sands make it a perfect destination for city-breakers.
Things to do in Las Palmas:
Visit the Casa de Colón (Christopher Columbus Museum)
Snorkel with tropical fish at Playa de Las Canteras beach
Hike the shore at La Isleta for amazing views
Visit the Science Museum
Rent a motorcycle to explore the island
Go shopping in Vegueta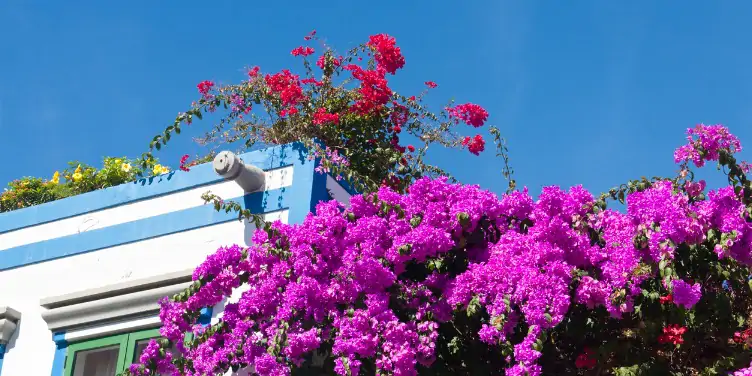 Tejeda
Tejeda is an enchanting hill town with steep winding streets and white houses accessorised with the Island's ubiquitous balconies and lush purple Bougainvillea. The town teeters on the edge of Caldera de Tejeda, the vast volcanic basin in the middle of the island.
Popular with hikers, Tejeda offers plenty of challenges for serious hikers, alongside shorter strolls with extraordinary views of the island.
It is always a good time to visit Tejeda, but in February when the almond trees are in bloom, the hills are drenched in pink and there is a fiesta to celebrate it. Tejeda is an excellent spot for hiking.
Things to do in Tejada:
Shop at the local market at Cruz de Tejeda for artisanal cheese and handcrafts
Hike through the wildflowers and fields of gold
Teror
A small but captivating town with steep hills and deep valleys. Teror has streets lined with multi-coloured homes. The town is known by pilgrims all over the world as the place where the Virgen del Pino, (patron saint of Gran Canaria) appeared in a pine tree. Each year in September it is visited by thousands of pilgrims during the Fiesta de la Virgen del Pino. Visit early on a Sunday for the local market.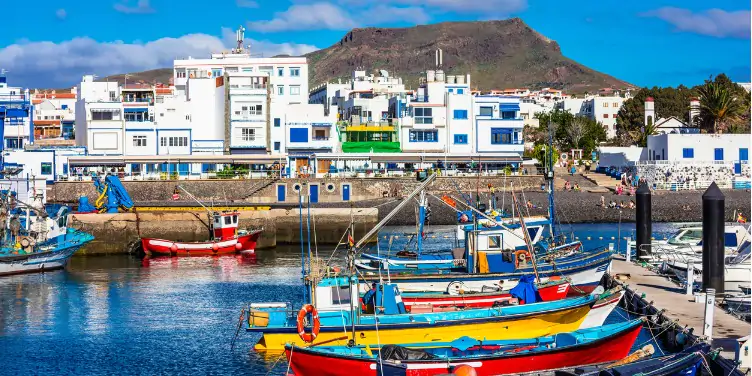 Agaete & Puerto de Las Nieves
A quaint fishing village surrounded by cliffs with white houses, friendly people, delicious seafood, rocky beaches and natural rock pools.
Discover sandy shores and natural pools
From the long white sandy beaches of southern Gran Canaria to the black sand and natural rock pools of the north; there's turquoise clear waters, luxuriant flora and fauna and untouched coves to enjoy.
Las Canteras beach, Las Palmas
Las Canteras beach has a long stretch of sparkling white sand that reaches for miles along the edge of Las Palmas. A unique rock formation, known as "La Barra", is a strip of volcanic rock protecting the beach from the tides. Blessed with fine weather all year round, it is said to be one of the best urban beaches in Spain.
Maspalomas beach
Maspalomas beach is one of Gran Canaria's most iconic beaches. It boasts miles of golden sand, calm seas, sun-lounger and parasol rental, beach-showers, seafront walks, food stalls and a wide range of hotels and apartments.
Towards Maspalomas lighthouse, the beach walks a little more on the wild side with water sports activities and a nudist area.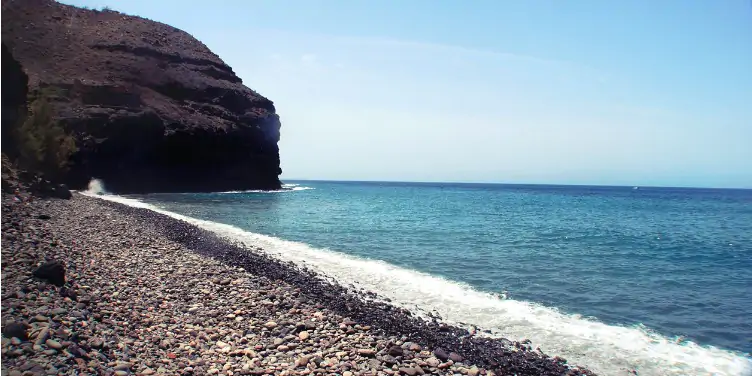 Güigüi Beach, La Aldea de San Nicolás
'Perfect, secluded and unspoiled' are the adjectives most often used to describe Güigüi. This beach is difficult to reach – only accessible by the way of a very steep hill. Alternatively, the less daring option is to take a boat from the port of La Aldea de San Nicolas or Mogan.
If you are keen to walk remember to depart before 9:00 am (from Tasartico). The sun is strong and there is no breeze or shade. Take enough water for the round trip – there are no shops!
Sardina del Norte beach and El Agujero Natural Pool, Gáldar
The island's Atlantic coastline in the volcanic north of the island offers a change in form and landscape, black sand beaches and natural pools created by rock erosion. Sardina del Norte Beach is one of the Island's best-kept secrets, with European Blue Flag sustainability certification. Ideal for diving, eating delicious fresh seafood and enjoying spectacular sunset views over Tenerife.
El Agujero Natural Pool bathing area has three natural pools where you can sunbathe on the black sand. The natural swimming pools are an alternative way to experience a beach day.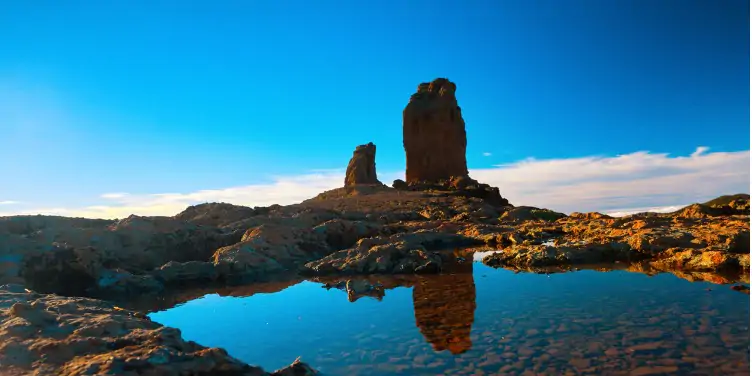 Explore the island on foot
Gran Canaria has a huge network of trails that zigzag across the diverse and mountainous landscape, rich forests, sunken volcanoes and ocean views. Get a real feel for the island by grabbing your boots and taking a walk.
Roque Nublo
This trail is suitable for most ages, including children, and leads you to a volcanic rock that is an icon of the island. The views from here are spectacular.
Cueva Pintada Museum & Archaeological Park
One of the most important pre-Hispanic archaeological sites is a cave adorned with geometric shapes. It was discovered by a farmer in the late 19th century and is situated right in the heart of Gáldar town. This route is wheelchair-friendly, too.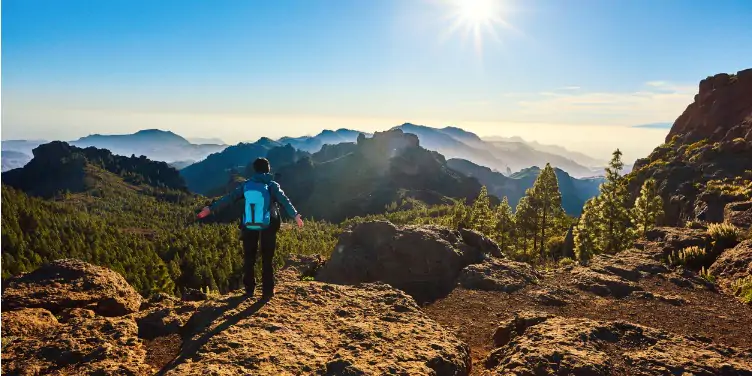 The Montaña del Viso
One for more experienced hikers, this trail is a strenuous climb but rewards with stunning views of mountain peaks.
The Camino de Santiago
One of Gran Canaria's historic caminos reales (king's highways) with pine, mountain and ravine vistas.
Indulge in Canaria food and wine
Just off the west coast of Africa, the Canary Islands were, for centuries, the crossroads between Europe, Africa and the Americas. The result is fresh produce with a unique blend of exotic flavours.
Typical Canarian dishes are based upon fresh, grilled meats, tuna, parrotfish (Vieja), swordfish and sea bass. While in the mountainous regions of central Gran Canaria you'll find hearty soups and stews.
Cheese is also a big part of the local cuisine with cured cheese, goat cheese, mixed cheese, soft cheese and flower cheese (made with vegetable rennet).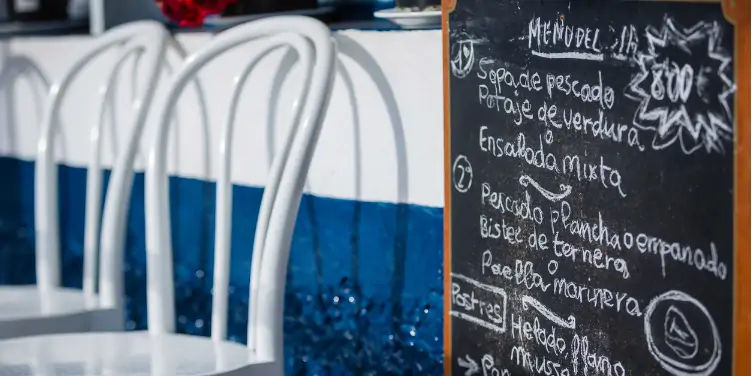 Must-try dishes of Gran Canaria
Mojo Picón
Mojo picón is a spicy traditional sauce served with nearly every Canarian dish. It is made with garlic, red or green peppers, cumin, salt and vinegar and is well suited to off-setting the effects of hot island weather.
Papas arrugadas
The volcanic soil in Gran Canaria produces delicious potatoes with a different texture and flavour. Unpeeled, the papas are boiled with lots of salt, salted again until dry and eaten with dollops of mojo picón.
Gofio
Rich in essential vitamins, fibre and proteins, Gofio became an important staple during the Spanish Civil War. It is a kind of flour made from toasted and ground cereal, corn, grains or legumes like chickpeas. Eaten simply, mixed with milk for breakfast, it is also added to soups, purees or in dishes such as escaldón or mousse.
Ropa vieja
Ropa vieja means 'old clothes' in Spanish but don't let that put you off. Made from chickpeas, meat, onion and potatoes it is a very popular dish with a different recipe in every home.
Sancocho canario
A hearty plate of international gastronomic influences, this dish is a whole cooked fish served with sweet potato, gofio and papas arrugadas. Simple, healthy and simply divine served with a large helping of mojo picón.
Bienmesabe
A traditional dessert from Tejeda with, of course, almonds.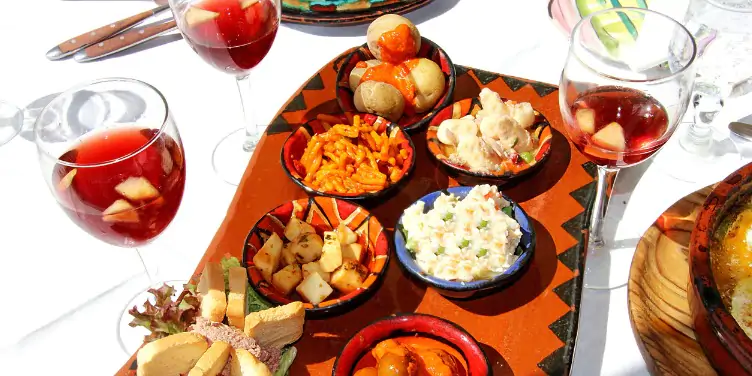 Wines of Gran Canaria
In the 16th century, grapevines were introduced to the Canary Islands that soon adapted to the volcanic soil. They are of particular quality because Phylloxera, the aphid that caused The Great French Wine Blight, (destroying vineyards throughout Europe) did not reach the Canary Islands. As a result, there's a large selection of delicious Protected Designation of Origin (PDO) wines of the Canary Islands with centuries of complexity.
Gran Canaria, unlike most of the other Canary Islands, is primarily known for its red wines. The speciality is Tinto del Monte, made from the Listán Negro grape.
There's so much to see and do in the Canary Islands. Read more in our blogs Unmissable things to do and see in Tenerife and 5 Off the Beaten Track Attractions to Visit in Lanzarote.