Top 10 Italian city breaks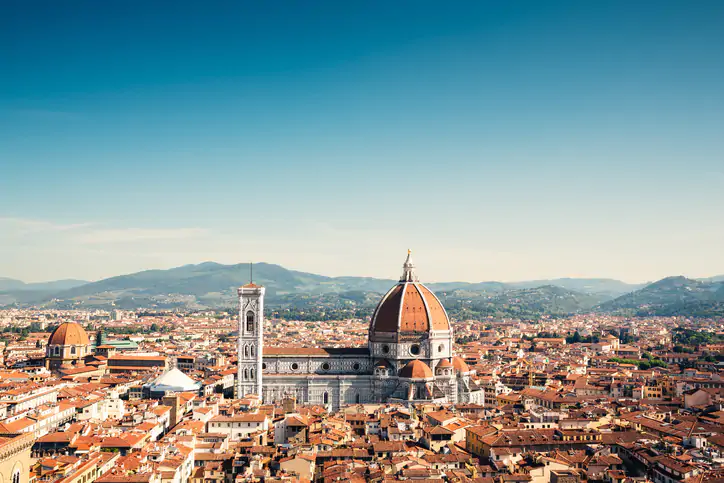 Planning a special city break soon? Italy's cities are among Europe's most romantic short break destinations. 
There's plenty to discover in the bel paese (beautiful country). Inspiring art, elegant fashion and architecture, and mouth-watering cuisine are major attractions, not to speak of those unique, quintessentially Italian moments you'll remember forever.
To help you plan your trip, here are ten of Italy's best city breaks. 
Florence
Art lovers flock to Florence to enjoy it's incredibly beautiful Renaissance architecture and masterpieces. Expect outstanding museums showcasing world-famous paintings and sculptures including Michelangelo's David, Giotto's frescoes, and canvases by Botticelli, Leonardo da Vinci and other great artists. There's so much art and architecture to take in that you will be spoilt for choice.
Before you go, music lovers might want to check the programme of the Teatro del Maggio Musicale, Florence's prestigious classical opera venue. The Palazzo Strozzi theatrical arts centre also puts on top-notch shows which could be highlights of your trip.
Don't miss a wander through the Medici palaces and gardens, and a quick excursion to the nearby vineyards of Chianti.
Nearest airport: Amerigo Vespucci Airport (FLR) is just 3 miles from the city centre.
Top tip: Feel Florence is jam packed full of useful information about the city to help you to plan your trip.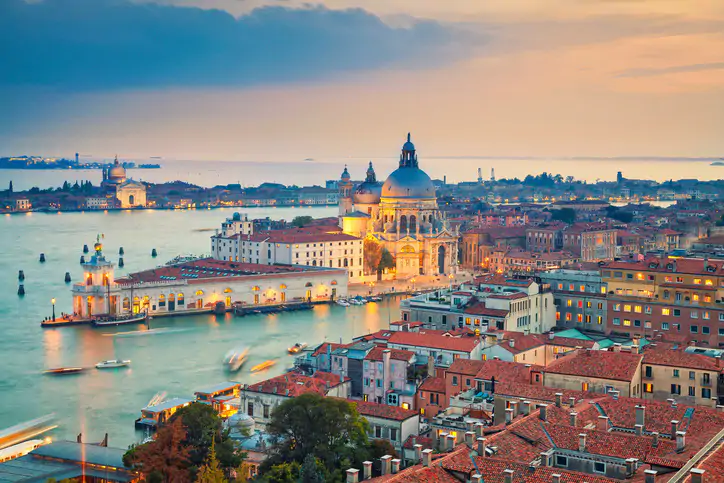 Venice
Perched atop a lagoon, Venice is one of Italy's most loved and stunning cities. Needless to say, it's popular with tourists. Must-see landmarks include Piazza San Marco in the heart of the city, its impressive Saint Mark's Basilica, the Rialto Bridge and Palazzo Ducale. 
Venice's plentiful museums, palaces and churches keep culture vultures entertained, while wandering along the canal sides or gliding along in a vaporetto (water taxi) is idyllic.
Aside from historic museums and churches, you'll find traffic-free streets, lively squares and an entertaining contemporary art scene. Go in spring to don your costume and mask and be part of one of the most amazing festivals in Italy: The famous Venice Carnival takes place 40 days before Easter.
Nearest airport: Venice Marco Polo Airport is 9 miles from the city.
Top tip: See the sights with a handy Venice City Pass – an all-in-one pass that covers buses, boats and trains, as well as admission to top attractions and cultural events in the region.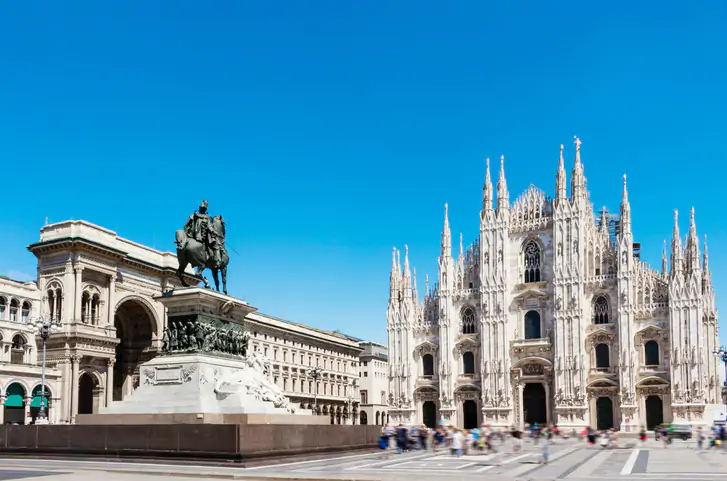 Milan
Famed for superb shopping, fabulous eating and cultural heritage, Milan has so much to offer. It's also one of the most ancient cities in Europe, boasting more than 26 centuries of history.
Don't miss the impressive Gothic Duomo cathedral; the world-famous Scala Opera House; and the Pinacoteca di Brera art gallery. Equally inspiring is modern Milan's energetic rhythm of life, an incredible exhibition showcasing the human body
The city heads the national Stock Exchange and is Italy's most extensive urban area and a major industrial powerhouse. Milan is also Italy's central transport hub: it has the largest international airport in Italy, and is home to one of the finest subway systems in the country making it very easy to get around.
Nearest airports: Milan has two international airports: Milan Bergamo and Milan Malpensa, both of which are 30 miles from the city.
Top tip: YesMilano is filled with ideas of things to do and sights to see in Milan. There's also a calendar of events so you see what's on during your trip.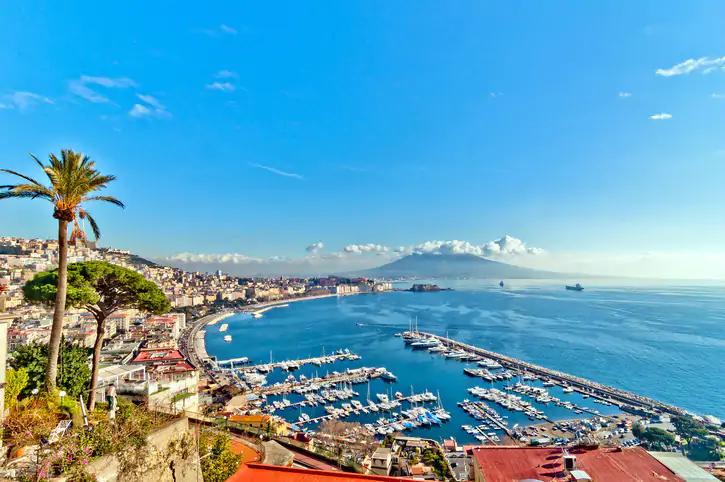 Naples
Few regions of Italy are as varied as Naples with its azure Amalfi Coast and sun-kissed islands of Capri which draw visitors to the Campania region of Southern Italy.
The beauty of Naples, one of Italy's largest cities, is the way it manages to retain its original character and style within a well maintained UNESCO World Heritage-listed historic centre. 
It is interesting to witness the graffiti and tattered walls in certain parts of the city contrasted with fabulous frescoes and sculptures – all part of the bustling Neapolitan street life.
Nearest airport: Naples-Capodichino International Airport is just 4 miles from the city.
Top tip: Known by Italians as the best place for pizza, the 10 best pizzerias in Naples is a great pre-trip guide.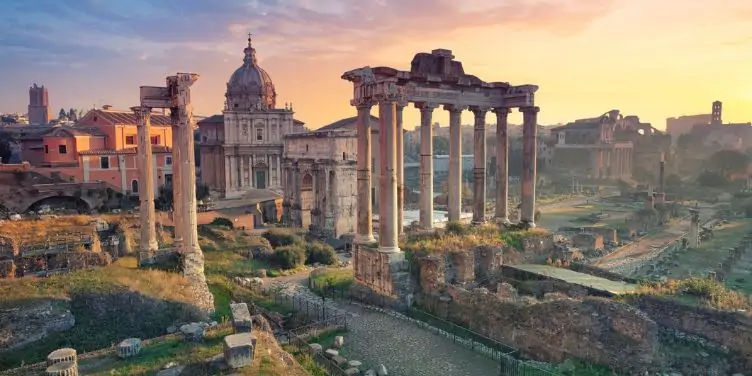 Rome
Rome conjures up images of giant, classical ruins, the Vatican and elegant fountains, but there's plenty more to discover in this vibrant city. 
Modern Rome buzzes with activity. Expect excellent dining experiences and nightlife, as well as iconic sights like Saint Peter's Square and the Sistine Chapel 
Most people visit Rome in spring and autumn to avoid the summer heat. If you do venture to Rome in July or August, you might like to do as the Romans do: get up early, seek refuge from the afternoon heat after lunch, before resuming your sight-seeing in the early evening.
Nearest airport: Leonardo da Vinci Airport, also known as Fiumicino (FCO), is about 20 miles from the city centre.
Top tip: Rome's official tourist site is ideal for planning your trip. It features insightful information about the city – from historical landmarks to the best shopping spots.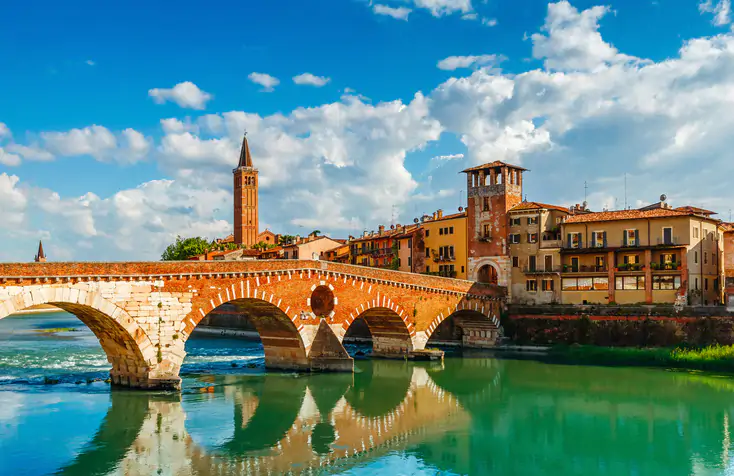 Verona
The fourth most visited city in Italy is home to the magnificent Opera Festival and the balcony made famous byShakespeare's Romeo and Juliet. But there's far more to Verona.
Among the attractions are: Verona Arena's stunning Roman amphitheatre; the castle complex; and the magnificent cathedral. Have your camera ready for the colourful street market at Piazza delle Erbe, the most ancient square in Verona. Here you can marvel at the Madonna Verona fountain and other historical monuments. 
Eating out in romantic Verona is a treat. Rice and polenta are favourite ingredients while paparele (home-made pasta with peas and beans); peperita (beef with a peppered cheese sauce); and pastisada de caval (horse stew) are listed on many a restaurant menu. Verona is famed for its DOC wines – try the popular Bardolino or the Valpolicella.
Nearest airport: Verona's Valerio Catullo Airport is 9 miles from the city centre.
Top tip: Visit Verona has a useful tool that suggests things to do based on what you want from your trip. It also highlights upcoming events and hidden treasures in the area.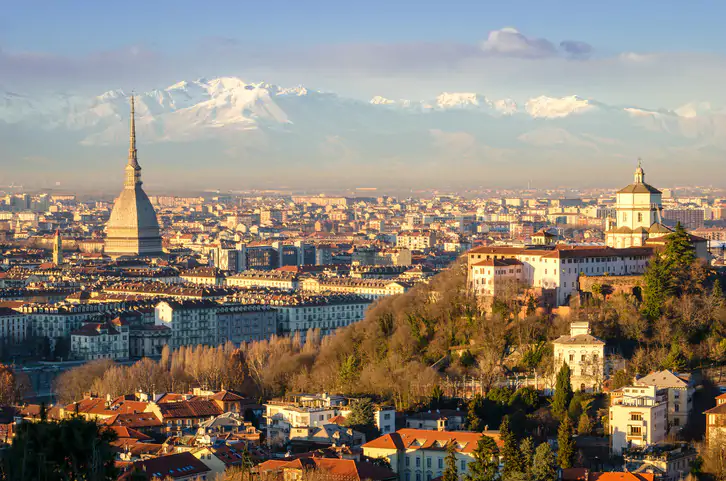 Turin
One of northern Italy's major industrial and cultural centres, Turin is an unexpectedly elegant city, which is said to echo the mood of Vienna or Paris. Smart shops, cobble-stoned streets, shady arcades and art nouveau cafés are common sights, as are artisan workshops and eye-catching Baroque architecture.
 Visitors flock here to see the cathedral of St John the Baptist and the Shroud of Turin, which is believed by some Catholics to be the cloth used to wrap Jesus' body.
Turin's streets are lined with exquisite chocolate shops and the city hosts the annual festival Cioccolatò during the autumn months. Here, the piazzas and streets are packed with stalls selling artisan chocolates and luxury brands. No chocoholic would want to miss this!
Nearest airport: Turin-Caselle Airport lies about 9 miles north of the city.
Top tip: Turismo Torino is filled with city highlights, events and excellent culinary suggestions.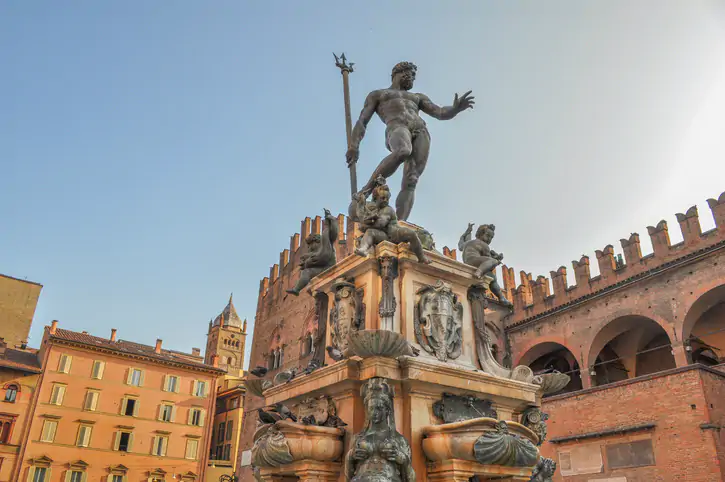 Bologna
City breaks in Bologna are often hugely authentic experiences. Join the Bolognesi of all ages enjoying the simple pleasures of life: sipping and sampling a glass of wine and affettati misti (mixed cured meats) at aperitivo time while engaging in lively conversation.
Medieval beauty, art and cuisine are trademarks of beautiful Bologna. Its iconic, stunning red stone arcades and porches make the city a great place to explore on foot, whatever the weather.
Bologna is not only historic and rich in culture, it is modern and high-tech too. Eat like an Italian king in the city's fine restaurants or mingle with the locals and students that fill the piazzas for a general air of shabby chic and fashion.
Nearest airport: Bologna's Guglielmo Marconi Airport is just 4 miles from the city centre.
Top tip: Make the most out of your trip by visiting the official site for Bologna. There's suggestions on where to go if it's your first time in the area, and up-to-date listings of what's on.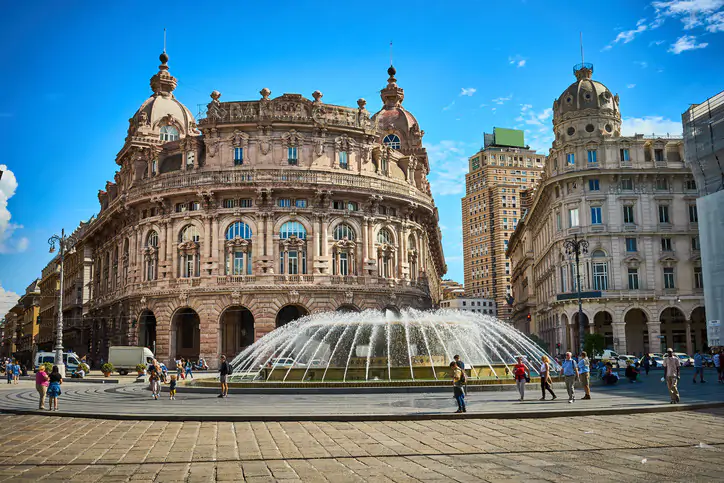 Genoa
Genoa, on the northwest coast of Italy, is the nation's main sea port. It comes with an intriguing cultural and sea-faring history, partly thanks to its fame as the birthplace of Italian explorer, Christopher Columbus.
Expo 1992 and the 2004 European City of Culture have put Genoa into the public eye, while the city has also undergone some radical renovations to make it the fascinating place it is today. Make sure you drop in on the Maritime Museum and Genoa's aquarium – one of Europe's largest – set within its interesting harbour area.
Explore the historic centre's narrow lanes (caruggi) which make up one of the largest medieval quarters in Europe. These lanes are mostly residential although you'll be able to stop off at a sprinkling of bars, cafés and shops to rest your feet and take in the atmosphere along the way.
Nearest airport: Genoa Cristoforo Colombo Airport is approximately 4 miles west of the city.
Top tip: For attractions, hotel suggestions, transport information and more, head to Genoa's tourist information page.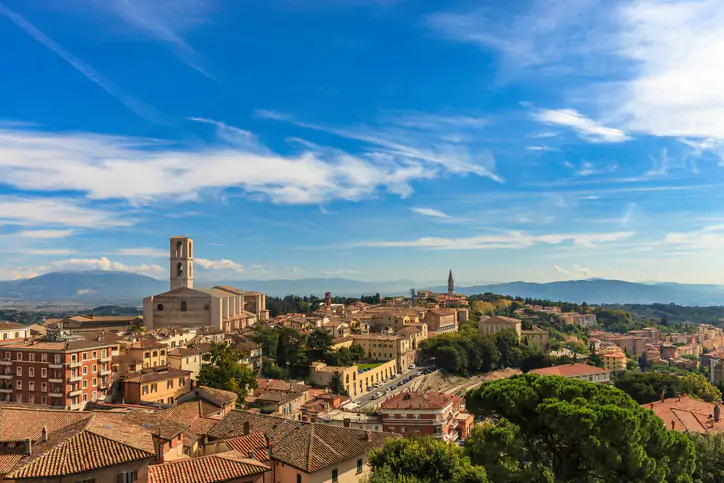 Perugia
The walled city of Perugia dominates central Italy's Umbria region and boasts magnificent views across the valley.
A likeable, cosmopolitan city and home to two universities, Perugia is an elegant, affluent destination. Visitors can expect trendy boutiques, refined cafés, and an abundance of grandiose architecture. 
With history dating from the ninth century BC, Perugia's rich past is reflected in its cobbled alleyways which lead you through the old city, effortlessly taking you back to former times.
Modern Perugia is a party-loving place with university students filling the café terraces and setting nightlife abuzz. Perugia hosts a world-famous jazz festival, Umbria Jazz, which draws in enthusiasts every July. Another great attraction is October's annual international chocolate festival, Eurochocolate – irresistible for anyone with a sweet tooth.
Nearest airport: The International Airport of Umbria is approximately 10 miles from the city.
Top tip: Perugia online is bursting with useful information ahead of your city break. 
What should I pack for a city break in Italy?
It's likely you'll see bright, sunny skies if travelling in the summer, as temperatures range from 18-32°C, while the winter average temperatures drop to a mild 13°C. We'd recommended checking the weather prior to your trip to know what to pack, but comfortable shoes, a cover-up, and a practical bag are a must. There's a great packing list here; but above all don't forget your travel insurance for Italy!
How long is a flight to Italy from the UK?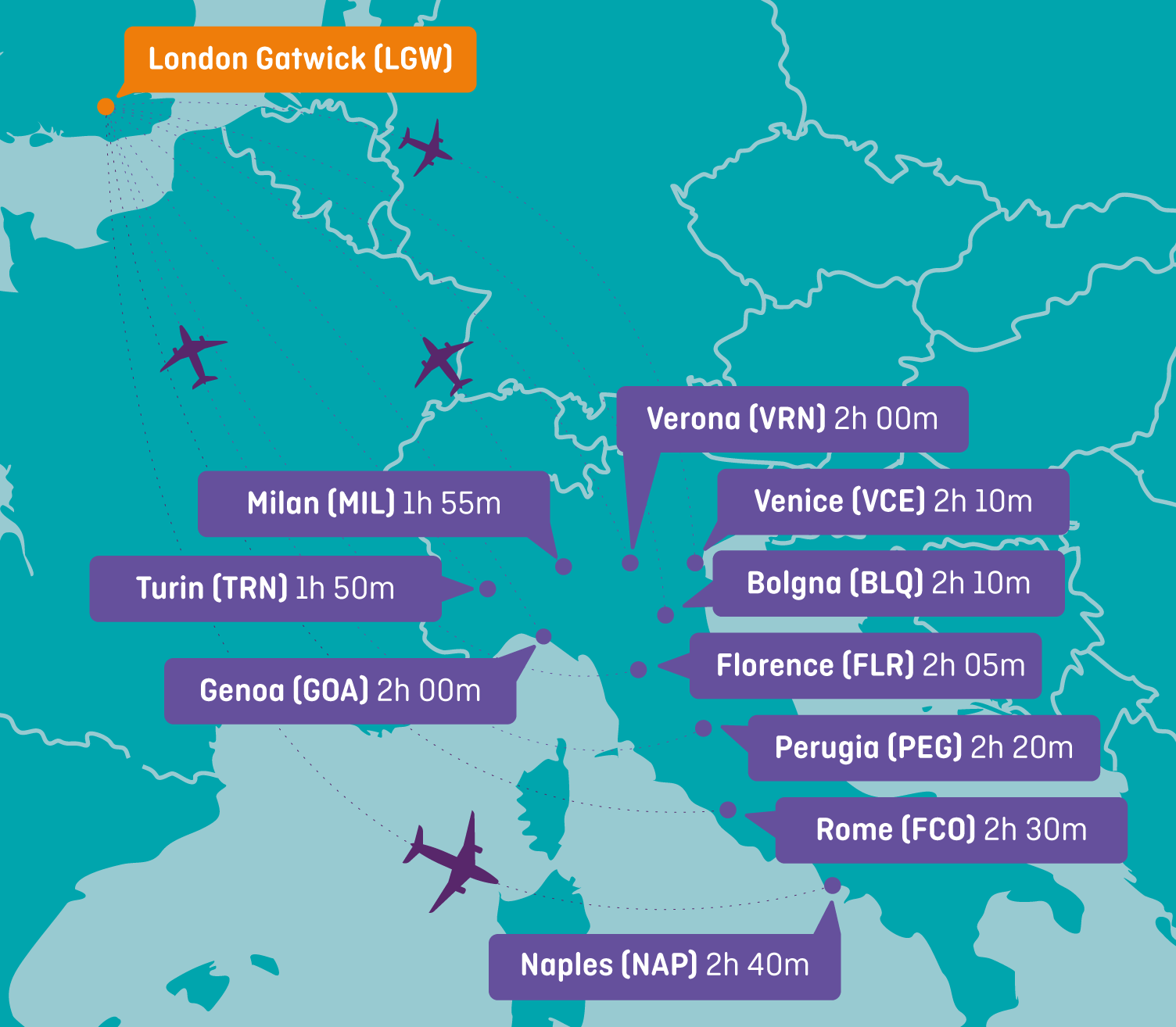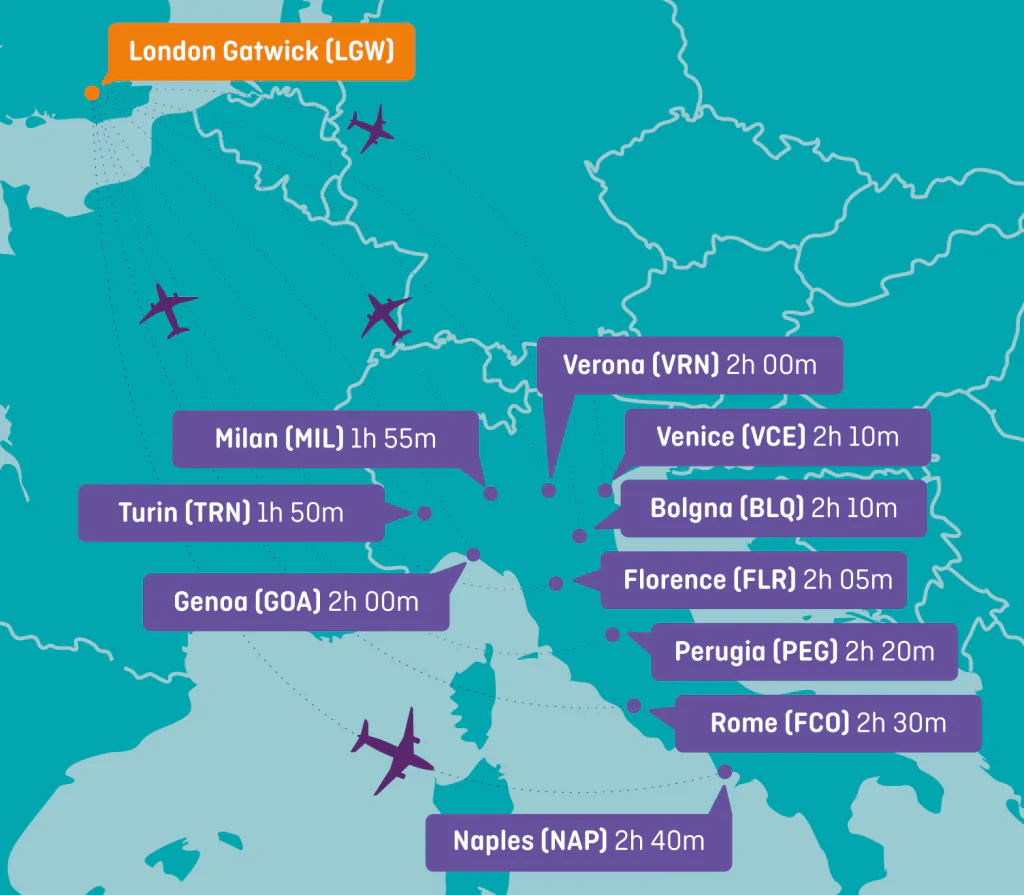 Several direct flights link the UK with Italian cities. Flight times from London Gatwick are between 2-2.5 hours, making it easy to immerse yourself in la dolce vita, even for just a weekend.
Looking for more inspiration?
If you haven't settled on an Italian city break yet, some of our other guides might help you to decide.? Our guide to Italy's regional pizzas will take you on a culinary journey, while our solo travel tips are perfect if you're travelling alone. If you're not sure Italy's the the one, discover our guide to city breaks in France or our top 10 favourite Spanish city breaks.