The natural wonders of Argentina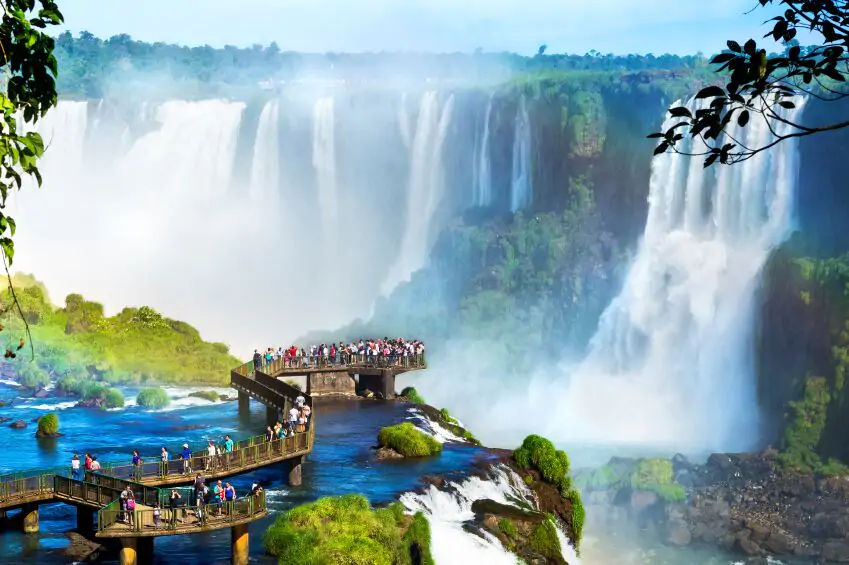 Vast pampas, snowy Andean plateaux, rolling wine regions, wetlands, Patagonian glaciers and subtropical waterfalls – there's so much to love about Argentina.
In the north, scorched mountains and surreal rock formations characterise the Salta region, home to Argentina's famous white wines while further west, Mendoza produces renowned reds. The foothills of the Andes are perfect for skiing and in the south, peerless Patagonia boasts a beautiful sprawl of lakes along with jagged peaks and miles upon miles of unadulterated open spaces. Elsewhere, the glistening Lake District beckons, as do the whale inhabited waters of Puerto Madryn, penguins at Punta Tombo, and the mighty Iguazu Falls bordering Brazil.
But where to start on your adventures in Argentina? Here are some of our favourite natural Argentine wonders you won't want to miss:
National parks
Argentina hosts some of the most diverse landscapes and climates in the world. With its network of 33 national parks, there's a multitude of natural wonders to explore.
Talampaya (La Rioja province) – Enter the mysterious world of this red desert with its huge, red canyon bursting with impressive ancient rock formations. Fasciating Talampay takes you back some 250 million years to the times of dinosaurs which left behind fossils and footprints in the rocks. Later, the Diaguita and Cienaga cultures left their marks too, in the form of petroglyphs – intriguing engravings of giant turtles and monks.
Ischigualasto, (San Juan province) – Step into an eery land of surreal rock formations, dinosaur remains and the glow of red sunsets streaking across the desert valley. Over millennia, water and weather have exposed a wealth of fossils from the Triassic period which can be viewed in the Park's museum. The canyon hosts distinctive, carved shapes in the soft red sandstone, clay and volcanic ash, many of which have been given names: Cancha de Bochas (the ball court), El Gusano (the worm) and El Submarino (the submarine), among others.
Nahuel Huapi (Rio Negro and Neuquén provinces) – Founded in 1934, this is the oldest and one of the most visited Argentine national parks. Not without reason: Here you'll find the deepest lake in the country and the centrepiece, Lago Nahuel Huapi, a magnificent glacial remnant over 100 kilometres long. A popular hiking and boating spot, Nahuel Huapi is also one of the main winter sports destinations, thanks to the perfect slopes surrounding the southern shores of the lake near Bariloche. Wildlife to look out for includes the rare huemul (Andean deer) and the pudú (miniature deer).
Los Glaciares (Santa Cruz province) – Hosting 47 glaciers fed by the largest ice cap outside of Antarctica, Los Glaciares is the second biggest national park in Argentina. The show-stopper sits at Perito Moreno: an impressive and much visited ice field reached easily on foot or aboard a 4×4 vehicle. Measuring a colossal 30 kilometres long, 5 kilometres wide and 60 metres high, this glacier is constantly advancing – up to 2 metres per day – causing massive icebergs to fall from its face.
Iguazu Falls (Misiones province) – Arguably one of the planet's most awesome sights, the Iguazú Falls are astounding. They are taller than Niagara Falls and twice as wide, making them among the most impressive natural sights you may ever see. Not only will you be exposed to a jaw-dropping visual experience, the power and noise of the falls – a chain of hundreds of waterfalls nearly 3 kilometres long – are astounding. They are located on the Brazilian border and easily accessed on a short flight from Buenos Aires making them a popular excursion if you're staying in the capital.
Penguins of Patagonia
There are few places on the Earth as isolated and scenic as the region of Patagonia and you can spend hours hiking or driving without meeting anyone. Patagonia offers rugged landscapes as well as numerous meadowlands, lakes and… penguins.
There's nothing quite like penguins to bring a smile to anyone's face. Head for Punta Tombo where more than a million Magellanic penguins come to nest each summer. Further down the coast, you will also come across them in Puerto San Julián and in Ushuaia, commonly dubbed: "the end of the world" where many people leave for cruises to Antarctica. When seeing the penguins in their natural habitat, be aware that they won't appreciate being touched or photographed close up, so do remember to keep a good distance, especially if they are nervously protecting their young.
El Bolsón (Río Negro province)
The town of El Bolsón lies in the shadow of Argentina's Piltriquitron Mountains. It's primarily a place for relaxing and appreciating the town's famous handicrafts market, micro-brew beers along with plenty of free, live music. During summer, the town packs out with Argentine tourists looking to get away to nature while experiencing El Bolsón's laid-back vibe.
A main claim to fame for this picturesque settlement is its last three decades as an 'ecological municipality'. Just out of town are several excellent, easily accessible hikes taking you through some of the country's most glorious landscapes. Rows of poplars bring a Mediterranean appearance to the local farms, most of which cultivate fruits and hops (El Bolsón produces almost 75 per cent of Argentina's hops). The town welcomes many backpackers looking to escape the commercialism of nearby Bariloche and savour natural and vegetarian foods plus excellent beer, jams, sweets and honey made from local harvests.