Sharm El Sheikh Travel Guide: Our Travel Stories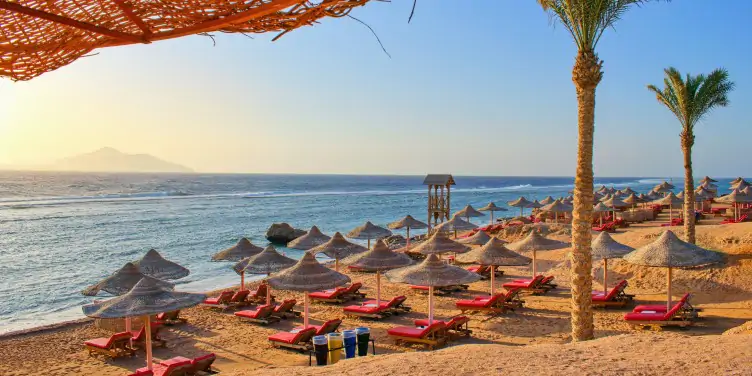 Alison Mason has over 30 years experience working within the travel industry and loves to explore. She recently headed to Egypt in search of some winter sun, and now shares her Sharm El Sheikh travel guide.
Where is Sharm El Sheikh?
Found at the southernmost point of Egypt's Sinai Peninsula, Sham El Sheikh is home to an impressive 20km stretch of beach. Surrounded by dramatic mountains, the sand and pebble beaches follow the coast from the Suez Gulf from the West to the Aqaba Gulf in the East.
Originally a sleepy fishing village, it's now a tourist hotspot, fondly known as the Red Sea Riviera. The crystal-clear waters, coral reefs and marine life around Sharm are perfect for both snorkelling and diving.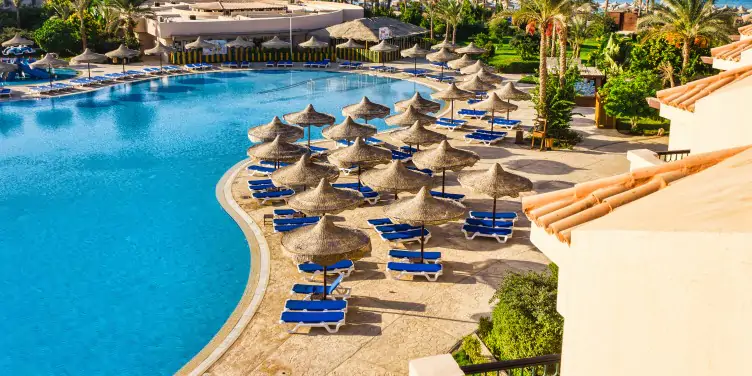 Where to stay in Sharm El Sheikh
Sharm is a modern, purpose-built holiday destination, so it's got a different feel to the more traditional resorts you'd find in Europe. 
The hotels along the coast tend to be large complexes offering all-inclusive packages, designed to cater for a relaxing holiday in the sun:
Each hotel has its own private section of beach with sunbeds and parasols, several swimming pools plus beach bars and poolside restaurants.

Most hotels in Sharm El Sheikh feature a long jetty which extends from the beach, giving you easy access to the colourful coral reef found just off the shoreline.

Many hotels have their own water parks to help keep children entertained, plus daytime and evening entertainment.
We were happy with the 5-star accommodation that we chose; The Jaz Mirabel Park Hotel. We booked an all-inclusive 14-day package, which included flights, transfers, meals, and drinks.
Other hotels on our short-list included Albatros Laguna Vista Resort, Sea Beach Aqua Park Resort and Charmillion Club Resort, all of which offered the same bells-and-whistles all-inclusive option. We found the average cost of an all-inclusive hotel in Sharm El Sheikh was £130-£155 per night. 
When is the best time to visit Sharm El Sheikh?
With sunshine and warm waters all year round, Sharm El Sheikh is a popular destination within easy reach of the UK. Winter temperatures range around 18⁰C – 24⁰C between December and March. 
If you're looking to visit during the summer, you'll find Sharm el Sheikh incredibly hot. The average temperature is 33⁰C in July and August with 13 hours of sunshine each day. Perfect for lazy days at the beach! 

Top things to do in Sharm El Sheikh
Although we spent the majority of our time soaking up the sun in our Egyptian paradise, there's plenty to do. Here are my top 4 things to do in Sharm El Sheikh: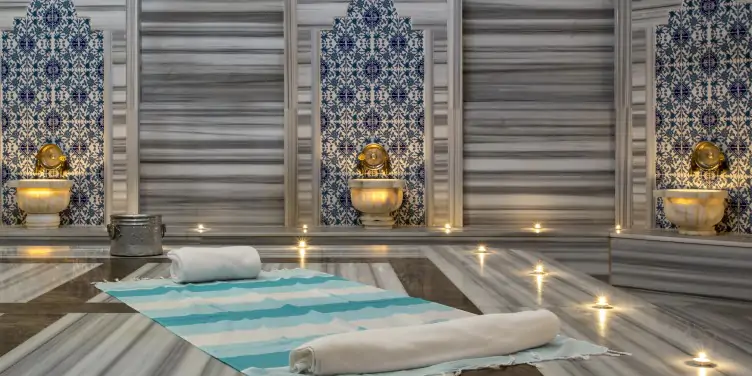 1. Visit a luxurious Turkish Bath 
The Golden Spa Aladino Hammam baths were just 25 minutes from our hotel. My visit lasted around 2 hours and included a sauna, followed by a deep cleansing and exfoliation of my face and body. 
After that, I got to experience the famous soap massage, all while lying on a warm marble slab. They rinsed me off with clean water and then I headed to the steam room. And to cool off even more, I took a dip in the plunge pool. Once my body was squeaky clean, I was treated to a face mask and a lovely 30-minute body massage. To top it all off, they served me a warming cup of Egyptian tea.
Top tips: All you need to take is swimwear – towels are provided by the baths. There are also lockers to keep your belongings safe, as you'll need to remove any jewellery. It's also worth noting that the baths are mixed – there are no separate areas for men and women.
Cost: Around £36 per person. Extra treatments were available at an additional cost.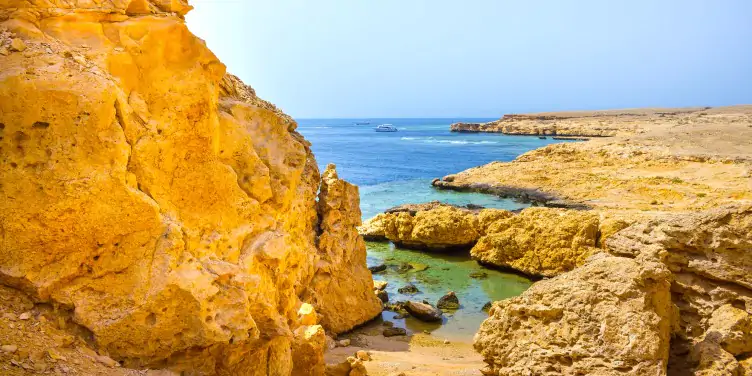 2. See beneath the sea at Ras Muhammed National Park 
The Red Sea is home to an incredible underwater world, teeming with marine life and shipwrecks. If you're not up for deep-sea diving, I highly recommend going on a boat tour and snorkelling trip to Ras Muhammed National Park. It's a fantastic way to experience the wonders of these waters!
The Park protects the red sea reef and is home to 220 different species of coral and over 1,000 species of fish. You can even spot turtles swimming among the coral. Qualified divers snorkelled with us to point out various species and the best spots to swim. The trip was incredible – it was like swimming in an aquarium! 
Top tips: You can hire snorkels and flippers from the marina for about £10. Life jackets are free and the crew strongly recommend that you wear one.
Cost: Around £72 per person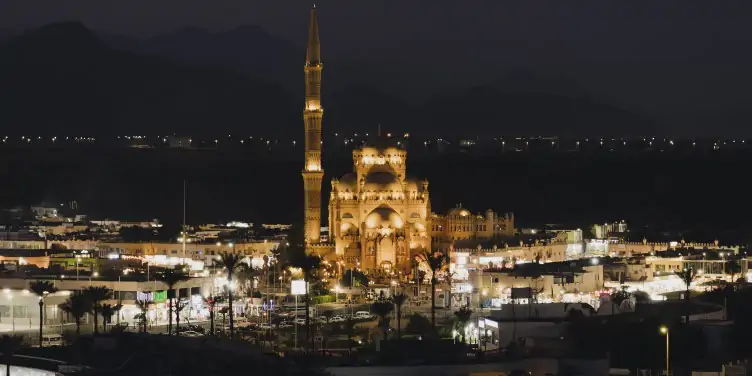 3. Discover Sharm El Sheikh at night
You can explore Sharm El Sheikh under your own steam, but joining a guided tour means you get to see all the sights with an official guide and all transport is included.
Our first stop was the famous El Mostafa Mosque, followed by a visit to the Heavens church. From here, we made our way to the delightful Old Market for some shopping. As you wander through the charming narrow alleyways of this bustling market, you'll discover a delightful mix of shops offering everything from aromatic spices to beautiful textiles and other traditional Egyptian goodies.
If something takes your fancy, be prepared to haggle on the price – this is the Egyptian way. 
The centrepiece of the Old Market is the impressive newly-built El Sahaba Mosque, which looks even more mesmerising as night falls. We also stopped off at one of Sharm's fabulous herbalists. They shared with us the incredible benefits of natural spices and herbs, and of course, there was the chance to take some home.
We had a quick pitstop in Naama Bay before continuing to SOHO Square – the grand centre of entertainment in the city. Here you'll find the unique dancing fountain, a spectacular water display that synchronises to music. In the evening, lights illuminate the fountain's water in a rainbow of colour, creating a special atmosphere. 
Top tip: Shopping in SOHO Square is more relaxed than at the Old Market. Items are priced, so you're not expected to haggle.  
Cost: Around £26 per person
4. Climb Mount Sinai 
If you're up for a challenge and can tackle the 4,000 step climb up Mount Sinai, you'll be met with awe-inspiring views over the endless desert. It's said that the summit of this mountain is where Moses received his ten commandments. Known as 'holy Moses Mountain', it's considered to be the most religiously significant peak in the Middle East. 
Top Tip: Make sure to bring warm clothes, a hat, and comfortable hiking shoes
Cost: £0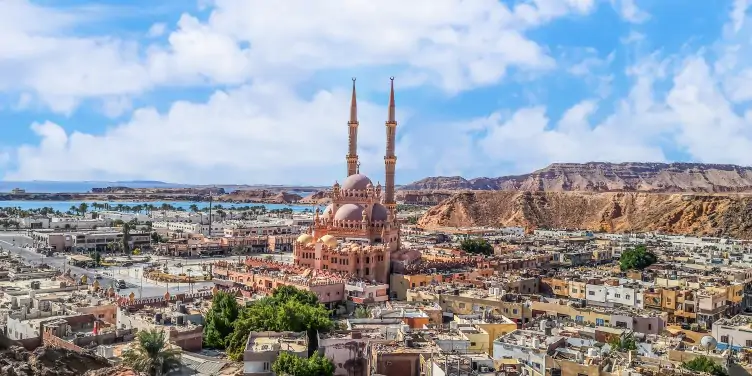 Sharm El Sheikh: Your questions answered
Do I need a visa for Sharm El Sheikh?
If you're heading to Sharm El Sheikh resorts for a stay of up to 15 days, you'll be given a free entry permission stamp upon arrival. But if your plans include exploring beyond the area or extending your visit, you'll need to apply for a visa.
Remember, your passport must also be valid for 6 months from the date you arrive and have at least 1 blank page. Check the FCDO website before you travel for more information on entry requirements.  
Do you need any vaccinations for Egypt?
At the moment, there aren't any vaccination requirements for UK citizens travelling to Egypt. You can visit the FCDO website for more information on entry requirements.  
What's Egypt's currency? How do I get the best exchange rate?
Shops, bars and restaurants in Egypt will accept Egyptian Pounds, US Dollars, British Pounds and Euros. 
For the best exchange rates, convert your spending money once you've arrived in Egypt. US Dollars, British Pounds and Euros are the easiest currencies to convert, and you can take cash out at most ATMs.
How much should I tip in Egypt?
Hotel staff wages are low so although tipping is discretionary and optional, it is very much appreciated. We took US Dollars in one-dollar bills as paper money is preferred. Similar to the UK, you should plan to tip around 10-15% in restaurants that don't already include a service charge. 
Can I use my mobile phone in Egypt?
Your mobile phone will work in Egypt but check with your mobile provider as additional costs can vary wildly. Most hotels offer free Wi-Fi around the resort, but make sure you turn off any Wi-Fi assist so your phone  doesn't automatically switch to mobile data when Wi-Fi connectivity is poor!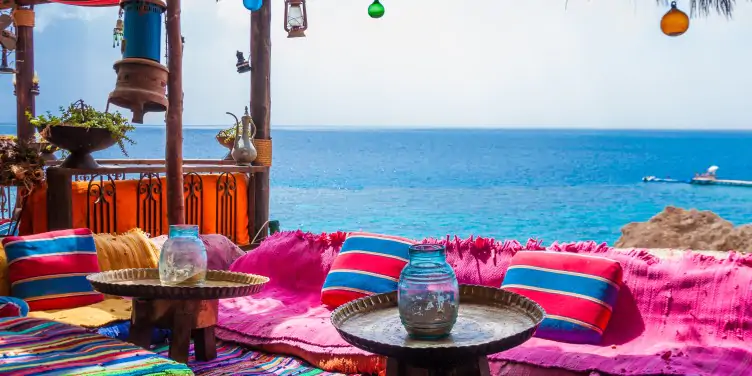 What to pack for Sharm El-Sheikh
Top things to pack for a trip to Egypt include:

European plug adaptor(s)

Mosquito repellent and a mosquito plug-in for your room. You can buy a local repellent called 'OFF', which is very effective

Diarrhoea relief tablets and hydration sachets in case you get an upset stomach

Cash for tipping – in small denomination notes

Warm clothing as the temperature drops in the evening

Long sleeved shirts and a scarf if you plan to visit any religious buildings – women need to cover their hair and shoulders
How to get to Sharm El-Sheikh
There are regular direct flights to Sharm el Sheik from the UK and, as a winter sun destination, there are plenty of flights year round. Flights to Sharm El-Sheikh from London Heathrow or Gatwick take around 5 and a half hours.  
You can also fly from regional UK airports such as Manchester, Bristol, Birmingham, East Midlands, Manchester, and Newcastle.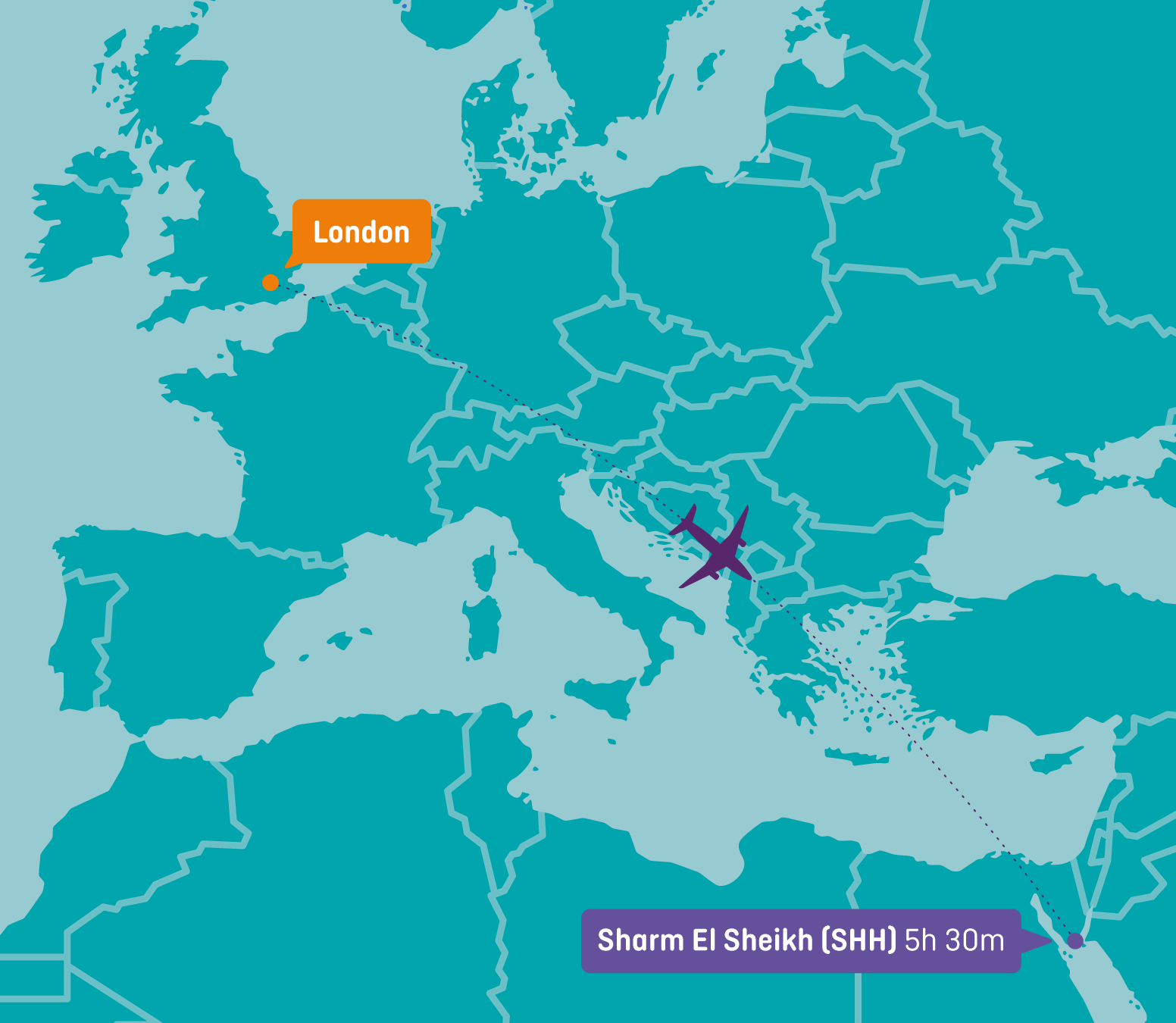 Ready for your own Egyptian adventure? Don't forget your travel insurance for Egypt!