Tips for a fun multi-generational holiday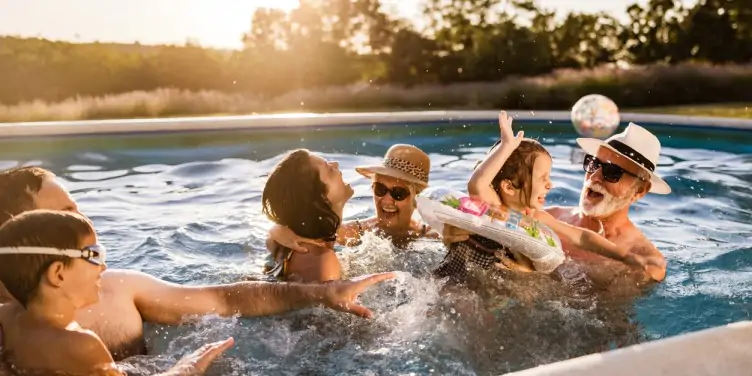 Multi-generational family holidays – sometimes known as a 3G holiday – are the perfect way to make lasting memories.
Getting all of the family together for a trip has become increasingly popular among holidaymakers, who are looking to savour that quality time people have missed so much during the pandemic.
Going away with the grandparents is a brilliant bonding experience, plus parents benefit from an extra pair of hands to help with the kids.
It really does lighten the load – especially on a trip to somewhere like Disneyland where, while you may hate the big rollercoasters, grandpa wants to take the grandkids on every single one. Twice.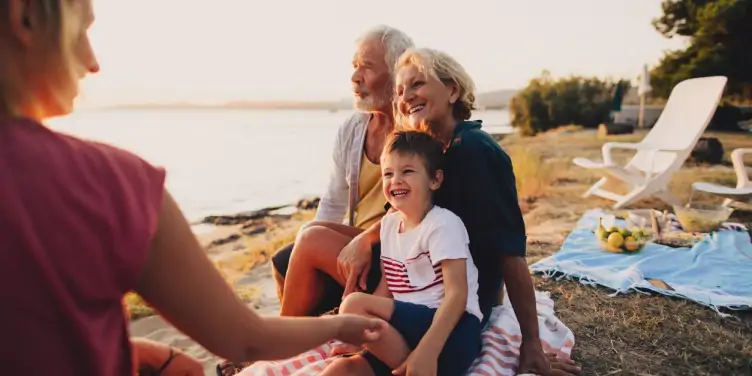 Pros and cons of multi-generational family holidays
Pros
Your children's experiences will be enriched by the presence of their grandparents, who can bring extra fun, spoil them and provide important insight into new discoveries.
Grandparents adore making memories with their grandkids and being around them for an extended period of time.
Connecting with family for a break together can have huge mental health benefits, and help combat loneliness especially for grandparents who live alone.
Parents can have a break as grandparents can share the load when it comes to babysitting. Parents may even be able to squeeze in a night off for dinner as a couple while grandparents tuck the kids into bed!
Cons
Lots of people on board means you have lots of different tastes and needs to satisfy. It can be hard to agree on the destination that fits everyone's vision of the perfect holiday.
Sharing accommodation with a large number of people will need extra compromise when it comes to chores, and quiet time will be harder to find on a trip away with extended family.
How to plan your 3G family holiday
Find a compromise
Extended family holidays can be tricky to organise when it comes to agreeing on everyone's idea of a perfect holiday.
You may be lucky and all agree that somewhere super hot where you lounge by the pool is the perfect break.
Or you may have someone in your party who prefers a walking holiday – and hates having to slap on the SPF 50 every morning.
Some of your party may be happy for a long haul flight, whereas others would prefer somewhere closer to home.
So the best starting point is finding a middle ground that everyone can get on board with.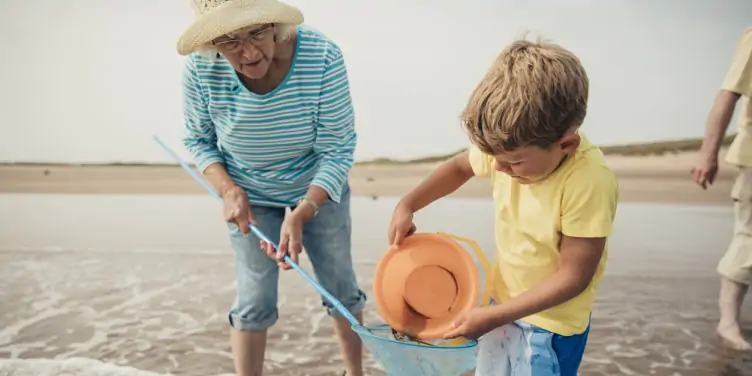 Be flexible
In order to find the compromise you will need to be flexible and tolerant, not just in the planning but also when it comes to being on the holiday.
If you go down the holiday home route, you'll be housemates with your relatives for a week or more. This is much more time with your relatives than the usual afternoon get-togethers!
Discussing what your daily routine will be like ahead of going away may help prevent any clashes, as this way you have all laid out what your individual needs are.
Keep the kids happy
The saying goes "you're only as happy as your least happy child" – so the kids' needs should be an important part of your planning both for location and itinerary.
For example if you have very young children then an extreme sports holiday isn't going to be for them, as they won't be able to take part in what other family members are doing.
A long haul flight can be more challenging with younger kids so your distance travelled should also be a consideration.
Look for a holiday that will fit around your younger children's general routine – holidays are about getting away from those rigid rules, but kids tend to get cranky if they don't nap at their usual times.
For older kids, access to holiday clubs that allow them some independence and fun with other kids their own age are great.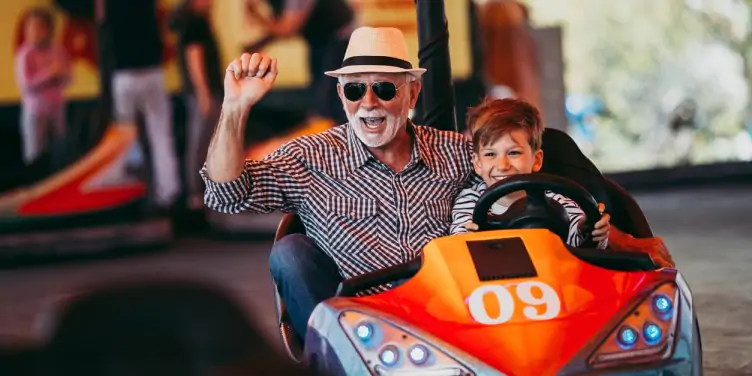 Think about costs
The cost of travelling to your destination may be cheaper if you travel by car either within the UK or to Europe via the EuroTunnel.
If you have a large vehicle, or can fill up a couple of cars with your party, then you can pay per car rather than per seat as you would for a flight or train.
A self catered holiday home that you all share may work out cheaper, plus give you more time together, than lots of hotel rooms.
Accommodate everyone's needs
Do you want to all stay together under one roof, sharing responsibility for cooking and cleaning, or would you prefer separate hotel rooms where you can meet for breakfast in the mornings?
Factors that influence this may include young kids and babies who wake early – some adult members of the family may not wish to be woken up at the crack of dawn.
If you would prefer a holiday house then a large communal space will be key. Plus consider the outdoor space if you're going somewhere hot so you could have barbecues together.
Look at the layout of the home, for example interconnecting rooms and access for those who may have mobility issues, when figuring out whether this property can accommodate all of your needs.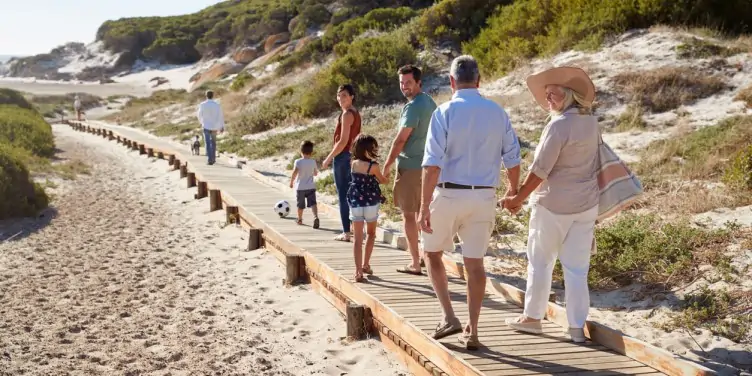 Where to go on a multi-generational holiday
City break
A city break is perfect for holidays with grandparents. From museums and galleries to parks and restaurants, it's easy to fill a weekend or longer.
Barcelona is a gorgeous destination to soak up some Spanish culture. The Tibidabo amusement park will delight the kids, and can be reached by riding the Tramvia Blau tram to reach the top of the Tibidabo mountain.
Everyone will enjoy the Montjuic Magic Fountain light show, which takes place in the evenings.
Your family may also enjoy Rome, where they can fill up on pizza and ice cream before exploring the Vatican and the city's beautiful parks.
Resort
A resort holiday is perfect for giving you a safe base, plus they tend to have a huge range of activities on offer that can suit everyone's ideals of a great holiday.
Europe is perfect for this type of holiday – with destinations such as Greece, Spain, Italy, France, Turkey and Croatia.
The Sani Resort in Greece has something for the whole family – including archery, tennis and more for the sporty types and live music for those who love culture. They also offer private nanny services, creches, and kids clubs.
If it's luxury you're after then the Phokaia Beach Resort in Turkey has access to three swimming pools, the beach and delicious local cuisine. Their kids clubs cater for toddlers all the way up to teenagers, with different activities on offer for all ages to keep them happy.
Family cruise
A family cruise can be a perfect way to cater to everyone's needs, with tons to do on board plus the exploration of multiple destinations too.
From kids clubs and fun water sports to bowling and live music, there's something for every age group.
Royal Caribbean International's Independence of the Seas is a floating playground of fun, with laser tag, a bungee trampoline, and waterpark, plus different restaurants so you can sample a variety of cuisines.
Their cruise along Florida's Space Coast – taking in Port Canaveral and the Kennedy Space Centre – is an adventure for all ages.
The company also operates the Anthem of the Seas out of Southampton, if you don't want the added cost of flying to Florida, and an adventure in the Med taking in Florence, Barcelona and Nice.
Uniworld offers a 10 day river cruise in northern Italy under their Generations Family Program that promises fun-filled adventures for families to enjoy together. They offer child friendly menus, a special dining table for young guests, and kids-only movie nights with dedicated family hosts.
Self catering holiday house
This option is perfect if you're seeking a chilled out break for your family with no pressure.
It's also the best option for keeping everyone together throughout the holiday.
You could choose a holiday house located close to a city or town with loads to do, or head off the beaten track where kids can make friends with farm animals and enjoy forest walks.
A private villa somewhere such as Portugal or Croatia with a pool would keep the kids happy, while grandparents may enjoy playing games and reading in the garden while watching the children splash about.
CV Villas has a whole host of gorgeous villas with plenty of space for large family groups in destinations such as Portugal, Italy, Turkey and Corfu.
You can search for a villa close to the beach if your family would enjoy a few seaside day trips!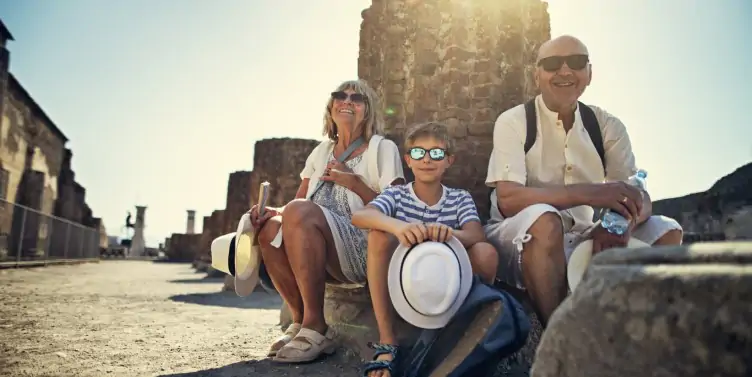 Final tips
When it comes to planning a fun multi-generational holiday there are plenty of options to help you find a compromise and fill a brand new family photo album with memories.
Don't forget to make sure the whole family has travel insurance to cover your trip and personal belongings. If you're going abroad, check that everyone's passport is in date, and before you leave read our top tips for travelling abroad with kids during the COVID-19 pandemic.