Brilliant beaches in Cape Verde
Dubbed "the new Bahamas" and "Portugal's answer to the Canaries", the islands which lie off the west coast of Africa gained independence from Portugal over thirty years ago, yet retain a certain Portuguese charm. The country positively dazzles with wide, white beaches equal to many in the Bahamas.
Whatever your beach of choice – be it quiet and unspoilt, packed with facilities, or vast, windy and wild – it's easy to catch the sun on the beach of your dreams in Cape Verde. A good place to start is the strip of long, white beaches running from Sal's main town of Santa Maria. The island is most famous as a surfer's paradise, thanks to constant breezes blowing in from the north. In addition to Sal, Boa Vista and São Vicente are also ideal for sailing, diving, kite surfing and windsurfing.
Basking on the beach takes on a whole new dimension in Cape Verde but with so many brilliant options available, it would be impossible to list them all here. However, to whet your appetite, here's a glimpse of five of our favourites:
Estoril Beach, Boa Vista
The island of Boa Vista, which aptly translates to 'beautiful view' is the easternmost island of Cape Verde and hosts over 55 kilometres of desert-like stretches of sand and sea. Sal Rei, the capital of Boa Vista, arguably hosts the best beach for swimming on the island: Praia do Estoril is a kilometre-long beach to the south of town and is very well protected against the wind, perfect for kicking back and peacefully baking in the sun.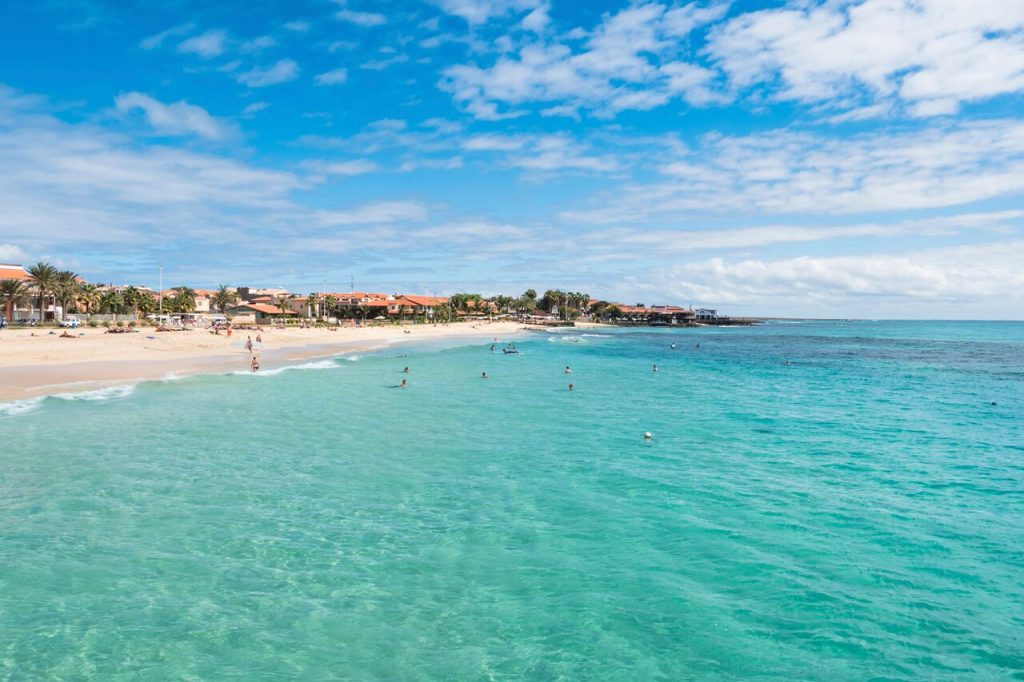 Santa Maria Beach, Sal
Sal is the most famous island in Cape Verde, and Santa Maria is famed for its big wave surfing which attracts surfers from all over the world. You'll come across plenty of great diving sites too, perfect for admiring the area's diverse marine life. If you're happy to mix in with the crowds for your sunbathing, this is the beach for you. Booking boat trips to the other islands in the archipelago is also easy to do from here and the quaint Old Town is just minutes from the beach.
Chaves Beach, Boa Vista
If remote, wind-carved sand dunes running gently down to the sea are your dream then Boa Vista's Chaves Beach won't fail to delight you. A striking 10 kilometre expanse of curvy, soft dunes, interspersed with open beach make it a sunbather's paradise. Chaves beach is isolation at its best so finding a spot to stretch out on the warm sands is easy. The beach is backed by a handful of new hotels but apart from that, it's just you and the never-ending golden dunes.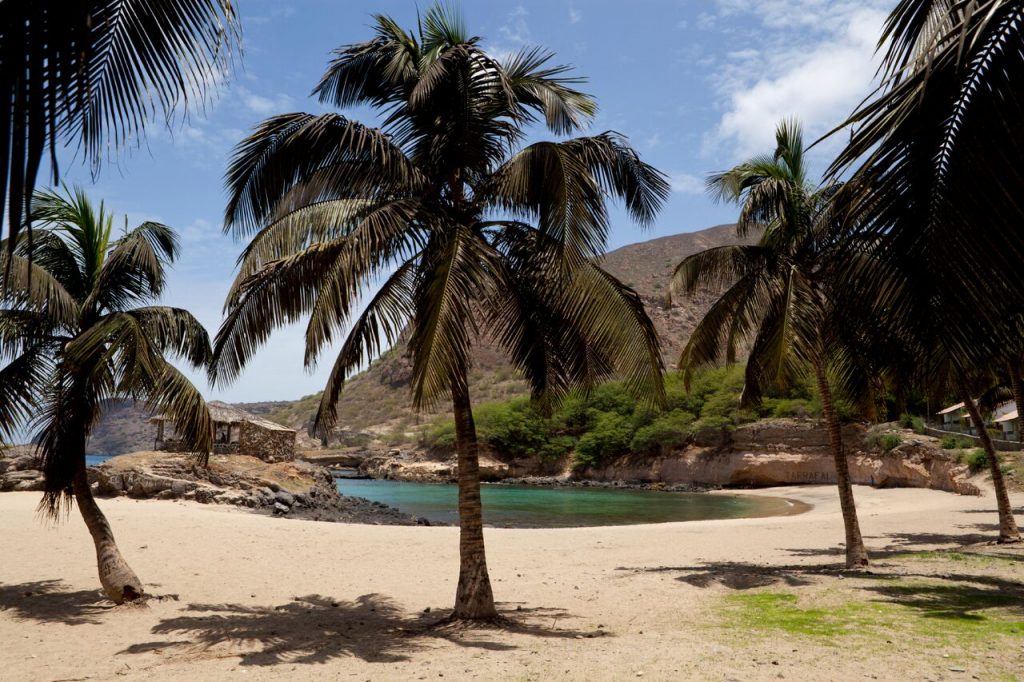 Tarrafal Beach, Santiago
The black rocks of Tarrafal give the beach a certain touch of fantasy.  Indeed, they are mythically reputed to have healing and restorative powers. So if you're feeling a bit tired, cover yourself in Tarrafal sands and feel the strength return to your limbs. Tarrafal is the fishing capital of Cape Verde and locally caught tuna, blue marlin and swordfish are often on the menu at nearby restaurants.
Sao Pedro Beach, Sao Vicente
The wild and unspoilt beach at Sao Pedro offers some of the best windsurfing conditions in the world, thanks to constant winds and a vast, relatively empty beach. You will find the popular surf spot (Point Break) at the Sao Pedro end of the beach. Between surfing, you can stretch out on the sand dunes, spy the marine life and even catch sight of the resident sea turtles