6 best resorts in Fuerteventura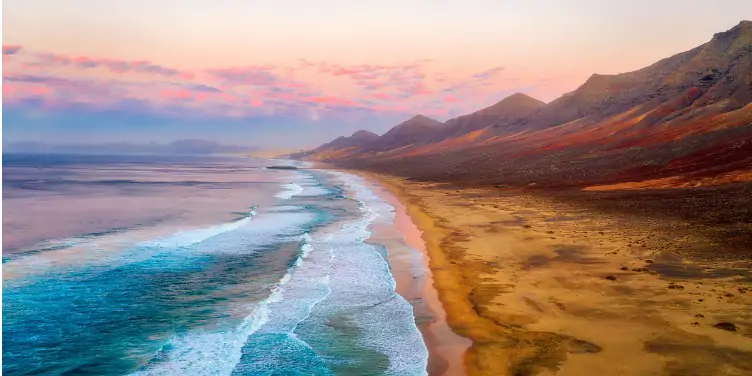 Fuerteventura is blessed with miles and miles of golden beaches covered in pillowy-soft sand, so it's perfect for beach lovers. Whether you prefer secluded coves or bustling towns, here you'll find the perfect resort to soak up the sun and enjoy the warm Atlantic waters.
There are many areas of Fuerteventura that cater to different types of preferences. But here are 6 of the best resorts in Fuerteventura:
1. Best resort for your first time in Fuerteventura: Corralejo
If you're looking for somewhere to stay in Fuerteventura as a first-time visitor, Corralejo could be perfect for you! Formerly a tiny fishing village, the town of Corralejo started taking shape as a tourist destination from around the 70s and now it's one of the largest on the island. 
Here, you can try a bit of everything the island has to offer without venturing far. And thanks to its community of expats, there are plenty of English speakers around and quite a nice selection of lively bars and restaurants.
One of the best things about Corralejo is how close it is to Parque Natural de Corralejo and Isla de Lobos – two breathtaking nature spots.
Parque Natural de Corralejo is where you'll find gorgeous sandy beaches against the backdrop of undulating sand dunes. You can also catch one of the best sunsets in Fuerteventura here.  
Those more active might want to strap on a pair of sturdy hiking boots to explore Montaña Roja (Red Mountain). This dormant volcano stands 312 metres above sea level within Parque Natural de Corralejo, offering fantastic views of nearby islands. 
On the protected Isla de Lobos, just across the La Bocayna strait, it's all about pristine beaches and crystal-clear waters but you'll also see many birds and some unusual geological formations.
To preserve the area they limit the number of people that can visit each day. Be sure to plan ahead and snap up one of the 400 free permits issued each day. You'll also need to book your ferry crossings separately.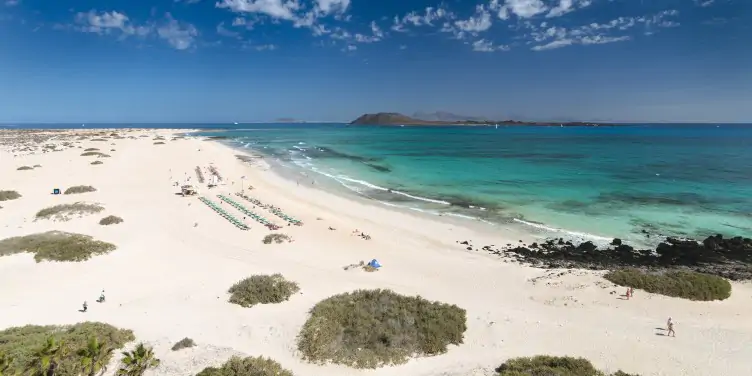 2. Best Fuerteventura resort for multi-generation travel: Caleta de Fuste
Caleta de Fuste is the closest tourist resort to Fuerteventura Airport (also known as El Matorral Airport), and the island's capital, Puerta del Rosario. 
As the most popular resort for Brits, it also offers a range of different activities that would suit an extended family travelling together who might want to break away to do different things during a stay.
The two beaches, Playa de Caleta de Fuste and Playa la Guirra, are both man-made but the waters here are much calmer for swimming thanks to the artificial reefs protecting the coastline from big waves. It's perfect for family trips with young children. 
All beaches are well equipped with sun loungers and restaurants, so all you need to do is sit back and relax.
To the south of Caleta de Fuste, you'll find two 18-hole golf courses: Fuerteventura Golf Club and Golf Club Salinas de Antigua. 
Both courses face out to the ocean and are built side by side, so you can go from one to the other for a serious day of golfing.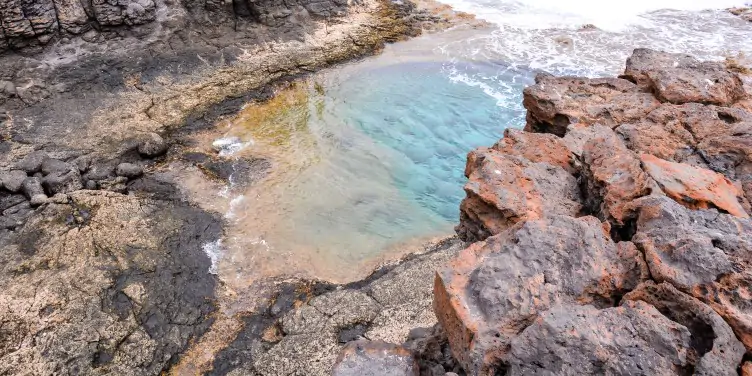 3. Best Fuerteventura resort for culture: Betancuria
For a dose of culture, head to the town of Betancuria, the former capital of the island. 
Founded by Norman conquerors in the 15th Century, this historic town is filled with quaint colonial-style buildings, charming churches and cobbled streets. It's easy enough to explore its cobbled streets on foot. 
There aren't many places to stay here though, so most visitors come on day trips.
To get the most out of your visit, you might want to hire a car so you can explore some of the spectacular scenery in the area. 
Stop by the Mirador de Guise y Ayose viewpoint, for great views of the island. 
Here, you'll also find the statues of Guise and Ayose, two kings who were said to have been ruling Fuerteventura when it was conquered by the Normans.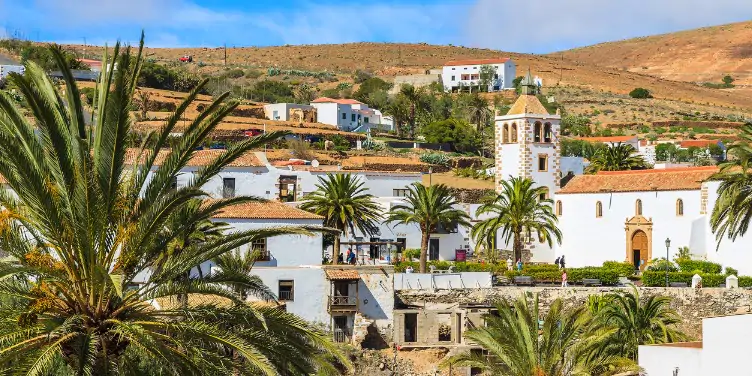 4. Best Fuerteventura resort for watersports: Costa Calma
Contrary to its name, Costa Calma is perhaps one of the windiest spots in Fuerteventura during the summer months. 
Despite being one of the windiest spots during the summer months, the sea remains relatively calm here.

This makes the beaches perfect for windsurfing and kiteboarding. In fact, this area hosts competitions every summer, usually in July, so expect the beach to be very busy.
Outside of the competition season, Costa Calma is a great place to visit if you want to try these wind-dependent watersports for the first time. There's plenty of schools in the area offering lessons and, for windsurfing at least, you don't have to be especially fit or strong – although of course, you do need to be a decent swimmer!
The shallow beaches of Costa Calma are also great for families with young children.
For a change of destination, the eastern coast of the Jandia Peninsula, where the waters are shallow and calm. It is particularly popular with those trying these watersports for the first time and those looking for a family holiday resort.
The island's cheese museum is also worth a detour if you want to learn more about the traditions behind its award-winning Majorero cheeses.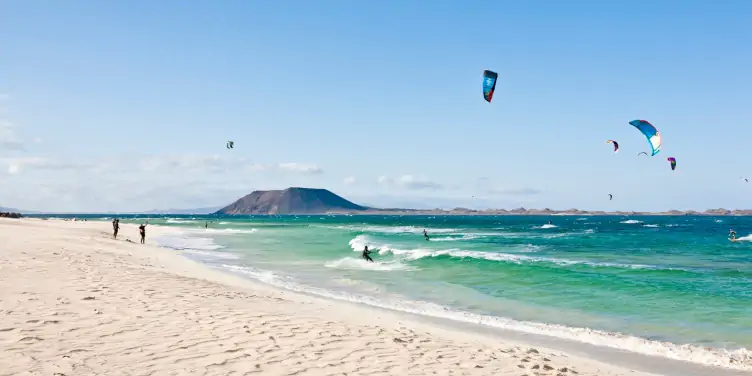 5. Best Fuerteventura resort for nature lovers: Morro Jable
Morro Jable is the main resort on the sheltered south of the island. It's the ideal base if you want to visit some of the more remote natural beaches on the Jandia Peninsula, such as Cofete.
The roads to this wild beach are not tarmacked, so a 4×4 vehicle is recommended unless you fancy yourself a very bumpy ride. 
But once there, you'll practically have the whole place to yourself, with the majestic Pico de la Zarza – the highest point in Fuerteventura – providing an impressive backdrop. 
Marro Jable is also a great spot for hikers, but make sure you pack plenty of food and water as there are no restaurants or shops nearby.
To see the best of Marro Jable's wildlife, you'll need to get out on the open water. Head to the port (Puerto Morro Jable) and book yourself onto one of the dolphin and whale watching tours for a glimpse of these magical creatures.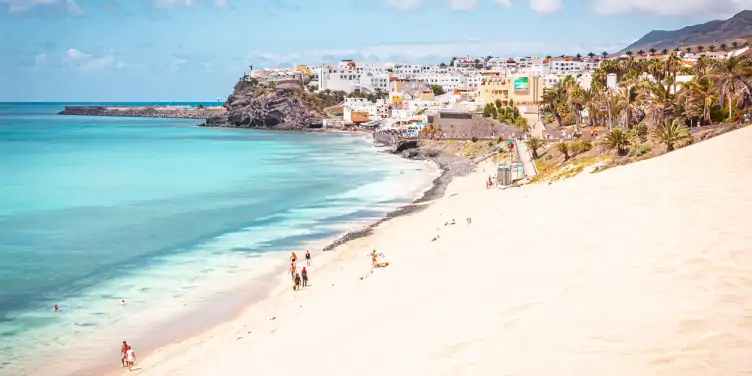 6. Best Fuerteventura resort for peace and quiet: El Cotillo
One of the quietest resorts on Fuerteventura is El Cotillo, on the northwest coast of the island. 
Its sandy beaches are a haven for sun-worshippers as it faces away from the Trade Winds, so there isn't a constant breeze.
But, the waters can be a little rough here as the region faces out to the Atlantic – just something to be mindful of if you like to take a dip in the sea.
The most protected beaches can be found at La Concha and Los Lago. There are natural reefs here protecting the shore, so the waters close to the coast are relatively calm.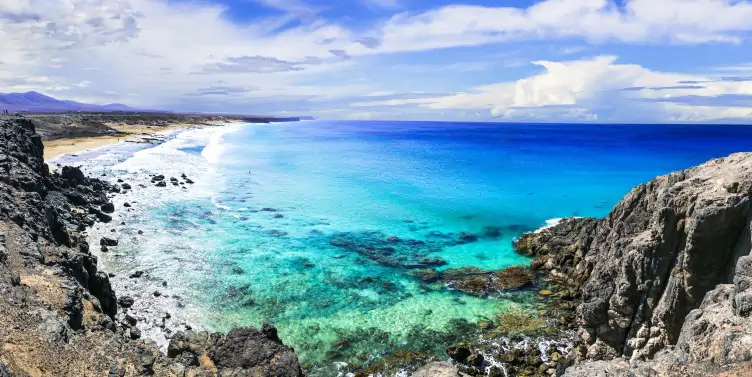 Is Fuerteventura windy?
As frequent visitors will know, this Canary Island has a reputation for being windy.
Its location is on the cusp of where the Trade Winds start, so for much of the year, there's a constant breeze hitting the island from a north or north-easterly direction. 
For visitors, this could change where they stay in Fuerteventura. If you just want to relax on a quiet beach with a good book, you should head to the south or west of the island – areas that face away from the wind and offer a more secluded coastline. 
Where is Fuerteventura?
Fuerteventura, also known as 'La Isla Tranquilla' (the quiet island), is located 97 km off the west coast of Africa and is part of the Spanish Canary Islands. 
Found in the North Atlantic Ocean, Fuerteventura is the second largest of the Canary Islands, after Tenerife. 
What's the best time to visit
Fuerteventura
?
If you prefer a cooler setting, visiting Fuerteventura is perfect in the winter months, when the breeze has died down but the sun is still shining. Average winter temperatures hover between 18 to 22 degrees.  
In the summer months, you'll see slightly hotter temperatures (around 25 degrees) and beaches filled with windsurfers and kiteboarders due to the high winds. With average summer temperatures of 25 degrees!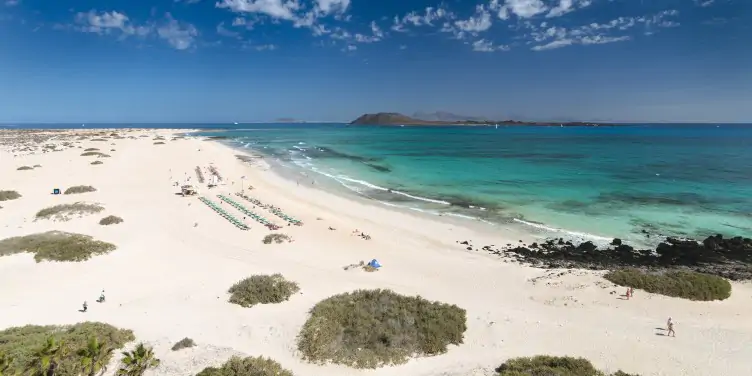 Is Fuerteventura a good holiday destination?
This island has more to offer than just beaches, from fun water-based activities to scenic golf courses, there's plenty to do to fill your holiday itinerary. There's also many restaurants and bars in Fuerteventura that cater to different cuisines, budgets and atmospheres. You can find anything from traditional Canarian dishes to international flavours.
The whole of Fuerteventura and the sea around it is a designated Unesco Biosphere Reserve. It means there are incredible snorkelling and diving opportunities and natural parks where you can see the local wildlife. 
Fuerteventura also happens to be one of the three Starlight Reserves in the Canaries, meaning the entire island is a stargazer's paradise. 
How long does it take to fly to
Fuerteventura
?
Flying from London to Fuerteventura could take you up to 4 hours. The only international airport in Fuerteventura is El Matorral Airport, where you can then take local transport to different areas of the island. 
Where next?
If the Canary Islands are now number one on your list of holiday destinations, why not take a look at our guide to Gran Canaria? 
We've also written about some of the unmissable things to do and see in Tenerife if you're seeking more inspiration.
Ready to plan your trip to
Fuerteventura
?
Check your passport is in date

Book your holiday