The best beaches in Norfolk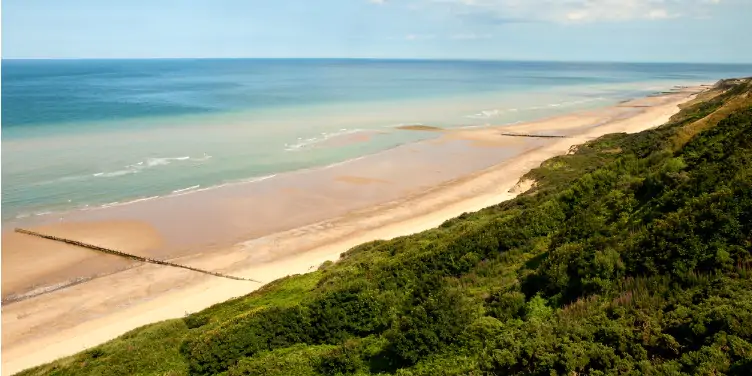 Unspoilt butter-coloured beaches sunbathe along 145km of stunning British coastline. In Norfolk, pristine sand lies in great expanses, edged by marram grass-dotted dunes under huge denim skies.
Whether you like water sports, kite-flying, picnics in the dunes, beach walks or just building sandcastles, there is a Norfolk beach with your name on it!

North Norfolk
No less than six North Norfolk beaches boast the coveted Blue Flag, the European gold standard for beaches: East Runton, West Runton, Cromer, Mundesley, Sea Palling and Sheringham.
The award, by the Foundation for Environmental Education, is for high-quality facilities, environmental education, superb levels of cleanliness and safety.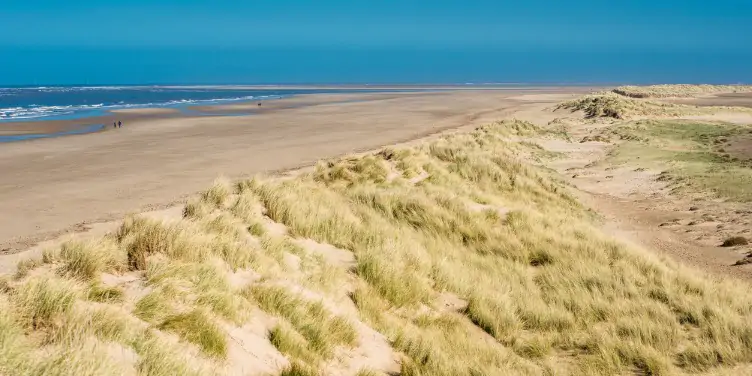 Holkham Beach
Holkham National Nature Reserve's enormous unspoilt beach was recently voted one of the best in Britain and is also home to rare plants and flowers.
A lagoon forms at high tide just beyond the shoreline. This beach is child, dog, and horse-friendly.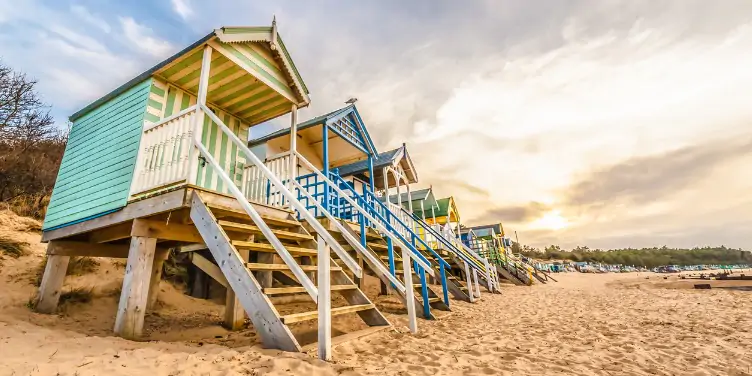 Wells-next-the-Sea
A scenic walk east of Holkham leads along the Norfolk Coast Path to candy cane coloured beach huts. A fragrant Corsican-pine forest frames the glistening sandy beach. These woods were planted in the late 19th century, to stabilise the dunes.
Low tide creates a 2km beach wonderland for children called 'The Run', it's perfect for splashing about, building sandcastles, and crabbing. Make sure to listen for the hooter, though. It sounds to let you know about the incoming tide!
This award-winning beach is also dog-friendly and usually has a lifeguard on duty.
Heacham Beach
Also facing west, the sun sets spectacularly across Heacham Beach and, in the summer, purple fields of lavender. Its shallow, sheltered waters are ideal for children.
It's here you'll find the memorial of Pocahontas in the St Mary the Virgin Church as Heacham local, John Rolfe, married her and brought her to the UK.
Brancaster Beach
Designated an 'Area of Outstanding Natural Beauty', kilometres of golden sand and tidal marshes lend themselves equally to picnics, family outings or romantic walks. Brancaster is a popular spot for windsurfing, kite surfing, beach buggies and dog walking. Parking can be found near the golf course.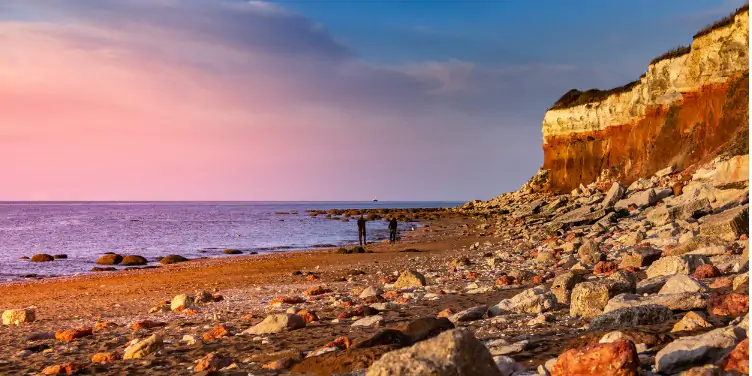 Hunstanton Beach
West facing 'Sunny Hunny', as it's known locally, basks in the sunlight and celebrates each day with big beautiful sunsets.
Elegant Victorian architecture (it was built as a bathing resort in 1846) and traditional Victorian promenade garden, (with a bowling green, play area, and crazy golf) contrast somewhat with the dramatic Victoria sponge-cake layers of the cliffs.
Hunstanton beach has plenty of rock pools to explore and shallow waters making it a great spot for kite-surfing and windsurfing.
West Runton and East Runton Beaches
Part of the 'Deep History Coast', West Runton is a sand and shingle beach with tidal rock pools. The West Runton mammoth, the largest and oldest mammoth skeleton ever found, was discovered in the vertiginous cliffs above the beach.
Unsurprisingly, this is a great spot for treasure-hunting fossils. There's a café on the gangway and a car park on the cliffs.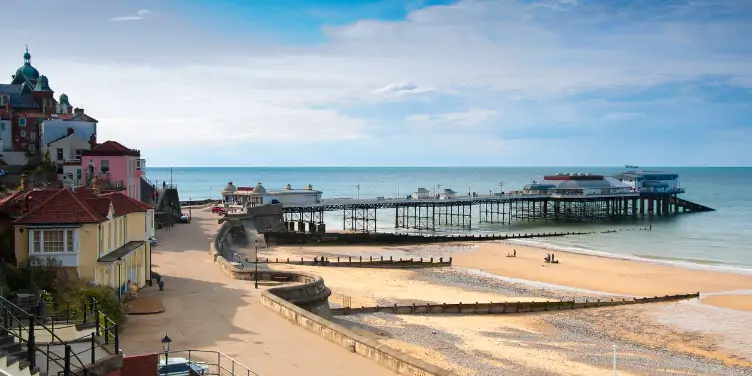 Cromer
Also known as "the Gem of the Norfolk Coast", Cromer is another one of Norfolk's Blue Flag beaches. Featuring a sandy, flat beach with pristine sands, green cliffs, elegant Victorian buildings and a Victorian Pier and pavilion.
The Cromer Shoals Chalk Beds, the largest in Europe, is home to the famous Cromer crabs. You have the reef to thank for the rich and sweet flavour you notice while sampling a famous Cromer crab sandwich.
Sea Palling
A busy resort with an amusement arcade, pub, fish and chips shop, caravan parks and jet-skis. Protective off-shore stone reefs have formed a bay with shallow water and low waves, making it ideal for young children.

East Norfolk coast
The 50 kilometres of sandy beaches between Cromer and Great Yarmouth are traditionally scorned as a long drive on bad roads.
In the 1960s, when the National Trust surveyed the coast (to determine what was worth saving from development), they wrote: "Unworthy of any attempt at protection or redemption". Consequently, an uncontrolled building boom of holiday chalets ensued. Although they now have a vintage appeal, it is still dubbed 'the chalet coast'.
Climate change is not a promise but a daily threat on the east Norfolk coast. Sea defences have worked hard protecting the beaches for many years, and are now deep into their lifespan. It's been hinted that continuing to defend this coast is unsustainable. Much will be lost if the vast wetlands of the Norfolk Broads National Park are allowed to become saltwater marshes. The fragile ecosystem provides home and shelter to some of the UK's rarest plants and birds.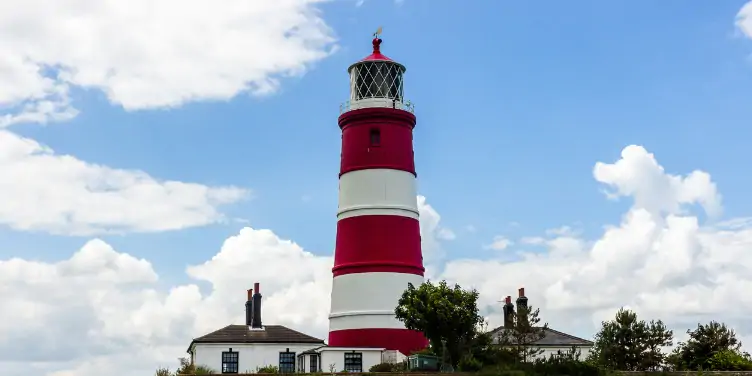 Happisburgh
Pronounced "Hays-brugh", the 'Deep History Coast', named the birthplace of Britain when 850,000-year-old footprints were found here. Along with the whole fragile coast, its iconic red-and-white-striped village lighthouse (built in 1791) now teeters perilously on the edge of the inevitable.
Dominated by the cliff protection barrier, the sandy beach stretches forever in both directions. If you visit, keep away from the unstable cliffs.
Gorleston-on-Sea
Just south of Great Yarmouth, Gorleston is a traditional English seaside town with a curvaceous sandy beach. Named by TripAdvisor as 'one of the best beaches in the UK', it is ideal for families with children.
The village has a paddling pool, yacht pond, pitch & putt, a tennis court and bowling greens with live music in the bandstand on Sundays. The beach is one of the best destinations in the area for windsurfing, surfing or body-boarding, with lifeguards on duty from April to September.
Scratby Beach
A long and sweeping sand and gravel beach with tall sand dunes lies beneath low sand cliffs; where large boulders valiantly fight erosion. Scratby is a popular beach for fishing and during the winter big waves make it popular for surfing. A small car park can be found at Rottenstone Lane.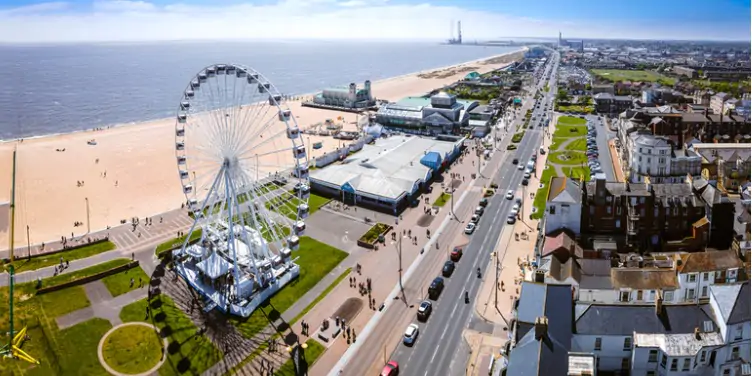 Great Yarmouth's Three Beaches
North Beach – Wide sand dunes to the north of Britannia Pier lead to a quiet, wide sandy beach facing Scroby Sands Wind Farm. Beach cafes, waterways, tennis courts and bowling greens are all nearby.
Central Beach – A sandy beach between Britannia and Wellington Piers with a promenade hosting a range of shops, cafe's and ice-cream vendors, children's activities, deck chairs and boating trips.
Caister-on-Sea – Just north of Great Yarmouth, Caister-on-Sea has a long esplanade and sand dunes leading to a wide sandy, unspoilt beach. This part of Great Yarmouth is popular for surfing.
The secret beaches of the Norfolk Broads
The Broads in Norfolk are also home to three amazing beaches where you can experience vast stretches of sand, swim with the local seals and see a huge variety of rare wildlife.
Horsey
A wild and barren sandy beach where The Broads stretch into the North Sea.
Concrete sea defences here fight the wind and the sea, while providing the perfect shelter for beach picnics. Like most hidden beaches, there are no facilities here, just a small pay-and-display car park at Horsey Gap with tea rooms nearby.
If you're a fan of winter walks it's worth noting that the beach closes during seal pupping season.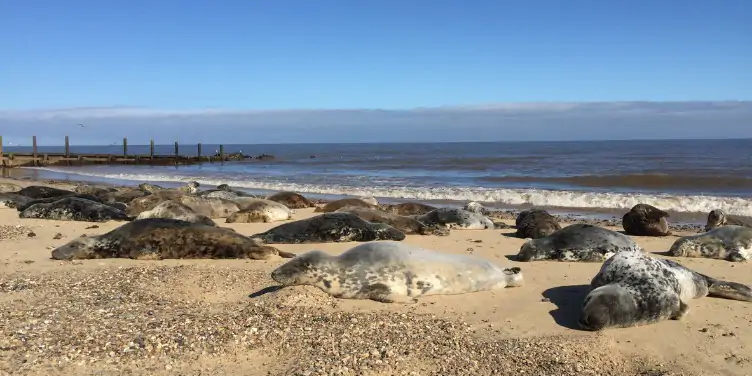 Waxham Beach
A path through the dunes leads to a hidden expanse of beach. Like Horsey, seals gather here with their pups. There is no designated car park or facilities but at Waxham village you can get food and drink under the amazing thatch of Waxham Barn, one of the largest 16th-century tithe barns in England.
Winterton-On-Sea
Winterton's vast beach and sand dunes reach all the way to Horsey. A circular walk takes you across fields and through woods to the village where there is an excellent pub and a fish and chip shop.
Similar to Waxham and Horsey, this beach is popular with seals. Visitors during the summer months may even find themselves swimming alongside them! It's also one of the few breeding grounds in the country for Little Terns, so there's a manned RSPB hut to ensure their safety.
Important information about visiting Norfolk Beaches
April to July is breeding season for animals
Norfolk's sandy beaches and salt marshes are home to important bird species including oystercatchers, plover and curlew and Brent geese fleeing the Siberian winter.
Dusk and dawn between November and February are the best times to see them but be aware of restricted areas:
Keep dogs on a lead near the bird colonies
Avoid the shingly areas at the top-end of beaches
Look at the birds from a distance to avoid disturbing them
Watch out and avoid small waders with chicks on the beach
Thinking of visiting Norfolk for your next staycation? Don't forget to take out UK travel insurance if you've pre-paid at least two nights of accommodation.