Your rights and when you can claim for cancellations, delays and COVID-19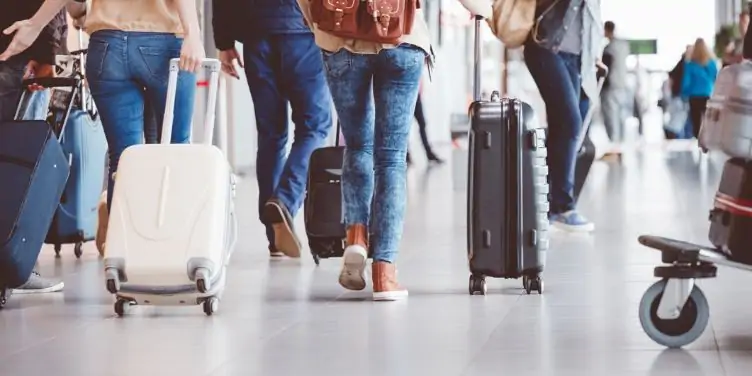 It's easy to see that travel isn't quite 'back to normal' yet.
With ongoing delays, strikes and COVID-19 restrictions, it's important to know your rights and what you're covered for by your Staysure travel insurance policy.
After reading this, you can feel prepared for your trip and understand your next steps on who to contact if your trip is affected.

Am I covered for COVID-19?
All Staysure travel insurance policies include COVID-19 Cover at no extra cost. You'll be covered for things like cancellations and medical repatriation.
Find out the ins and outs of what your COVID-19 cover includes as exclusions and limits apply.
Are my kids covered for COVID-19?
As long as your kids are up to date with their recommended vaccinations, they'll be covered for COVID-19 as standard.
Travel rules for kids can vary by country as to what vaccination status is accepted – and even what age is included in these rules. You can find out more on child-related questions on COVID-19 and travel insurance here.
What do I need to know before I go?
With COVID-19 rules changing in different countries, it's important to check current FCDO advice before you travel.
There you'll find up to date information on entry requirements. This includes:
Whether the FCDO advise against travel to that destination
How long your passport needs to be valid for
Any visas needed (even to EU countries post-Brexit)
Local COVID-19 rules on things like wearing a face mask in public spaces
Need more information on what you need to know when travelling? Head to our guide to travelling during COVID-19.

My airline cancelled my flights, what do I do?
As part of your consumer rights, you're entitled to a refund or new flights from your travel provider if they've cancelled your flights.
Contact the company you booked your flights with to see if they can offer a refund or make changes to your trip.
If you've been offered new flights, log into My Staysure or use our LiveChat to update your policy with your new travel dates to suit your new holiday plans.
Can I claim for accommodation and excursions if my flight was cancelled?
If your flight is cancelled, and you booked your accommodation separately, you'll need to cancel or move your pre-booked accommodation and excursions.
Contact your travel provider to ask for a refund or to move your booking.
If you've been offered different dates or vouchers for future use by your accommodation provider, you won't be able to claim for this on your travel insurance.
If your booking is non-refundable, you may be able to make a claim on your travel insurance.
What can I do if my flight is delayed?
If your flight is significantly delayed, under UK law, your flight provider needs to offer you care and assistance. Find out your rights here on the CAA website. When you're entitled to support will vary depending on how far you're travelling.
If your flight is significantly delayed, your flight provider must give you:
Food and drink – often given in vouchers
Opportunity to call people if needed – often by refunding the cost of your calls
Accommodation if your flight is delayed overnight
Transport to and from accommodation or home if you're close enough
If the airline is not able to offer you this due to staff shortages, then you should be able to claim for reimbursement from your airline for these costs as long as they are seen as reasonable. Check your airline for their policy on what they see as reasonable.
You might also be able to claim some compensation from your travel insurance if your flight is significantly delayed. Check out your 'travel delay' section of your policy for more information on what you're covered for.
With Staysure, if your outgoing flight is delayed by more than 24 hours you can choose to claim for the cancellation of your holiday.
Am I covered for airline strikes?
Flight providers should be responsible for finding you new flights if they aren't able to offer you your original flight, or to help if your flight is delayed.
Travel insurance can cover you for airline strikes as long as the strike wasn't common knowledge at the time of booking your trip or taking out your cover.
Find out more about whether you're covered for airline strikes and how to claim.
Can I change the dates I go away?
If you're forced to move a holiday, we can:
Change your single trip policy start date as long as it falls within 18 months from the date you bought your policy, or 24 months if you're eligible (there may be a charge for changes to your policy.)
You can make either of these changes to your policy online using My Staysure to avoid admin charges when calling to make amendments.
If you need to make changes to your Single Trip Travel Insurance policy, please do this before you were originally due to travel.

Can I cancel my travel insurance policy?
If you want to cancel your travel insurance policy, you can only do this within the cooling off period (14 days from receiving your documents).
We can offer you either a full refund as a voucher, for you to use at a later date, or a cash refund.