Money Saving Expert Martin Lewis recommends our travel insurance with COVID-19 cover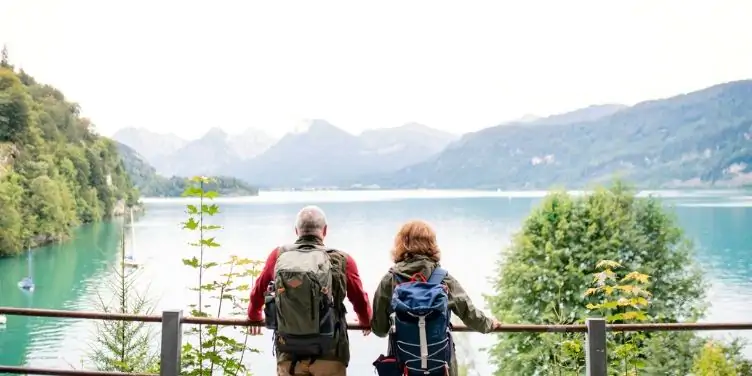 Martin Lewis, founder of Money Saving Expert, has recently recommended our travel insurance that covers coronavirus.
Travelling after COVID-19 lockdown may feel daunting, but thankfully all of our policies include cover for coronavirus. Our travel insurance policies can protect you for cancellation (if you test positive for coronavirus 14 days before travel), and cover medical expenses if you catch COVID-19 while on holiday.
Lewis also recommends the sooner you buy your cover, the better. He said that forking out on a holiday might leave you thinking it's okay to buy your travel insurance nearer the time of your departure. Many people buy their travel insurance only a week before they leave for their holiday, but Martin warns us this could be risky:
"If you have booked your holiday, but don't have travel insurance, do it tonight, otherwise you're running a risk. Don't leave it, that's pointless."
Here's why arranging your travel insurance as soon as you've booked your holiday is the best thing to do…
To cover not being able to go on holiday:
It's the last thing on our minds when we're booking a holiday, but it's really important to have adequate cancellation cover in place.
With our travel insurance policies you'll have enhanced COVID-19 cover for cancellations and emergency medical expenses during your trip.
If you have a pre-existing medical condition, travel insurance that covers you if you have to cancel your holiday because of illness is vital. One of our customers, Melissa, had to cancel her family's dream holiday when her daughter fell ill unexpectedly. Find out how we helped pick up the pieces, so Melissa and her family could re-book their holiday.
As long as you declare and cover all your medical conditions when you take out your policy, you should be able to claim for having to cancel your holiday up to your policy limits. That way, you can re-book your holiday at a later date, when you've got the go-ahead from your doctor that you're fit to travel.
To cover medical emergencies abroad:
Not covering your medical conditions with personalised travel insurance could put you out of pocket. All of our travel insurance policies include cover for COVID-19, so if you're diagnosed with coronavirus while abroad, you'll be covered.
Our study into how much medical treatment can cost you abroad, showed that the USA has the highest average price for a medical claim at £9,941. Travelling without cover isn't worth risking.
1 in 4 Brits rely on the travel insurance that's included with their bank account. What many people don't realise is you're often only properly covered by your bank travel insurance if you have no pre-existing medical conditions and are under a certain age. So, it's important, especially if you live with a pre-existing medical condition, that you check your policy to make sure you have the right travel insurance to support you if something goes wrong on your travels.
To cover flight cancellations:
Let's say your flight is cancelled or badly delayed. EU regulations state that it's the airline's responsibility to provide you with alternative transport or a refund. They may also offer to pay for meals, refreshments and hotel accommodation should you need them during the delay.
On top of this, travel insurance can also cover the costs of having to cancel your holiday extras such as your pre-paid, unused accommodation, travel tickets and car hire – these costs can mount up so check the limits in your policy.
To cover you for delayed departure:
Our travel insurance policies cater for delayed departure too. So if the public transport you pre-booked to your UK departure point is delayed for at least 12 hours due to: strike; industrial action; adverse weather conditions; mechanical breakdown; or a technical fault on your mode of transport, you can be covered – again up to the limits in your policy.
And should your flight be delayed or cancelled for 24 hours or more and you're not offered an alternative means of transport, our delayed departure cover may also entitle you to abandon your trip altogether and claim back the costs of your trip up to the limits of your policy.
It's worth noting that not all travel insurance policies include these aspects of cancellation cover as standard, so be sure to check the small print.
To cover more than the Global Health Insurance Card (GHIC):
Martin said: "An EHIC (GHIC) is just for medical treatments in the EU but you might have to pay for it. If it's not free for locals, travel insurance would pay for that."
He goes on to explain that travel insurance often includes cover for repatriation, lost or stolen baggage including cash, cameras, even golf clubs and wedding rings, in addition to paying out for cancellation and delays – all of which you don't get with an EHIC or GHIC. What's more, the EHIC or GHIC does not cover countries outside the European Economic Area or ones without health agreements with the UK, making travel insurance even more valuable.
If you're travelling outside of Europe, medical treatment abroad can be very expensive. We recently researched how much medical treatment abroad can cost and the importance of having the right travel insurance, particularly to cover any unforeseen medical treatment.
Martin advises that it's always best to take out your travel insurance at the same time as booking your holiday. That way, you can be covered if the unexpected happens.