How to celebrate Christmas in Spain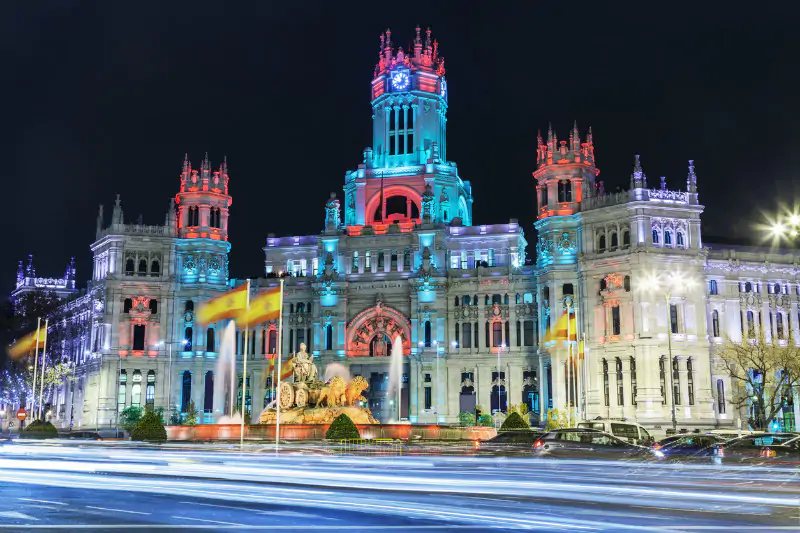 If you're in Spain for the Christmas holidays, you will no doubt notice that the festive season is quite different and not as commercialised as it is back in the UK.
In Spain, the Christmas kicks off far later than at home: lights are usually lit in the main cities during the first week of December rather than in October or November, like in the UK.
Christmas trees are popular in people's homes but again, they aren't put up until the second half of December.
Another important decoration at home is the intricate, miniature nativity scene (Belén) which always incudes figurines of baby Jesus, Mary, Joseph and the Three Kings (Los Reyes Magos). If you're in Catalonia, be aware of a curious character: the caganer, a figurine that incredibly appears in their nativity scenes openly doing business that would normally be confined to the toilet! The characters might represent a member of the Spanish royal family, a disliked politician or just a badly behaved Santa.
The dates of Christmas celebrations are quite different from back home too, so if you want to live it up Spanish style, it's a good idea to familiarise yourself with the what takes place and when.
Key dates for Christmas in Spain
8 December – La Inmaculada Concepción (Feast of the Immaculate Conception) is a public holiday in Spain which marks the beginning of Christmas. Catholics celebrate the miraculous conception of the Virgin Mary and there's a distinct feeling of family fun in the streets. Shops are closed but the Christmas markets, churches and restaurants come alive with Christmas activity.
In Catalonia, from 8 December, families put a log (Caga tió or "defecating log") in their homes, giving it food to 'eat' and a blanket to keep it warm. Then, on Christmas Day or Christmas Eve, people sing songs and hit the log with sticks to help it "deliver" sweets, nuts, and dried fruits. All the treats are finished once garlic or an onion falls out of the log.
21 December – Hogueras (bonfires) are lit in a few Spanish cities, including Granada. They mark the winter solstice – the shortest day of the year – and involve people jumping through the flames to protect themselves against illness.
22 December – The Lottery is a much loved tradition all over Spain, all the more so at Christmas when El Gordo (the fat one) is drawn with the top prize totalling over a massive 700 million euros – the Spanish Christmas Lottery is, after all, the biggest lottery in the world. The Spanish never stray far from a TV during the Christmas lottery draw which takes several hours. Everybody buys tickets for this lottery in the hope of getting a lot richer overnight. Besides the top three prizes there are also thousands of smaller prizes to be won.
24 December – Nochebuena is Christmas Eve and it is the most important family gathering of the year. It is celebrated in the evening when people often meet early for a few drinks with friends before returning home for a meal with the family. Typical Christmas meals consist of prawns for starters, followed by roast lamb, rounded off with traditional sweets like turrón (nougat), polvorones (soft almonds cakes). Cava (Catalan champagne) is drunk at this time for the Christmas toast although the finest Spanish wines are also enjoyed with the meal.
In the Basque country, presents for the children are delivered on Christmas Eve by Olentzero, a magical, overweight man wearing a beret and smoking a pipe.
25 December – Christmas Day doesn't mean presents to children in Spain (except in the Basque country). They may receive a small gift on Nochebuena but they will need to wait until 6 January for their main presents. Christmas Day is a public holiday in Spain. It is not a day of great celebrations like in the UK; instead it is a calm day when people go out for a walk and sleep off the previous night's festivities. It's increasingly common to see families eating out on Christmas day afternoon.
28 December – Santos Inocentes (Holy Innocents) is our equivalent of April Fools' Day when people play practical jokes and Spain's media often include a joke story in their broadcasts. In some villages, young people light bonfires while one of them acts as the mayor who orders people to carry out jobs like sweeping the streets. Refusal to do so results in fines which are used to pay for the celebration.
31 December – NocheVieja (New Year's Eve) is a big celebration much like in the UK, with street parties and special celebration nights in hotels and clubs everywhere. However, people tend to stay at home with their close families until midnight often indulging in copious amounts of shellfish. On the stroke of midnight they eat 12 grapes, one on each stroke of the clock, in order to bring them good luck for the coming year. In Madrid (Puerta del Sol) and some other squares in the main cities, people gather to eat the grapes and drink cava before heading off into the night to party until dawn.
1 January – New Year's Day is a quiet public holiday which most people spend sleeping off their late nights.
5 January – Cavalcadas (Processions) take place in the evening all over Spain. The Three Kings (Wise Men) throw sweets to the crowds from the floats in a colourful procession.
6 January – Día de los Reyes Magos (Feast of the Epiphany) is the day when the Three Kings arrived in Bethlehem. It is now that Spanish children wake up to find that Los Reyes Magos have left presents for them in their house. On this day, the Three Kings continue their good work by distributing gifts to children in hospitals all over Spain.
7 January – End of Christmas. Children return to school and parents return to work after the Christmas celebrations.
Keep in the loop with your travel insurance options in Spain.