Deciding between a river and ocean cruise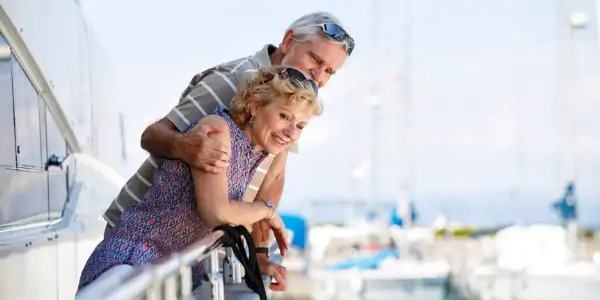 Ocean cruise ships get taller, river boats grow longer, and our appetite for all kinds of cruising increases year on year.
These are two very different holidays with perhaps the only similarity being that they are on water.
Here, I'll explain five key differences between river cruises and ocean cruises, to help you decide which is best for you…
1) Size
If size matters to you, then keep in mind river ships are small and intimate. The average ship only takes 100-150 passengers and is usually just 3-4 decks high. A smaller ship means less amenities, so don't expect numerous bars and dining options. There is often just one main dining room where everyone is seated at the same time. Menus are excellent but may be limited.
In comparison, cruise ships are big, and getting bigger. Passenger numbers can go into the thousands, although smaller ships are becoming more popular. Shipping companies vie with each other to offer numerous attractions such as climbing walls, golf driving ranges, spas, well-equipped gyms, cinema, theatre, lectures, dance classes – the list goes on. You will also find a choice of restaurants, probably with set dining times, as well as plenty of lounges and bars.
2) Cabins
Drifting along a picturesque river requires a view from your cabin and river boats supply that with big picture windows, or in many cases, private balconies. Actual cabin space is usually quite limited and there's not a great choice of cabin types, they tend to be all the same.
Ocean cruises can keep prices low by offering a selection of different graded cabins depending on size and position in the ship. Accommodation varies from small inside cabins through to luxury suites with a spacious balcony that may come complete with your own butler service.
3) Entertainment
River boats have low key entertainment usually showcased in the lounge after dinner. Often a local performer will come aboard for traditional music or dancing, or there will be a quiz or games evenings. During the day all passengers will be out and about on excursions or sunning themselves on the top deck, so don't expect much more than the occasional lecture or maybe a wine tasting session.
Ocean cruises have 'sea days' built into the itineraries which are much loved opportunities for passengers to keep busy with lectures, dancing classes, singing, or art.
The list is endless and there is no time to get bored on a sea day. There is usually a lot of eating involved, including leisurely deck buffets and full on afternoon teas. Evening entertainment is top quality with ships having purpose-built theatres attracting famous names in show business.
4) Port Visits
On a river cruise you will probably visit a new port each day and usually the boat will dock in the centre of town. Many companies include the excursions in the cruise package with coach tours being the norm, but some cruise lines are incorporating more varied shore activities such as hiking or cycling.
The large ocean-going ships tend to dock in working ports out of town, or off shore with tender boat transfer, so expect a shuttle bus on arrival if you want to explore on your own. Shore excursions will be many and varied and are not usually included so can add considerably to the cost of your holiday. It helps to do your research before you travel so you can sightsee independently if you prefer.
5) Price
A river cruise wins with their prices typically being all inclusive of meals with house wines and sometimes spirits, tea and coffee and a selection of excursions and activities.
Although some cruise lines offer all inclusive, on others you can easily run up large bar bills and pay out for pricey excursions. Some ships also offer premium dining in specialist restaurants that is an extra cost.
So, which is best?
River and ocean cruises are two very different options, each with their own attractions.
Personally I find river cruising more relaxing as the pace seems slower, although the excursions do keep you busy. The holiday is more structured with the set meal times and less choice. Rivers are usually smooth sailing with no sea sickness medication required!
Ocean cruising can be more exciting, sea days are a wonderful way to meet new people and to feel as though you have left the real world behind for a short time. The food is an obvious draw with sumptuous meals and 24-hour availability. Ports of call are varied and interesting and can give you a taste of different countries and cultures.
Trying both options can help you decide which is best suited for you. When trying out a river or ocean cruise, don't forget your cruise cover and comprehensive travel insurance policy.