What solo travellers can expect on Greek Islands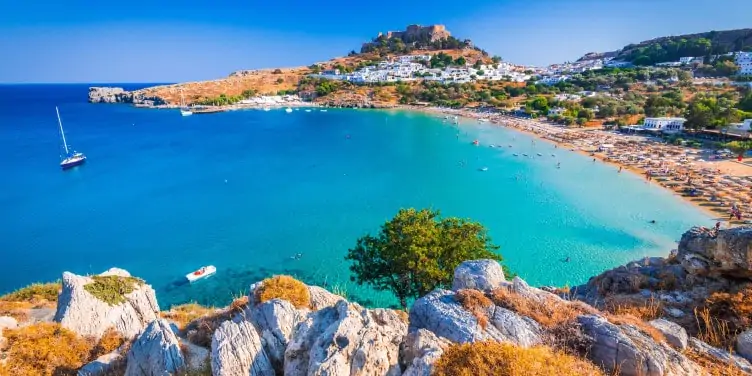 Greece attracts visitors from far and wide. The islands, in particular, are a pull factor for many – with white sandy beaches and blue seas that rival that of the Caribbean.
There are so many Greek islands, over 200 inhabited ones to choose from for your break and some lesser known Greek islands too.
Many islands are chosen by friends, families and couples for their package holiday or off the beaten track appeal, but what about if you want to travel solo and not pay out more money for single supplements?
What things should you consider if you want to travel solo to the Greek islands?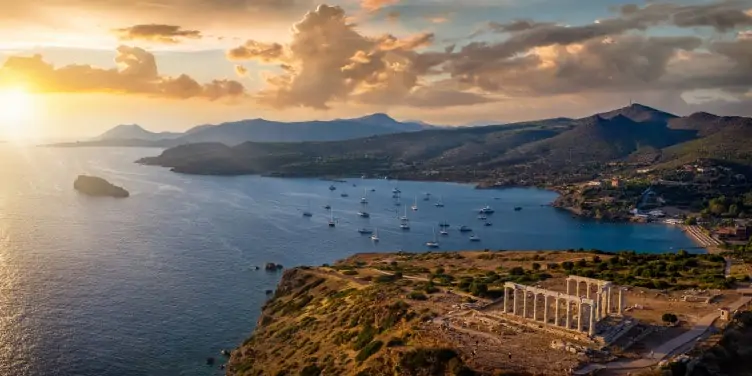 Is it safe to travel to Greece?
In general, Greece is a relatively safe country. That said, as with any country and especially the big cities such as Athens, be careful of your wallet in certain neighbourhoods and busy tourist areas, especially at night.
If you're a frequent traveller, investing in travel clothes that have hidden pockets to place your valuables such as credit cards, phones and loose change in is a good idea.
Greek islands, however, are small, homogenous places that aren't large enough to have cities, making them much friendlier and by default, possibly safer. Let's take a look at two of the most popular Greek islands, and see what travellers should look out for when travelling solo.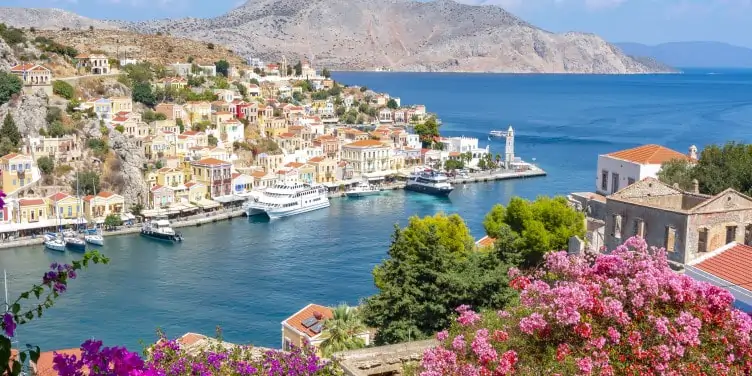 Rhodes
Located in and the largest of the Dodecanese chain of islands, Rhodes is popular with travellers from Northern Europe due to its direct flights. It's also relatively warm all year round as it's quite far south, making it pleasant to swim in the sea from May through to October.
Its airport also makes Rhodes a popular package holiday destination with large hotels catering to the masses during the summer months. But it's also possible to find smaller, family run hotels that are much more personal in service and can sometimes avoid the single supplement. Offering a 'friendlier' touch, you'll be welcomed as part of their extended family, or be left alone as much as you'd like.
If you're looking to splash out and treat yourself, the UNESCO Rhodes Old Townhas very quaint boutique establishments to stay in.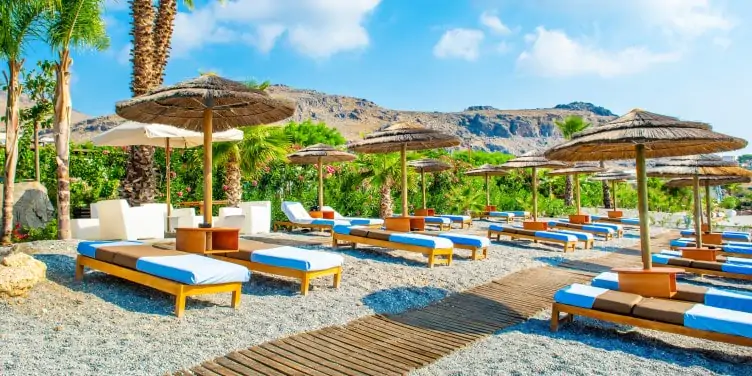 The best sandy beaches can be found in the upmarket resort of St. Paul's Bay at Lindos, where you'll also find the Acropolis of Lindos – the ruins of an ancient citadel. If you don't feel confident enough to explore the ancient temple by yourself, or you simply prefer the expert knowledge of locals, guided walking tours are available as groups.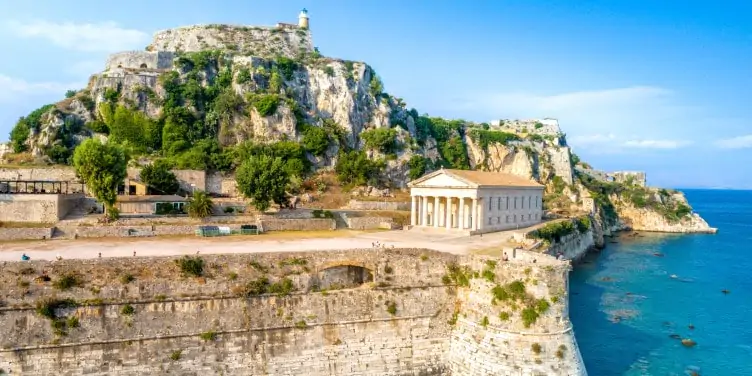 Corfu
In the Ionian Islands to the west of Greece, opposite the Albanian coastline, Corfu is another popular destination for Northern Europeans and, like Rhodes, is packed in the summer.
Similar to Rhodes there is a UNESCO designated Old Town in Corfu with Old and New Fortress looking out to sea, a Bazaar and narrow cobbled streets.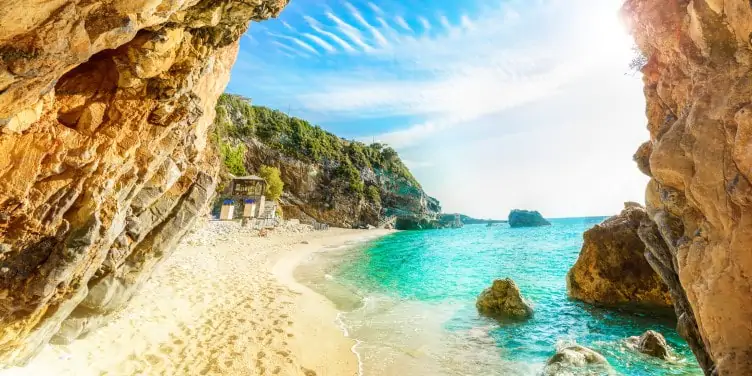 Accommodation options range from large package hotels to smaller family run apartments and boutique style luxury suites.
Beach resorts, where the masses gather, can be found at Kavos in the south and Ipsos in the north.
For a more cultured nightlife experience, visit Corfu in September when the Festival of Corfu takes place with concerts, ballets, operas, plays and literary festivals by Greek and international artists.
Solo travel advice for Rhodes and Corfu
For both islands, it's best to hire a car – not from a safety perspective as a solo traveller, but to be truly independent and get from A to B without relying on the public transport.
Having said that, buses are frequent and easy to use, although somewhat hit and miss with their timings depending on whether there are goats and sheep in the road to stop for! Or, if the driver sees someone they know travelling in the opposite direction and stops for a chat… Don't be alarmed, it's all part of the island's quirks.
Locals use the bus and you could find yourself chatting to a Greek yiayia (grandmother) as she instigates a curious conversation in stilted English and a lot of hand gestures to get her point across.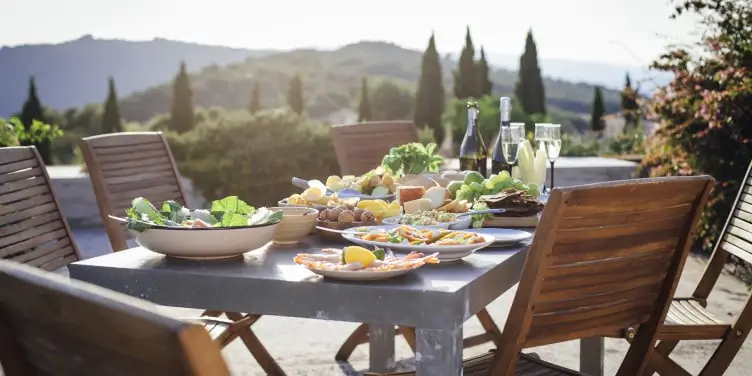 Probably the most misunderstood aspect of Greek culture that could come across as nosey, or even threatening, but really isn't, is that Greeks are naturally curious and friendly.
Older locals may be concerned if you're travelling on a bus on your own. So, don't be surprised if you find yourself invited back to someone's family house for lunch! Food is a big part of Greek life.
A female traveller could, quite innocently, be asked where your husband or partner is. Don't be alarmed, it's because Greeks are worried about you, so they may want to sit with you on a bus, giving you all sorts of (often conflicting) advice on how to get to your final destination.
It's purely interest for them, and especially for elderly Greeks of both genders – if you're a female solo traveller, this is somewhat unusual to them. And, by default they assume you must want company, they must take you under their wing, cook for you and invite you to join their table at a taverna.
Go with it, don't be alarmed or offended. It's all part of the experience learning about Greek culture, and a lovely one at that. After all, filotima (kindness to strangers) originated from Greece, and when you travel to the country and the islands, you'll see why.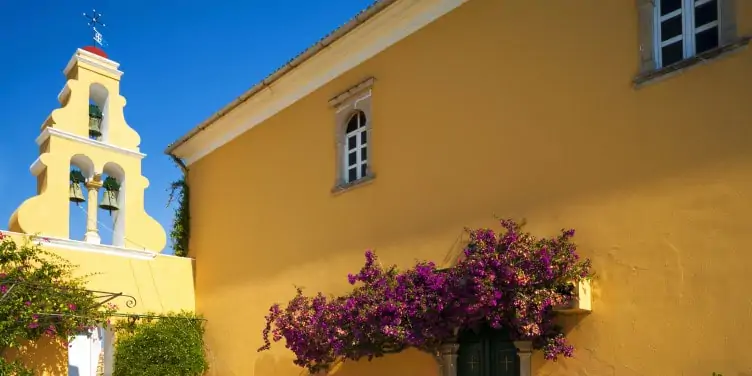 Visiting Monuments and churches
You don't need to be religious to appreciate how magnificent the churches are in Greece.
But it is important to follow Greek etiquette when visiting. All females visiting a church, whether solo or not, must cover up arms and legs, while men are also expected to cover their legs.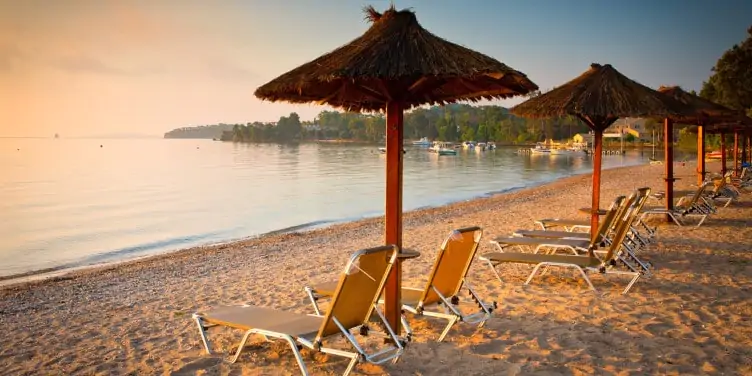 The best thing about Rhodes, Corfu and Greece in general are the beaches. But what do you do with all your belongings when travelling solo? You want to make sure your valuables are safe when you go for a dip in the beautiful waters.
Your best bet is to choose a beach where there are sunbeds and parasols available to hire. Often you'll find small lock boxes attached to the sunbeds where you can lock your belongings away.
On many mainstream beaches, you'll find people walking the beach trying to sell you wares such as selfie sticks or handmade bracelets Most of the time these salespeople will target lone travellers. A polite but firm 'Oxi!' ('No') should do the trick. Be firm and loud.
Ready for your next adventure? Don't forget travel insurance for Greece for added peace of mind.