Top destinations on the British Isles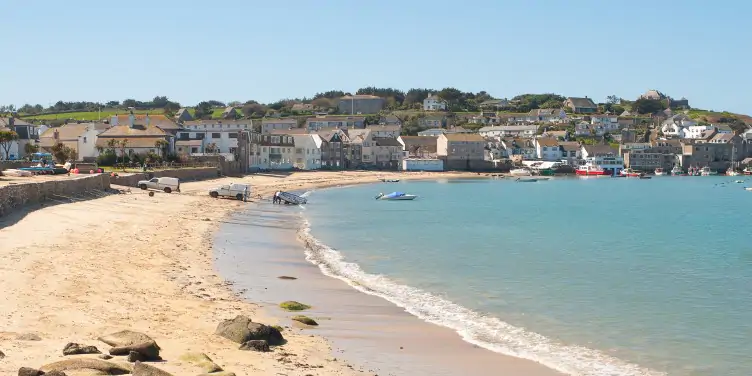 In light of the Covid pandemic, international travel restrictions are seeing more of us wanting to stay local and holiday in Great Britain. The British Isles are a collection of over 6,000 islands, so there's plenty to explore on your next staycation.
The nature of islands means plenty of open space, fresh air, and often, less people. So it makes sense for a beautiful British island to be at the top of your holiday destination list.
We've handpicked five of our favourites below. Some you may have heard of, mixed with some lesser-known gems. The personalities and landscapes of each may differ, but what they all have in common is stunning natural beauty and a fascinating history.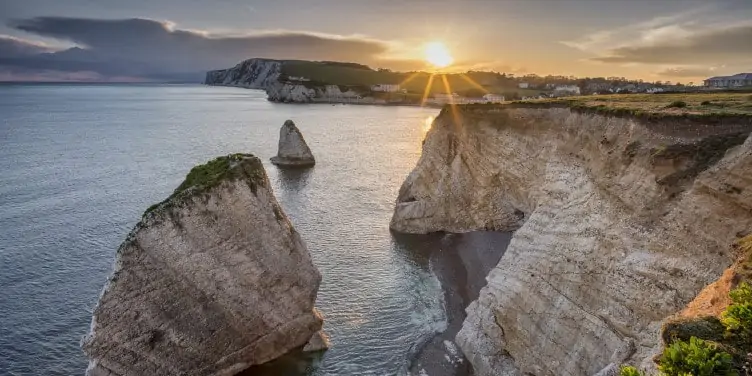 1. Isle of Wight
Much-loved by many, the Isle of Wight had to be on our list. Just off the south coast of England, it boasts some of the most scenic and varied landscapes of any Great British island. It's also the largest in England!
Grassland downs and farmland gently amble towards rugged clifftops, with long, sandy stretches lapped by turquoise waters down below. Dotting its coastline are charming towns and villages, such as Freshwater. One of this popular village's highlights is the house and historic parkland of Farringford, the final home of poet Alfred, Lord Tennyson.
Totland Bay is where you'll find the famous Needles, a highly-photographed row of three chalk stacks. Also a photographer's favourite are the dinosaur remains and fossils of Compton Bay and Yaverland Beach.
The Isle of Wight is one of the few places in England where red squirrels are thriving. Visit Ventnor Downs to spot the wild goat colony that has made the Isle of Wight's highest point their home.
There's something for everyone on this lively island. Whether you're a history buff, nature lover or sea enthusiast. And best of all, you can reach it from the mainland by car ferry in just 45 minutes.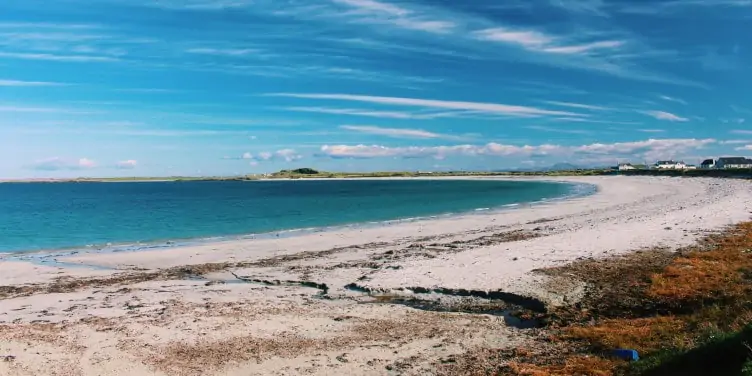 2. The Isle of Tiree, Inner Hebrides
If you're looking for total peace and wide open spaces, then the Isle of Tiree is the holiday destination for you. It's the most westerly island in the Inner Hebrides and is home to less than 800 people.
Due to the mild Gulf Stream, Tiree receives more hours of annual sunlight than anywhere else in the UK. Nicknamed the 'Sunshine Island', the Isle is relatively small, covering an area of around 10 miles by four miles.
You can reach Tiree by ferry from the mainland port of Oban, with the crossing taking four hours. A mild climate, white-sand beaches and rich wildlife are Tiree's main draws, and the reasons why people return year after year. 
Tiree has a long crofting and fishing heritage, with charming cottages dotting the flat and fertile land. There's even the option to stay in a traditional crofter's cottage if you're looking for a full, authentic experience. 
Days are best spent walking the immaculate beaches spotting birds and wildlife – among them shags, arctic terns, seals, minke whales and dolphins. The island's longest stretch of sand is at Gott Bay. And amazing views of the famous Skerryvore Lighthouse can be enjoyed from Balephuil Bay. 
And if you're feeling active, hire a bike and explore Tiree on two wheels. Due to the island's strong winds, midges are practically non-existent, unlike much of Scotland in the summer.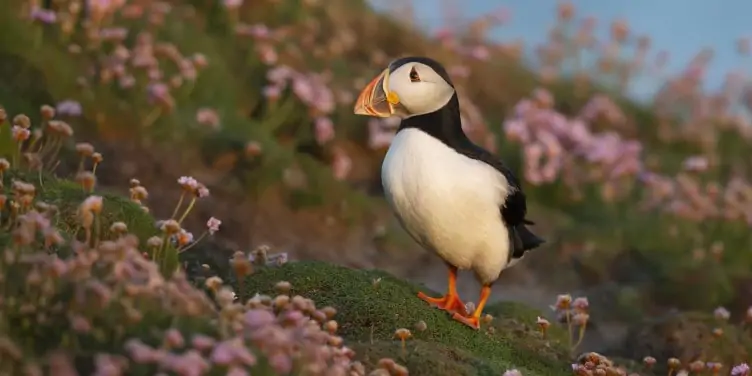 3. Fair Isle, Shetland Islands
The first thing that springs to most people's minds when they hear the words 'Fair Isle' is jumpers! Although there's much more to this tiny Shetland Island than just its traditional style of knitting.
Located in northern Scotland, Fair Isle is one of the most remote, inhabited islands in the UK. It has a permanent population of around 60 people and is an absolute dream for those really wanting an escape from it all. Several guesthouses and B&Bs all offer cosy places to call home during your stay.
Fair Isle isn't the place if you're looking for pubs, restaurants or cinemas. There's just the one shop. But what it does have is stunning natural landscapes, an abundance of wildlife and a proud history and culture.
Its rugged beauty can be most appreciated on walks along windswept beaches, crofting land and peat moors. Chat to friendly crofters, artists and artisans and watch as they knit and craft traditional pieces such as Shetland chairs and wooden boats.
Must-visits include the Fair Isle Bird Observatory Lodge, and the promontory of Malcolm's Head for spotting nesting puffins. There's also the north and south lighthouses, and the George Waterston Memorial Centre and Museum that showcases artefacts telling of the island's past.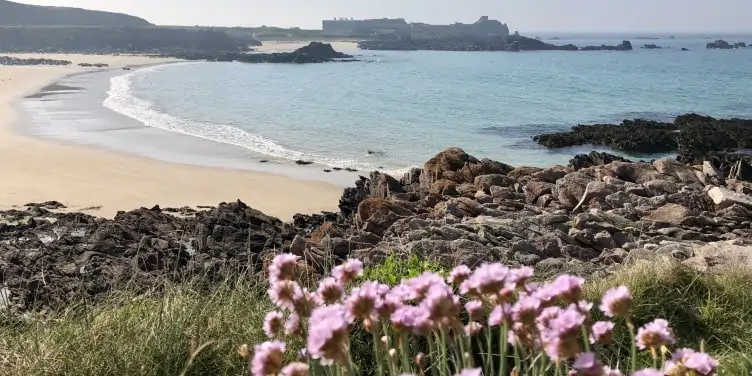 4. Alderney, Channel Islands
Just three square miles in size, Alderney is still the third-largest of the Channel Islands. It's also the furthest north of the inhabited islands and boasts a spectacular coastline. Despite its size, it still boasts heathland, fields, woodlands, cliffs and beaches where a variety of flora and fauna can be found.
Regular visitors in the sea include seals and dolphins. And on dry land, you may spot the famous Alderney blonde hedgehog on a guided evening walk! Particularly loved on Alderney are the puffins, with bird-watching being a very popular activity.
As are walks along cliff paths, relaxing on sandy beaches and enjoying the clear sea waters. The white sands of Saye and Braye are some of the most beautiful beaches on the island.
Located between the Normandy coast and England, much has shaped Alderney's history and culture. Visit the remains of World War II German wartime defences, the Hammond War Memorial and Alderney Museum for fascinating insights. Go back even further in time by discovering ancient burial grounds, a Roman fort and a pottery dating back to the Iron Age.
St Anne is the island's village centre and is where you'll enjoy soaking up the relaxed pace of life with the friendly community. It boasts a cobbled main street and several independent shops to browse before stopping off at the pub.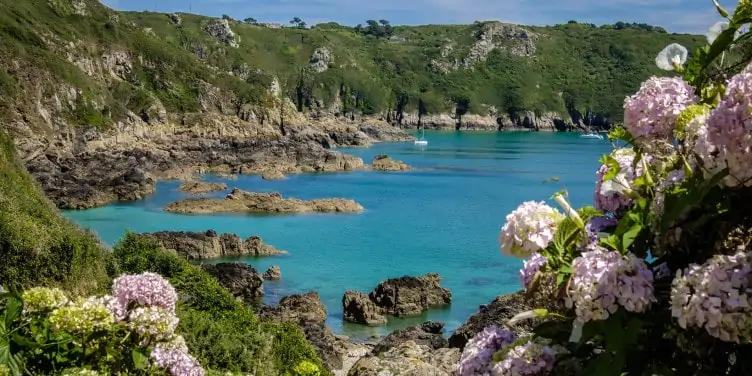 5. St Martin's, Isles of Scilly
With its white sands and lush greenery, St Martin's looks like it could be a remote island in the middle of the Caribbean Sea. But it's actually the northernmost populated island of the Isles of Scilly that lie just 30 miles off Land's End in Cornwall. And despite being the third-largest of the Isles of Scilly, St Martin's is still very much a hidden gem.
At just two miles long, the island is home to some of the finest beaches in Britain. Lapped by crystal-clear waters are spots such as Par Beach, Lawrence's Bay and Great Bay. Cliff path walks offer up amazing sea views, the chance to see rare birds and colourful displays of flowers and plants such as the Wood Calamint (the only place in Britain this flower grows). Seal colonies can also be spotted not far off shore from many areas.
Probably the most iconic feature of St Martin's is the Daymark, a red and white-striped granite tower standing on the northeast corner of the island. It dates back to 1683 when it was built as a navigational aid for sailors. You can set sail from here yourself, with boats regularly leaving for the island of St Mary's.
Nature lovers will be keen to visit the flower farm, with a vineyard also open to visitors. When it's time to take a break, enjoy lunch or a delicious afternoon tea in one of St Martin's cafes, pubs or restaurants.