Travelling with Parkinson's Disease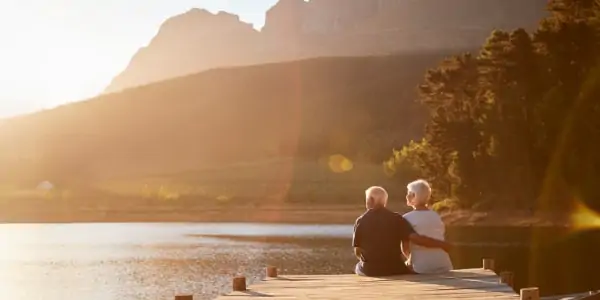 Parkinson's Disease comes with its challenges, but these need not interfere with you taking a well-earned holiday.
In the UK, Parkinson's affects around 137,000 people*, the average age of onset is 60 and men are one and a half times more likely to get the disease than women. There is currently no cure, but there are plenty of treatments available to help manage symptoms meaning travel is just as enjoyable as ever.
Whether you are considering a weekend away or a few weeks on the beach, the thought of managing Parkinson's Disease while travelling may seem a little daunting. But with some careful planning and a few precautions, you can still enjoy a wonderful holiday.
To make your journey enjoyable, we've put together a few guidelines to help you organise your trip:
Planning
• Take out travel insurance for you plus your travelling companions. If you need to stay in hospital and miss your flight home, one of your travel companion(s) will remain with you for practical help and moral support. The policy also pays for any extra accommodation and flights you may require. If your policy includes Cancellation cover and you need to cancel your holiday due to illness or another unforeseen emergency, you will be covered for your pre-paid holiday costs such as flights, accommodation and excursions
• If you are travelling to Europe (excluding Norway, Iceland, Liechtenstein and Switzerland), it's a requirement of our policies that you have a Global Health Insurance Card (GHIC) or use a valid European Health Insurance Card (EHIC). While these cards give you free or reduced cost medical treatment, they cannot  cover the cost of being flown back to the UK after a medical emergency. You can get a GHIC by applying online or by calling 0300 330 1350.
• When booking a hotel, ask for a room on the ground floor or near a lift. Make sure there are grab rails in the bathroom and ideally book a room that has suitable facilities
• Take enough medication for the entire holiday, plus a little more just in case you lose some or are delayed during your journey
• Consider booking through a travel agent as they can research and recommend you accommodation in a destination that is suitable for people with Parkinson's, i.e. in a central location, on the ground floor/close to a lift and near all amenities
• Research any local support groups for people with Parkinson's where you are going. For more information, visit the charity, Parkinson's UK
• If you are concerned about your health and the type of holiday you are thinking of taking, it's a good idea to talk this through with your doctor before you book
Travelling
• Try to travel with a friend or family member so that help is at hand if you come into any difficulties
• Carry written proof from your doctor that you have Parkinson's Disease. This helps you get through security smoothly and quickly indicates your medical condition to doctors in the unlikely event of a medical emergency
• If travelling by air, phone the airport in advance or ask at check-in for help getting around the airport. Use the airport shuttles or ask for wheelchair assistance to your gate if it is far from the security check points
• Book an aisle seat and ask for early boarding to give you enough time to get comfortable without delaying the other passengers
• Make sure to keep well hydrated throughout and keep low blood pressure at bay
• Check in as many bags as possible but keep all your medications safely with you in your hand luggage
• For hand luggage, use a bag you can attach to your body, rather than with two handles. That way you have both hands free to keep your balance as you move about
• If you are driving, allow enough time to stop for rests. Many Parkinson's medications can cause drowsiness, particularly after eating. Bear in mind that long road trips require more stamina than you may be used to. Breaking your trip into manageable distances and perhaps stopping off overnight on the way could make for a more enjoyable trip
While you're away
• Make a note of all the medication you are taking plus the doses and keep it somewhere safe with you at all times so that if you lose any, you can get them replaced quickly and easily. If you purchase a Staysure Comprehensive travel insurance policy, Personal Assistance Services will locate replacement medications for you and have them conveniently delivered to wherever you are staying – although you will need to cover the cost of the medication
• Speak to your Parkinson's nurse before you travel if travelling across different time zones, in case the times you take your medication need adjusting
• If you are exploring a new place, consider getting on a tourist bus to save you from walking long distances. That way, if you get tired you can stay on the bus
For more information on travelling with Parkinson's Disease, visit the Parkinson's UK website here.
Please note: The materials in this post are in no way intended to replace the professional medical care, advice, diagnosis or treatment of a doctor. The article does not have answers to all problems. Answers to specific problems may not apply to everyone. If you notice medical symptoms or have questions on the topics raised in this article, please consult your doctor.