The beauty of the UK's coastlines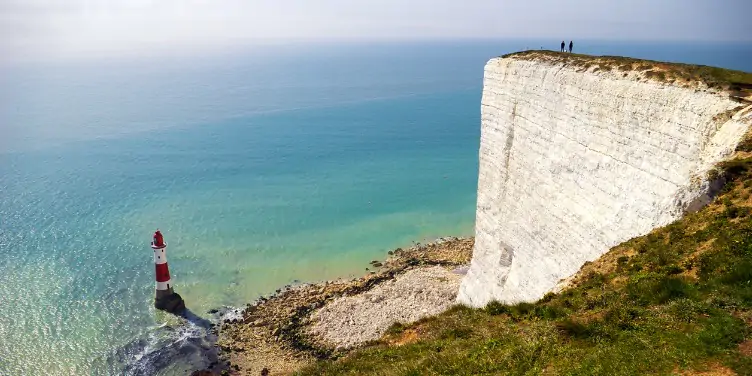 You don't need to travel far to find charming destinations in the UK. The UK coastline boasts a diverse range of places of interest, whether you're looking for natural beauty or the seaside way of life.
There are plenty of iconic locations to mention, so we've drafted a list of some of the bigger names and some hidden gems, too.
Keep reading to find out more about the amazing coastal spots right on your doorstep!
Merseyside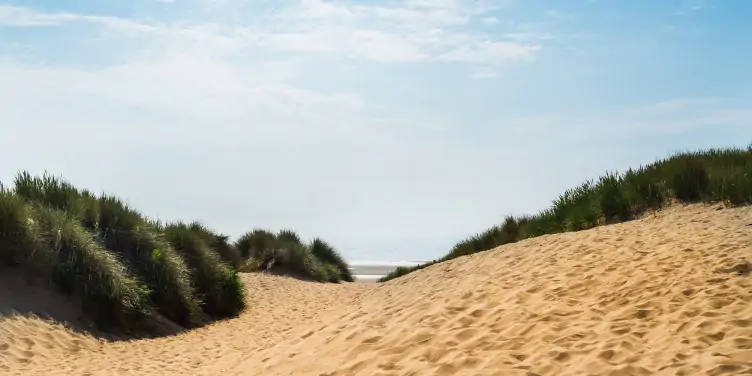 The coast in Merseyside is home to some excellent beaches. Generally, they're closer to towns and offer plenty of things to do in keeping with the quintessentially British holiday experience.
The pick of the bunch, other than Crosby with its Antony Gormley installation, has to be Formby. It's a little off the beaten track compared to most of the places on the Merseyside coast, but it has some of the best sand dunes in the country.
Framing the dramatic sand dunes is a wood, and both complement the wide, sandy beach by helping to create a unique habitat home to an emphatic array of rare wildlife. Formby is great for slowing things down, going for a long walk, taking in the scenery, and searching for new wildlife on a nature trail.
South Gower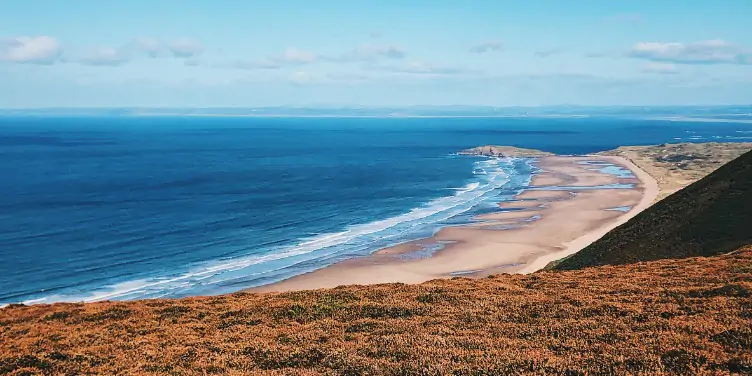 Home to many rare plants and birds, and sculpted by agriculture since the Stone Age, the South Gower coast is one of the gems of Wales. There are plenty of archaeological features dotted around to enrich the historically-inclined, and a catalogue of fantastic beaches for walking, holidays, picnics, and activities galore.
Once voted as the best beach in the UK and regularly lauded ever since, Rhossili is three miles of sandy beach and coastline that's regarded as the crown jewel of the South Gower coast.
Perfect for walkers and sightseers, its stunning sunset and large beach make it a must-go for a picturesque UK break. There's also a stunning shipwreck to discover at low tide and the famous Worms Head, which is a headland offering spectacular views but becoming a treacherous island as the tide comes in.
Suffolk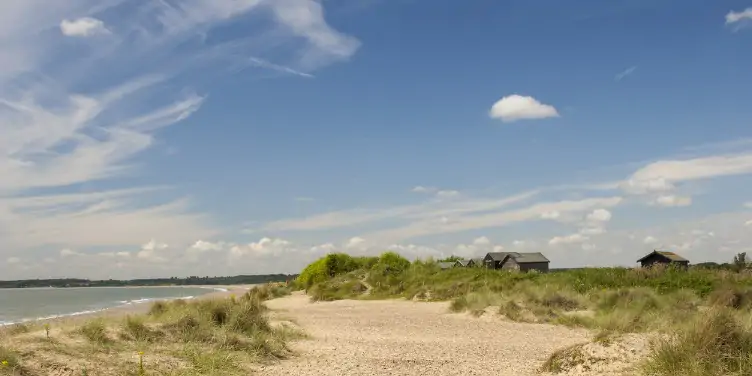 The Suffolk coast is a 50-mile Area of Outstanding National Beauty, and it's less than two hours from central London. There's an enviable variety of towns and villages to appreciate.
Walberswick, a Georgian crabbing village, stands out for a long sand and shingle beach that's paired with a 1,000-acre nature reserve, packed with a large selection of wildlife. This is a place that's been cherished by many famous names, including artist Philip Wilson Steer and architect Charles Rennie Mackintosh, for its natural beauty.
Isles of Scilly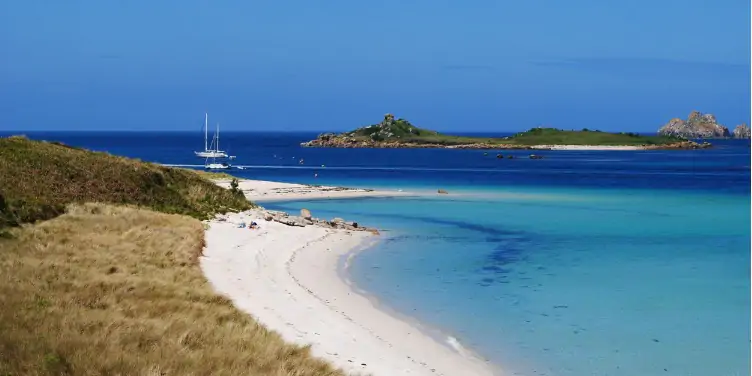 Made up of over 100 islands located around 30 miles from Land's End in Cornwall, the Isles of Scilly is 'England's enchanting archipelago', revered for its natural beauty and known for its balmy summers and sharp winters. Some of the islands are even left alone, unencumbered, where the wildlife is allowed to flourish.
Tresco, which is the second largest of the Scilly Isles and certainly not uninhabited, is known for its exclusivity and being privately-owned. There are cafés, an art gallery, and a spa all to enjoy. The world-renowned Abbey Garden is also home to over 20,000 subtropical plant species to discover.
The beaches of Tresco are peaceful, ideal for taking in your surroundings and enjoying the water as it warms in the summer, and also play host to a selection of historic forts from the English Civil War.
Northumberland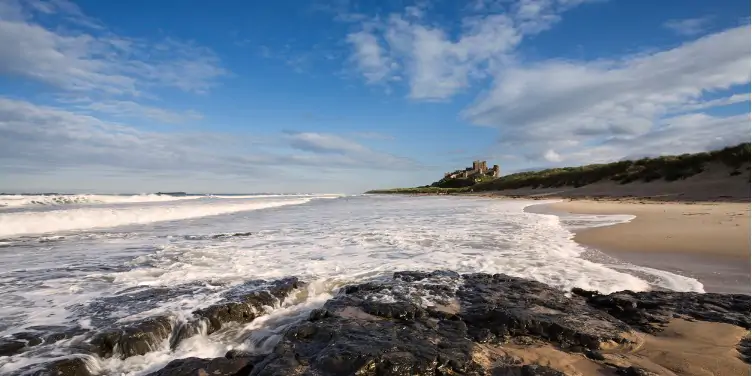 The Northumberland coast is 30 miles of piers, penny arcades, and every other British seaside tradition you could think of. On top of that, the county actually has the highest concentration of castles in the UK, so it's ideal for learning more about local history.
Speaking of castles, Bamburgh Castle might be the pick of the bunch – not just in Northumberland, but the entire UK. The sandy beach with sandy dunes is overlooked by the former Norman stronghold, which has stood untouched for over 1,400 years and remains one of the largest inhabited castles in the country.
The Highlands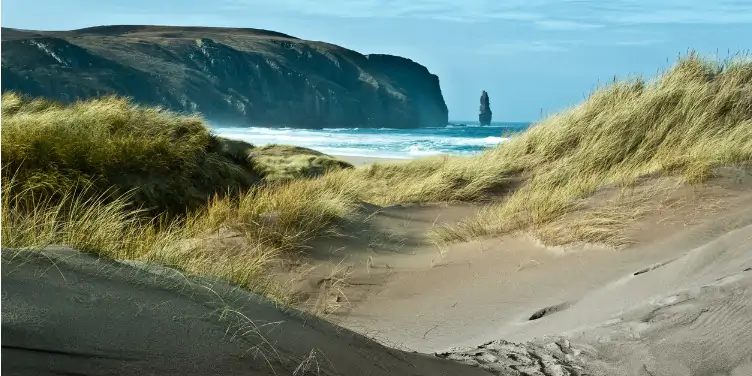 What comes to mind when you think about Scotland? Unlimited skies, untouched landscapes, castles, mountains, and lochs – well, that's what The Highlands epitomises. In the shadow of Ben Nevis, Britain's highest peak, is Britain's largest national park where you can find out what Scotland is all about.
Sandwood Bay is a wild and rugged bay that faces out directly into the fierce embrace of the North Atlantic. Huge sand dunes, a loch brimmed with brown trout, and one and a half miles of pink sand tell you the story of this remote wonderland.
There's no direct road access, and it takes a four-mile walk to get to the beach, but with the rocky cliffs and the giant sea stack, it's worth it if you can manage.
Causeway Coast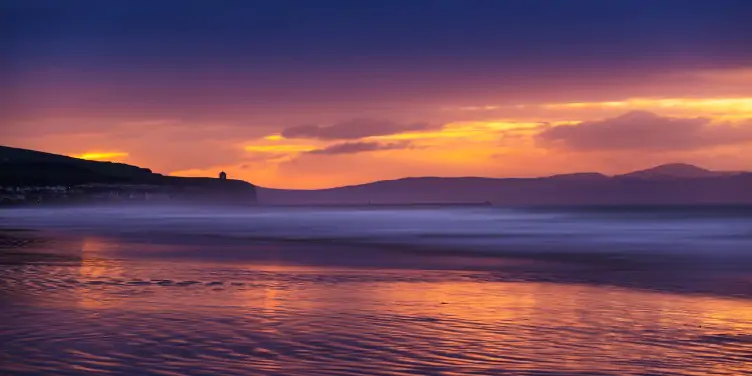 The Causeway Coastal Route is a 154-mile stretch of road that hugs the Atlantic coast between Belfast and Derry-Londonderry. You can meander along on the drive, enjoying the diverse scenery of sandy beaches, fishing villages, valleys, and cliffs along the way – just make sure to absorb yourself in the local culture as much as possible. Every landmark has a story, and some of them stretch into local myth and legend.
Whichever end you start and finish, make sure to make a stop at Portstewart Strand in Derry-Londonderry. It's two miles of golden sand, nurtured by the National Trust, and one of Northern Ireland's finest beaches.
It's a Blue Flag beach, marked as an Area of Special Scientific Interest because of the precious habitat of its nature conservation site, and there are opportunities for walks and picnics, and you can even see a stunning view of Mussenden Temple on a clear day. What's not to love?
Dorset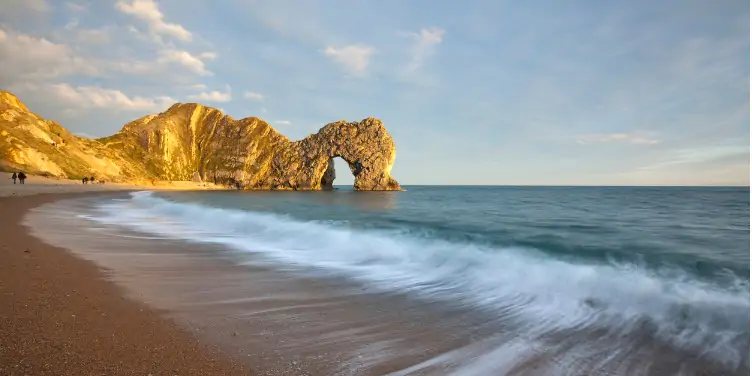 Dorset, otherwise known as Hardy Country, boasts bracing winds, crumbling cliffs, and fossil-filled beaches, to name a few of its draw factors. The famous Jurassic Coast has been a UNESCO World Heritage Site since 2001, and its multitude of fossils and rock formations spans 185 million years of the planet's history.
Lulworth Cove is just one of a number of the Jurassic Coast's attractions. It's home to some of the most unique geological features around, including Durdle Door and Stair Hole, which give a fascinating insight into how the sea shapes the coast.
Whether you prefer walking or just relaxing with an ice cream, the pebble beach and clear blue water of Lulworth Cove is right for you.
If you enjoyed these amazing coastal locations, take a look at our top 50 most beautiful places in the UK.