Top 10 most popular Spanish resorts
Get ready to unroll those beach towels and slap on that sun cream as we take a look at the 10 most popular Spanish resorts – according to you!
Spain boasts more than 5,000 miles of glorious coastline, year-round sunshine and bath water warm seas – so it's no wonder that the country's beaches are so popular with holidaymakers.
So in our latest survey we asked you which Spanish coastal towns you liked the most – and the results are in! From the sizzling Costa del Sol to the balmy Costa Brava, we take a tour of 10 perfect playas in sunny Spain.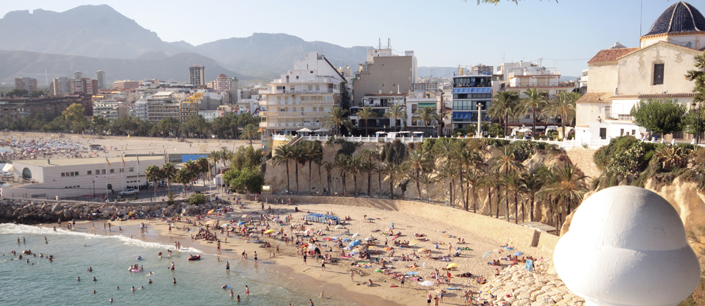 1. Benidorm, Costa Blanca
At number one in our survey is the ever popular resort of Benalmádena, Europe's biggest holiday resort with over five million tourists arriving every year. The town is famous for its two outstanding beaches, Poniente and Levante, both of which have spectacular promenades and marinas. The old town is also worth wandering around to experience its hustle and bustle – and you should head to the plazas of Santa Ana, Castelar and Castell for some dreamy views of the beaches and skyline. Moreover, there is a wide variety of restaurants and bars to explore.
Getting to Benidorm: 36 miles from Alicante Airport

2. Benalmádena, Costa del Sol
Hot on the heels of Benidorm is sun-drenched Benalmádena. Highlights include some 12 miles of coastline, 15 beaches, two golf courses and the largest concentration of amusement parks in the province. What's more, its old town Benalmádena Pueblo is filled with narrow streets, sugar cube style houses and quaint squares so picturesque you'll want to move here. The town's super-yacht filled marina has also been voted the best in the world several times. While a cable car from the coast up to the mountains is an exhilarating trip for the thrill seekers amongst us!
Getting to Benalmádena: 10 miles from Málaga Airport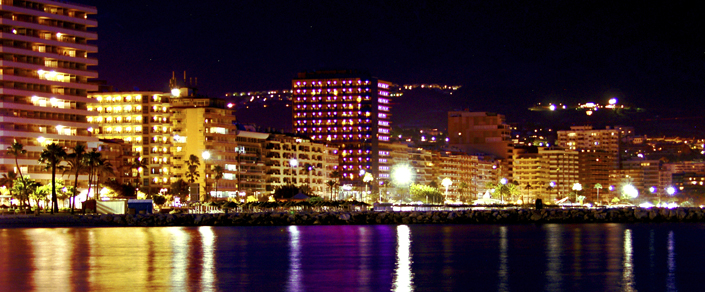 3. Fuengirola, Costa del Sol
Just next door to Benalmádena lies your third favourite Spanish resort – Fuengirola. A former sleepy fishing village, Fuengirola now offers up-market tapas bars, chic boutique shops and a wide selection of restaurants. Sun worshippers can top up their tans on 5 miles of beaches or stroll down the length of the town via the newly renovated promenade. It's also got one of the best micro climates in Spain, thanks to its privileged position in the foothills of the Sierra de Mijas mountains.
Getting to Fuengirola: 10 miles from Málaga Airport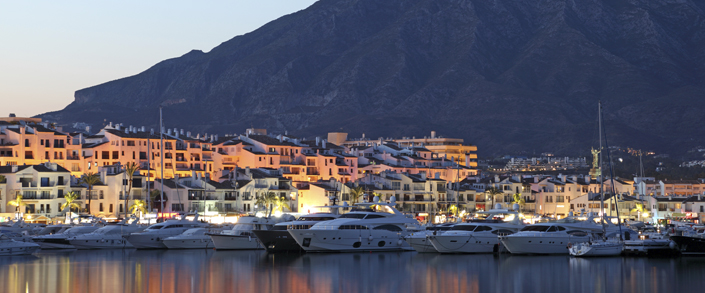 4. Marbella, Costa del Sol
Marbella is a glamorous town that has got it all; an enviable climate, stunning beaches, enchanting parks and a promenade that is the envy of the Costa del Sol. At one end is the glamorous marina of Puerto Banús, filled with floating gin palaces, eye-wateringly expensive cars, waterside restaurants and trendy bars – plus the odd celebrity or two. While in the historic centre you can explore Marbella's Old Town, a former Muslim village. Filled with traditional tapas bars, an orange tree lined central square and bordered by the remains of a castle that dates from the Moorish occupation of Spain – many fall in love with Marbella at first sight.
Getting to Marbella: 33 miles from Málaga Airport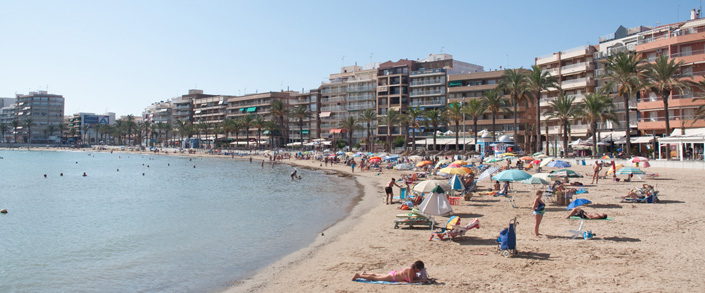 5. Torrevieja, Costa Blanca
Named after its ancient guard tower, Torrevieja reels in the tourists with its fine sandy beaches and crystal clear waters – which have all been awarded the European Blue Flag for clean seas! However, unlike Benidorm you'll find no high rise skyscrapers or package holiday hotels in town. Torrevieja is known as the "Beach of Madrid", thanks to the large number of Madrileños on holiday here during the summer – something that helps it retain a Spanish feel despite the many tourists. One of the best things to do is take a relaxing walk along the promenade to the fishing port as the sun goes down.
Getting to Torrevieja: 28 miles from Alicante Airport

6. Mijas Costa
It's no surprise that Mijas is in the top 10, as it's home to one of the most famous traditional white villages in Spain. Peppered with white-washed houses that cling precariously to the hillside – you can even take a ride on a donkey taxi! Just 20 minutes away lies the cosmopolitan and modern resort of Mijas Costa, with over 7 miles of alluring, sandy beaches. Make sure you try the local speciality; deep-fried fish at a beach bar. Or if you're feeling up to it, you can go sailing, diving or windsurfing in the Blue Flag bays. And for those with a penchant for putting, Mijas has 12 world-class golf courses.
Getting to Mijas Costa: 17 miles from Málaga Airport

7. Alicante, Costa Blanca
Alicante is a beautiful harbour city that is watched over by a 12th century Muslim Castle. The coastline is of course, the main draw for tourists and offers fine sandy beaches, clear waters and tranquil coves – meaning sun worshippers and water sports enthusiasts alike are well catered for. In addition, Alicante boasts a charming old town at the foot of the castle; featuring a network of narrow streets and alleyways that are filled with a mouth-watering selection of tapas bars and restaurants. The lively, tree-lined Explanada de Espana promenade also makes for an enjoyable evening stroll, as does Alicante Marina, where you'll find a shopping centre, restaurants and cafes where you can people-watch with a café con leche.
Getting to Alicante: 7 miles from Alicante Airport

8. Barcelona, Costa Brava
The draw of Barcelona is that it's a capital city with miles of beaches too – so if you get bored of topping up your tan, there's plenty more to keep you occupied. From the impressive La Sagrada Familia Cathedral and Park Guell, to the Gothic Quarter and Las Ramblas, you'll need several trips to see everything Barcelona has to offer. Although it's Spain's second biggest city, one of the most enjoyable ways to explore is on foot – while sampling the gastronomic delights, impressive buildings and tranquil parks.
Getting to Barcelona: 11 miles from Barcelona El Prat Airport
9. Tossa de Mar, Costa Brava
Nestled halfway between Barcelona and the French border, this ancient fishing village is now a pretty town that's built around a magnificent castle. Although these days the only people invading the castle are tourists who are eager to soak up the impressive views from the highest point in town! A must see in Tossa de Mar is the walled-in Old Town, which is the only fortified medieval old town still standing on the Catalan coast. Here you will discover a labyrinth of medieval alleys and cobblestoned streets that are filled with restaurants, shops and homes. Sun-seekers can unroll their towels on three main beaches; all well-serviced by lifeguards, restaurants, kiosks and sun beds.
Getting to Tossa de Mar: 25 miles to Girona Airport

10. Lloret de Mar, Costa Brava
Last but not least, Lloret de Mar is said to be one of the best places for water sports on the Costa Brava – with kayaking especially popular thanks to its calm seas. Beaches are well kept and several boast the Blue Flag award. Points of interest include the Maritime Museum, the ruins of the Castle of Saint Joan and the quaint promenade on the main beach. Lloret de Mar is also home to Europe's biggest waterpark – Water World. Popular with Europeans for several decades, the town has an extensive range of facilities to keep visitors of all ages entertained.
Getting to Lloret de Mar: 35 miles from Girona Airport
We hope that one of these sizzling resorts has caught your eye. And we'd love to know if you agree with the top 10. Do you know of any other Spanish beach resorts that you think are better? Then let us know on our Facebook page – we'd love to hear from you!
Looking for Travel Insurance?
The single most important factor when travelling anywhere is to buy an insurance policy. Talk to our holiday insurance specialists on 0800 033 4902 or visit us online for a quote.
All travel insurance provided by Staysure is subject to agreement from our underwriter. Terms and conditions apply, details of which can be found within the Policy Document.