Discover Dublin's arts and sporting festivals
Ireland's capital city of Dublin is alive with festivals and cultural events. Two of the biggest annual festivals are St Patrick's Day and Pride, but there are many sporting and arts festivals to enjoy while you're there too. Here's our pick of the best:
Arts festivals in Dublin
The Dublin International Film Festival (March)
Celebrating its 15th anniversary in 2017, the Dublin International Film Festival screens a choice of over 100 films over a period of 11 nights. As you might expect, an integral part of the festival is the celebration of Irish film talent, but films from all over the world are shown. You may well have the opportunity to meet the talent behind the works when screenwriters, actors and directors take part in Q&A sessions, or catch a glimpse of a megastar or two on Dublin's red carpet – Daniel Day Lewis, Al Pacino and Glenn Close have all attended.
Bloomsday Festival (June)
Named after Leopold Bloom, the main character of James Joyce's Ulysses, this festival takes place around 16 June, as depicted in the 1904 novel. The festival follows the thoughts and actions of the characters with its performances, readings and visits to settings from the book. Traditions include dressing up in the iconic boater hat and indulging in 'Bloomsday Breakfast' of liver and kidneys as eaten by Leopold Bloom in the novel. Whether you're familiar with the novel or not, this is a fun-packed, unique day, celebrating one of Ireland's favourite literary sons.
The Dublin Fringe Festival (September)
Dublin Fringe Festival is a curated arts festival which promotes emerging Irish and international artists by showcasing some of their most creative cabaret, live music, comedy and circus performances. 2016 was a bumper year for the festival with its sixteen-day programme of events performed in front of a record-breaking 35,000 capacity audience. The biggest venue was the Spiegeltent, a perennial crowd-pleaser on Merrion Square, which hosted the exhilarating play, RIOT, attracting an audience of 11,000.
The Dublin Theatre Festival (September and October)
This old favourite has been running since 1957. For 18 days, audiences and theatre-makers come together at various venues across the city to celebrate the best of Irish and world theatre. Performances are just as varied as the venues and may be traditional or innovative, created by established directors or world-class emerging new talent, both Irish and international. Shows are a combination of dance, music and classical drama, while there are also development programmes, artist talks and public discussions to take part in.
The Dublin Book Festival (November)
The Dublin Book Festival is one of Ireland's most successful book festivals and has run since June 2006. Each year the festival showcases and develops Irish publishing by publicising authors, editors and contributors while there's plenty of opportunity to peruse and buy Irish books, all within an entertaining, festive and friendly environment that reflects the creativity and personality of the Irish publishing sector and its contributors.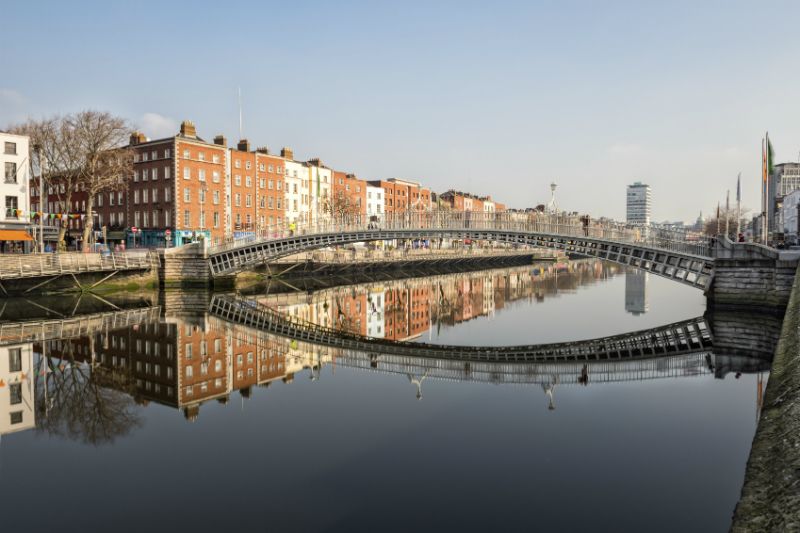 Dublin's sporting events
Six Nations Rugby (February)
One of the world's greatest rugby competitions takes place each year between England, Ireland, Scotland, Wales, France and Italy and is one of the biggest events on the Irish sporting calendar. The big match atmosphere takes hold of much of the city, even when Ireland is not playing at home. Match days are considered to be so important that fans have been known to travel to Dublin just to watch the game in a pub!
Dublin Horse Show (August)
First held in 1864, this horse show is one of Dublin's biggest sporting highlights. High-profile visitors and competitors from all over the world flock to the city for this five-day show-jumping event. The prestigious Nation's Cup is awarded to international teams who compete to win this trophy, originally given by the Aga Khan in 1926.
Apart from the horse shows, there's plenty of other entertainment: dancing, juggling, magic, music and, if you're lucky, you could catch the strolling barbershop quartet who perform at various locations in the afternoons.
The Liffey Swim (September)
The Swim is a fun, citywide event that sees onlookers and participants embracing the spirit of the day. Established in 1920 as a demonstration that the river was safe, the Liffey Swim now attracts hundreds of swimmers wishing to take on the 1.5 mile open water swim.
All swimmers are members of swimming clubs and compete for a men's and women's trophy. The race starts at Rory O'More Bridge and finishes to the cheers of the crowds at Loopline Bridge, next to the Customs House. Spectators get involved, leaning over the bridges, running alongside and cheering on their favourites.
Dublin City Marathon (October)
Established in 1980, the Dublin City Marathon attracts thousands of runners and their supporters.
The 26 mile race starts at 9am on O'Connell Street, and winds its way through the streets and suburbs before finishing on the main route through the city. With world-class athletes and fundraisers in fun costumes, and everyday men and women pushing themselves to the limits, the Dublin City Marathon is an exciting demonstration of endurance and fitness.
If you don't actually take part, there's plenty of party atmosphere – indulge in a pint of Guinness and watch the action from the side-lines.
These events are a mere snapshot of arts and sports festivals to be enjoyed in Ireland's capital city; there is, of course, far more to discover. TimeOut gives comprehensive listings and information about festivals and important dates throughout the year to look out for. If you're after a memorable holiday in Dublin, you may well find something to match your passion and interests.