Whether you've been waiting for this day for years, months or just a few weeks, your wedding should be one of the most romantic and memorable days of your life. And what better place to tie the knot than on the dreamy island of Santorini?
Awaiting you are exquisite beaches plus your choice of romantic hideaways, from luxury hotels to smaller boutique guest houses. Add to this, typical Greek chapels, blue and white villages and epic sea views over the island's unique volcanic terrain and you'll be in for the wedding of your dreams.
Unsurprisingly, many couples look to say "I do" in Santorini. So much so that if you make an online search for "Santorini weddings", you'll find quite a choice of locally based wedding planners offering professional services for couples getting married in Santorini.
If the idea of a Santorini wedding is new to you, you are likely to have several practical questions that need answering. To get you started, here are the answers to some essential questions.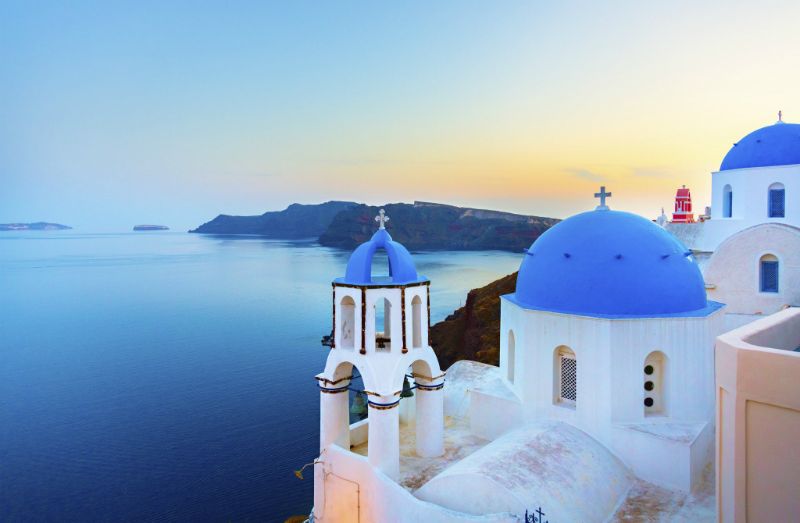 What type of wedding can I have in Santorini?
You can choose between:
Civil weddings – Wedding ceremonies can be held almost anywhere you choose. If you're not yet sure where that special place should be, your local wedding planner is likely to have plenty of romantic ideas.
Greece is still not able to offer same sex marriage; however, if you want to exchange vows or hold a commitment ceremony with the one you love, you can do so, often with the help of a Santorini wedding planner.
Catholic weddings – Catholic ceremonies can be held at any Catholic church of your choice.
Greek Orthodox weddings – Choose from churches or chapels to cathedrals. You can get married in an Orthodox ceremony at any available Orthodox church you wish.
Jewish weddings – A rabbi is available in Santorini to conduct Jewish wedding ceremonies which include huppah, breaking of the glass and ketubah.
Ethnic weddings – Choose from a number of wonderful settings. Hindu or any other faiths can celebrate marriage in Greece. Your local wedding co-ordinator is there to help.
Blessings/renewals of vows – Santorini is widely considered to be the destination for romance, so the island can be ideal for renewing or making new wedding vows to strengthen your love and devotion.
Due to the fact that people from all over the world are getting married in Santorini, civil weddings can be bilingual, in Greek and English. Whenever necessary, interpreters can be booked for other languages, as well as sign language.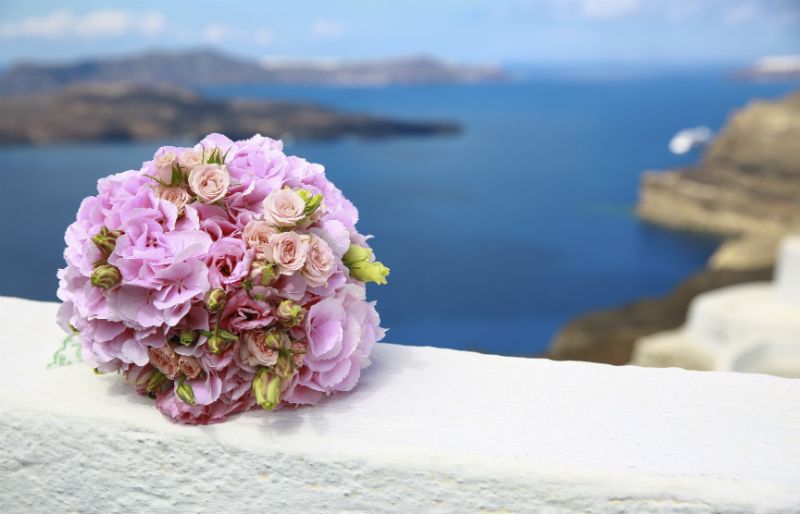 What do local wedding planners do to help with the arrangements?
You may have your own special version of how you would like to celebrate your big day and a good wedding planner will go all out to facilitate this as much as practically possible. On-site planners are well-experienced in the local ways and will normally:
Clarify legal requirements and arrangements – you will need to bring certain documents with you from your home country
Book the church or other wedding venue
Recommend locations
Provide live internet video footage for your friends and family back home
Help with ordering and arranging flowers and decorations
Arrange catering and your reception
Provide the cake of your choice
Arrange live music and/or professional dancers and fireworks
Book a professional photographer and/or videographer
Book you in for hairdressing and beauty care
Make accommodation arrangements for you and your guests
Arrange transportation to and from your accommodation and on your big day to the church (by car or you could even consider arriving on the back of a donkey)
Book you on excursions and tours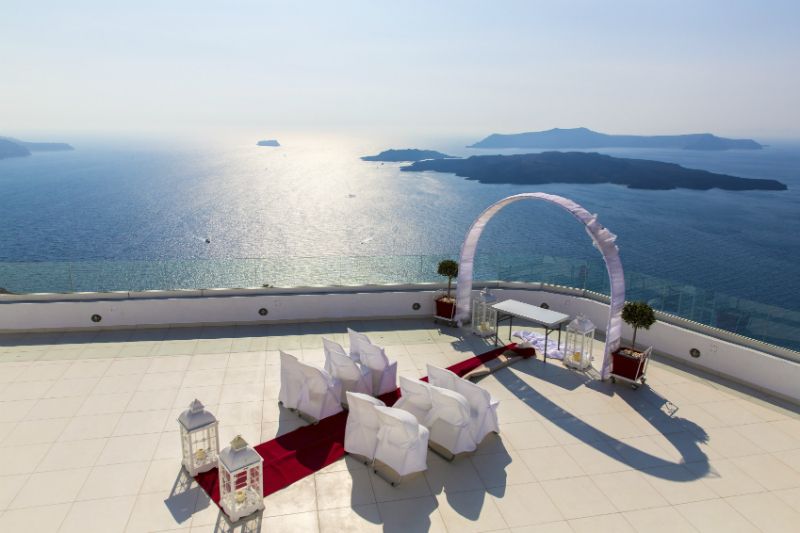 What locations can I choose?
Many places on Santorini are geared up to making sure you enjoy your big day. Nowhere is set in stone when it comes to ceremonies and celebrations; however, here are some ideas you may wish to consider.
Restaurants and hotels with sprawling patios and beachside tavernas can make perfect venues for Santorini weddings, as well as being convenient for wedding meals and receptions.
For a smaller, more unusual or intimate celebration, you might like to have your wedding and reception at one of the small hotels which sit along the rim of the caldera. Here, you can marry on one of the several terraces or inside a vaulted cave with the sunset, the volcano, the Aegean and the surrounding islands as a stunning backdrop.
You may prefer to tie the knot at a remote location, away from the confines of a building. Volcanic beaches, vineyards, or even boats can provide the ideal setting if you want to put your own, special signature on the ceremony.