Top 10 car insurance myths debunked
Getting car insurance can sometimes mean seeing your way through a minefield of misunderstandings. Our myth-busting list is designed to help you buy the right policy and avoid any disappointments should you need to make a claim:
1. You should inflate the value of your car
If you have to make a claim for the total loss of your vehicle, bear in mind your insurer will only pay out its market value, in accordance with an independent guide such as Glass's or Parkers, taking into account its age, mileage and condition. There is no point in over-inflating the value of your car when you take out or renew your policy as you will simply be paying a higher premium for nothing. When you renew each year, make sure you re-value your car to ensure you are paying the right price for your insurance.
2. Comparing prices is best
Price comparison websites are not always the way to get the best deals. Speaking to insurance brokers such as Staysure means we can work hard for you to ensure you get the policy that suits you.
3. Fully comprehensive means you can always drive any car
Having fully comprehensive insurance doesn't necessarily mean you can drive other people's cars. You may often have cover on a third party basis, but policies vary so it is important to check the details of your cover first, before taking to the wheel of someone else's car.
4. You don't lose your no claims bonus if it's not your fault
You don't need to be found at fault to lose your no claims discount. If, for example, someone damages your car and runs off without giving you their insurance details, you will lose your no claims bonus if you claim, as the insurers will have to recoup their costs from your policy, even if it was not your fault – that is, unless you have paid extra to protect it.
5. You only pay excess if it's your fault
Just like the above, it's a common misconception that you will not have to pay an excess if an accident is not your fault or the car is stolen. Unfortunately this is not always the case as you need to pay the first part (equal to the excess you agreed to pay when took out your policy) of any claim you make.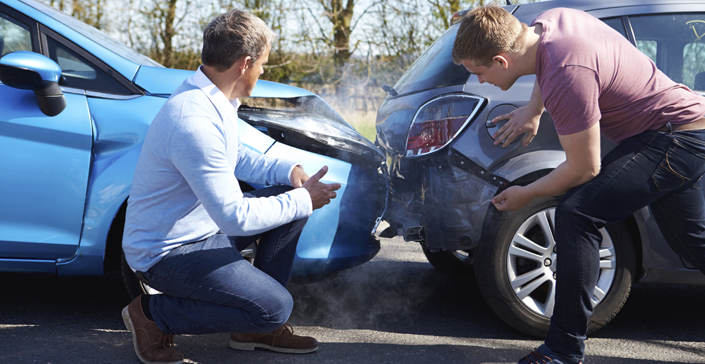 6. Third party, fire and theft cover is cheapest
Although traditionally the most economical option, gone are the days when third party was by far the cheapest way to insure. You may be surprised to find that these days a comprehensive policy may cost you the same or less than third party insurance. When calculating the risk you pose to the underwriters, your claims history and how careful a driver you have been over the past years are most important.
7. Fronting saves you money
Fronting is well-known to insurance companies and is a means to reduce your premium by adding yourself as a named driver on a family member's policy who has a cleaner driving history than you. Although you avoid a higher premium, your policy will be invalid and you will not be covered for any of the costs if you need to make a claim.
8. Cancelling your policy means a full refund
If you sell your car or no longer require the insurance you took out, don't expect a full refund. Like most financial products, you will lose the cover's set up costs and cancellation fees. The rest is up to the insurers to decide and often depends on how long you have had your policy.
9. Items stolen from your vehicle are covered
The rule of thumb is not to leave expensive items such as mobile phones, laptops, tablets, or satnav devices in your car. Not all car insurance policies cover you for stolen items from your car and if they do you may find the value limits are low. You may also find your home insurance covers these items if you have purchased the relevant extra cover.
10. A smashed windscreen loses your no claims bonus
If you have to claim for windscreen cover, it doesn't automatically mean you will lose some or all of your unprotected no claims bonus. The no claims will, in fact, remain intact but you may have to pay an excess, so check your policy document for details.