Elegant Ljubljana offers up rich history and a myriad of architectural styles, along with bountiful bars and a young population that give the city its non-stop energy. Now part of the EU and of Slovenia, this compact capital remains gloriously graceful.
Ljubljana has had a speckled past, which includes its break with Communism and Yugoslavia in 1991, as well as previous invasions from Romans, Huns, Slavs and Austrians. Today it's a peaceful place, heavily influenced by the Hungarians, Italians and Austrians – devouring an Italian-style ice cream is as much part of Ljubljana life as enjoying a hearty Hungarian goulash.
One of the best ways to discover Ljubljana is simply by wandering along its winding river front and through the twirling cobbled streets of the quaint Old Town. It's here that locals come to sip beers on relaxed, shaded terraces during the long summer evenings.
To help you plan your trip, here's our pick of top Ljubljana sights you shouldn't miss:
Narodni Muzej Slovenije (National Museum of Slovenia)
A grand setting for a museum, this neo-Renaissance palace is home to a gallery that recounts the stories of Slovenia. Of special interest are the archaeological relics from Ljubljana's Roman past, such as several colourful mosaics and a flute from the Bronze Age. The mummy also on show is reputed to be the only one in Slovenia.
Metelkova and the Museum of Modern Art
This former army barracks is now a cultural centre and a unique area shrouded in graffiti and unusual sculptures. Just about anything goes here from cool club nights and film screenings to exhibitions by young, adventurous artists. Metelkova is also home to the Museum of Modern Art, one of Slovenia's finest galleries, which displays in excess of 1,300 paintings and 500 sculptures covering mainly 20th-century modernist art from Eastern Europe.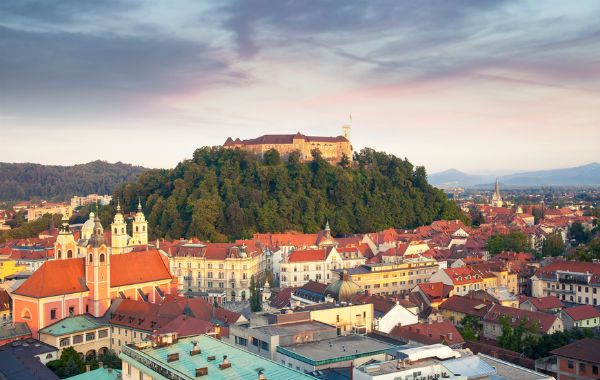 Ljubljana Castle
Perched majestically above the city, Ljubljana Castle is a landmark which has steadfastly withstood earthquakes, fires, invasions and explosions. It's also been a military warehouse a prison and a royal residence. Today it's a magnificent cultural centre hosting regular events such as concerts, fashion shows and exhibitions. It also offers an informative, hi-tech audio-visual show depicting the city's history. To get there, you can jump on the tourist train from Prešernov Trg or the funicular from Krekov Trg. Alternatively, climb for 20 minutes along the path and take in the fantastic views along the way.
Mednarodni grafcni likovni centre (International Centre of Graphic Art)
If graphic art is more your thing, this collection of art is the largest Slovenian collection of its kind, holding over 10,000 magnificent modernist prints and art pieces, all of which have been created since World War II. For a novel way to enter a museum, walk along the pretty garden path towards the entrance and take in the photo exhibition before you start.
Prešernov Trg (Prešeren Square)
When discovering the Old Town, you'll come across the delightful Prešeren Square which marks the general area between the city centre and the Old Town. During summer, you might catch a concert or festivity taking place on the cobbled square, watched over by the statue of famous Slovenian poet, France Prešeren. The statue faces a sculpture of his unrequited love interest, Julija Primic, who looks out from a building on Wolfova ulica.
Mestni Muzej Ljubljana (City Museum Ljubljana)
This impressive museum sits within the elegant Auersperg Palace and boasts several displays, workshops and classes for adults and children. There's also a congress hall and a relaxed café. The permanent collections give a good overview of how the city has developed, including information on the Auersperg family and Ljubljana's citizens over the years. Don't miss the Roman remnants of Ljubljana in the basement.
Ljubljanica River
The lovely Ljubljanica River is the centrepiece for the city and it has been beautified by national architect Jože Plečnik who crafted an elegant trio of bridges: Triple Bridge, Trnovo Bridge and Cobblers' Bridge. The riverside walkways are shaded by weeping willows making for a romantic spot for couples to carry on with the tradition of attaching padlocks to Butchers' Bridge, before symbolically dropping the keys into the river to lock in their love forever.
For a view of Ljubljana from the river, boat tours leave opposite Prešernov Trg on the Old Town side of the river.