Alternatives to Flying: Ferry vs. Train Travel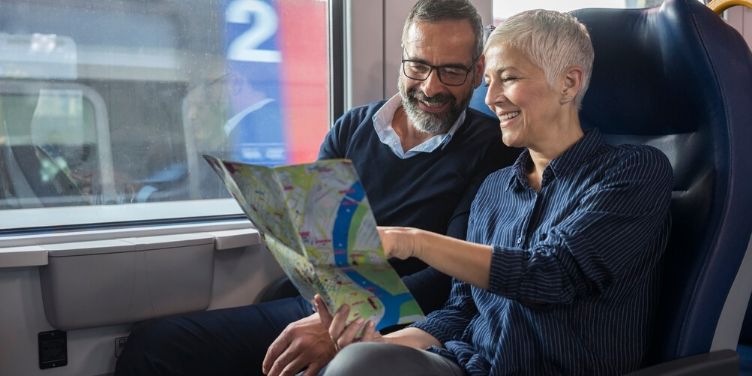 Aversion to airports? Fear of flying? Or perhaps you're thinking about protecting the planet. Whatever the reason, more and more travellers are moving away from plane travel in favour of ferries and trains.
Of course, there are times when only an aircraft will do. Few of us have the time or money to take a slow boat to South America or an overland rail route to India. But if you're travelling to Europe and fancy a change from flying, what should you think about before you book?
Travel by ferry
The big advantage of ferry travel is also the main disadvantage. If you are crossing the Channel to the Continent, you are almost certainly taking your car. So, if you don't fancy driving abroad, scroll down now and read about rail travel. But taking your own vehicle has so much going for it.
There are no luggage restrictions, so whether you are golfing, hiking or biking, you can pack all your activity gear. You can even take the family dog along too!
The shortest crossings on the Eastern Channel routes are from Dover to Calais with P&O ferries, or DFDS, or with DFDS to Dunkirk. Alternatively, DFDS also operate between Newhaven and Dieppe.
Heading to Normandy, Brittany or the Atlantic coast? Then a cruise ferry crossing with Brittany Ferries from Portsmouth, Plymouth or Poole will take you directly to the Western Channel ports of Le Havre, Caen-Ouistreham or Cherbourg in Normandy, or Saint-Malo and Roscoff in Brittany.
Brittany Ferries also operate to Bilbao, and Santander in northern Spain, perfect for travellers to south-west France as well as Spain. Some of their longer crossings even offer pet-friendly cabins or comfortable kennels.
Live in the north? Then P&O can take you to Rotterdam or Zeebrugge from Hull, or head west from Liverpool to Dublin or from Cairnryan in Scotland to Larne in Northern Ireland. DFDS meanwhile operate between Newcastle and Amsterdam.
Green ferries
If you like the idea of reducing your carbon footprint, watch out for Brittany Ferries' new ship, Honfleur which launches in spring 2020.
Serving their most popular route from Portsmouth to Caen-Ouistreham Honfleur will be the greenest vessel regularly operating on the English Channel, powered by LNG and carrying up to 1,680 passengers. With 261 cabins, it will also boast two cinemas, several restaurants and lounges, plus boutique shopping facilities!
Travel by train
Ships not your thing, but still want the freedom of the road? Then take your own car with the channel tunnel. Simply drive onto the train at Folkestone and 35 minutes later, you're rolling off in Calais.
Or leave the car at home and watch Europe drift past the train window, starting from London St. Pancras with Eurostar.
On top of the original high-speed rail services to Lille, Paris and Brussels, passengers can now travel direct to Amsterdam, Lyon, Avignon and Marseille. But be warned, the return journeys aren't quite so seamless just yet. At the moment, passengers returning from Amsterdam must travel by local train to Brussels where they go through immigration and customs before boarding Eurostar. But direct return services will run from Amsterdam to London from 30 April 2020. Passengers returning from the south of France must disembark in Lille with their luggage for customs checks before returning to their seat.
It's easy to connect to the European rail network from any Continental Eurostar station and Railbookers can tailor-make your independent rail holiday throughout Europe and beyond, as well as providing packages to popular destinations. Or, if you prefer, you can take an escorted group holiday with Great Rail Journeys or Rail Discoveries.
Escorted or independent, my big tip is to travel light as you need to get your luggage on and off trains yourself. So, a small wheelie bag and a holdall are better than one big case. I'd also recommend a cross-body bag for tickets, money and passport, to leave both hands free. Then just sit back and watch the world pass by the window. Bliss!