A road trip to Nordkapp – the most northern point in Europe
Ice bars, midnight sunshine and swimming in the Arctic Circle – those were just some of the adventures awaiting Mick and Sharon Byrne on their epic 9,000 mile road trip across Europe.
It's fair to say that retirees Mick and Sharon Byrne are an adventurous couple. After selling their tea and coffee wholesale business in Cornwall a decade ago, the daring duo have spent their time exploring far-flung destinations around the world. Their wanderlust has seen them sail across the Atlantic twice, island hop around the Caribbean by boat and go backpacking around Cuba.
Then four years ago, they decided to swap the open seas for the open road, and invested in an Autotrail Delaware motorhome. And from there you could say the road was the limit – as they embarked on countless road trips, visiting sun-drenched destinations such as Spain, Portugal and Morocco.
As for their latest asphalt adventure, the daring duo wanted to visit the most northern part of Europe – the Nordkapp in Norway – as it's been on their bucket list for years. During the course of their three month trip across Europe, they clocked up 9,000 miles while passing through France, Belgium, Holland, German, Sweden, Finland and Poland.
"It's something that we've always wanted to do because it's the most northern point of Europe. So we thought we would give it a whizz!" said Sharon, 57, who lives in Newquay, Cornwall.
One of the highlights of their holiday was the drive up through Sweden, which included a stop in the capital Stockholm.
Sharon told Staysure: "Stockholm is a beautiful city built on 14 islands, all linked by bridges. We ventured into the Ice Bar and had to put on thermal coats and gloves before entering, it was very busy. Everything was made of ice, including the glasses, walls, chairs, tables and the bar!
"Stockholm is a fascinating city and we plan to return again in the future."
While driving up through Sweden the duo also got to experience the magic of the midnight sun – as the sun never sets in the north of the country during the summer.
Sharon recalled: "It was amazing. Seeing the midnight sun is just out of this world. You can be sitting there at 1am and it's still daylight. Sometimes it's difficult to sleep when it's daylight for 24 hours a day. We had blackout blinds on the windows, but when they are up you feel like you are missing out on something."

As for Sweden as a whole, Sharon said it was one of the unexpected highlights of the trip.
She told Staysure: "We'd been planning to go to Sweden for years as it was on our bucket list, and it was better than we thought. We fell in love with the country and we spent more time there than we planned to, originally we just planned to drive through it."
Other highlights included enjoying smoked fish in the evenings and Mick having a swim while in the Arctic Circle on the way to the Swedish village of Jokkmokk. The Cornish couple also visited the official home of Santa Claus in Napapiiri, Sweden.
"We were parked right outside his front door at Santa Claus World. Christmas carols were being played all night long, which was very strange in July! So we took a few pictures and went on our merry way!"
In order to get to the geographical most northerly point of Europe, Knivskjeloden, (not the one where the tourists go), Sharon and Mick had to set off on an 18km round hike across open, rocky terrain.

Sharon said: "The first 2km were gentle, but as we approached 7km we could see the mist rolling down and although we could see the Nordkapp, it was slowly disappearing in the mist. When we arrived there was one other couple there. Luckily the mist cleared for a while and we took some photos and wrote our names in the logbook. We were the only English to have written in it this year."
However, the long walk back was "arduous" according to Sharon.
"It took us three hours to walk 9km and it was 9.30pm when we finally arrived back at the van. It was one of the most difficult walks we had done, but also one of the most satisfying. Within five minutes of being back in the van the weather closed right in and it rained quite heavily. We went to bed and slept for ten hours, a first on the trip."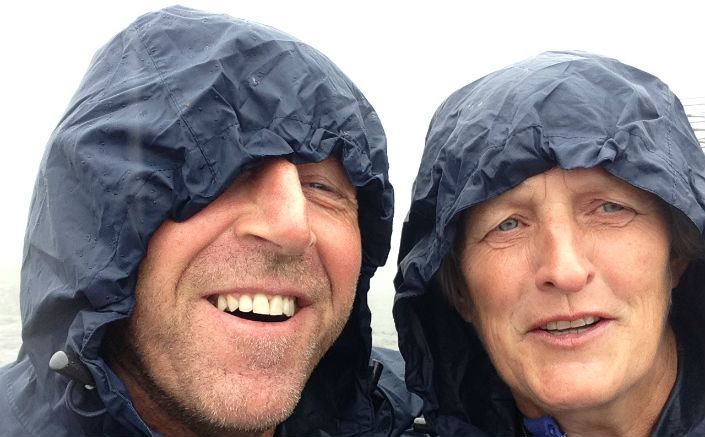 On the drive back the couple visited Germany, Holland, France and Poland.
Sharon commented: "The whole trip really was a brilliant experience. But Poland was a highlight too as we were not expecting to visit and ended up spending nine days there. We will definitely be returning."
Interestingly, the 12-week trip cost them a grand total of £5,500. The seasoned campervaners said in comparison with Morocco, it was about twice as expensive, but still good value for money – although they did take a lot of food with them.
"But it was well worth it for what we did, we did a lot for our money," added Sharon.
As for their future road trips, Mick and Sharon want to drive around Scotland for five weeks this summer and Canada and Australia next year.
And when asked about the importance of visiting their dream destinations, Sharon added: "Just do it while you can and while you are young enough. You only have one life so just live it. We know so many people that have died or have got ill before going on their dream holidays – you have to do these things while you can. We're hoping we'll still be doing this until we are 80. We met a couple in Morocco last winter who are 86 and 83 and are now on their 13th visit in their campervan and they absolutely love it. They don't look their age and it seems like travelling is keeping them young.
"And of course, the best thing about travelling in a campervan is that if you get fed up you move on and if you like it you stay."
As for why they chose Staysure, Sharon explained: "Staysure was recommended to us and we've used it ever since. And now we recommend Staysure to other people. It's amazing how many people we meet who don't have travel insurance and who just have the European Health Insurance Card. The problem is the card won't get you home, while travel insurance takes care of everything."
Share your story with us and win a Kindle Paperwhite
It's a great feeling to help our customers achieve their dreams and travel the world. However, it's even better to hear about the wonderful things our cover allows them to get up to whilst they're away!
A lot of our customers do amazing things on their holidays, just take a look at a few of the Real Lives stories we've already received. If you have a story about one of your trips that you'd like to share, we'd love to hear all about it and for every story we receive we'll enter you into a free prize draw to win a Kindle Paperwhite.
Terms and Conditions apply