Malta's year-round sunshine makes it perfect for beachgoers looking to soak up the Mediterranean sun. If it's a full suntan you are after, go from early spring when the weather heats up and serious sunbathers head for Malta's popular sandy bays, which are well equipped with sun beds and other amenities. If you're seeking a little more seclusion, this island offers several rockier spots too, where you can kick back and relax to the sound of the lapping sea or enjoy some of the best swimming and snorkelling in the Mediterranean.
To help you pick the right beaches, here's a glimpse of what's in store in Malta.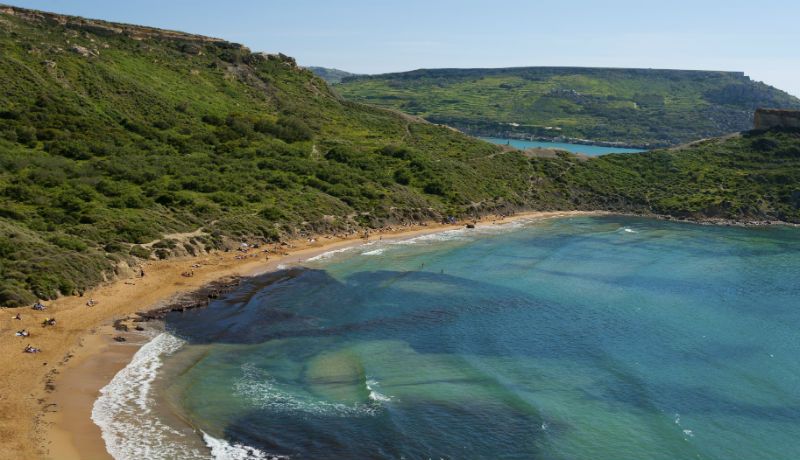 Sandy Beaches
Golden Bay
Golden Bay is a beautiful sandy beach and one of the most popular on the island. It's a favourite place for safe swimming and snorkelling, as well as for watching the sun set after a long day's sunbathing. Sit and gaze from the sands or, if you'd like a little more luxury, from the Radisson Golden Sands Hotel, which grandly dominates the cliff top and provides an excellent opportunity for fine dining.
Ghajn Tuffieha
This is Golden Bay's quieter neighbour. Unspoilt, relaxing Ghajn Tuffieha is sometimes known as Riviera and is accessed via a steep set of around 200 steps cutting through the orange clay slopes which roll ruggedly down to the sands. Once you get there with your beach gear in hand (the beach has basic facilities only), you'll probably be ready for a swim in the safe, shallow waters.
Gnejna Bay
This bay is much loved for its clear waters, remarkable clay slopes and limestone cliffs. It's a steep climb down, but ideal for swimmers and divers. Gnejna Bay boasts striking orange sands and is the third in the chain of popular beaches in northwest Malta. This is the smallest and least crowded option, often attracting the occasional nude bathers who tend to stay on the flat limestone rocks to the right side of the beach.
Paradise Bay
Many people consider this beach to be the best in Malta, mainly due to its unspoilt environment and clear waters. Set within a natural cove, more than justifying its name, it's a steep climb down to but well worth it. Paradise Bay offers beautiful sea views across to Malta's other islands, Gozo and Comino. The beach itself is quite small yet manages to maintain a relaxed atmosphere. Snorkelling is a favourite pastime here, partly due to the jellyfish nets, which have been placed across the bay to protect bathers.
Mellieha Bay
Mellieha Bay is the largest and most popular sandy beach in Malta. Also known as Ghadira Bay, you will find this beach just outside the town of Mellieha. Ankle deep waters which stretch for about 50 metres out to sea and easy access to the beach make it extremely family friendly. There are plenty of beach activities to choose too: try your hand at windsurfing, kite surfing, sea kayaking or water-skiing and there's even an off-shore platform for the children to play at in the sea. Mellieha Bay is large enough not to get over-crowded, except perhaps on weekends during summer. Composed of three bays separated by rocky sections, the last bay on the right hand side is the quietest.
St. Paul's Bay
Bordering the seaside town of St. Pauls, and once a humble fishing village, it's now a town with around 14,000 inhabitants. St. Paul's beach covers an impressive 14.5 square kilometres, so you shouldn't find it too hard to find a space to lay down your towel. This beach is popular with residents and tourists alike. The beach promenade provides a long but easy walk from St Paul's Bay all the way to Qawra, where you can stroll along and watch the magnificent, open sea views.
Pretty Bay
One of the few sandy beaches in the south, this bay is particularly popular with the locals during the summer. Located in Birzebbuga, the beach is composed of a large, man-made stretch of sand. You will find plenty of cafes, bars and restaurants as well as a beach promenade along the shoreline of Pretty Bay and if you'd like to mix with the locals, this is the place to come. Many Maltese people have summer houses here and move to the area for summer.
St. George's Bay
This sandy beach stretches off the St. Julian's coast on the east of the island. Its main advantage is its close proximity to many hotels and restaurants as well as Pacevillle, the nightlife centre of Malta, making it popular with visitors both day and night.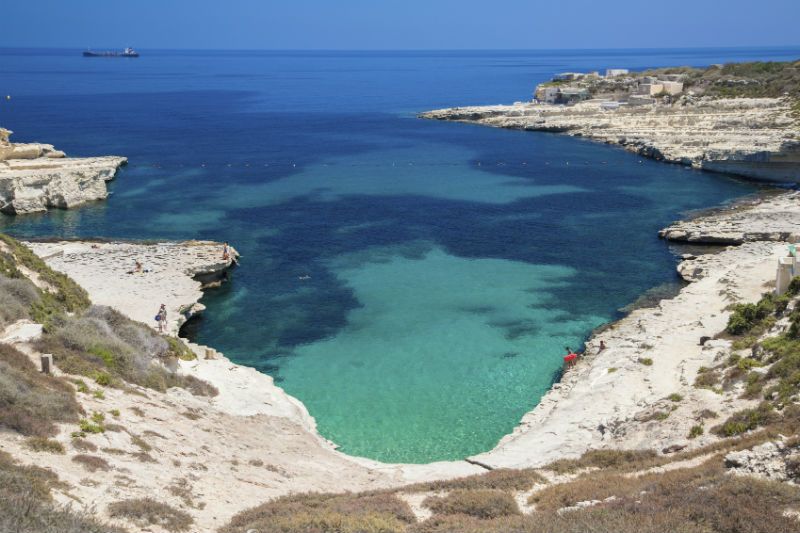 Rocky Beaches
Ghar Lapsi
Head for the village of Siggiewi on the south-western coast and sign posted are two small inlets at Ghar Lapsi. The coastal views are outstanding as you soak up the sun or go snorkelling among the rocks. A favourite with locals, the rocks here form natural, protected lidos, perfect for a cooling off on days when the waves are not too strong. The area is popular for rock climbing and while you sunbathe, you can often see spidery little figures making their way up the grey rocks.
St. Peter's Pool
Another gem on Malta's south-western coast, St. Peter's Pool is tucked away on the Delimara Peninsula and is one of the most stunning natural swimming places on the island. It's a short walk across a field to get there, which keeps the crowds away. Bring a picnic and your own water supplies as there are no facilities here. You can sunbathe comfortably on the pool's low-lying, flat rocks, then plunge from them into vivid blue waters.
Wied iz-Zurrieq
Located next to The Blue Grotto, one of the most popular sites in Malta, Wied iz-Zurrieq (or Zurrieq Valley) offers great waters for diving and splendid, panoramic sea views over the beautiful blue Mediterranean Sea to the small, uninhabited island of Filfla. The water here is deep and recommended only for strong swimmers. In summer this small swimming dock gets busy with the traditional boats (Luzzus) taking tourists to the Blue Grotto.
Fomm Ir-Rih Bay
If you are looking for isolation and you don't mind the steep, 20-minute climb down to the bay, this one is for you. Sitting near Bahrija, Fomm Ir-Rih Bay is the remotest, wildest beach on Malta and is also one of the most beautiful ones. Fomm Ir-Rih is pebbly and a favourite among snorkelers, divers and anyone who simply likes quiet, secluded beaches. The waters are crystal clear and blue, making it a perfect swimming spot when the water is calm.
Anchor Bay
Located one kilometre west of Mellieha in northern Malta, this beach is one of the most popular for diving and is also famous for its nearby Popeye Village where the set of Sweetheaven Village of the 1979 film, starring Robin Williams as Popeye, still stands. A picturesque inlet with beautiful turquoise waters, Anchor Bay is backed by rocky slopes hosting large caves and passageways rich with marine life, including morays, scorpion fish and groupers in Scorpion Cave.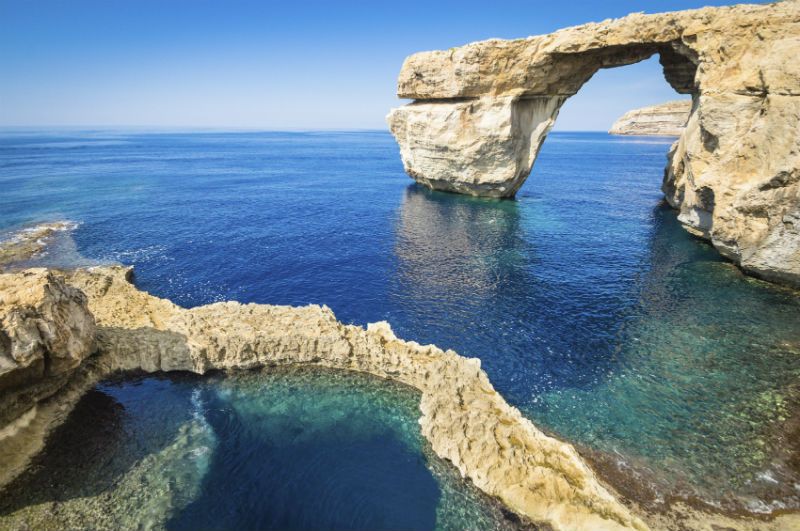 Gozo
Hondoq Bay
A short walk down from the villages of Nadur and Qala, this stunning bay in Gozo is perfect for snorkelling, as well as magnificent views back to Malta.
Hondoq ir-Rummien
This is one of the most beautiful areas in Gozo thanks to its spectacular views of Comino. Hondoq ir-Rummien has a small bay with a mix of sand and pebbles, and vividly blue waters. You can explore small caves at water level, perfect if you fancy a spot of snorkelling or diving. Alternatively, take a swim in the sea by climbing down the bathing ladders.
Azure Window (Inland Sea)
Dwejra is where you will find the Azure Window and the Inland Sea, perfect spots for swimming and admiring the amazing views. The Inland Sea is a natural seawater lagoon with a pebbly beach, linked to the deep dark Mediterranean Sea. You can swim from the lagoon through a narrow, natural arch via a 50-metre-long cave to the open sea – not recommended for children or inexperienced swimmers. The Maltese Luzzu boats also pass through the tunnel of the Inland Sea, taking visitors to explore the caves at Fungus Rock and the Azure Window.
Xlendi Bay
Picturesquely set amid high cliffs and majestic views, this bay is a small, sandy stretch on the south western coast of Gozo. The waters are shallow, making it a good option for children but if you would like to avoid the small sandy beach, Xlendi Bay also has several access points to the sea from flat rocks on the left hand side of the bay. This charming area lies in a lush green valley, offering beautiful scenic walks and sunsets, especially if you climb up the stairs to the top of the cliffs.
Marsalforn Bay
One of the most popular beaches in Gozo, this sandy bay is ideal for swimming and sunbathing and is located within a well-developed seaside resort town. Marsalforn pulsates with life as many families from Malta and Gozo have holiday homes here to enjoy summers by the sea. The beach is quite small but clean and safe for swimming despite connecting to a small harbour on one side of the bay. For good snorkelling, diving and swimming, the other side of Marsalforn Bay behind Il-Menqa up to Ghar Qawqla Point is a perfect place. Meanwhile, if you prefer to stay on top of the water, Marsalforn beach offers water sports facilities and boat trips around Gozo and Comino.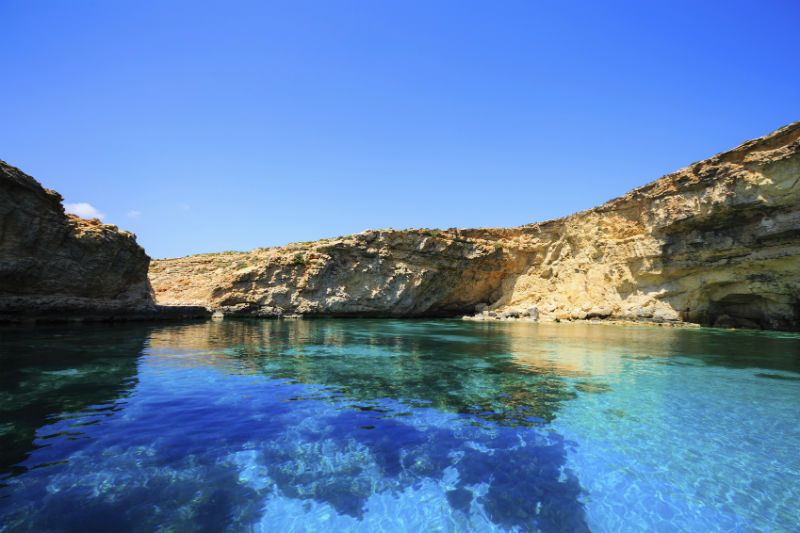 Comino
The Blue Lagoon
For white sands and crystal clear Mediterranean waters, there's precious little to beat the Blue Lagoon. This picture-postcard sandy beach with light blue waters and a white sandy sea bed will make you feel like you have found paradise on earth. This unique lagoon is dotted with rocks to jump into the waters from and for children there are plenty of shallow watered areas to bathe in too. Don't forget your snorkel and mask: colourful fish abound in these clear waters and you can swim or snorkel in several caves, which are ideal for exploring. Aim to get here early in peak season as this idyllic spot can get busy.
St. Nicholas Bay
A twenty minute walk away from the Blue Lagoon, this beautiful bay contains two small sandy beaches but in peak season they may be reserved for the Comino Hotel guests. St. Nicholas Bay is a popular beach offering a full range of water activities and is less crowded than The Blue Lagoon.