Silver Migration: How mature travellers are taking longer holidays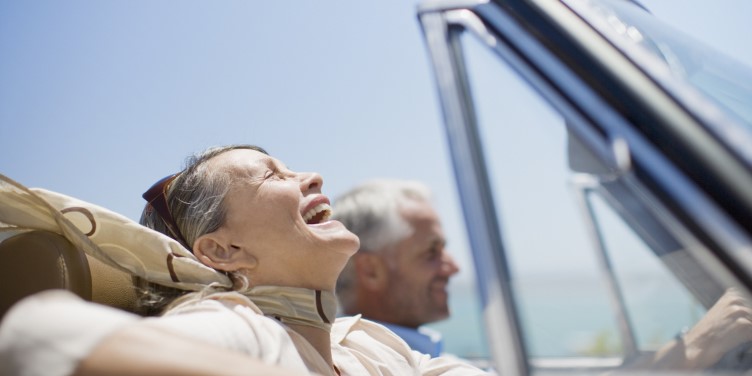 There's a lot of perks to choosing to take a longer holiday. Only having to book one set of flights is one, as well as being able to really enjoy your time visiting far-off family or immersing yourself in new cultures.
Whatever the reason for taking an extended break, 20% more people over 50 are taking holidays longer than four weeks when comparing 2019 to 2018 trips.
Using our customer data for people over 50 buying travel insurance, we've explored the growing trend of long stay holidays…
Winter wins to jet off on longer holidays
When planning a long term holiday, one of the most important decisions you can make is when to go.
From finding out the average temperature in your chosen destination to making sure your dates don't clash with expensive school holiday seasons, there's a lot to consider.
Of those that are going on a longer holiday, 2 in 5 people over the age of 50 go away in the winter months of December, January or February.
When comparing all long stay holidays, nearly 1 in 5 (18%) people jet or sail off in January alone.
In comparison, only 15% of long holidays start in the summer months of June, July and August when flight and holiday prices soar due to the high demand of summer holidays.
1 in 5 beat the January blues in Australia
When choosing a destination, it should come as no surprise that people opt to travel to warmer climates in the winter months. For those choosing to leave for their long holiday in January, a whopping 1 in 5 people are taking a trip to Australia (20%) where it's summer.
Close behind was Spain and Spanish islands including Tenerife and Majorca with 17% of trips.
Believe it or not, there is also a common date for the migration of silver travellers, with the most popular travel day of the year for both 2018 and 2019 being 6 January. In fact, this date alone accounted for 3% of total departures in the year. This could in part be due to long cruises having specific start dates.
It's also interesting to know that 60% of people who have taken out cruise cover for a holiday longer than four weeks depart in January.
2 in 5 people going on longer trips might be making this big mistake…
When planning a big trip, it's likely that a lot of effort and thought has gone into working out the details of your trip – including finding the best flights and accommodation.
But surprisingly, nearly 2 in 5 people (39%) are potentially not protecting their holiday plans as they are only buying their travel insurance with less than four weeks to go until they depart.
This means that if something were to happen that meant they had to cancel their holiday, they wouldn't be protected to reclaim lost costs of deposits and holiday payments.
With 1 in 20 Staysure customers having to claim on their annual travel insurance in 2018 (data provided by underwriter), mishaps happen more often than you might think.
Melissa had booked a dream family holiday to Norway but before they jetted off, her daughter became ill and the holiday had to be cancelled. After successfully claiming for their cancelled holiday, they were able to rebook their holiday and have the dream holiday they all looked forward to.
Speaking about the experience, Melissa said "Without Staysure, it wouldn't have happened and we would've lost so many precious memories as a family.
"If we hadn't had insurance, we wouldn't have been able to go again."
You can read more about Melissa's story here.
January isn't the peak season for every country…
Although winter is the most popular season to go on a longer holiday, other destinations become increasingly popular at different times of year.
Of people travelling to Australia and New Zealand, more people actually choose to travel in December than January to enjoy Christmas and New Year on the other side of the world. (December: Australia 19% and New Zealand 28% as compared to January: Australia 13% and New Zealand 23%).
Less than 12% of long trips to Canada happen in the winter. Instead, nearly half (47%) of people taking a long trip to Canada go in the summer months (June-August) with June being the peak departing month (19%).
Similarly, only 8% of people going for longer trips to France go in the winter. For France, May is the most popular month to depart (19%) with the summer months also accounting for about 40% of trips.
When it comes to long trips to the USA, most people depart in August (12%) but generally travellers like to cross the Atlantic at all times of the year.
Nearly 3 in 4 people going on holiday for longer than 10 weeks are over 70
Of those taking part in the silver migration, 72 is the peak age for people to go on a holiday of any length.
Although the most common age of travellers doesn't change based on the duration of the trip, there is a shift in older travellers in their late 70s and early 80s going on much longer holidays.
Of people choosing to go on a holiday over 10 weeks, nearly three quarters of them (74%) are over 70. That's in comparison to holidays under 4 weeks where there's a more even split with 54% of travellers being over 70.
In part, this will be due to those who are not retired having a limit to their time off. When the limits of a working life are removed, the length of holidays doesn't have to be as confined anymore.
This also suggests that when it comes to travel, age really isn't a barrier!
20% more mature travellers going on longer holidays
To find out if mature travellers are going on longer holidays, we looked at whether the length of trips people are covering have grown from 2018 to 2019 in comparison to all trips covered.
We found that holidays longer than four weeks grew from accounting for 4% of the total trips in 2018 to 5% in 2019.
This suggests that people are taking longer holidays.
Talking about these findings, Ryan Howsam, Chairman of Staysure said: "It's encouraging to see from the data that we are an adventurous nation and that age is no barrier in our lust for travel. To see an increase in winter long-stay holidays with customers that are well into their 80s is fantastic and just goes to show their zest for life.
"At Staysure, we know how important travelling is to our customers and that's why we're committed to protecting them with tailored cover for their pre-existing medical conditions. Our policies also have no age limits so they can continue travelling well into their later years.
"Anyone planning to be part of the Silver Migration on a long-stay holiday, should seek cover from a specialist insurer at the point of booking their trip – this will ensure they are fully covered for unforeseen situations that could arise ahead of departure."
Data:
Data covers approximately 30,000 long stay travel insurance policies bought by Staysure customers over 50 years old between 2018 and 2019.